Living in a picturesque market town might sound great, but is it worth the extra cost? It's a question that thousands of homeowners all over the country ask themselves every week. Cashfloat payday lender evaluates the pros and cons.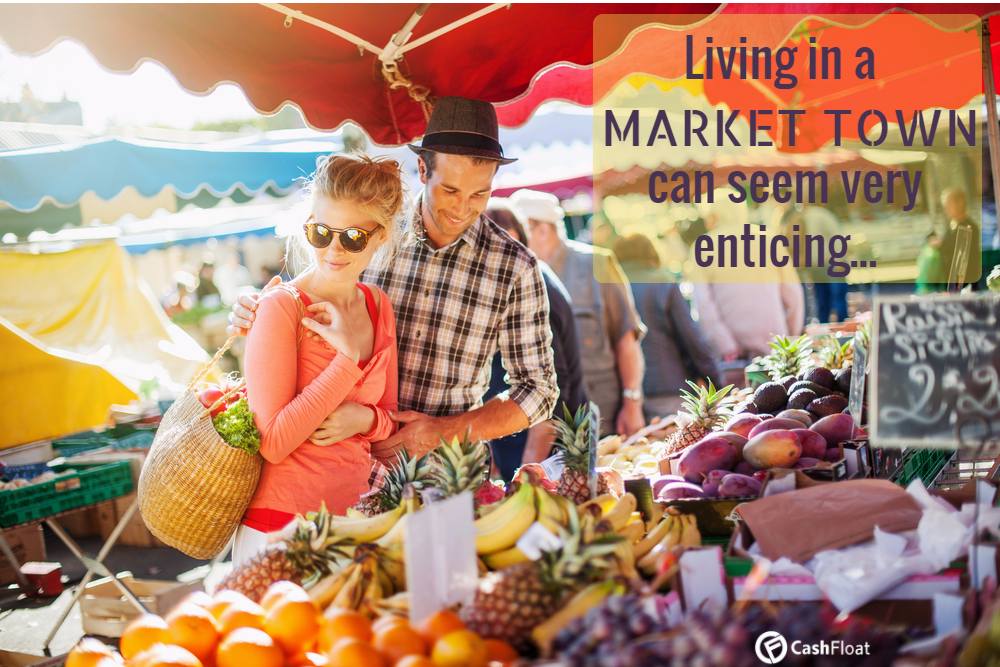 Story Highlights
Lloyds Bank conducted a research into market town house prices
The 5 cheapest market towns are in County Durham
The Lloyds Research Project
Recently Lloyds Bank did a bit of digging on the subject to find out just how much more expensive it is to live in a market town. The study investigated more than 125 market towns across the UK using Land Registry data and measured the growth in house prices to June 2016. What the study found was interesting. More than 70 percent of houses in market towns sell for more than the national average. What's more, approximately 20 percent of homes sells for more than £100,000 above the national average.
What was interesting, however, was the distributional characteristics of house prices. The study found that domestic properties inside market towns were around 14 percent higher than those in the surrounding area. That implied that buying a house just outside a market town would net buyers an average saving of £33,911.
Unsurprisingly, the most expensive market towns were those in the south-east of England, close to London. Top of the list was Beaconsfield where the average house price currently stands at £958,909. Henley-on-Thames in Oxfordshire comes in second, with an average house price of £748,001. There is then a cluster of market towns where prices are between £408,000 and £492,000. This includes Alresford in Hampshire, Midhurst in Sussex, Cranbrook in Kent, and Lewes in East Sussex.
House Premiums
The Lloyds study also found that the house price premium is enormous compared to the surrounding area in many market towns. In Beaconsfield, for instance, the premium is currently £369,100 over its environs. In Keswick in Cumbria, the premium is £167,845. In Marlborough in Wiltshire, the premium stands at more than £256,585. Premiums are also high in traditional market towns like Bakewell, Southwell and Wetherby in Yorkshire.
Overall, the Lloyds study found that prices in market towns had gone up by more than 31 percent in the decade between 2006 and 2016. That translates to a £67,559 rise from £208,197 in 2006 to more than £273,757 in 2016.
Experts from Lloyds bank tried to offer an explanation for this pattern. They alleged that the increase in popularity of market towns is driven by their importance as social hubs. According to Andy Hulme at Lloyds, they provide support and employment for local businesses. They are also beautiful places to live, he says, attracting far higher prices than elsewhere in the country. People love the architecture of market towns, as well as the rich history and unspoilt settings, he says. Many, therefore, are prepared to fork out more of their hard earned money just to live there.
Price rises in market towns in the south-east have been the most extreme because of their links to London. These towns have rail access to the City, allowing professionals to commute. This has further exaggerated the price increases in these areas, above and beyond that seen in other parts of the country.
What to consider when Looking ton Living in a Market Town
The question for homebuyers, therefore, is twofold. First, can they afford to live in a market town? And second, is there a better option?
Homeowners who want to buy a home in a market town will have to work out whether they can afford to pay the increased mortgage costs. With an average premium of £34,000, many will struggle. In the past, mortgage lenders would lend out a multiple of your current income. If for instance, your income was £50,000, the bank might lend out five times that, or £250,000. But today, the rules are different. Now lenders lend according to the loan-to-income ratio. Currently, they won't lend out any more than 4.5 times your annual salary.
New rules also mean that your lenders also have to assess whether you can meet your living expenses and repay the mortgage. In the jargon, this is known as an "affordability assessment."
Finally, mortgage lenders have to carry out what's now called a "stress test." This involves looking to see whether you could still make repayments if interest rates were to rise or if you took a career break. Even before you get a mortgage on a market town house, lenders check to see if you can afford it.
Moving to a Market Town Should be Thought out Carefully
If you want to live in a market town, you need to work out whether you'll be able to afford it long term. Think about whether you could afford to pay the mortgage if interest rates were to suddenly rise. Also, ask yourself how secure yours and your partner's jobs are. Could you potentially lose your job at some point in the future? Could your partner? What about illness? Is that something that is likely to hold you back in the future? And what about your current age? Do you expect to continue working long into the future? Or are there already health problems on the horizon that threaten to hold you back?
Finally, think about how much you would really value living in a market town. Do you want to live in a market town, but have to carry on working hard in a job you don't like? Or do you plan on a major lifestyle change, such as having a baby or taking a career break? Moving to a market town requires that you think carefully about your priorities. Is taking a career break or time off to have children the most important thing for you? Or is it more important to get the house you want in the place that you want it?
It's also worth protecting yourself against unexpected financial problems, should you take on a large mortgage. Most experts, including the Money Advice Service, recommend having up to three months worth of savings to cover drops in income. You can also use services like mortgage calculators to work out whether the repayments fit into your existing budget.
Buy a House In A Neighbouring Town
One of the interesting things that came out of the Lloyds study was the amount that house prices fall as you move outside of market towns. House prices, were, on average, 14 percent lower in the areas surrounding market towns than in the towns themselves. This represents a significant buying opportunity for people who want to experience life in a market town, but can't quite afford it. Look for buying opportunities in areas just outside of the main hotspots. Often you'll find housing at a significant discount here, all because it is a couple of miles outside of the main urban centre.
Good Value Market Towns
Tavistock
There is also a whole host of market towns in England that are good value, but still offer much of the charm of the most popular locations. Take Tavistock in Devon, for instance. Here you'll pay on average £236,356 for a home, about 20 percent more than the national average. But it's significantly less that the prices in market towns in South East England. What's more, the town has a distinct, local feel – exactly what people who live in market towns want. Much to the chagrin of the locals, the McDonalds in the town closed down back in 2006 after a boycott.
Thanks mainly to its location, the town also has relatively few second homes. This helps to keep the town vibrant during the low-season and prices under control.
Middle st George
Another up-and-coming market town is Middle St George in County Durham. Here, the average home price is around £220,000, which, for a market town, is relatively cheap. Middle St George has grown in popularity over recent years thanks to a combination of excellent amenities and schools. The town also has a railway station, ideal for getting into Durham.
Not surprisingly, house prices in the town command a gigantic premium over the surrounding area. Residents in the town pay an extra 72 percent for their homes compared to the surrounding towns and villages. Again, this makes moving slightly outside of the centre of town more attractive.
It's worth noting that three of the five cheapest market towns in the country are located in the County Durham area. The cheapest of the bunch is Ferryhill. Here you can pick up a house for as little of £93,291. Interestingly, in Ferryhill, the prices had doubled in the last decade from £48,743 back in 2004. Other cheap towns include Stanhope, where the average house price is £128,114, and Crook at £106,591 as of 2014.
Withcombe
Finally, Winchcombe in Gloucestershire is good value for people who live outside of South East of England. The town is popular because of its close proximity to the Cotswolds. It's also a hotbed of interesting medieval architecture and has a rich history. The town itself is well away from the popular tourist trails crisscrossing the Cotswolds area. This explains why houses here sell for more than 61 percent higher than the county average. Having said that, at £386,613, home prices are still relatively reasonable for a market town.