Cashfloat, a direct payday loan provider, discovered the news that Mastercard may be in line for a lawsuit that will force them to repay millions back to Brits!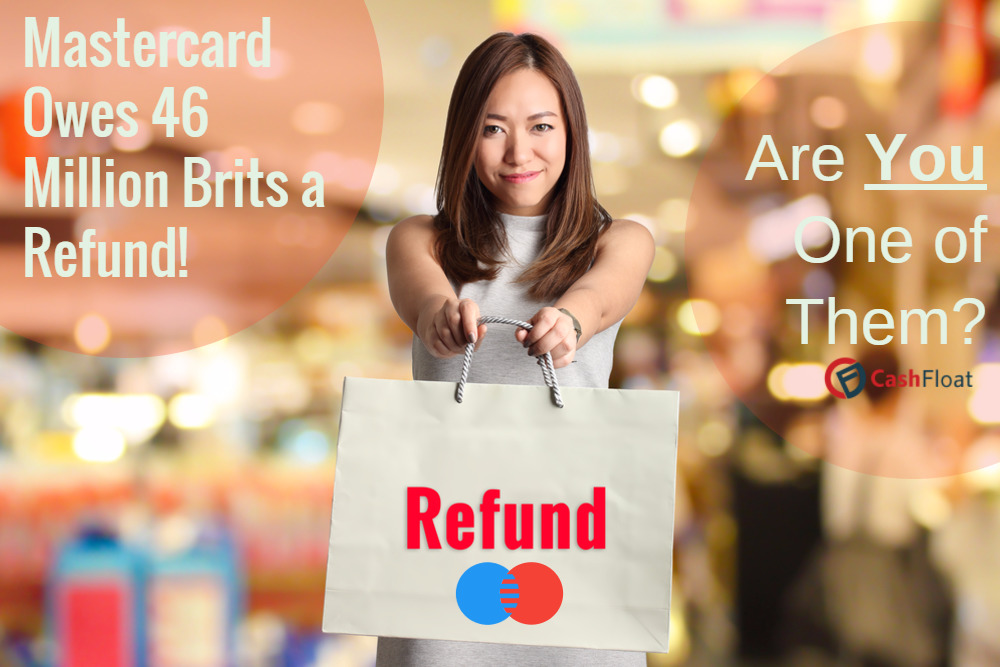 46 million Brits could be owed a refund by Master Card after it was claimed that the company had charged unlawfully high fees in the past. Thanks to a lawsuit, this means that people could be in line for a refund in the near future. The court will assess whether the high fees were charged for the sole benefit of the company and to the detriment of customers. This took place between 1992 and 2008, so shoppers who were adults during that period could have been hit. So, it's time for you to find out about what happened and how the refund process will work.
What Did MasterCard Actually Do?
When you use your credit or debit card to pay for an item in a shop, the card company charges a fee to retailers. This might not sound like much of a problem for you if the retailer is being hit by the costs. But, unfortunately, it doesn't quite work that way. That's because the fees charged over this 16-year period were passed onto customers in discrete ways. In other words, to mitigate the impact of the charges, retailers added extra money to the price of their products. Therefore, MasterCard was directly responsible for the price of your goods and services going up. And this even hit people who didn't use MasterCard credit or debit cards.
These fees are known as interchange fees, and they're to blame for us all having to pay more for the things we buy. The class action lawsuit was brought by Walter Merricks, who used to be a financial services ombudsman. According to Merrick, the impact on British consumers could be as much as £14 billion. As expected, the people at MasterCard have pleaded their innocence and criticised the claim brought by Merrick. They argue that the payments made it possible for the company to offer reward schemes and improve tech. They have also argued that class actions only benefit lawyers rather than customers.
So, why has all this happened now if MasterCard stopped charging these fees back in 2008? The Consumer Rights Act 2015 is the thing that has made this kind of class action lawsuit possible. It allows people to seek collective damages, and everyone who was affected is automatically covered. That's the great thing about class action lawsuits from the point of view of customers. Of course, it's not such good news for big or exploitative companies that can now be on the receiving end of them. This is just the first example of a class action that has been brought about as a result of the new rules. There will, no doubt, be more of them to come in the future.
Who is Affected By This?
You're probably wondering whether or not you could be affected by all this. If the case is successful and everything goes according to plan, there could be 46 million people affected. Each of those people should be able to get the refund. But depending on the ruling of the court, certain claimants could be excluded, but that's hard to predict. At present, at seems like anyone working and living in the UK between 1992 and 2008 could be owed a refund. This is the case because anyone who bought items during that period will have been affected by the price rises. These rises were directly caused by the charges enforced by MasterCard.
It's important to know that you don't have to be a MasterCard customer to be affected by all this. It's not something that only affected people who were in possession of MasterCard credit and debit cards. As I mentioned above, the charges were inflicted on retailers rather than customers, but it was still the clients who were hit hardest. The vast majority of people won't be aware of the fact that they were subjected to higher prices as a result of MasterCard's actions. But because of the nature of class action lawsuits, you don't have to be personally involved in the case against the company. Even if you know nothing about it, you can still be owed a refund by them. It could also be possible for people who visited the country and spent money here to opt into the class as well. If the case is successful, MasterCard is sure to take an enormous financial hit.
When and How Can You Claim a Refund from Mastercard?
Now that you know whether you are likely to be part of the affected class, you will want to know when and how to apply for the refund. Right now, there is not much that you can do. Other than track the case and look out for any news that comes out of the courtroom, you might just have to wait. If, as it's hoped, the case is settled by 2018, the money should be refunded by about 2020. So, there's a little time before anyone will get their hands on the money that they're owed. This might seem like a long time to wait, but if it weren't for the Consumer Rights Act 2015, you wouldn't get anything at all.
One possible thing that could happen is MasterCard trying to settle the matter out of court. This would have the effect of speeding up the process because it could happen at any time. It would be preferable because it wouldn't be necessary to wait for four years. If the company feels like it's guaranteed to lose the case, it could settle in order to prevent legal fees and to possibly lower the amount owed. This is pure speculation at this stage, however. It remains to be seen what kind of action the company will take. It's a possibility that a settlement will be reached, but it's also possible that MasterCard will fight the claim until the very end. If they do that, and then lose the case, there will probably be a time limit put in place. Once that deadline passes, access to the refunds will stop. That's why it's important to carry on looking out for news and new information on the case.
How Much Money Could You Get Back?
The original claim from July stated that each person would be refunded £450. But when the case later moved to the Competition Appeal Tribunal, the amount fell to around £300. It's hoped that the case will be concluded by 2018, so the final number will be known by then. Should the case be successful, it's expected that the amount will be around £300, but things are not set in stone just yet. Things are still very unpredictable, so no one knows what will happen between now and when the case is completely wrapped up.
It's still possible that the case could fail in court, and it's also possible that the court will limit the payout. There are all kinds of things that could change or be imposed, so everything still hangs in the balance. The fact that the case is being heard and taken to court at all is a big step forward for consumers, though. A couple of years ago, this kind of legal action would have been unimaginable. It should also pave the way for other class action lawsuits to be brought about as well. Eventually, it could signal the end of these kinds of exploitative actions being taken by large companies. Having already had things like PPI uncovered for the sham they were, it's good to see more injustices being brought to light.