The news that payday lenders' complaints tripled from the last six month of 2015 to the first six months of 2016 created a media storm yesterday, 6th September 2016. This article discusses what this news actually means and gives a possible explanation for this trend. As more people are turning to debt management companies for assistance, the payday loan market finds itself under closer scrutiny than ever. Surprisingly, the trend is the opposite for Cashfloat; the proportion of customers going to the Financial Ombudsman in 2016 is actually lower than in July-December of 2015.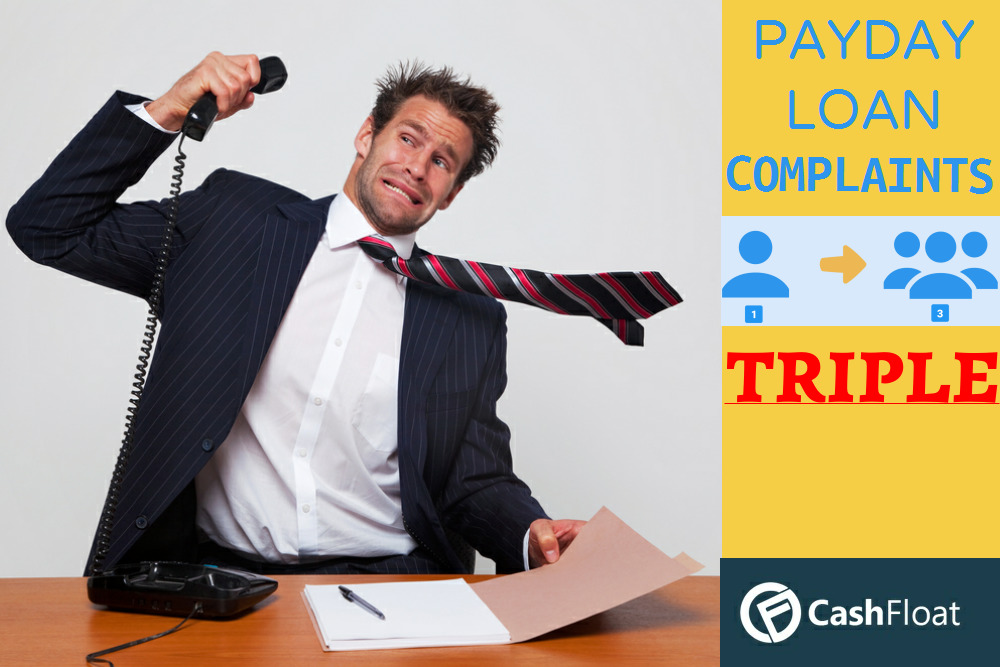 Financial Ombudsman: Payday Lenders' Complaints Tripled
Yesterday morning, the Financial Ombudsman released data on the numbers of complaints they received against financial businesses in the first half of 2016.
While complaints about PPI easily topped the list with a shocking 91,381 new cases (54% of all complaints received), the media have immediately focused on the results about the payday loan industry.
The Financial Ombudsman announced that in the first half of 2016, they opened 4,186 new cases. This is a steep climb from the previous six months, in which 1,213 new cases were opened – the number of new cases opened more than tripled.
Payday Loan Complaints to the Financial Ombudsman
Number of Complaints
Jul-Dec 2015
1,213
Jan-Jun 2016
4,186
Increase of 345%
How does Cashfloat Compare?
What Do These Numbers Mean?
It is important to note that these statistics are not an accurate reflection of the overall number of complaints about the financial industry. Rather, it is only when a customer and their financial provider are unable to reach an agreement over a customer's complaint, that they turn to the Financial Ombudsman Service to intervene. They enter the scene by carefully going over the evidence to investigate which party is in the right, and come to a ruling as to how the matter should conclude.
Due to this system, the 4,186 new cases opened by the Financial Ombudsman in the first half of 2016 are only a small percentage of the overall number of complaints received by payday lenders in the UK. This number is the amount of complaints that were not settled satisfactorily by the lenders.
Another aspect to consider is the proportion of complaints that were upheld; 53% of these cases were ruled in favour of the customer complaining.
Recent Changes to the Payday Loan Market
The payday loan market is now heavily regulated by the Financial Conduct Authority. Regulations that have been in place since January 2015 include a daily interest cap of 0.8%, a maximum of two rollovers, and a total cost cap, including interest and any fees, of 100% of what the customer borrowed. Payday lenders are required to perform detailed affordability assessments and credit checks for each application, checking that the loan will help the customer rather than worsen their financial situation.
Lenders are also expected to be more understanding if the customer finds themselves in financial difficulties at the time of repayment, and cannot meet their commitments. Customers who feel they were treated unfairly can take their complaint to the Financial Conduct Authority or the Financial Ombudsman Service.
In light of these changes, one would expect the number of complaints about payday lenders to decrease. Lenders are starting to behave more responsibly and fairer, and cannot charge astronomical amounts any more. So why have the numbers been rising?
Why Are the Numbers Rising?
Why is it that the complaints tripled? The prevalent theory is that all the hype about payday loans in the media has raised awareness among the general public about their rights. Whereas previously a customer who was struggling financially and treated harshly would accept whatever the lender decided, many more people are now aware that they have another recourse. As chief ombudsman Caroline Wayman says, the rise could be due to 'more people knowing more about their rights'. Essentially, this theory is declaring that there always were this number of complaints, but now more of them are being taken to the Financial Ombudsman.
What Are the Complaints About?
There were a wide variety of complaints, but the main ones involve:
Inadequate affordability checks – people who could not afford them were given loans
Lenders' methods of chasing up the debt
Inflexibility and lack of understanding – lenders were unwilling to settle for different repayment plans, insisting on the full amount immediately instead
Continuous payment authorities (CPA) taking money without the customers being aware of it.
How Does Cashfloat Compare?
Here at Cashfloat, we are constantly striving to take the short term loan experience to new levels. Looking at the complaints, we noticed that these are precisely the areas in which we excel:
Affordability checks. We have developed technology designed specifically to help us assess whether each loan is right for the customer in their current financial circumstances. Our underwriting team also check each application individually – we don't rely on an automated system to make the final decision.
Chasing the debt. We are refining our techniques to make them as non-invasive and respectful as possible.
Understanding. Everyone runs into difficulties now and then. If a customer calls up to let us know that they won't be able to meet a repayment, we are happy to arrange a new payment plan or give them some breathing space – we're here to help, after all.
CPAs. There are plenty of terms and conditions which can be hard to sift through, often leaving customers unaware of vital facts. That's why we take every effort to make the important details clear to our customers before they apply, even creating an entirely new website to display them better.
The statistics released by the Financial Ombudsman reporting that complaints tripled reflect on the payday loan industry as a whole. But how is Cashfloat doing? We looked into our statistics about complaints and made a very interesting observation:
Whereas country-wide, complaints tripled about payday lenders to the Financial Ombudsman, the proportion of Cashfloat's customers who complained to the Financial Ombudsman actually went down!
And out of these complaints, over 60% of them were not upheld, meaning that the Financial Ombudsman ruled that we had behaved responsibly and fairly.
So are we achieving our goal to become the new, moral lender on the market? Are we truly introducing honesty, integrity and transparency as never seen before in this industry? Are we succeeding in elevating our customer service to a whole new level?
It certainly seems so!