How many nurses apply for payday loans? Is there anything to be done? Discover interesting facts and figures collected by payday lender Cashfloat, as well as some statements from nurses who needed payday loans from us.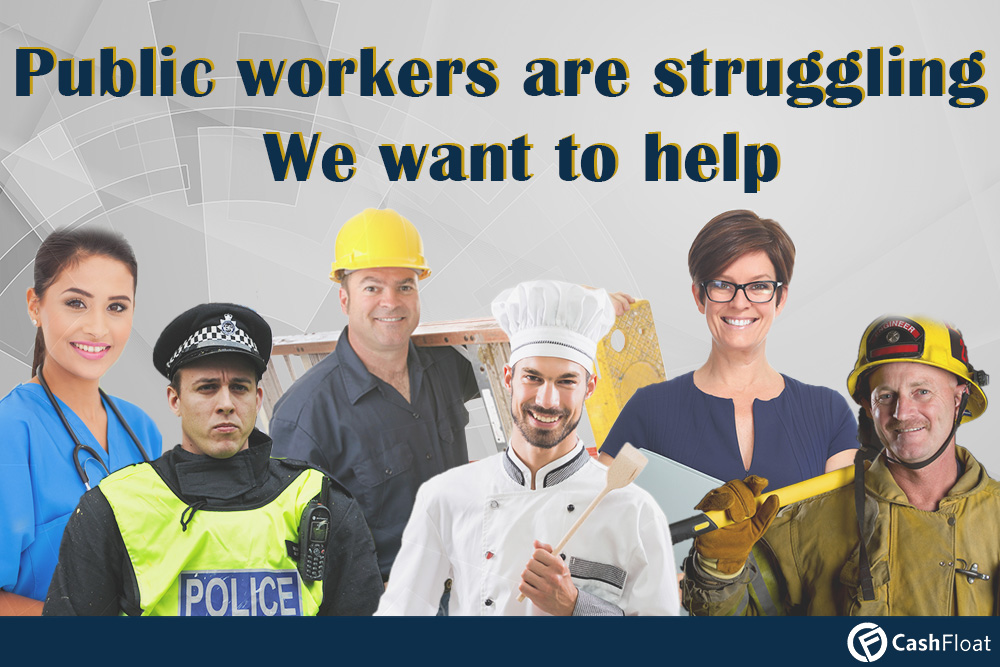 With the 1% public sector pay cap still in place, some public sector workers are struggling to finish the month without going into payday loan debt. We believe that our product can help people, when used in the right way. We hope that by publishing this information, we can raise more awareness of the issues and help to make a change.
As of now, there are approaching 6 million public servants in the United Kingdom. However, it's no secret that some of these employees are struggling due to restrictions placed on their salaries by the government. In fact, we found that just over 10% of people applying for payday loans worked in healthcare.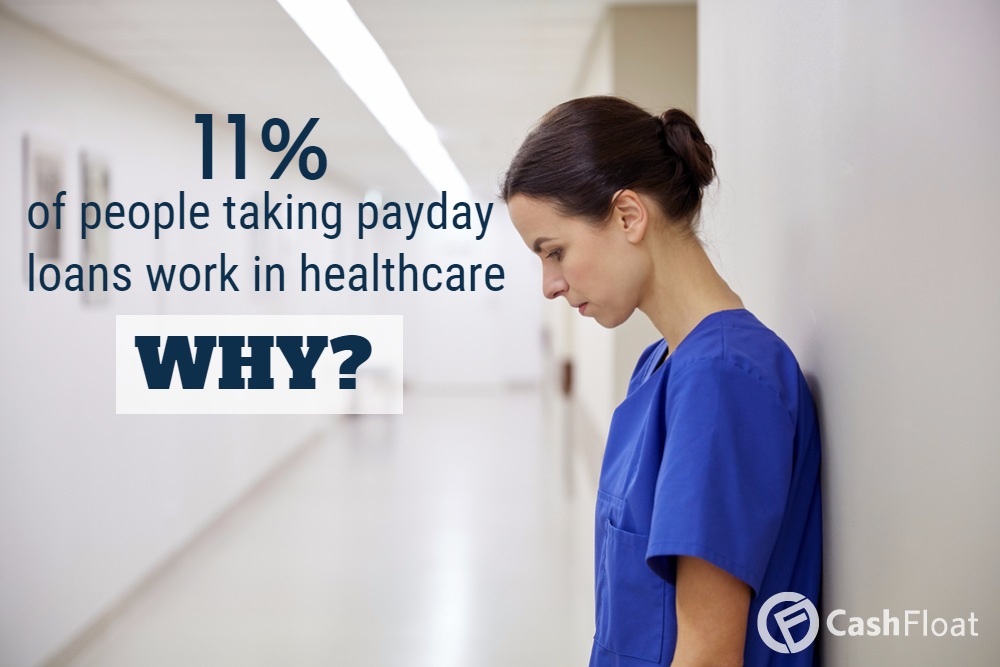 A nurse from Buckinghamshire, who refused to be named, said,
"I love working as a children's nurse, but the money we are paid is just not enough. Even though I am a very senior nurse, my salary has been frozen for the past 6 years. At the end of the day, I always end up needing more money, and since the bank will not lend to me, I am forced to take payday loans."
Based on over 160,000 payday loan applications, taken since January 2015
35,000 payday loan applications were made by nurses since January 2015.
Figures released by payday loan company, Cashfloat.co.uk, show that those in health and social care sectors most likely to apply for a payday loan.
Data shows impact of pay rise cap on nursing professionals' home finances.
44% of nurses who applied for a payday loan had children.
People who work in the health and social care sectors accounted for just over 10% of all those who were in employment and who made applications for payday loans.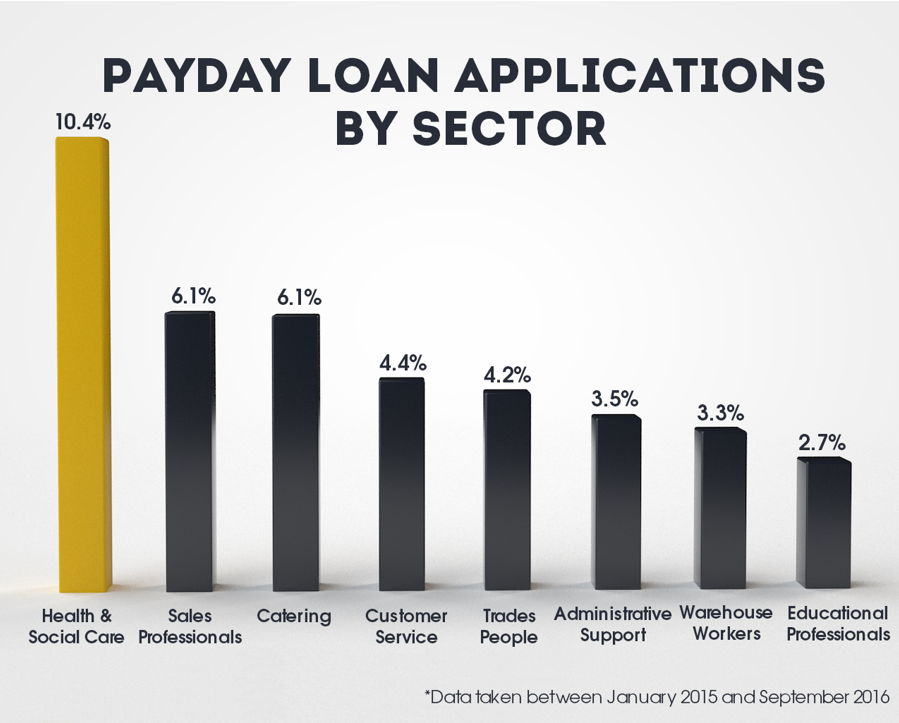 Of those working in health and social care who have applied for loans, a dismaying 19% were nurses, 18% were professional carers and 11% were health care assistants.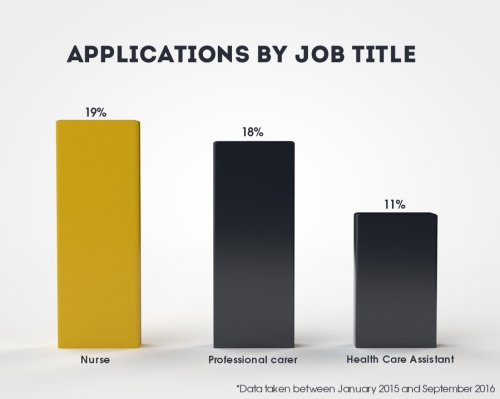 35,000 nurses have applied for payday loans since January 2015
When projected across the sector, this data indicates that up to 35,000 nurses have applied for payday loans since January 2015. This figure, though staggering, is in line with a survey carried out in 2013 by the Nursing Standard magazine, which suggested that 6% of nurses had taken out a payday loan. It is perhaps unsurprising that such a high number of nurses are applying for payday loans, when you consider that nurses have suffered a 14% real term wage cut since 2010.
Should the 1% pay cap stay in place, it is hard to see how the number of nurses applying for payday loans could decrease. It is this sort of financial hardship that has led to Danielle Tipaldy starting an online petition to demand an above-inflation pay rise for nurses.

One Theatre Nurse and mother of two from Dorset, who has received a payday loan, commented:
'As a mother of two, being a theatre nurse is a great sacrifice. On top of that, I really don't feel that there is enough financial support for nurses in my position. I think that special loan rates could be introduced for NHS nurses to help nurses like me tackle our predicament'.
This nurse is not alone in having children and needing a payday loan, as almost half of those who applied for a payday loan, (44%) are parents.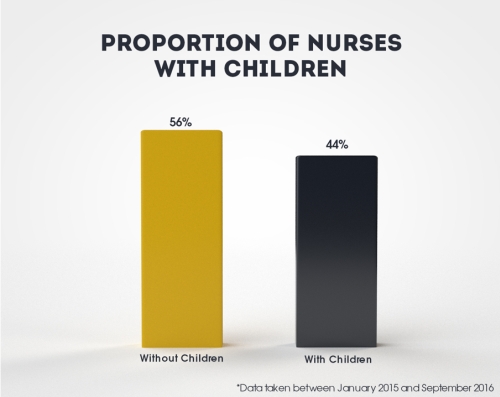 There are, of course, some other options available to nurses. For example, The Queen's Nursing Institute has awarded over £135,000 in grants to Community Nurses.
Jeremy Lloyd , from Cashfloat, said:
"It is deeply worrying that so many nurses and other caregivers would require our services. We hope that by releasing this data it will draw attention to the hardships being faced by these undervalued and yet essential caregivers in our communities."
Payday loans can be a very useful financial option. When used wisely, they can relieve a great deal of financial strain. The problem is when payday loan users depend on this form of high cost credit to get by. Relying on payday loans can lead to a downward debt spiral that can be hard to escape. Payday loans should not be used in the long term. As a responsible lender, we try our best to only give loans to people who can repay them.