Over a span of 2 years, Stephen Goodwin was said to be financially gaining from his client's insurance premiums. Cashfloat, a same day payday loan lender, monitors FCA cases of misconduct.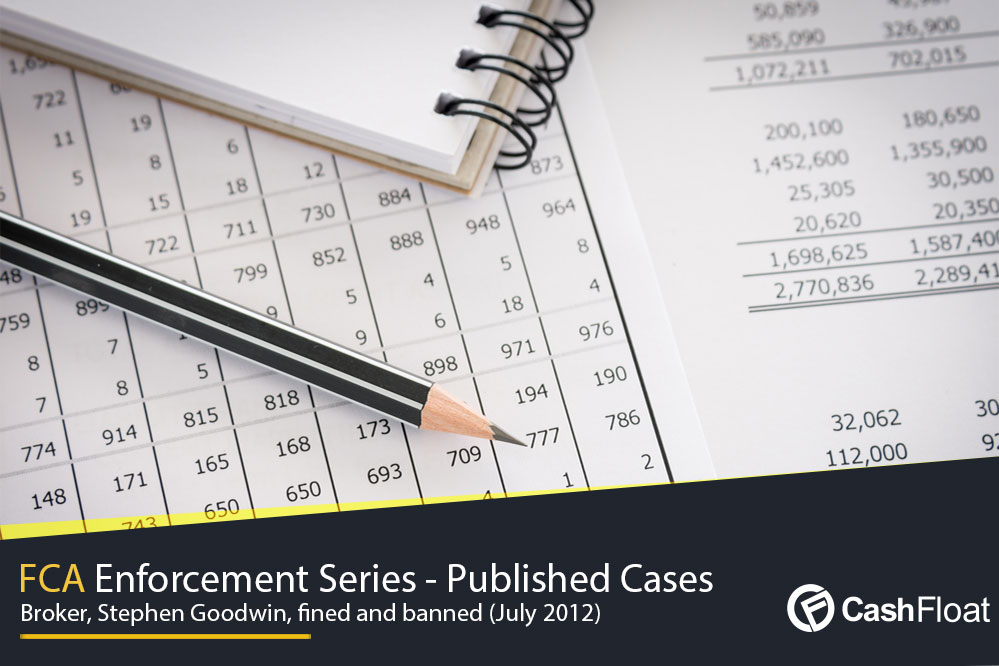 Financial Misconduct in the UK
Issues of financial crime and misconduct in the UK are fairly commonplace. Despite the UK being deemed as a heavily regulated market, these issues have occurred time and time again. In light of the economic problems that the UK has faced, it seems more relevant than ever to talk about these high profile issues of misconduct.
Despite misconduct being commonplace, there are many financial service providers who strive to provide a quality service. Transparency. Integrity. Honesty. These are the core principles of how the financial sector should be run. What is more, these are the core principles of the FCA and the PRA.
In the last eight to ten years, misconduct has been investigated and talked about within the public arena. But, it's not just big banks and large financial companies that are investigated. On the contrary, individuals that are suspected of abuse are taken into account too. Personal accountability is something that the FCA, or prior to its reformation the FSA, were keen to uphold.
Individual Investigations
Should an individual's actions, within the financial core, be negligent or deceitful, the FCA will investigate. Should the individual in question been conducting their line of commercial work with anything other than care, skill and diligence, the FCA will impose fines to that person. It's not just banks, insurance providers and corporations that are investigated: people are too.
While individual accountability is rare, it's important to look at these individuals and why misconduct still occurs. Why do people believe that they can 'get away with it'? How is misconduct still prevalent, despite the market being deemed as a heavily regulated one? Will misconduct occur in the future now reformation of the regulatory body has been upheld? And, more crucially, can financial crime and abuse ever truly be eradicated?
The Cashfloat compliance unit continue to study infamous cases of misconduct in the UK uncovered by the FCA. We then implement the lessons learnt into our own business ethic. Here, we will study the case of Stephen Goodwin. The insurance broker was fined and banned from working within financial services for issues of severe misconduct.
Let's find out more.
The Case of Stephen Goodwin July 2012
During the July 0f 2012, Stephen Goodwin, an insurance broker from Bury was fined and banned by the FSA for his part in deceiving clients. The issue of misconduct arose when Goodwin was said to be financially gaining from his client's insurance premiums.
During this time, it was found that Goodwin had benefitted from over £300,000 for deceiving his customers. He had convinced customers that they had no insurance so that they paid out twice for premiums. Three of Goodwin's clients had paid for a policy but did not have the requisite insurance in place. As such, they were uninsured, and Goodwin stood to financially benefit at the behest of his clientele.
The FSA: Imposed Fines
The FSA, however, investigated Goodwin and handed him a £471,846 fine. This was one of the largest fines given to an individual. What's more, he was banned for his actions too.
Client Compensation
The FSA stated that they would seek to compensate his clients for their losses. The FSA created a compensation scheme that aimed to provide remuneration to clients who cannot get their money back. If a company has fallen into liquidation, or a company cannot pay the compensation that is owed, the FSA will ensure that clients are not left out of pocket.
FSA Findings and Investigation
The FSA ensured that Stephen Goodwin was fined and banned from trading for his actions. The FSA concluded that this serious case of abuse, deceit and misconduct had to be punishable in such a way that it acted as a deterrent. Stephen Goodwin now fails to trade as a broker due to the enormous debts that he amassed, despite profiteering from his deceit to his clientele.
Pending the investigation, it was found that Goodwin deliberately took money from that of his clients to ensure that his business looked profitable. This moving around of money is not something that companies are allowed to do. Client cash and business profits are meant to be kept separately. Due the dishonest nature of the crime, Goodwin put his entire clientele at risk of financial crime. But, his actions could have had wider ramifications for the insurance sector as a whole. As such, the large fine and ban is deemed appropriate for the misconduct that he carried out.
Stephen Goodwin conducted his dishonest actions from 2008 and 2010.
Preventative Measures: Can the FCA Prevent These Issues From Occurring?
In the case of Stephen Goodwin, the FSA could be commended for their actions. Goodwin was fined, banned and imposed with a substantial fine as a result of the market abuse that he conducted. But, the FSA investigated Goodwin two years after the deceit. He was allowed to trade in this way for a period of two years, with a two-year lull in investigations.
The FCA, if it wants to prevent these issues from happening, needs to take a more proactive approach to dealing with insurance fraud. They need to ensure that they are approving brokers, of all kinds before they are legally allowed to continue working. Furthermore, the FCA should provide company spot checks and audits that are done randomly, to ensure that compliance is best practice all of the time. Reactive measures are standard for the FCA. But, should they be intent on eradicating and preventing issues of financial abuse, a more proactive and attentive stance is required. Leaving significant time periods to elapse to investigate a company or individual is not dynamic enough. The FCA needs to be a preventative force within financial services.
More positively, in the case of Stephen Goodwin, his actions not only hurt his clients, but also damaged the fragile reputation of insurance brokering. As such, the heavy fine and professional ban is commendable. The ban and fine should act as a deterrent to the individual broker as the sanctions are deemed larger. But, for more larger and established insurance providers, this kind of fine is a drop in the ocean.
The FCA, as such, needs to provide more meaningful and robust advice. Monitoring and approving brokers could be a positive step to make. But, they also need to ensure that they are actively preventing these issues of crime, not reacting on a historical basis.