When the Gen Re Unit was found to be losing money, it was found that Vukelic was hiding money from clients and the public domain. Cashfloat, an honest and direct payday loans lender review FCA investigations.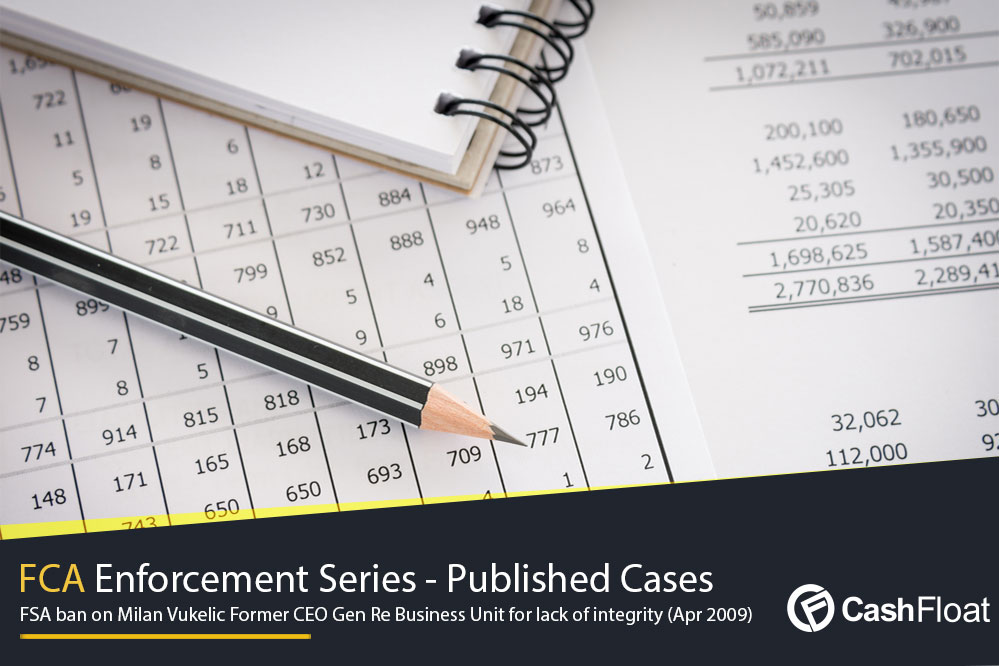 The FCA and PRA: UK Financial Regulatory Institutions
Integrity is said to be at the heart of the UK financial industry. The FCA and PRA are keen to ensure that companies have integrity when conducting their financial affairs. Should a company or individual be found to be acting in any other way, they can be banned from their position. What's more, they can be prohibited from operating within the UK. There have been a series of financial misconducts in the UK. Over the past ten years, there have been a number of high-profile cases that have been thrust into the public eye. As such, there is now more accountability within the financial industry. Matters of compliance must be upheld. When this does not happen, the FSA can step in. With this, there is a case in point that we can turn to, to highlight the lack of integrity within individual companies. The case in question is that of Milan Vukelic. The former CEO of Gen Re Business Unit was found to be using unorthodox methods within his company.
The Case of Milan Vukelic
Vukelic Banned from Financial Sector
In April 2009, the Financial Service Authority or the FSA, was successful in banning the former CEO of Gen Re Unit, Milan Vukelic, from working within the financial industry. Of course, this only applied to the UK. But, their ban was successful. As such, this can be seen as a positive force in the industry. Should people who fail to comply with their guidelines, they can be banned from working. This has proved to be somewhat monumental.
Vukelic was found to lack integrity when performing tasks for his company. As such, the investigation found that Vukelic helped companies hide their losses when it came to the end of the financial year. This kind of negligence poses serious problems within the financial industry as a whole. Vukelic's role within Gen Re Business Unit was to oversee client transactions. Broadly, this related to the insurance sector. The insurance companies in question were found to be running at a loss. Vukelic, however, hid the money and losses from these clients and the public domain. It seemed as though Vukelic was purposely ignoring these issues. By doing so, he put the company at risk. He was deemed as reckless and irresponsible by a tribunal who followed the FSA's investigation.
The Charges Against Vukelic
Vukelic was told that he purposely and mindfully mislead consumers, auditors and regulators. With this, he was banned from operating within the UK, and his position of trust was taken away. The FSA investigation and subsequent tribunal was a cautionary tale to those who saw fit to bend the rules. When it comes to adhering to the guidelines of the FSA, it is something that is recognised as an industry standard. There is no room for people to oversee the guidelines in order to serve the interests of companies profits above people.
Vukelic, among others, was seen to be acting in a way that preserved the interests of the organisation. Instead, they should have been upfront and honest when it came to matters of losses. They failed to act with high standards of expected behaviour. As such, action was taken, and Vukelic was banned from holding a position of trust. Of course, these matters do not run smoothly. Vukelic contested the claims while in court. But, to no avail. Vukelic had also been banned in 2007 from operating within Australia. He had committed similar offences.
The FSA's Actions and Investigation
The FSA has warned companies on numerous occasions about providing transparency for consumers. The FSA has stood firm on individuals being made accountable. This is especially true when it comes to lacking integrity and hiding losses within businesses. It seems as though the FSA, and now the FCA and PRA, are keen to crack down on financial companies that refuse to adhere to the appropriate guidelines. The FSA has often stated that supervision of these processes is fundamental to any integral business.
Can the FCA and PRA Do More to Prevent These Cases From Happening?
While the FSA has often taken a firm stance on these issues, many feel that the regulatory bodies do not have a sophisticated process in place. The FSA is keen to send out messages that they will not tolerate this behaviour. But, with a series of misconducts happening within the industry it seems that more needs to be done.
Failings of Gen Re Business Unit
In this case, the company was not fined at all. The individual, Milan Vukelic, was banned. The company was not held accountable. At the time, Gen Re Business Unit was found to have a significant number of employees that failed to follow the rules. As such, the company had seen three individuals banned from working within the industry over the course of four years. Bans can be effective. However, it seems as though the FCA and PRA could have done more to prevent this from happening. They failed to regulate the company as a whole. By holding individuals to account, the company's internal processes were ignored. Vukelic had a previous history of committing these kinds of actions. With this in mind, the FCA could have taken a proactive stance and followed the ruling as per the Australian regulatory services. Instead, they ignored this and allowed Vukelic to hold a position of trust within a large scale insurance provider.
As a responsible business, Gen Re Business Unit has done little to ensure that the company upheld integrity. This has resulted in numerous bans. What's more, customers felt that they could not trust their insurance providers.
Improving the FCA and PRA
It seems as though the FCA and PRA need to have more of an input into how these companies are run. As such, it is not enough to solely put trust into individuals and expect them to comply. It's down to the FCA and PRA to audit these companies more stringently. In addition, it seems as though the FCA acts on trust. It is only when complaints are made that the FCA investigates the company. At this point, this damage can already be done.
However, in December 2014, the FCA and PRA accepted a number of proposals. This is to ensure that the companies that they dealt with upheld customer complaints more seriously. The FCA has agreed that it needs to tailor its approach to how it deals with complaints and procedures with firms. As such, if there are shortcomings, the FCA are now keen to ensure due diligence within the financial service industry. At the heart of the regulatory bodies commitment to its customers is to uphold integrity. The FCA and PRA should take a more practical view of the issues that are suffered by consumers of financial products. It's imperative that they are more hands-on in helping companies overcome issues of transparency. Especially when it comes to losses.