The UK Financial Services Authority has made vast improvements in tackling dishonest tactics in many industries during the last few years. Their work in improving the payday loan market is just one example of how regulators can help to curb misconduct by performing in-depth investigations. Without their input, providers of short-term loans would never have dropped their interest rates. While it is easy for anyone in need of capital to find a responsible lender these days, the same was not true a couple of years ago. Affordable cash simply wasn't available.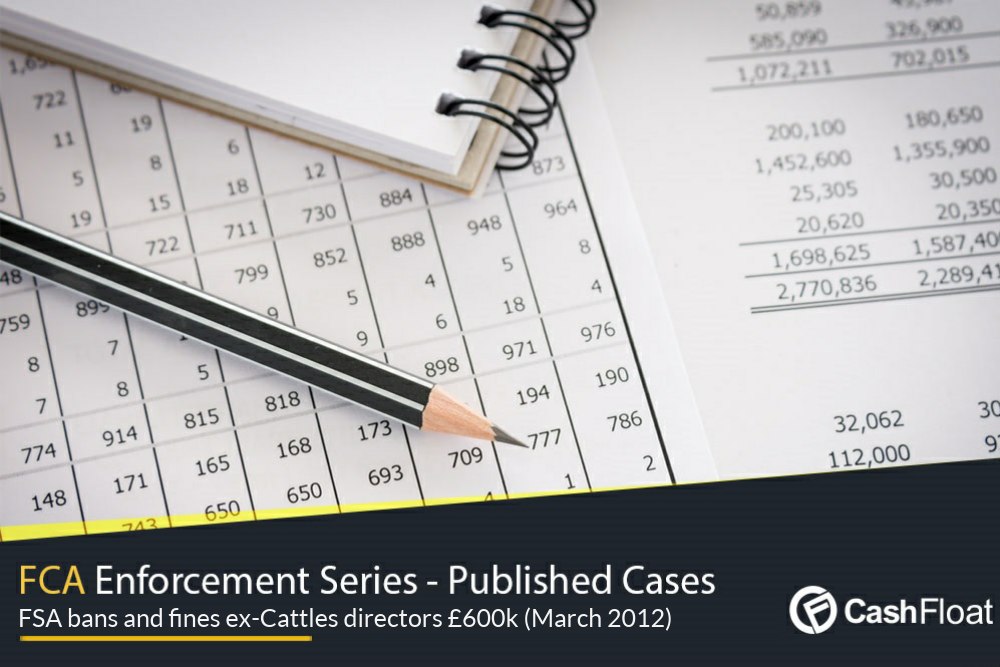 The FSA worked hard when looking at every element of the industry, and they managed to implement regulations that ensured consumers got a better deal. They deemed that any responsible lender would welcome such new measures. However, some of the less than reputable brands fought the issue. It should come as no surprise then, that the banking world has also come under fire during the last few years.
In 2012, three former directors at Cattles were banned and fined for their role in misleading many investors. The company comes under an umbrella term of doorstep lenders. Many other finance firms operating in that arena have encountered scrutiny since 2009, and the FSA claims their campaign is far from over. Cattles had its shares suspended on the FTSE 250 at the start of the decade due to massive failures by executives at the loan company. The FSA claimed they had failed to act with integrity, and broken a number of rules relating to market abuse.
The first executive under the spotlight, James Corr, filled the role of finance director at the time. He was given a fine of £400,000 in 2012 for his involvement in the misleading of investors. The second man in question, Peter Miller, was involved in a subsidiary company at the time. His fine totaled £200,000. Welcome managing director John Blake was also implicated, although his fine was smaller. He was asked to pay £100,000 for his participation in the misconduct. All three men have been banned from performing any job associated with FSA regulated industries.
A spokesperson from the FSA was quoted as saying they would have fined both Cattles and Welcome had it not been for their dire financial situations. It is important that all financial businesses remain accountable for the actions of their employees. However, the FSA decided that penalising either firm could have resulted in negative consequences for their clients.
In 2007, Cattles released information relating to their pre-tax profits. They stated the company had made £165 million, when the real figure was much lower. In truth, the doorstep lender has lost more than £96 million due to lender arrears in 50% of their contracts. That misrepresentation could have encouraged investors to get on board at a time when making informed decisions was impossible.
Tracey McDermott, the acting director of enforcement and financial crime at the FSA said:
"The consequences for shareholders of the misleading statements issued have been devastating. Directors failed to act with integrity in discharging their responsibilities. They failed in their obligations to shareholders, the wider market, and the regulator."
Were it not for the ex-directors' financial circumstances, she claimed the fines would have been more substantial. She went on to say the FSA are looking at better methods for ensuring individuals and companies are held accountable for their actions. While it was not possible to issue Cattles or Welcome with direct fines in this instance, improvements must be made to guarantee other firms don't slip through the net.
How will those improvements come about? Firstly, it's important to note that all funding for the FSA comes from money collected from companies within the financial services industry. Even though the Treasury appointed every member of the board, no government grants are issued to fund their operation. Some experts think that needs to change. How can a regulatory authority like the FSA bring companies to justice if they don't have the manpower or resources to conduct thorough FSA investigations?
Another suggestion from the experts relates to planning ahead. There is no getting away from the fact that some businesses within the financial services industry are going to engage in misconduct. For that reason, people want to see more regulations in place that stop it from happening to begin with. Asking some of the biggest companies in the country to run everything past a third party before taking action simply isn't plausible. However, regular bi-yearly checks could help to stamp out any wrongdoing.
The FSA needs enough employees and cash to constantly monitor businesses they consider to be at the highest risk of fraudulent activity. That is the only way they could stop any underhand process before they become a major problem. The experts say we are a long way from making that happen, but the fines issued in 2012 are a step in the right direction. At the end of the day, members of the public would end up in prison if they acted in such a criminal manner. So, it only seems fair that large companies should face serious consequences.
The main issue with sanctioning banking groups is that most of their money belongs to the public. Even private banking companies base their operations on using other people's funds to invest and create profits. So, slapping them with hefty fines simply doesn't work. Any money the regulator takes away could increase the chances of their business going bust. While there is now a decent compensation scheme in place to help account holders if that happens, it doesn't cover every service and product they might use. Indeed, fines issues to Santander in 2012 relating to cover confusion help to illustrate that fact.
Can we expect to see further improvements moving forward? It seems as though the FSA is slowly getting their act together. With a few more years experience, they should manage to hone their techniques and become a fearsome deterrent to less than honest practices.
Western Circle is a lending institution providing short term credit in the UK under various trading names. As a company practicing the FCA's strict regulations, we continue to learn from past cases of misconduct in the UK.