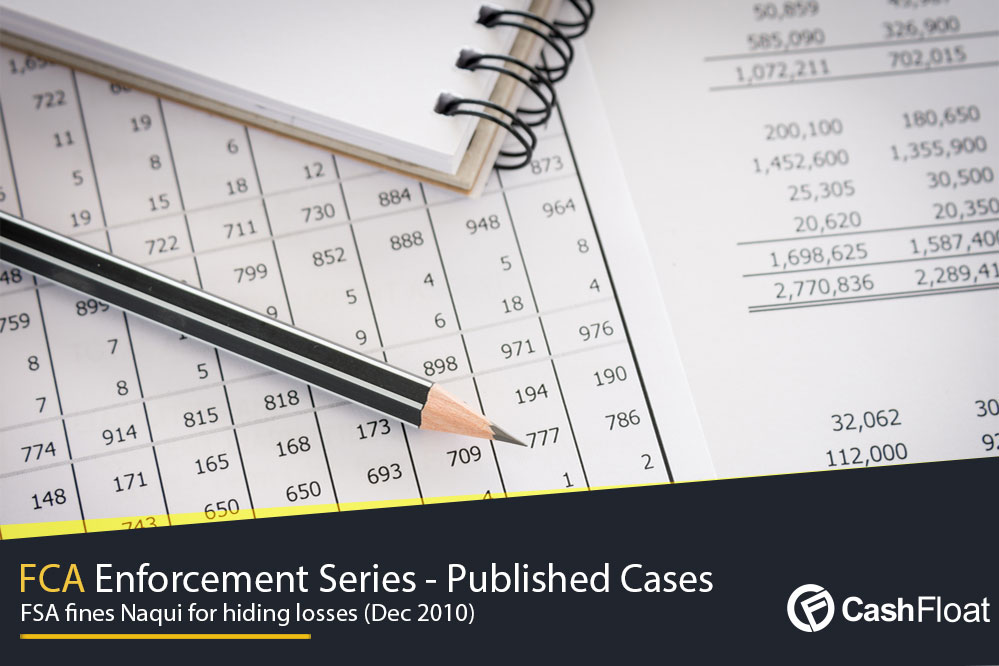 Naqui was fined by the FSA for deliberately reporting losses within the Credit Products Group and Toronto Dominion Group. Cashfloat, an honest and direct payday loans lender examines FSA reasoning.
Financial Regulation in the UK
The UK market is one that is heavily regulated. With this, there are a number of financial service providers who strive to meet the strict guidelines of the FCA. Many financial service providers ensure that they are sticking to the rules. What's more, they offer fair, honest and responsible advice. Of course, there are many companies within the UK that offer financial products. They are keen to make sure that they give customers a fair deal. What's more, they operate on a basis of integrity to ensure that the market is not harmed by their actions while trading. From short term loan providers to large scale banking corporations, there are many honest and integral businesses within the UK's financial core.
Misconduct in the Financial Sector
But, of course, there have been some well-known and high profile cases of misconduct. The FCA and PRA are keen to make sure that this kind of negligent behaviour is eradicated. Some of the larger scale companies have taken the rules and bent to them to suit the needs of their business. This is strongly in opposition to the rules as espoused by the FCA and PRA. So, while there are many honest financial service providers that are keen to follow the rules, there are those who do not follow this principle.
In the UK, the market has been blighted by these unscrupulous companies. What's more, the individuals involved have been severely reprimanded for their part within these series of misconducts. When a financial service provider acts in a way that does not adhere to the principles and guidelines of the FCA, it can have a long-lasting impact on trust with consumers. But, it can also damage confidence in the economy. All companies that offer a breadth of financial services need to ensure that they are operating with transparency. This ensures that the economic market can perform correctly. So, what does it mean for the UK's economy and financial service market if a company is operating at a less than integral basis? It can result in a wide range of ramifications. Here, the Cashfloat team will look at the case study of Naqui. Naqui is a former city trader that sought to purposely hide losses while operating within the banking sector.
The Case of Nabeel Naqui
Naqui was fined, by the FSA, a massive £750,000 for deliberately reporting losses within the Credit Products Group and Toronto Dominion Group. He was personally held accountable for his actions, as he had misled his employees and his staff. Naqui was found to be flouting the rules of the FSA when he mismarked trading positions. As such, this left Naqui being able to freely report on what he deemed fit. With that, he could ensure that the losses that were suffered by the company were concealed.
The FSA and Personal Accountability
Naqui held a position of trust within Credit Products Group and Toronto Dominion Bank. His illicit behaviour was conducted over the period of two years. From July 2006 to June 2008, Naqui operated on a dishonest basis. This was done to ensure that the company share was increased. Thus, he was allowed to retain his position of head of trading within these high profile firms.
During his reign, Naqui managed to conceal losses of £48 million. This ensured that he was seen as a prominent leader of his workforce. But, it also meant that the companies in which he worked for were seen as over-performing. During this time, he ensured that his position of trust and authority remained safe. As such, his performance was drastically overstated. But, he also concealed his losses by using a number of well-planned steps. After all, Naqui needed to ensure that he was not caught for his dishonest actions.
The FSA and their Ruling
The FSA were tipped off on the matter and investigated this case. As a result of the investigation, the FCA found that Naqui deliberately and purposely altered documents while he worked at the Toronto Dominion bank. His independent valuations were an essential part of the integrity of the business. By modifying this pertinent information, he could ensure that the bank was seen as a profitable one. What's more, he was considered a meticulous head of department. By engaging in these acts of deception, he ensured that his position was safe within the business. But, Naqui was only found to have acted in this way following his redundancy. A new trader took over the books that Naqui had previously done. He was then discovered to have carried out these deceptions over the course of two years. These losses took an age to unravel.
Market Professionalism
The FSA is keen to ensure that these issues of misconduct are eradicated from the market. When the financial irregularities were reported to the FSA, they duly investigated the matter. As such, their public statement slammed Naqui's actions and ensured that this kind of behaviour was made public. By failing to tolerate this deliberate mismarking, Naqui was fined to the tune of £750,000.
Market professionals, like Naqui, cannot bend or flout the rules to serve their own position. With this, there is an expected amount of professionalism. After all, a senior manager and professional, like Naqui, need to ensure that they are operating on a transparent basis. This provides confidence in the UK's financial system, and the economy remains intact. What's more, it ensures that market growth and shares of a company are accurately reflected.
Can the FCA Prevent These Issues From Happening?
The FCA, or FSA as it was known at the time, are keen to impose significant levies and fines. However these have not served as a positive deterrent within the UK's financial service industry. As a result of these light approaches to concealing losses and misconduct, it seems that there is a culture of dishonesty within large banking corporations. In fact, it appears to be the case that this behaviour is somewhat expected.
The FCA needs to impose large-scale fines. What's more, in the case of Naqui, they need to ensure that personal accountability is at the forefront of the banking and financial sector. The FCA needs to make sure that they are vetting and auditing businesses on a more proactive basis. But, they also need to ensure that individuals within these banks are reviewed for their actions too. Perhaps the FCA needs to be more regulatory when it comes to individuals. They need to assess and examine before they are allowed to operate at such a senior level. By assessing individuals and making them 'FCA approved' it could eradicate the issues of misconduct that have blighted the UK for the course of the last decade.