After an FSA inspection, two Northern Rock bank directors were found to be misreporting on mortgage arrears data. Cashfloat, an online payday lender for bad credit observes FSA investigations.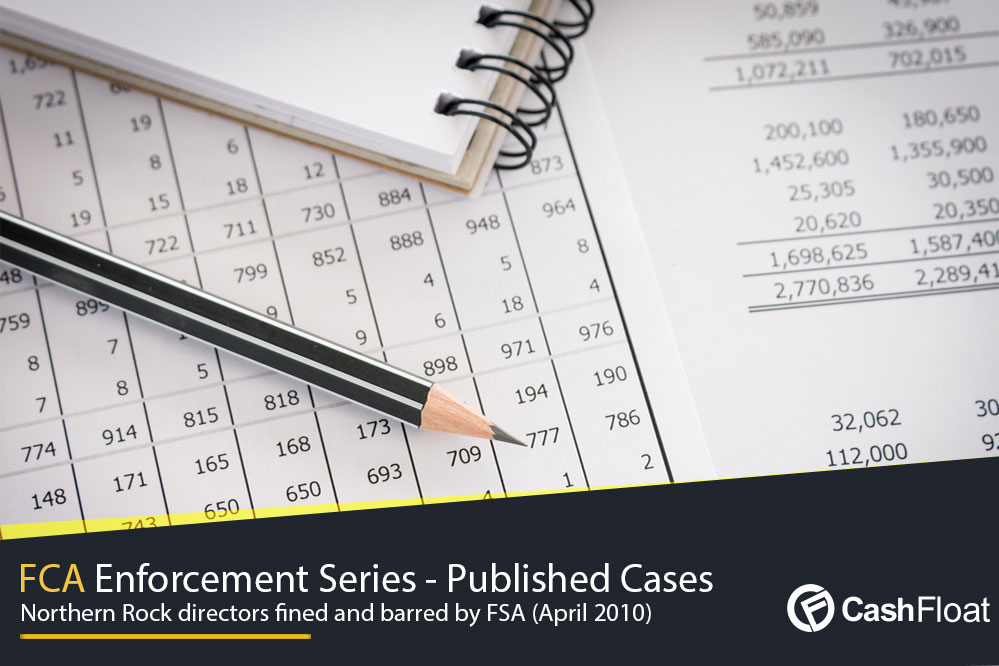 Honesty and Integrity in the UK Financial Industry
The UK financial market is said to be one of integrity and honesty. It must put the customer first. This is to ensure that customers get a fair deal from their financial products and from the companies that they choose to source these products from. There are many companies that are keen to make sure that their customers get a fair deal. What's more, they pride themselves on being responsible lenders and honest companies.
Of course, for every good company there is a bad one. The UK financial market has been rocked by a number of misconducts within the sector as a whole. Banks, in particular, have been found to be using less than honest tactics within their company. What's more, they have put their customers at risk by doing so.
Cases of Misconduct
While the financial sector is typically an honest one, there have been some cases in point that have highlighted irregularities within the market.
Here, we will find out more about financial misconduct in Northern Rock Bank.
The Case of Northern Rock Bank
April 2010 saw Northern Rock Bank being investigated by the FSA. It found that two of its employees were subject to financial misconduct within the bank. Following the financial crisis in the UK, the FSA took a hard line approach to dealing with these former executives.
The two employees of Northern Rock Bank, David Baker, and Richard Barclay, were found to be misreporting on mortgage arrears data. By misreporting this data, it meant that Northern Rock was viewed as a profitable company. The misreporting of these essential facts means that the company was seen as one in good standing. Baker was personally fined £504,000, with Barclay being fined to the total of £140,000 for their involvement in the misreporting scandal. Both men were told that they could not work within the financial service industry at a senior level.
The FSA and their Investigation
Senior directors of all companies were told this cautionary tale by the FSA. The director of the FSA stated that all businesses and their employees should take note of the findings. The fine was meant to be used as a deterrent for others that were seeking to engage in this kind of activity.
The misreporting of the arrears figures did not bear any reflection on the failure of the bank. But, it is a clear indication of how mortgage arrears and data can be misreported to hide significant losses within the company. At the time, the bank was the largest growing mortgage provider. As a result, it had a duty to ensure that it was providing exact sales figures to make sure that its customers were aware of the company's market share. During this time. Northern Rock Bank systematically conducted a number of misreporting errors to ensure that its market value stayed higher. On paper, the company appeared to be performing well.
The debt management unit within Northern Rock Bank had been subject to severe rules and negotiations. The bank was known for providing lower terms with its mortgages, hence its popularity. But, this resulted in a systematic bending of the rules to ensure that the firm remained to appear profitable.
Barclay and Baker found to be aware of misconduct
Barclay, it was found, was aware of these issues. He failed to implement the fundamental and necessary controls that were needed to eradicate these errors from happening. Baker had also been aware of the discrepancies within the company yet continued to omit and ignore failings within the enterprise. By doing this, Baker and Barclay halved the company's arrears on paper. Both men failed to report the issues and as such, we investigated on a personal basis.
Following the investigation, the errors and misreporting issues were corrected by the banks new owners. Baker and Barclay settled their fines early and received the 30% discount for doing so. Reductions in fines are standard practice when compliance with the FSA is achieved.
How the Rules Were Bent
In the case of Northern Rock, there appeared to be an endemic culture of rule bending. All employees were able to ensure that poorly performing loans were rehabilitated. While this was meant to be used on a discretionary basis, many employees used this tool to ensure that the figures were masked. Employees of the ailing bank were said to have done this to preserve their jobs.
How the FSA Could Have Prevented the Case of Northern Rock
During the period in which these actions took place, the FSA could have taken a number of approaches. While the individuals involved in the case were held responsible, the FSA could have ensured that the figures were duly audited. The FSA needs to be more than an advisor. While they have a strong set of principles and guidelines for businesses to follow, it's imperative that they act as a guide for companies. What's more, they need to offer support to banks that are undergoing financial difficulties. That way, audits and reporting would be done in a more timely manner and without problems.
Many banks, like Northern Rock, allow for lax controls in their business. As a result of this, employees can ensure that they are using these tools to suit the needs of the enterprise. But, this does not put the customer first. On the contrary, rules can be flouted or bent to suit the needs of the company and the employee.
Do Fines Help?
While financial sanctions can prove to be a deterrent for individuals who are less than keen to pay out this sum, it's not an obstacle for larger businesses. The culture within banks is so inherent that commission rules, above all else. They do not put the needs of the customer first. What is more, they ignore questions of decency and integrity.
The FSA needs to work alongside the government and banks to ensure that clients are in receipt of a fair deal. The FSA should take a more proactive attitude towards helping banks ascertain figures and sums. They need to ensure that there is more regulation of products such as mortgages to ensure that figures are not misreported and inflated. What's more, there needs to be regular auditing within banks to ensure that the figures are not bloated to suit the needs of the business.
The FSA, for this reason, should be able to provide more meaningful guidance to UK financial companies. They need to ensure that they are working alongside them to create a more honest and transparent culture. As the FSA only investigates a company following a complaint, the FSA needs to ensure that they are doing more to provide checks with businesses. This kind of behavior can ensure that banks do not inflate their figures and mislead customers in the future. Cashfloat is a responsible short-term lender and we make every effort to abide by FCA rules and regulations.