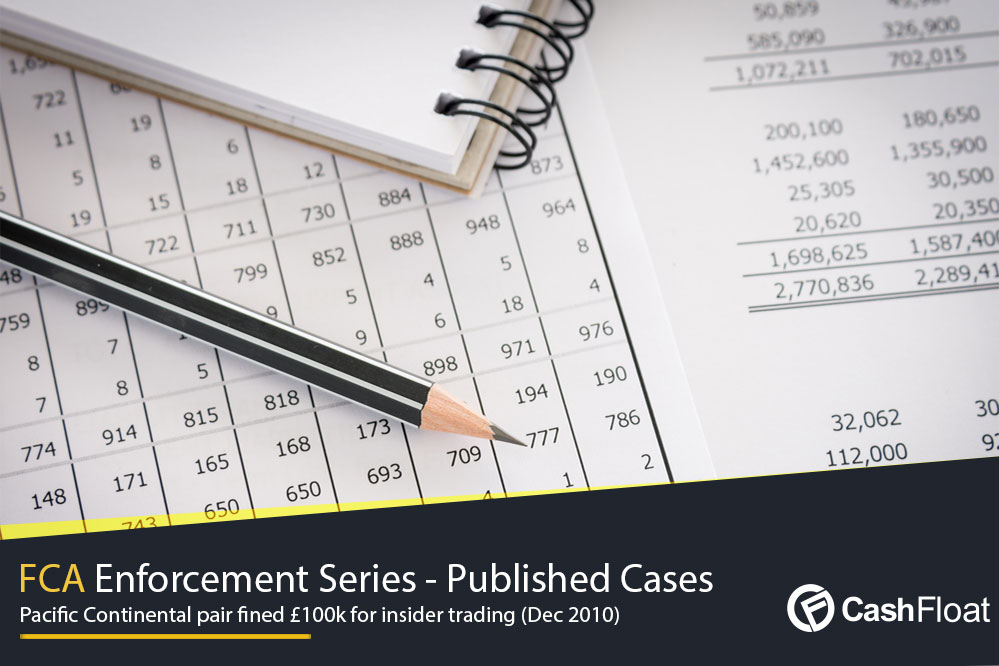 Story highlights
Misconduct in the area of Insider Trading undermines the integrity of financial services.
Copin and Bliss of Pacific Continental used insider trading to tip shares for the company./li>
The FCA need to take more action to protect insider trading.
In December 2010, two traders within Pacific Continental were found guilty of insider trading. Cashfloat, an instant payday loans lender look at FCA handling breaches of protocol.
Insider Trading In the UK
The Impact of Insider Trading On The Fiancial Market
Insider trading can have a severe impact on the financial services market. The UK is said to have a heavily regulated financial market. So, when issues occur surrounding insider trading, it can have a detrimental impact on the economy and consumer confidence for others in the financial sector such as short term loan lenders. The UK financial market is meant to operate on a basis of integrity and trust. But, when insider trading takes place, this can undermine these principles.
Insider trading can affect all kinds of businesses. As such, it means that this crime can influence the way in which other companies operate. For businesses that are found to be involved in insider trading, it can have a severe impact on the market as a whole. When insider trading occurs, it can have an effect on its investors too. As such, insider trading gives companies an unfair advantage in the market. It can see their stocks increased, but the company cannot trade at this level. As such, transparency in the market is harmed. What is more, this kind of illegal trading can pose serious problems to the market and its functionality. Investors in companies are then mistrustful. As a result, they fail to invest in companies.
This kind of behaviour has a detrimental impact on the integrity of the UK financial service market.
Are all financial services not to be trusted?
Of course, there are honest and transparent businesses within the UK. They are keen to not be involved with this kind of illicit behaviour. But, in the case of Pacific Continental, they were less than eager to operate on a legal basis.
Let's find out more about Pacific Continental and the case of misconduct within the UK market.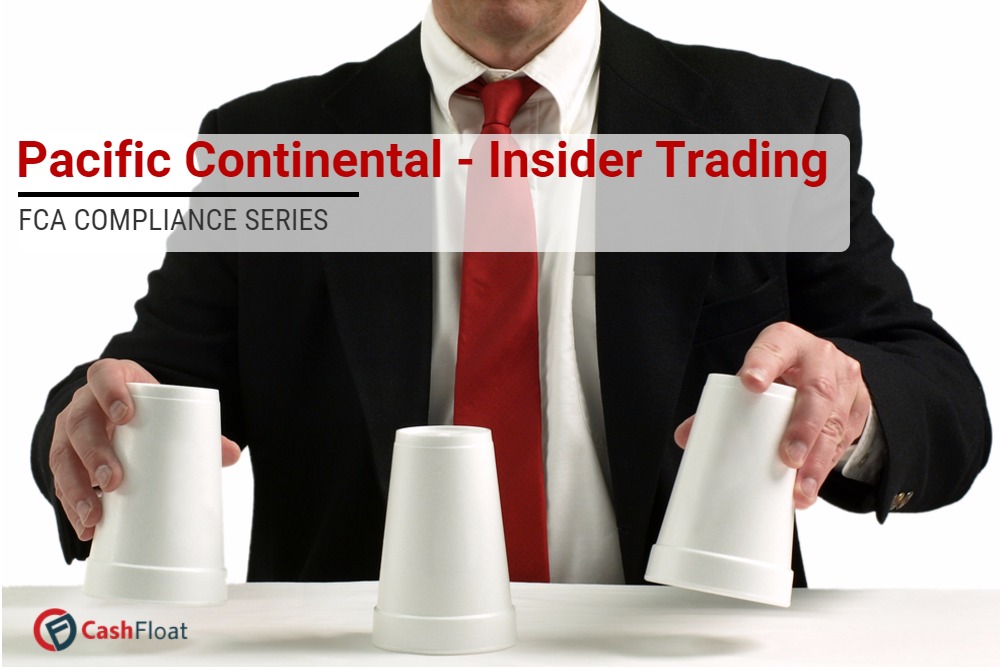 Pacific Continental and Insider Trading
The inside story
In December 2010, two traders within Pacific Continental were found to be guilty of insider trading. This trading is deemed as illegal within the UK and as such the FCA investigated as a matter of due course. The two employees were fined £100,000 for their activities.
It was found that the two employees had been using insider information to tip shares for the company. The two perpetrators, Coppin and Bliss, were fined £70,000 and £30,000 respectively for the event that took place.
Coppin and Bliss were found to be tipping investors off. This was to ensure that they were investing in a company that was about to announce a significant deal. As a result of this, they were found to be acting in a way that contravenes the principles of the FCA. As such, the two stockbrokers were banned from working in financial services. What's more, they were expected to pay the large fine.
As clients had invested in the company, the share price was forced up by 20% on the day of the announcement. This meant that the enterprise had an unfair and unnatural positioning within the market. By encouraging clients to buy into a company, it allowed investors to have more shares than what is deemed necessary. As a result of this, the two were fined and banned from trading.
All investors need to ensure that there is a level playing field when it comes to seeking out companies. Fairness is at the heart of the market. After all, people need to ensure that they are investing in a business that they can trust. Not one that tries to gain advantage over another.
As the company went into liquidation, Pacific Continental could not be imposed with a fine.
Can the FCA Prevent Insider Trading?
Market abuse is a serious offence in the eyes of the FCA. What's more, with more cases making the public eye, it's time to ensure that the FCA can take the right action in punishing these companies. Rigged markets can have a detrimental impact on the confidence of the economy. The FCA has created a greater awareness of insider trading since its conception. As such, it has issued a Code of Market Conduct that all businesses must adhere to.
The regulatory body is keen to look at this kind of problem more in more depth. But, they need to ensure that they are taking a proactive approach to insider trading. They need to ensure that they are imposing larger fines. What's more, the FCA needs to ascertain details from companies regarding controls and systems so that employees cannot flout the rules.
The FCA can prevent this kind of instance from occurring. They need to ensure that they are providing product guidelines on what can and cannot be disclosed to employees. It is important that the FCA gives clear structure on minimising this issue. As such, it should be the case that only a handful of workers know about mergers within companies. This ensures that the information cannot be traded.
What further steps need to be taken?
The FCA needs to take a more decisive role when enforcing these issues. Insider trading can have a large scale impact on the economy. As such, the FCA needs to ensure that they are watching stocks and share movements within companies. By doing this, they can eradicate any problems before they occur. If there are miscellaneous rises within the market, the FCA can step in and take action.
But, the FCA has been criticised for not doing this. It seems to only act when issues of compliance are complained about. It appears to be the case that the FCA should distribute harsher penalties to stop this kind of illicit behaviour from taking place.
The Code of Market Conduct is said to be the way in which the FCA prevents insider trading. But, this has done little to prevent these occurrences from taking place. Instead, the FCA should seek to act as an advisory body. The FCA needs to work in conjunction with the government and businesses. By doing this, they can implement clearer, workable guidelines and procedures. With this, this kind of problem could be eradicated from the market.
The FCA needs to ensure that it is taking a much more proactive role when assisting large corporations and banks. While financial sanctions have been used, they are not serving as a deterrent. The FCA needs to operate on a more hands-on basis to ensure that these issues are stopped.This will help the trust to be restored to all companies in the financial sector, including payday loan companies.