The Glasgow-based company, Park Row, had failed to provide customers with fair sales tactics. Cashfloat, a payday loans direct lender examines FSA conduct breaches and consequences.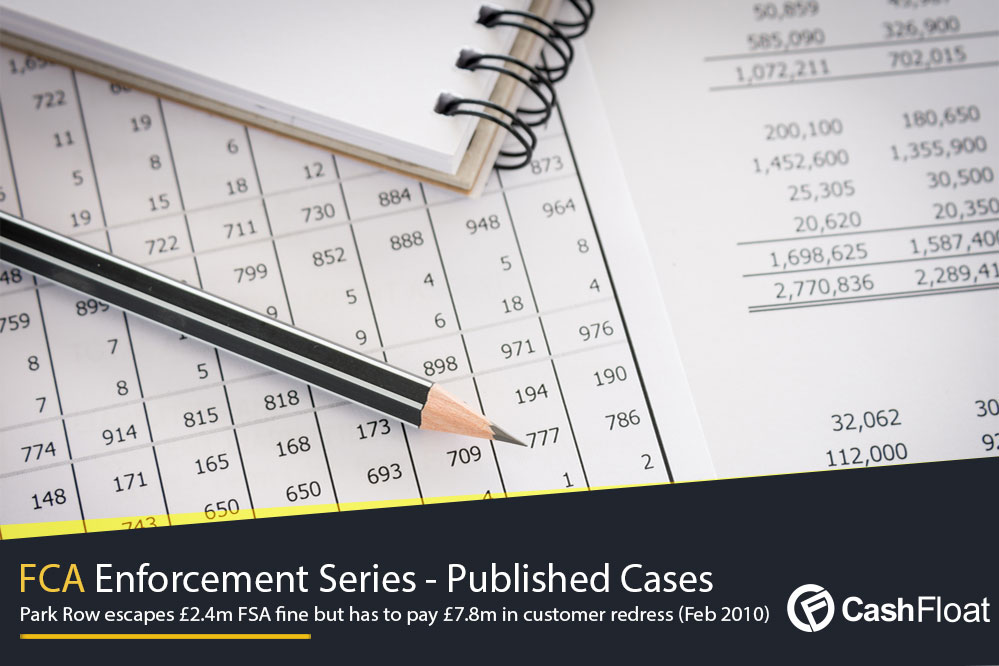 The UK Financial Industry
The financial services industry, in the UK, has always been a sizeable one. Many people need financial services for a broad range of different reasons. Loans, banks, insurances and so forth have always been required by the general public in the UK. Many consumers of these financial products put a great deal of trust into financial providers. As such, there is a need for transparency and honesty in the market.
There are many loan providers and responsible lenders in the UK. Many of these companies offer no-nonsense, honest advice. Sadly, not all companies follow these principles.
In the last decade, there has been a series of financial misconducts. Despite the UK market being deemed as 'heavily regulated' these companies have taken consumer trust and used it to meet the needs of the business. The regulatory body, the FCA, and PRA, have a broad set of principles that companies must adhere to. But, of course, some companies do not meet these principles. In fact, they flout the rules and as such, suffer the consequences of doing so.
One company in question is that of Park Row. Here, we will find out more about Park Row and why it was under the microscope for financial misconduct in the UK.
Park Row and Financial Misconduct
During February of 2010, Park Row Associates were investigated by the now reformed FSA. The FSA censured the independent financial advisory group after it was found to be in breach of misconduct. The Glasgow-based company had failed to provide customers with fair sales tactics. In fact, it used sales methods on customers that would otherwise not be eligible for the services that they sought out.
The FSA found that some individuals were guilty of using improper sales methods to boost the company's coffers. In particular, Peter Sprung who at the time was the chief executive of the company, was fined £49,000 for his involvement in the misconduct scandal. As such, he was also banned from working in certain functions within Park Row. Not only this, Sprung was banned from taking on any significant role or position of trust within any company for a minimum of five years. It seems that in the case of Park Row, personal accountability was sought by the regulatory body.
Failings at Park Row
So, what had the company done to receive such censure? The FSA found that Park Row failed in many different areas within the business. It seems that they had an inadequate set up within their customer advisory unit. A lack of training had failed to take place. With this, customers were advised to invest in products that were not suitable for their needs. This lack of financial knowledge, from a company that deals solely with financial products, had an enormous impact on its consumers. It put the customer at risk of substantial financial loss.
Park Row was found to have a lack of systems and controls in place to ensure that customers got a better deal with their financial products. But, there seemed to be a culture of negligence within the company. Systems and controls were systematically ignored. Park Row and its senior management had been advised on a number of occasions to implement and rectify the problems that were inherent in the company. They ignored them and continued trading in a way that was unfit for purpose.
The Failings of Peter Sprung
Sprung, in particular, was held personally accountable for this breach of conduct. He had failed to train and advise his employees on product training and suitability. As such, pensions were mis-sold, and customers were given advice on products that they were not eligible for.
More concerning is that, untrained and unskilled advisors gave out advice to consumers on financial products that they knew nothing about. The associates within Park Row only recommended these products as it would have gained them a higher commission. This does not serve within the interests of the consumer. As such, the representative of Park Row were looking at ways to support the business without putting the client first.
Following the investigation it would found that Sprung was aware of these issues. He failed on many accounts to ensure that his business was performing to the required standard. He failed in managing systems and controls. By ignoring this, he left the business susceptible to risk. But, he also left customers at risk due to inadequate advice.
The Results of the FSA Investigation
The FSA investigated the matter following a series of complaints. They concluded that this systematic ignorance of checks and measures resulted in harming customers and their finances. The FSA imposed a £2.4 million penalty. However, this was quashed when it was found that the company could not pay. Instead, the customers were redressed to the total of £7.8 million for the investment products that they had been mis-sold.
The FSA and their Role
The FSA took on the investigation after a series of complaints from consumers. But, in large they failed in their duties too. The FSA banned individuals from operating within any business at a senior level. But, the lack of fine is hardly a cautionary tale to other companies that have worked in a similar way.
The FSA has come under considerable criticism. While the regulatory body is keen to impose substantial fines and bans, they don't seem to take on a proactive approach to preventing these cases from happening.
Can the FCA Prevent These Cases From Arising?
In the crux of it all, the FSA seems to be no more than an investigatory body rather than a regulator. While they are keen to post online information about principles and fairness in the financial sector, they only seem to take action once the event has unfolded. In the sad case of Park Row, many customers were left vulnerable to the tactics of unscrupulous salespeople. It's down to the FCA and PRA, as a reformed body, to ensure that these types of events are prevented. The FCA needs to take on a proactive role in guiding and checking companies before the complaints are made. As such, financial sanctions are ceasing to work. With reductions in fines and penalties being wiped clear, in the case of Park Row, it seems that there is little need for companies to comply.
It's down to the FCA to use more robust measures when dealing with companies of financial products.