It was found that RBS and Natwest did not act in a way that was deemed appropriate when issues surrounded customer's data. Cashfloat a payday loans lender UK, monitors FSA cases.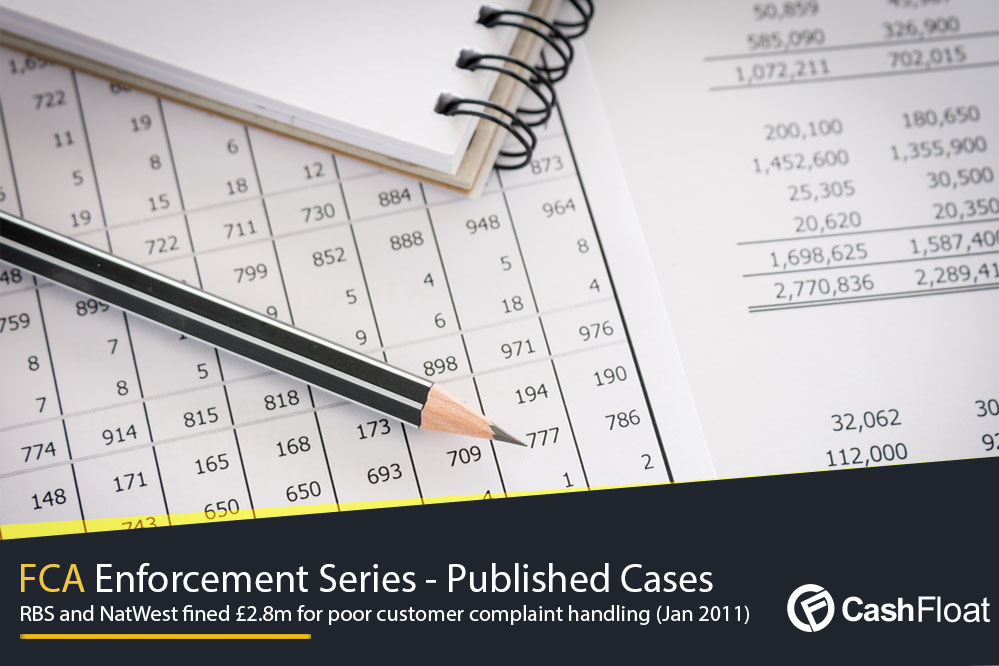 Misconduct in the UK Financial Industry
When it comes to misconduct in the UK financial service industry, there cannot be any room for leeway. It's essential that codes of conduct are used within any financial service provider. This ensures that the UK economy is growing in the right way. But, it also ensures that consumers of financial products are not left lacking confidence in the products that they seek out. It's imperative that consumers get the right advice. Honesty is essential. This is why so many companies are keen to operate on a basis of honesty and transparency.
It's essential for businesses that provide financial products to ensure that they are working on a basis of honesty. All companies that offer these services know that integrity is a must. As such, they need to ensure that they and their personnel are working towards providing an excellent, reliable service. Industry and product knowledge are a must. Their behaviour and skills have to be in line with the needs of their clients. As such, they need to ensure that they are working towards having the highest standards of integrity within their business.
There are a number of companies that are keen to operate on this basis. Small lenders and independent organisations know that customer confidence is at the heart of the financial service sector. While this is the case for many businesses that operate in the UK, there are some large-scale banking corporations that have left this kind of action by the wayside.
Failings to Customers in the Banking Sector
As such, there has been a series of events in the UK banking sector that have operated in a way that does not tie in with the core values of openness, honesty and fairness. All of these requirements are deemed as fundamental to the financial sector.
Poor actions from these companies not only harm customers, it damages the economy too. An environment of trust is essential for all firms that work within the financial sector. Ensuring that banks are acting with integrity and putting the client's needs above profits is a must. What's more, this is deemed as essential by the Financial Conduct Authority.
Many companies operate on this honest, transparent basis. But, there are many cases in point that have come to public attention over the last few years where this has not been the case. RBS and NatWest were found to be working in a way that defied the rules of the FCA. This article will go into more depth about this case in question.
Financial Misconduct and the Case of RBS and NatWest January 2011
January 2011 was a difficult time for banking giants, NatWest and RBS. The FSA investigated these banks over issues surrounding the handling of customer complaints.
During this time, it was found that the banks were not acting in a way that was deemed appropriate when issues surrounded customer's data. As a result of their complaint handling issues, they were hit with a £2.8 million fine. The FSA found that customer's complaints were handled inadequately. As a consequence of this, the bank was deemed to be negligent in a number of critical areas. After all, customers need to ensure that they are in the right place to complain if their accounts are not being handled with the right course of action.
Failings within NatWest and RBS
During the investigation, the FSA found that a number of complaints were not adhering to the rules as espoused by the regulatory body. 62% of complaints failed to meet the deadlines that FSA imposes to ensure that customer's issues are treated adequately. The FSA found that customers were not referred to the ombudsman when these issues were taken into account. Customers have the right to take their matters to the Ombudsman if they don't have the right outcome for their complaint. As these cases dragged on, customers were not given the right information to refer their case to the ombudsman. As such, this meant that breach had occurred within the bank. Ultimately, it left clients of the bank unable to proceed further with their complaints case.
Fines and Penalties
As a result of this negligent action, the FSA imposed a £4 million penalty. As RBS and NatWest were seen as compliant and wanted to settle their account at an early stage, their punishment was reduced to £2.8 million. The FSA, and now the FCA, operate on a discretionary basis. As such, if a company is viewed as compliant and willing, they offer the company embroiled in misconduct a hefty discount of 30%.
Investigations as Conducted by the FSA
The FSA, in the case of RBS and NatWest, found that complaints handling was of poor quality. This meant that consumers of products within the banks were left with very little reprieve to their banking issues.RBS and NatWest defended its position. They stated that they were only being investigated over issues surrounding non-complex and non-serious complaints. But, it was found that they had operated on a basis of misconduct. As such, it was recommended by the FSA that they took actions to improve their procedures and to rectify these issues.
Preventative Methods: Can the FCA Stop These Issues From Arising?
The FCA has not had a good history when it comes to using prevention methods. While it will act upon complaints; it deals with companies on a reactionary basis. For this reason, there have been calls for the FCA to improve on its handling of cases like RBS and NatWest.
The FCA has stated back in November 2014 that all companies need to ensure that they are honing their complaint handling processes. As such, they need to make sure that they are working with trade bodies and ombudsman's to ensure that banks are giving customers a better quality service. As such, it is deemed essential that banks provide a quality outcome for its client base. But, the FCA is merely proposing this as a recommendation. The light fines and discounts that are awarded to companies are often viewed as a soft touch. While the FCA is encouraging banks to handle customer complaints more effectively, they are not guiding banks through this process. Instead, they are issuing further guidelines that are not clear and are open to interpretation.
The FCA needs to have a stronger, less affable approach to dealing with issues of misconduct. Only then will these questions of misconduct be prevented and eradicated from the UK market.