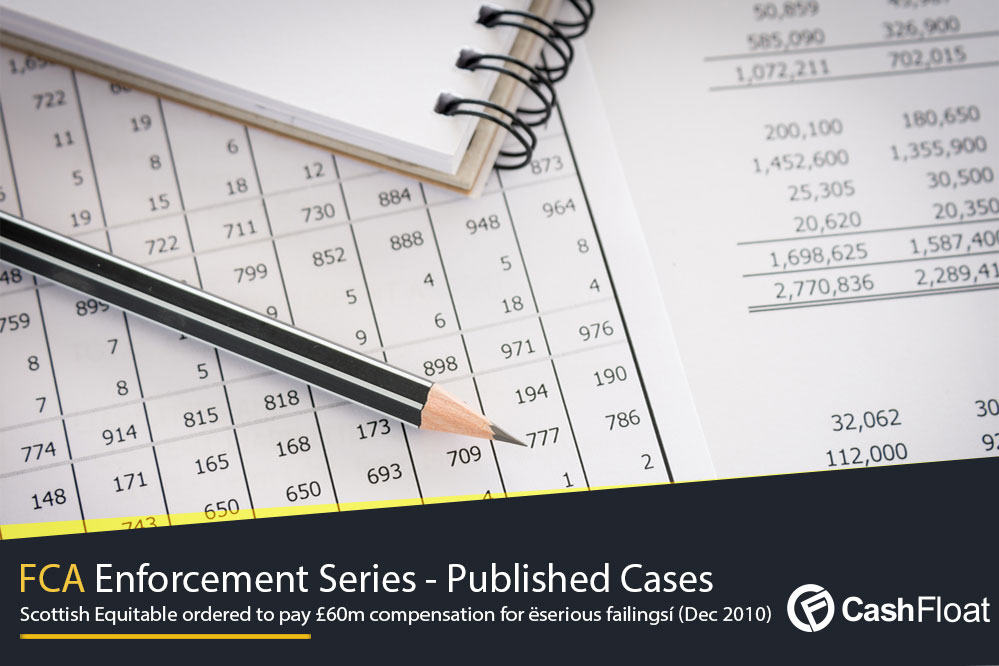 Cashfloat, a payday loans UK lender looks at the case of Scottish Equitable.
Honesty in UK Financial Services
In the UK, there is an expectation that all providers of financial products will operate on an honest and stringent basis. There are clear guidelines for expected behaviour. This is to ensure that companies are operating on a transparent basis. But, it also ensures that consumers of financial products are getting the best possible deal. The UK financial service industry is important. It's vital that it performs well to ensure a healthy and stable economy. Positive economic growth has never been more important. In light of the credit crunch and recession, it's detrimental to the growth of the economy that honesty and transparency take place.
It goes without saying that there are a large number of financial service providers who are keen to operate on this basis of honesty. They ensure that they sell the right products, to the right clients. They don't conceal losses. They make sure that they have the right systems and controls in place to safeguard their business and their customers. These companies strive to have employees within their industry who are the epitome of professionalism. Many companies of financial products are keen to prove that they are honest, integral and adhere to the rules of the FCA and PRA.
Misconduct in the Financial Service Sector
Of course, while there are thousands of reputable companies, there are some less than reputable companies. They operate on a basis of dishonesty. They sell incorrect products to customers that put them at severe financial risk. They operate within a culture of deception. What's more, they fail to have the right checks, systems and processes in place to safeguard their clientele, the economy, and their business.
During the course of the last decade, there were a series of misconducts within the UK's financial sectors. Large scale banking corporations ensured that profits were put above integrity. One company that operated on a dishonest basis was that of Scottish Equitable.
Financial Misconduct in the UK: The Case of Scottish Equitable 2010
During December 2010, Scottish Equitable was fined £2.8 million by the FSA. Following the investigation they were ordered to pay over £60 million in compensation to its investors and policyholders. The FSA found that the insurance provider was in serious breach of misconduct. What's more, they were found to be breaching a number of rules. Their failings were made public, and the massive fine was imposed.
About Scottish Equitable
Scottish Equitable started trading as a life insurer. They had sold an extensive number of policies to several hundred thousand consumers. But, they mis-sold policies and were found to have a broad range of internal problems. These problems were so severe that they dated back to the early 1990s. The company was found to have breached a significant number of protocols. The company was found to have serious failings in the way in which it dealt with its systems and controls. This meant that their clients were left with substantial losses. What's more, improper calculations and pension payments were riddled with systematic errors. Following a stringent investigation by the FSA, the insurance provider was found to have a minimum of 300 errors within its company and the way in which data was recorded.
Scottish Equitable had begun to compensate its customers for these pertinent errors. As such, consumers were left out of pocket. These losses meant that they would not have been entitled to their full payout as per the rules of their policy. It was deemed that customers were disadvantaged as a result of negligence by the company.
The FSA investigates Scottish Equitable
The FSA said that these systemic issues had gone, unnoticed, for over 12 years. During the course of the decade, clients were left with little cash. What's more, the FSA highlighted the need for financial service providers to have robust administration within its company. Customers need to ensure that they are dealing with a corporation that is not prone to errors. Especially, when they are dealing with large sums of cash. As the company went about their business for over a decade before these errors were made public, Scottish Equitable was left unable to fix these errors without intervention. As such, it resulted in large-scale delays and a loss of consumer confidence in their products and investments.
Life insurance is an emotional subject for any client. To have their information misrepresented and to not be entitled to their payout, after investing in this product for years, is abominable. This left customers in a considerable state of financial disarray.
The 300 plus issues that were found at the company highlighted the need for auditing and controls within companies on a more robust basis.
What the FSA Found
The FSA highlighted a number of problematic issues within Scottish Equitable. The company made systematic errors with calculations. This affected pensions and minimum payment benefits to its client. This cost 774 customers a total of £6 million from their own investments.
The insurance provider was also found to have within their business. This lead to the issues surrounding errors. As such, they also failed to make sure that customers were matched with their Department for Work and Pensions files. This needs to be done to ensure that their contributions were taken into account thus maximising their policy. By failing to do this, customers were left with little remuneration from their insurance plan.
Not only this, over 200,000 policyholders were left without updated details. As such, this meant that customers could not be traced in the event that they needed to be paid out for their premium. Accurate customer details are the lifeblood of any organisation.
These sporadic and ineffective systems in the company resulted in customers not having a robust, honest plan that they needed. Legacy management programs need to be conducted with the highest possible ingenuity. After all, consumers of these products have to have confidence in their insurance premiums in the event of death occurring. They need to maximise their finances in the event of a loved one passing.
Preventative Action and the FCA: Can the FCA Do More?
One of the most worrying things about this case is that Scottish Equitable was left to run on a series of misconducts for a total of 12 years. The FCA needs to ensure that they are taking a more proactive approach in consulting businesses. Instead of acting as a reactive force that issues penalties, the FCA needs to make sure that they are proactively guiding companies. This can be done with their administrative processes. But, it could be used for auditing purposes too. Instead of acting retrospectively, the FCA needs to have more meaningful advice to distribute to companies of this ilk. This would prevent further misconduct from arising in the future.