Guide: The Effects of Payday Loan Regulation
– Chapter 10
With the number of high-risk consumers increasing due to tightened FCA regulations, where do declined applicants turn next? Join Cashfloat, as we delve into the facts and figures.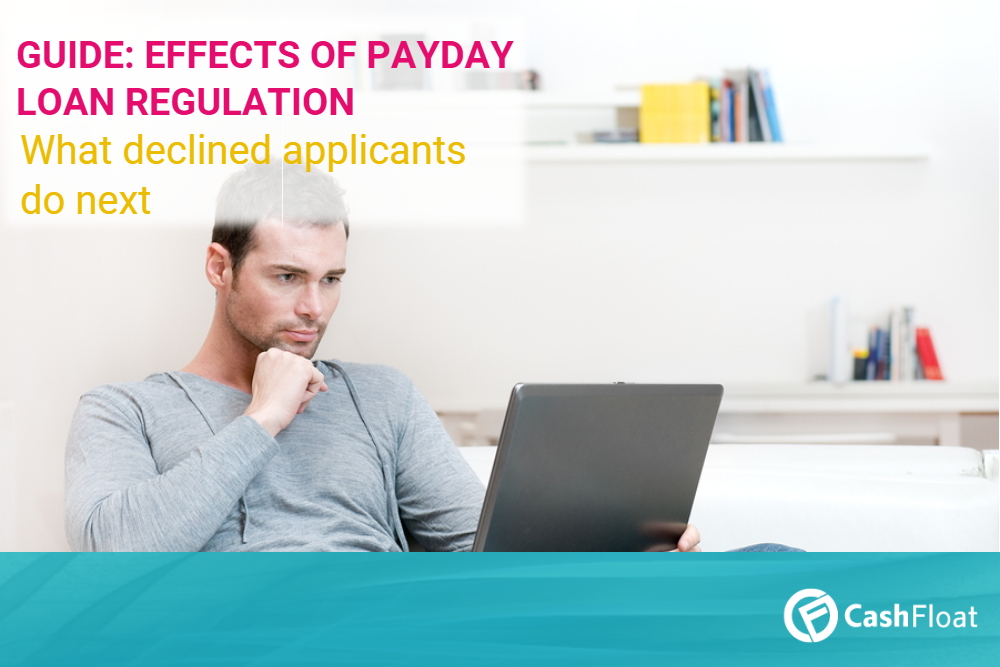 In this article we will take a look at:
Declined Applicants Next Steps
Accessing Payday Loans
Loan Sharks
Missing Bills or Going into Overdraft
The Facts and Figures of People's Choices
Illegal Loan Sharks
Conclusion
Declined Applicants Next Steps
In the last chapter, we discussed how payday lenders are increasingly declining high-risk applicants, which is what the FCA wanted. However, we now have to consider whether this has indeed been beneficial for these rejected applicants. What are they doing instead?
Accessing Payday Loans
Payday lenders are now more reluctant to lend to high-risk consumers and have therefore tightened their lending criteria to exclude them. The FCA estimated that about 89% of borrowers in 2014 would still be able to access payday loans, and they would be paying far less for them due to the cost caps. However, this means that lenders will not approve roughly 1 in 10 previous payday loan users. What will they do instead?
Based on their research, the FCA stated that a loan would only have worsened their situation anyway, and so they would be better off without one. But would these people just manage without the loan, or turn to other places for the cash?
Let's take a look at the primary concerns of the regulators.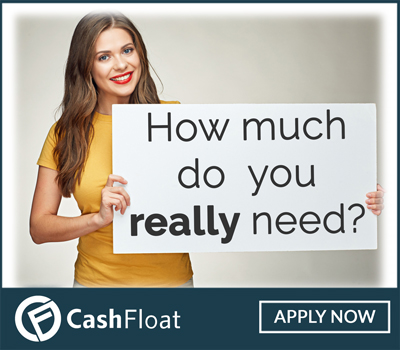 Loan Sharks
When the FCA decided to regulate the industry, one of the biggest worries was that declined applicants would be driven to illegal loan sharks for money. These sharks usually charge extortionate rates and often respond to missed repayments with threats of violence towards the borrower and/or their family. There are no safety features in place like there currently are with the legal payday loan industry, so a small loan could potentially land the borrower in debt of thousands of pounds.
This is made worse by considering who it is that may be driven to loan sharks; we're talking about the people who are least likely to be able to repay their loan. It is very probable that they won't be able to meet the repayments – and if that happens, the consequences will be far more severe than if they would have taken out an instant payday loan from an FCA-authorised lender.
Missing Bills or Going into Overdraft
Declined applicants may be unable or unwilling to borrow from any other sources, and will be forced to just 'go without'. In some cases, this means missing a bill or repayment or going into overdraft. The consequences of these are usually severe, and may even work out more expensive than a payday loan would have been.

A Look at the Data
But now, looking back, what does the data say? Have these people been negatively affected by being declined for a payday loan? If so, there is a case for raising the cap, which would let more risky applicants be approved. Let's see what the FCA found in their review.
The debt charity StepChange published a report that goes into great detail about declined payday loan applicants. They surveyed their clients with HCSTC debt, asking what they did when lenders refused them. 65% of rejected applicants just borrowed from another source, 34% from another lender and the rest from family or friends. Other people just missed their payment or bill (40%), while others raised the money by selling something (25%), cutting back on spending (9%), or dipping into their savings (1%).
We now have some answers to the concerns raised above.
Illegal Loan Sharks
Out of those who borrowed from another lender, how many of these turned to illegal loan sharks? StepChange discovered that only 3% chose this route. They did acknowledge that it was difficult to gather statistics about illegal lending, so the number is likely to be slightly higher.
The most substantial proportion, 22%, just turned to another HCSTC lender, while doorstep loans, credit cards and overdraft were all popular choices. The graphic below illustrates the decisions people made.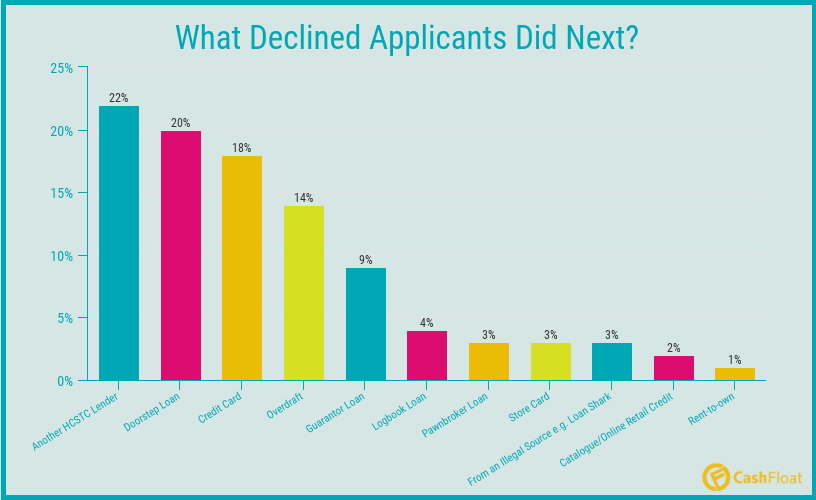 While the low statistic for illegal lending is a relief, the other choices people made are worrying. Doorstep loans are usually more expensive than payday loans, and the collectors can be more intimidating as they are there in person. Long term debt on credit cards and overdraft can have a significant effect on a person's financial well-being. Guarantor loans can be more accessible but can destroy relationships if the borrower is not able to repay their loan.
For many of these people, it may have been more beneficial for them to have been accepted for the bad credit loan direct lender they had initially applied for. However, this accounts for roughly a third of those declined; what about the rest of them?
The Rest of the Declined Applicants – What they Did?
Missed a payment/bill – 40%. Depending on the type of payment, this is usually an adverse occurrence. However, would it have been more beneficial to pay it with a payday loan, and then default on that? Often, missing the bill is the lesser of the two evils.
Borrowing from family/friends – 31%. This is usually free, and almost always a better option than a payday loan. It can be awkward to ask for a loan though, and things may get sticky if the loan cannot be repaid.
Sold something – 25%. This is usually better than a payday loan unless it is something important such as a treasured piece of jewellery.
Went for debt advice – 20%. This was the response the FCA were hoping for, that these high-risk applicants should start taking better control over their finances. However, remember that StepChange is currently helping everyone in this survey, so they all turned to them for debt advice at some point.
Decided to go without – 12%. This is great when the money was needed for something that wasn't completely necessary for the applicant.
Cut back on spending – 9%. Again, this is an excellent response to being declined. The applicant is showing responsibility for their financial behaviour, and being declined has spurred them on to improve further.
Used savings they already had – 1%. This is usually a good move (unless there are steep charges for withdrawing money from savings accounts, for example). However, most people who are in need of a payday loan do not have this option, as they have been unable to save any money.
*Note: there is some overlap between the categories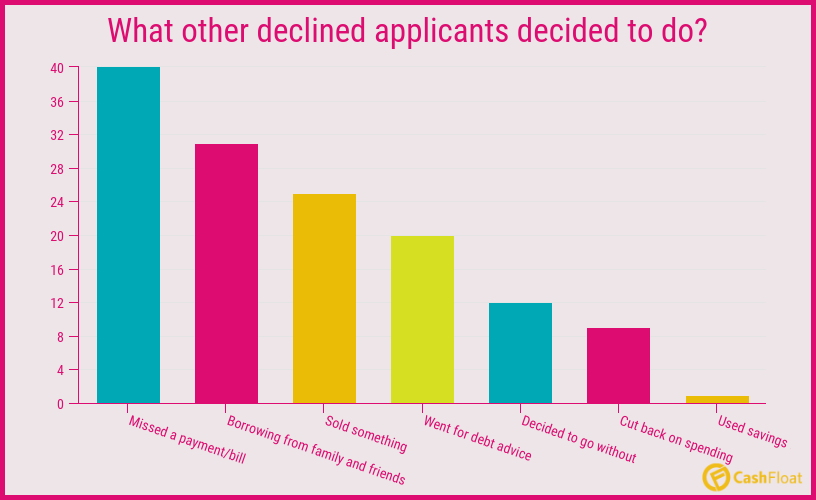 Was Debt Worse for Declined Applicants?
Furthermore, the applicant's level of debt was usually increasing when they applied for an HCSTC loan, but it didn't accelerate after being declined. In fact, in many cases, their level of debt even slowed.
So, all in all, was being declined beneficial for the applicant? According to the FCA, 63% of rejected applicants said that being refused was 'for the best'. This could be because it caused them to find other cheaper sources of credit, or pushed them to get in control of their finances or even helped them realise that they wouldn't have been able to repay the loan.
Conclusion
It seems that the cost caps are causing more people to be declined, but in the majority of cases this is not having a negative impact on them. In many cases, it is even beneficial.
Here at Cashfloat, we scrutinise every applicant's situation. If it looks like a payday loan is not the best thing for them, we will decline the application – for the applicant's sake. The data explored in this article is reassuring to us, as a moral lender in the UK, that we are doing the right thing.