Payday loans have been talked about a lot in recent times. They've also become one of the most popular types of credit currently available. Many people have turned to quick approval payday loans, sometimes out of convenience, and other times out of desperation. To fully get to grips with the payday loan phenomenon, you need to understand what they are and how they work. Below we will discuss this, as well as the differences between payday loans and bank loans.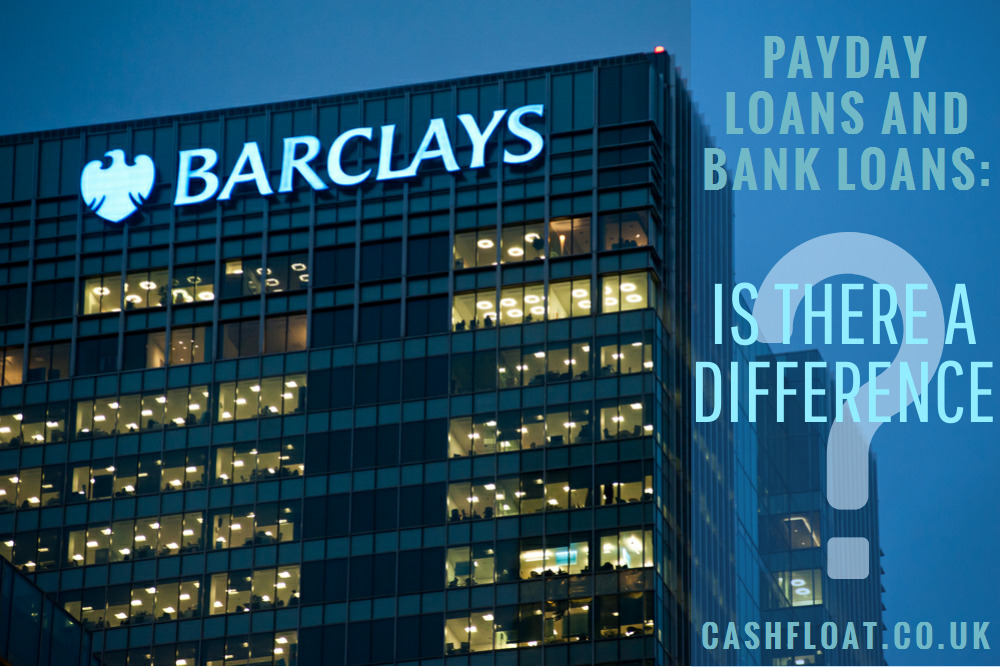 Defining Payday Loans and Bank Loans
What Is a Payday Loan?
A payday loan is a short term loan that can be taken out and then repaid at the end of the month. Payday loans are supposed to be for people who just need a little extra cash to tide them over until they get paid, as the name suggests. That's not to say that they're only used for this purpose, though. Many people simply see payday loans as new ways of getting access to cash in a way that's quick and easy.
Payday loans come in small amounts, and with high interest rates. This interest rate is how many payday lenders manage to make these loans profitable. They might not lend much, but the interest rates mean that the lenders see a sizeable return on their investment once the money is repaid. For many people, the high interest rates are a reasonable price to pay for the ease of access payday loans offer.
At Cashfloat, we strongly encourage our customers only to take payday loans to help with short term cash flow problems. We have developed rigorous affordability checks to assist us in the process. We also have a dedicated team of underwriters who manually approve or decline each and every loan, because we simply can't trust computers with the financial future of our customers
What Is a Bank Loan?
There are various types of bank loans available. Personal loans can help people to realise their aims and ambitions. Homeowners often use personal loans to increase the long-term value of their homes. They can also be used to consolidate existing debts and make the debt more manageable. When the loan has been agreed, monthly repayments will need to be met for the duration of the loan's term.
Another common use of bank lending is to help businesses grow and expand. The money borrowed can then be used to invest in fixed assets. This sort of financing is usually medium or long-term. And the longer the term is, the higher the interest rate usually is. A meeting with a bank manager will help to settle the intricacies and variables of the loan so that the arrangement suits everyone.
Key Features of Payday Loans and Bank Loans
The Key Features and Risks of a Payday Loan
Payday loans are very appealing to many people because they offer a way to access money without much fuss. That's because the application process is usually very quick and can often be completed online. Payday loan creditors don't usually carry out credit checks. This is the case because the short terms and high interest rates offer payday lenders security. Therefore, they are less concerned about things like credit ratings than banks. Fines for missed payments are also a common feature of payday loans.
These penalties, combined with high interest rates make payday loans risky. Borrowers who fail to meet repayments can see their debt build and build until it falls out of their control. If the debt can't be repaid, then the creditor could consider repossessing items from the borrower. Going through repossession is a stressful and damaging experience. But it can happen when people fail to carry out due diligence before borrowing.
The Key Features and Risks of a Bank Loan
Bank loans can come in the form of secured loans or unsecured loans. A secured loan has a collateral. A collateral is something that is worth a lot of money, such as a home or maybe a car. The lender can take possession of this collateral if the borrower fails to repay the loan in the way that was agreed. Unsecured loans are not tied to a particular piece of collateral. Therefore, the lender can't automatically take possession of things you own. There are also variable and fixed interest rates available on different types of bank loan.
Taking out a secured loan is, of course, the bigger risk. Although many people who take these loans feel sure that they will make the repayments, things can change. As soon as you enter into a secured loan agreement, you run the risk of losing your home or another asset. Borrowing money is always a risk, but unsecured loans are much less of a risk for most people.
When Should Payday Loans and Bank Loans be Used?
Situations Suited to Payday Loans
Payday loans are suited to people who are in work but need a bit of extra money to tide them over. As long as the borrower has some money coming their way shortly that can be used to repay the money, it can be a safe course of action. It's thought that fewer people are borrowing money from their friends and family now that payday loans are a viable option. It's a new way of keeping personal financial matters entirely private.
There is usually a very particular reason for someone needing money quickly when they take out a payday loan. They can be suited to people who have run out of money but need to pay an urgent bill before their next payday. Cash flow problems are common when people have household budgets to juggle and manage. Payday loans can be a quick and easy fix to those kinds of problems faced by many families.
Situations Suited to Bank Loans
Bank loans are better for people who need to borrow more money. Much larger sums of money can be accessed when you borrow money from a bank. This is because the restrictions that are applied by payday loan companies don't apply to bank loans. Many people take this kind of loan for improving their assets and consolidating existing debts.
Then, some businesses also benefit from bank loans. Money is required for things like business expansions and investing in new technology or machinery. Borrowing to pay for assets is a good idea because those assets can generate revenue in the future. This means that the loan will pay for itself.
Knowing the difference between payday loans and bank loans can help you judge which loan is best for you. Remember: Payday loans should never be used to solve a long-term money problem.
If you are looking for an HSBC Bank loan alternative, click here to find out how much you can borrow and compare your loan options.