Story highlights
Cashfloat provides many payday loans for construction workers on a monthly basis
The Construction Industry Training Board predicts that 232,000 new jobs will need to be filled in the next five years
Different Professions & Payday Loans
– Chapter 13
Cashfloat.co.uk is a responsible UK short term lender. Following an inspection into our applications, we noticed that some professions seem to need payday loans more than others. In this article, we will try and find out why payday loans for construction workers are particularly common.
According to the UK Commission for Employment and Skills, there is concern over the shortage of skilled workers in the construction industry and that 12,000 vacancies are hard to fill while the Construction Industry Training Board (CITB) predicts that 232,000 new jobs will need to be filled in the next five years. What has caused this nationwide shortage and how has this affected the working lives and earnings of construction workers?
In this report, the situation of the UK's construction workers will be examined in depth considering issues such as average salaries, training, working conditions as well as new working practices. In this way, the question of why payday loans for construction workers are quite prevalent will be answered.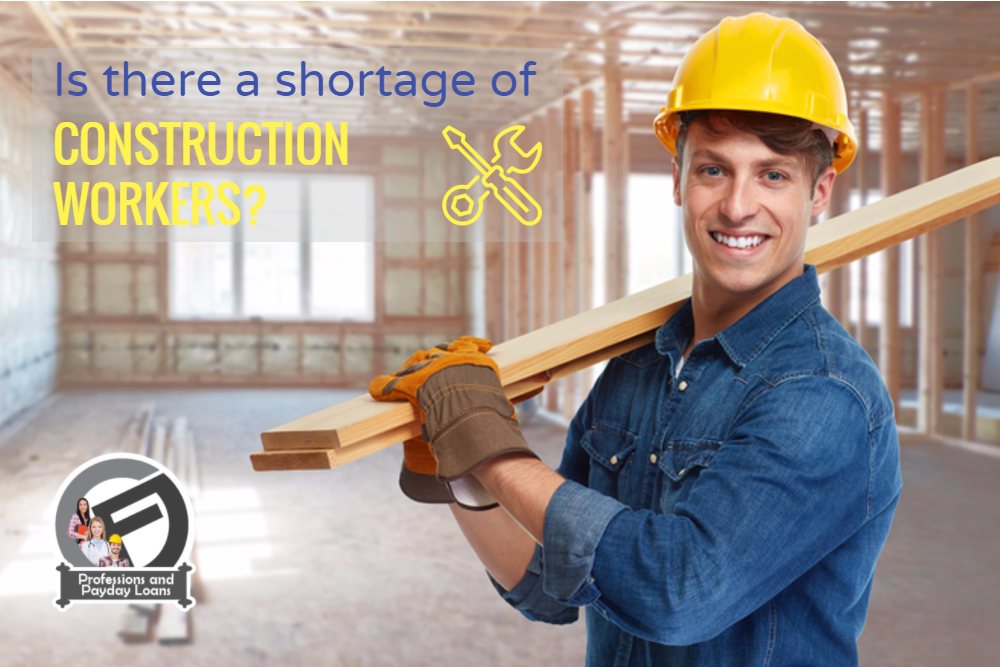 How to Become a Construction Worker
Many workers who go into the construction industry start as soon as they leave school. On-site training is obviously provided but, depending on the size of the employer, this can be part of an apprenticeship so that practical training is combined with academic learning as the trainee takes a vocational qualification too. This is of benefit for both sides since the employer has a skilled workforce while the apprentice can earn while learning a trade.
Graduates can also go into construction and often do so as part of a sponsorship agreement with larger construction companies. This sponsorship can be one of two kinds. At first, they are full-time students but work for their sponsor in the holidays and a certain number of years after graduation or it could be 'day release' when they work four days a week but spend one day a week studying.
Qualifications in the Construction Industry
There are some academic boards offering vocational training for trainee construction workers. The City and Guilds offer a range of levels of NVQ qualifications from entry level where trainees are taught basic manual skills up to level 6 which teaches site supervisory and management skills. The most common are levels 2 and 3 which are recognised in the National Apprenticeship Frameworks.
The Chartered Institute of Building (CIOB) offers a similar range of Ofqual-accredited qualifications from level 3 certificates or diplomas up to the Level 4 Graduate Conversion Certificate.
The Construction Skills Certificate Scheme (CSCS)
This scheme offers the guarantee that workers on construction sites have the required training and qualifications. Upon the payment of a fee and copies of qualifications (if necessary), employees' applications are processed. All applicants are also required to pass an appropriate level CITB Health, Safety and Environment Test, which is unique to their trade or occupation.
Once they have satisfied these requirements, their names are added to the database, and they receive a CSCS card. The possession of this card is not a legal obligation but members of the UKCG, including major construction companies and contractors, will not employ workers without one.
Salaries in the Construction Industry
How much do Construction Workers Earn?
There seems to be a broad range of salaries within the construction industry, and it's hard to give a definite figure. The factors which can affect salary levels are the geographical region, the size of the employer, the type of contract which the worker has and their trade/skill. The industry has always relied heavily on casual labour and/or the use of employment agencies, which also has an effect on how much money a construction worker can expect to earn. However, as the Construction Industry Joint Council (CIJC)
Working Rule Agreement
is the largest industrial agreement and covers 500,000 workers of the estimated 2.1 million employed in construction, hourly rates will be taken from there.
What is the CIJC Working Rule Agreement?
From July 2016 the pay rates for apprentices vary from a basic £5 per hour in their first year up to a maximum of £11.61 per hour as they obtain qualifications and gain experience in their trade. There is a similar scale for workers according to their skill rate, and this varies from £8.73 per hour to £11.61. These figures represent a 2.5% increase in pay rates, and the agreement stipulates a further increase of 2.75% from June 2017.
What are the Working hours and Other Allowances in Construction?
Rates for construction workers are most commonly given per hour since although they are supposed to work an average of 39-40 hours a week, the industry and its employees rely heavily on overtime, especially when there is a deadline to be met. This is, of course, paid at a higher rate. Apart from their basic hourly rate, the CIJC also stipulated increases in travel and fare allowances as well as subsistence (or lodging) allowance, when they might be expected to live away from home on a construction project.
How much Annual Leave and Sick Pay is Allowed for Construction Workers?
For construction workers employed under the CIJC Agreement, they are entitled to 21 days of annual leave plus eight public holidays; annual leave is usually limited to 2 weeks in the summer and all holidays must be paid at their standard rate of remuneration.All construction workers are entitled to Statutory Sick Pay which is payable from the 4th working day of their illness. In addition to this, the CIJC Agreement allows them Industry Sick Pay, which from July 2016 is £118 per week. Their entitlement to this payment depends on how long they have worked for their employer. If they have worked for four weeks, they can claim four weeks of Industrial Sick Pay while if they have worked continuously for 15 weeks, they can receive seven weeks. The upper limit is 26+ weeks of employment when they get ten weeks of sick pay. To receive this payment, a registered medical practitioner must provide a certificate.
What Pension Schemes are there for Construction Workers?
Between October 2012-2017 a new system of workplace pensions has been introduced called 'auto-enrolment.' The Building and Civil Engineering Benefit Scheme has been created to help firms with low to medium earners or high staff turnover , such as construction companies, to apply these new regulations.However, there are worries that many construction workers, especially those who work for umbrella companies, are missing out on pension contributions as they are classified as 'self-employed.'
What is UCATT?
The Union of Construction, Allied Trade, and Technicians (UCATT) was founded in 1971 and has a membership of approximately 55,000. Because of falling membership and to be effective, a proposal has been made that it should merge with Unite the Union; at this moment its members are being balloted to see if they agree.UCATT have been extremely vocal in their opposition to the recent changes in work practices in the construction industry and the increasing use of umbrella companies.In the 2014 Finance Bill, any worker engaged by an agency or contractor could no longer be classified as self-employed; the government hoped this would lead them to join the PAYE scheme and they would be able to increase tax revenue. Instead, employment agencies created umbrella companies to avoid paying NI contributions by presenting the workers as supposedly 'self-employed'. The Citizens Advice Bureau estimates that this affects 460,000 workers. UCATT claims that the loss of tax revenue is £3,800 per year for any worker on a wage of £500 per week.One of the problems of construction workers who are employed by umbrella companies is that they are expected to pay both contributions to their NI, which can be 25% of their eligible earnings. Workers are often charged up to £30 per week for the 'service' of the umbrella company, and confusing payslips are given to mask illegal deductions. Such employees are often on a zero hours contract, sometimes with an exclusivity clause. Another complaint is that annual leave is 'rolled up'; they supposedly receive an extra amount of money every week in lieu of holiday pay. This means that as their leave will be effectively unpaid, they end up not taking it at all.
Shortages in Skilled Construction Workers
UCATT blames the lack of skilled construction workers in the 30 years of failing to train apprentices. This is partly due to the fact that construction has an image of being 'old-fashioned' and partly because of the encouragement is given to students to pursue a path of academic higher education.
The UK construction industry has been relying on skilled EU labour for years to fill the vacancies; it is estimated that 12% of construction workers come from abroad. In the wake of the Brexit vote, it is not clear whether these workers will be available to plug the gaps. Another reason why the shortage of skilled workers has reached critical point is because of the approximately 400,000 workers who are about to reach retirement age and need to be replaced.
The predictions of how many construction workers will be needed is contradictory and really depends on continued increases in building projects. However, if there is an annual growth of 2.9% in construction, then 220,000 more jobs will be created.
Solutions to the Construction Crisis
There have been a number of initiatives to fill the gaps in the pool of domestic construction workers. One is the changes in the funding and training offered by the new Trailblazers Scheme, which will replace the SASE Apprenticeship Frameworks. The government expects 3 million new starts by 2020.
Other solutions include the Ban the Box campaign so former offenders would not have to reveal details of criminal convictions and the Your Life campaign to try to encourage young people into the construction industry, primarily targeting young girls.
Payday Loans for Construction Workers
Over time, Cashfloat has noticed some professions taking payday loans more than others. Payday loans for construction workers was identified as one of the most common. Why? Construction workers employed by a reputable construction company or contractor who pays their salaries fairly are less likely to turn to lenders providing payday loans for construction workers. They are compensated for overtime and entitled to paid leave and sick pay; although they might find things tight, they can make a living. One group of construction workers who are more likely to need the occasional assistance of payday loans are young apprentices who have yet to reach their full earning potential. They might be trying to get by on a wage of £5 per hour and on this money find it tough to cover their daily expenses and would find it impossible if they were not supported by the family for their accommodation and meals. The other group of workers that use lenders providing payday loans for construction workers are those who work for umbrella companies. Although jobs may be advertised as £12 per hour, once the workers have paid their NI (both halves), fees to the company and possibly other illegal deductions, they are left with little more than the Minimum Living Wage. If they also have a zero hours contract and are laid off between construction projects, it is understandable that they find it impossible to do much financial planning and often find themselves short of money at the end of the month.
Conclusion
Despite pay rises for construction workers being more than double the raises offered to those in the public sector, there are still complaints that increases are not sufficient to cover rising prices. Apprentices are more likely to take payday loans for construction workers, and this promises to continue into the future. Payday loans for construction workers employed by umbrella companies are a necessity and nothing will change until loopholes in the law regarding their 'self-employed' status are closed. Cashfloat is happy to provide payday loans for construction workers facing temporary financial difficulty.
Sarah is an enthusiastic writer, blogger and an eager agent of change. Although she has never been one to voice her opinion publicly, Sarah has dedicated herself to helping Cashfloat spread awareness about common financial issues and the importance of money management. Through her writing, Sarah hopes to empower a positive and lasting change in people. Sarah believes strongly in ethical business management and consumer protection. After completing her degree in Computer Science in one of London's esteemed universities, Sarah has come to adore the buzzing hub of London city. Still, in her free time, Sarah enjoys reading, researching, watching movies and eating out. After all, #YOLO!