Story highlights
Cashfloat provides many payday loans for warehouse workers on a monthly basis.
Only 18% of Third Party Logistics (3PL) workers were offered some kind of formal training
Contrary to popular belief, there is no such thing as a forklift 'licence'. There are surprisingly few requirements apart from the age limit
Different Professions & Payday Loans
– Chapter 18
Cashfloat is a caring payday lender in the UK, whose customers are at the heart of the business. Following a research into who makes use of our services, we noticed that we receive many applications for payday loans for warehouse workers. The question is; Why?
There has been enormous controversy over the past year about the issue of zero-hour contracts. So much so that in New Zealand they have been banned. Warehouses are ideal places to use this way of hiring and retaining staff since it allows access to a flexible workforce especially in industries with fluctuations in the amount of work according to the season.
Some journalists' articles of large warehouses have used strong language to describe them including the words 'Dickensian' or even 'gulag.' However, what is the truth beyond working in a warehouse? In this report, the conditions of work, working hours, salaries and training of warehouse operatives will be examined to try to answer the question of why so many who work in this sector turn to lenders offering payday loans for warehouse workers.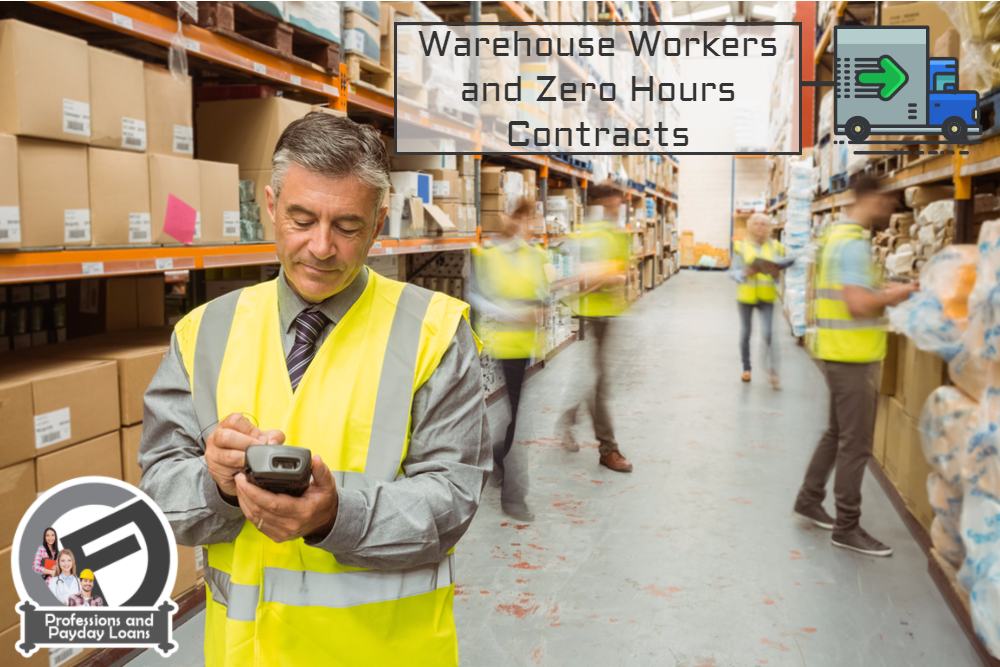 How to Become a Warehouse Worker
Although entry is possible as a graduate, the majority of warehouse workers are school leavers. No other qualifications except basic literacy and numeracy levels are necessary. Apprenticeships might be available, and some in-house training is possible.
Graduates take a different career path since they would join in a supervisory or junior management capacity. Their time would not be spent totally on the shop floor but would involve some office work, and they would be rotated in larger warehouses to gain experience of all departments during their 2-year training scheme.
Training For Warehouse Workers
There are two aspects to training for warehouse operatives. The first would be practical since they would be taught to use the necessary machinery to do their job effectively; this might be inventory software, conveyor belts or learning how to operate a forklift.
For those who enter at graduate level, their training might include studying for academic qualifications; whether this is self-study (often online), long-distance learning, a day release at college or a combination of all three.
The Chartered Institute of Logistics and Transport (CILT) offers some qualifications which are suitable for all academic levels. These include the Level 3 Certificate in Logistics and Transport which is post-A level standard, and they go up in stages of difficulty to the Level 6 Advanced Diploma in Logistics and Transport. CILT also offers a number of courses, seminars, workshops and conferences all over the UK.
Learning to Drive a Forklift in Warehouses
Contrary to popular belief, there is no such thing as a forklift 'licence'. In fact, there are surprisingly few legal requirements apart from the age limit. Forklift operators must be 16 years old to start training unless they work at a port, in which case they must be 18. Some workers might take a course, but it is perfectly legal for in-house training to be provided by the employer. The Use of Work Equipment Regulations of 1998 stipulate that operators must be issued with a certificate with details of their training, but this is not a licence.
Salaries for Warehouse Workers
The size of salaries for warehouse workers depends on a number of factors such as their employer, their sector, the size of the organisation and their geographical location. For those who work as pickers or packers, their salary could vary greatly from £12,500-£21,000 although those with experience and/or knowledge of operating a forklift might find themselves at the higher end of the scale. For those entering at graduate level, in their initial years of training, they could expect to earn £18,000-£25,000.
To add to their basic salary, there might be allowances for working unsocial hours and/or shifts. Bonuses may also be possible for companies whose workforce are set and reach specific targets.
1. Working Hours in Warehouses
The hours for warehouse workers tend to be a basic 35- or 40-hour week. Depending on the nature of the stock, they might have to work in shifts, which are arranged in rotation. There might also be the possibility of overtime.
2. Career Advancement for Warehouse Workers
Warehouse operatives could progress with experience to become team leaders, shift supervisors or warehouse managers. Sometimes they might follow a career in quality control, freight planning or distribution. Graduates could follow a path into middle and upper management, whether this is at warehouses, haulage contractors, distribution centres or for wholesale, retail or manufacturing firms.
3. Zero Hours Contracts in Warehouses
Zero hour contacts have become more common in warehouses since it allows access to a mostly unskilled workforce for periods of seasonal fluctuation, which in the retail trade, for example, could be at the run-up to Christmas. Groups like students enjoy the flexibility of variable working hours but people with commitments like children, who are interested in permanent work, find this employment insecure. Although they are entitled to annual leave, maternity pay, health insurance and the minimum living wage, they do not normally receive sick pay, redundancy or the minimum notice period.
4. Bad Press for Warehouses
Over the past year, there have been a number of journalistic 'undercover' stories about conditions in some large warehouses. Details have included stories of workers being expected to walk up to 15 miles a day through these enormous buildings with a handheld satnav which was capable of monitoring their productivity. Other workers have complained of salaries being docked for being a minute late or body searches to prevent stealing. Employees had few rights and could be dismissed without notice. Some even received their salaries on a pre-paid credit card and then were charged £10 for its use and 75p for every ATM transaction.
These companies are not representative of the working conditions in most warehouses in the country but all in all, it has been a PR disaster for these companies and some have had to backtrack, even saying that they would no longer be using zero hour contracts.
5. Third Party Logistics (3PL) and Warehouse Workers
There have been dramatic increases in the number of businesses which outsource their storage, supply and distribution services to 3PL companies. In this way, businesses avoid long-term leases for warehouse storage, outsource staffing (therefore avoiding the costs of providing salaries and all the allowances) and do not need to buy and maintain equipment and vehicles. This has the additional benefit of letting them concentrate on sales and administration.
However, this business practice has a direct effect on warehouse workers regarding their terms of employment. 3PL companies often make use of zero hour contracts to reduce costs. Also, in a survey by the UKWA (United Kingdom Warehousing Association) of its 700 UK-based 3PL members, it was found that there is also less investment in training. Only 18% offered some kind of formal training while 37% provided little or none. Nearly a quarter operated some apprenticeship schemes but the vast majority did not (69%).
Some 3PL companies have also been highly critical of TUPE (Transfer of Undertakings; Protection of Employment), which means when they take over a contract, the workers' accrued rights concerning service and terms of employment are safeguarded. They claim this increases their expenditure for the workforce and makes any future bid they give for contracts uncompetitive, so they are losing money.
Payday Loans for Warehouse Workers
Considering the many applications for payday loans for warehouse workers received through the Cashfloat website, we need to try and understand why so many warehouse workers need the help of high cost payday loans. Being one the main unskilled workers, the salaries for warehouse operatives are not very high. In a time when earnings do not keep pace with inflation, it should come as no surprise that this group is one of the ones who resort to payday loans to ensure they have enough money to see them through. Rent and grocery shopping would probably account for the bulk of their outgoings, and of course, if they have children too, it does not leave them much money at the end of the month. For warehouse shift workers, their own transport would also be essential as they might not always be able to rely on public transport because of their working hours. Of course, the financial burden of running a car (petrol, insurance, maintenance, repairs and MOT) would add significantly to the money that is left.

For warehouse workers on zero hour contracts, the situation is even worse as they cannot count on a guaranteed number of hours every week. It is tough to do any financial planning if you do not know how much money will be coming into the household. The insecurity of such workers makes it equally difficult to make any financial commitments as they are not sure if they are going to be able to keep them. Regular payments for a credit card or bank loan are much harder to keep up with than the one-off payment owed to a payday loan company offering payday loans for warehouse workers.
Conclusion
During the referendum over Brexit, much was made of the 2.1 million Europeans working in the UK. According to the Migration Observatory of Oxford University, in 2014 the highest proportion of immigrants (43%) worked in elementary process plant occupations (which includes warehouse packers).
There is no evidence to suggest that this influx of new arrivals are taking people's jobs since employment in the UK also rose over the same period. However, having a regular pool of unskilled labour means there is no incentive to train workers. This situation is made worse by employment practices such as the frequent use of employment agencies, zero hour contracts and/or outsourcing logistics to 3PL companies.
Without any training, there are relatively few opportunities for unskilled warehouse workers to progress to a higher paid position. As a result, the chances are that in the future, they will continue to need the support offered by a payday loan company which provides payday loans for warehouse workers. Cashfloat is happy to be one of the companies offering payday loans for warehouse workers that are in a temporary financial tight spot.
Sarah is an enthusiastic writer, blogger and an eager agent of change. Although she has never been one to voice her opinion publicly, Sarah has dedicated herself to helping Cashfloat spread awareness about common financial issues and the importance of money management. Through her writing, Sarah hopes to empower a positive and lasting change in people. Sarah believes strongly in ethical business management and consumer protection. After completing her degree in Computer Science in one of London's esteemed universities, Sarah has come to adore the buzzing hub of London city. Still, in her free time, Sarah enjoys reading, researching, watching movies and eating out. After all, #YOLO!