Payday Loans around the World – Chapter Twenty-Five
Story Highlights
Rollovers are not permitted in Kansas. In the UK, lenders are limited to allow 2 rollovers per loan.
A decade ago, there were only thirty-six payday loan lenders in Kansas, thanks to the internet, there are now hundreds.
The average size of a payday loan in Kansas is $380. In the UK, the average loan is £260.
Payday loans in Kansas are legal by Kan. Stat. Ann. § 16a-2-404. They are also called small loans. It is the responsibility of the Office of the State Bank Commissioner to oversee payday loans in this state. According to the laws in Kansas, these are the main rules for payday loans:
– The Loan terms. The Kansas State has no minimum amount set for payday loans. There is a maximum loan cap of $500 for a 7-30 days loan term. The maximum finance rate is 15%. The finance charge for 14-day $100 loan is $15. The Annual percentage rate (APR) for a 14-day $100 loan is 390%.
– The Debt limits. The maximum amount of outstanding loans at one time is one per lender or two total. Rollovers are not permitted.
– Collection limits. One NSF fee and criminal action is prohibited.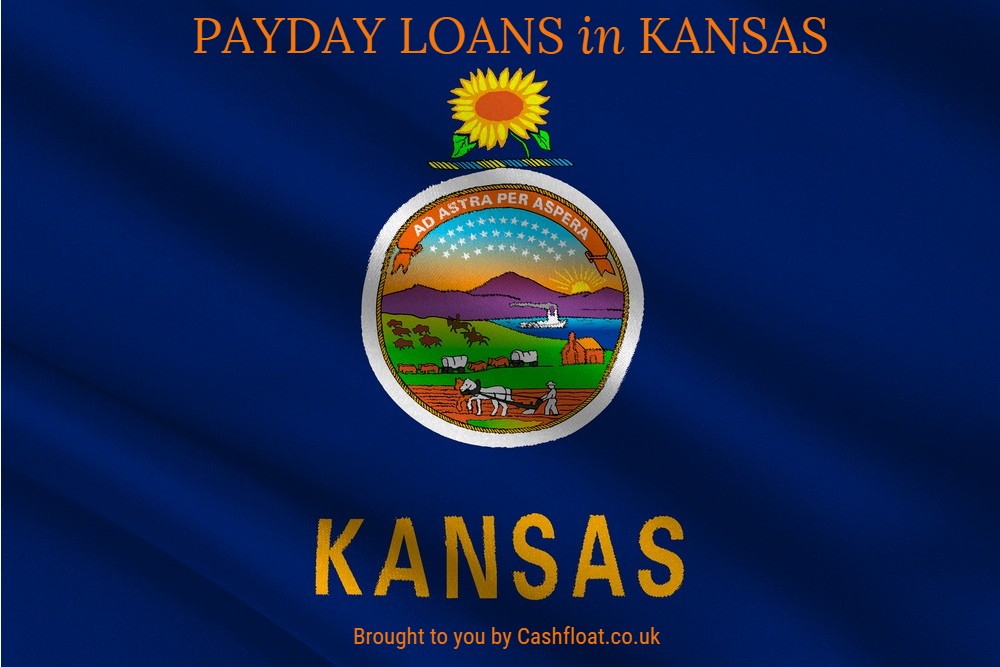 Industry and Market Research for Payday Loans in Kansas
In research made by Center for Responsible Lending (September 2013) statistics shows that Kansas is in the group of states without Meaningful regulation of payday lending. The cost of Payday Loan Churn in Kansas the total cost of churn with one-month definition (82% multiplier) – $53,658,898. The total cost of churn with two-week definition (76% multiplier) is $49,732,637. The table below presents statistics for payday loans in Kansas.
| | | | | | | | | | |
| --- | --- | --- | --- | --- | --- | --- | --- | --- | --- |
| State | Number of Stores | Source | Avg. no. loans/store | Dollar Volume (Including Churn) | Source | Total payday Fees | Source | Avg. Loan Amt. | Source |
| Kansas | 352 | Regulator | 3,541 | $436,251,200 | Estimated | $65,437,680 | Estimated | $380 | 24Biz |
A decade ago, only thirty-six payday loan lenders were operating in Kansas. Now, because of the prolific use of the internet, there are thousands of options for payday loans. In an internet search early 2009, "payday loans Kansas" showed up 195,000 hits.
Competitions for Payday Loans in Kansas
According to a Yellow pages search, there are 332 Payday lender companies in Kansas. Another source, the website thepaydayhound.com has made a review of 22 direct lender payday loans. The following are the top 5 companies for Kansas:
Ace Cash Express – has estimated costs of $75/651% APR. They have been in business since 1968 and are state licensed and has A+ BBB score. Their website says they have served over 38 million customers.
Check Into Cash – has estimated costs of $45/391% APR. They have physical storefronts since 1993. One of the only BBB accredited short term lenders and have an A+ score.
Cash Central – has estimated costs of $75/651% APR. They have been operating since 2005, online only (no storefronts).
CashNetUSA – has estimated costs of $75/651% APR. They have been operating since 2004 – have funded more than 4 million loans in 25 states.
Check City – has estimated costs of $75/651% APR. They have been operating since 1989, BBB accredited payday lender. They work both online and with physical storefronts.
Kansas allows online payday lenders to operate in the state, but they must obey the same laws as storefront lenders. The third and final source of payday loan lenders is an organization called Online Payday Loans. They have been helping consumers compare actual payday lenders by objective criteria. When looking at Kansas, there are 4 State Licensed Online Lenders: 1) CashCentral.com, 2) CashNetUSA.com, 3) CheckCity.com and 4) CheckIntoCash.com.
In January 2014, the Deputy Commissioner for Consumer and Mortgage Lending gave affirmation to the House Financial Institutions Committee on money related items. The Deputy Commissioner (Code Administrator) showed that as of December 31, 2013, the Office of the State Bank Commissioner had issued direct credit licenses to 78 companies and 365 areas. Reports from payday banks from the year 2012 shows that 1,082,716 payday credits were made to Kansas purchasers for an aggregate sum of $413.9 million. In 1995, 36 areas offered payday credits in Kansas.
Customer Characteristics for Payday Loans in Kansas
"24Biz" is a US based, payday loan company and made an "Analysis and research of the market of short term loans in Kansas" based on statistical data of 2015-2016. Here we will present the characteristics and patterns of payday borrowers in Kansas.
5.4 % of the adult population in Kansas used a payday loan;
The average loan per borrower was $380;
Income diversity – Individuals who earned less than $15,000 borrowed the most or 28% of the total. With the higher income the borrowing is reducing so the individuals who earned from $15,000 to $25,000 get 22%, from $25,000 to $30,000 get 15%, from $30,000 to $40,000 get 11%, from $40,000 to $75,000 get 21%, above $75,000 get not more than 3%.
Borrowers who rent their place of leaving used the loans more or 59% compared to consumer who owned their homes with 41%;
Employment diversity – 47% of the consumers were full time employed, 11% were part-time employed and 18% were unemployed. 6% of the borrowers were individuals with some disabilities, 3% students, homemakers 12% and 3% retired.
How do consumers for payday laons in Kansas compare to consumers in the UK?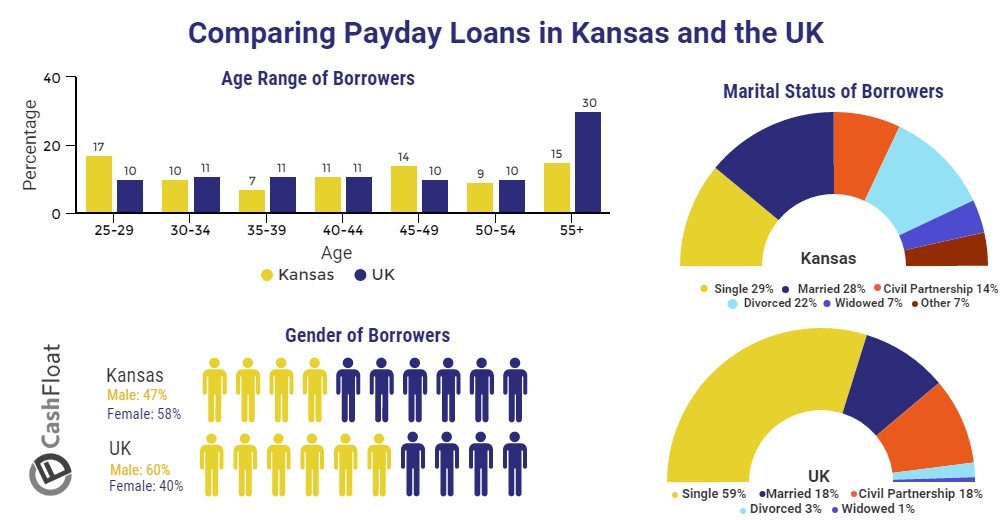 Kansas Payday Loan State Laws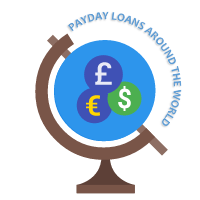 What are the main regulations for payday loans in Kansas?

Kansas was one of the main states in the USA to order enactment particular to the control of payday credits. Borrowers may have two credits at once. While there is no base sum for credit, a payday advance sum must not go over $500. The term of the payday credit must not be under seven days or over thirty days. On a $100 credit, you would need to reimburse the $100 in addition to $15 for the interest charge. Payday banks can't isolate your credit sum into smaller segments.
Money Transmitter License. This license is required for any person who engages in the business of the sale of payment instruments or of receiving money to a location within or outside of the United States. Money transmission does not include currency exchange where no transmission of money occurs.
Sources
http://www.kansascity.com/opinion/editorials/article81635267.html
http://mortgage.nationwidelicensingsystem.org/slr/Pages/DynamicLicenses.aspx?StateID=KS
http://progressmissouri.org/2015-updated-payday-report-how-predatory-lending-money-flows-through-missouri-politics
http://www.pewtrusts.org/en/multimedia/data-visualizations/2014/state-payday-loan-regulation-and-usage-rates
http://www.kslegislature.org/li_2012/b2011_12/statute/016a_000_0000_chapter/016a_002_0000_article/016a_002_0404_section/016a_002_0404_k/
http://www.kansaslegalservices.org/files/Kansas%20AG%20on%20Payday%20Loans.pdf
Caribbean born Isla Williams is excited to join the Western Circle Educational channel team. A born writer, Isla had her first article published at age 9 in a local magazine. Isla's joy emerges when pen strikes paper, and she can tap into her creative self. "I love to share knowledge/information and help others to be in the know while being as friendly as I can." Isla is an accountant by profession but has taken a break to do what she enjoys most. Mother nature is her best friend, especially when the Sun is shining. A keen surfer in her youth, Isla looks forward to those rare trips home where she joins her family and hits the waves.