Payday Loans around the World – Chapter Three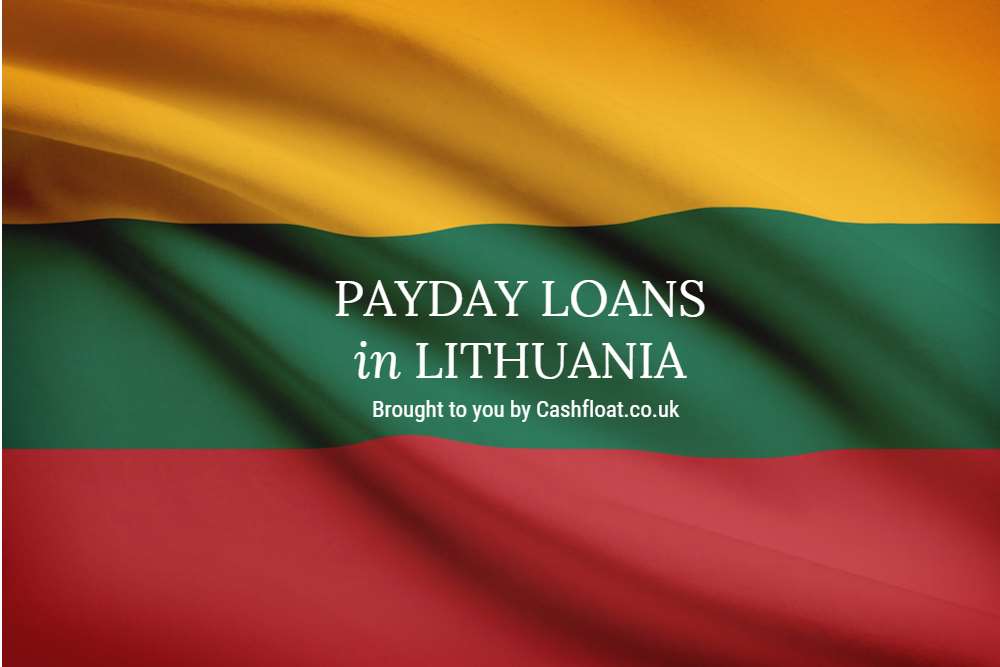 Have Payday Loans in Lithuania Increased or Decreased?
Payday Loans in Lithuania are part of the short-term loan or called quick loans industry. Lietuvos Banks Eurosistema or Bank of Lithuania – Lithuanian Republic Central Bank regulates the Payday loans industry.
Here are some summary points from the industry overview, which are later explained in more detail:
The amount of payday loans granted decreased by half – to €65 million, its lowest value since 2013. From the beginning, it was growing by more than 80 % in 2011 and 32 % in 2012.
The average annual interest rate on payday loans followed a downward trajectory, decreasing from 72% to 42% over the year.
The amount of payday loans in 2015 increased by 11.1% since 2014.
Lithuanian Payday Loan Industry and Market Research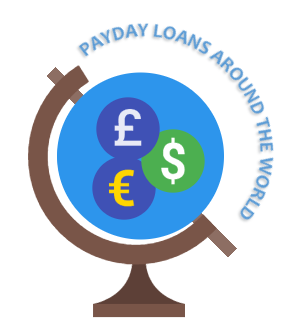 According to Lietuvos Banks Eurosistema news (February 2016), at the end of 2015, the first signs of change were seen in the payday loan market. Slowly, the market is becoming more sustainable, and, therefore, more responsible. During the final quarter of the previous year, the amount of loans provided by consumer credit organizations to new credit consumers dropped by a tenth. Payments overdue grew at a slower pace.
Lietuvos Banks Eurosistema published two overviews about the changes in payday loan market. The last one is from 6th September 2016 for the first half of 2016, and the other one is from February 2016 in review of 2015. Below we present the two publications.
According to the article titled "Changes in payday loan market – more responsible lending, fewer indebted" in the first half-year of 2016, the volume of payday loans in Lithuania decreased by two-thirds, year on year. Credit lenders assessed customer solvency more responsibly. For the first time in history, overdue loans reduced in number.
The Chairman of the Board of the Bank in Lithuania said that three factors contributed to these trends;
The active supervision
Stricter requirements of the Law on Consumer Credits that came into force at the beginning of the year
Competition forced credit lenders to fundamentally change their approach and assess customer solvency more cautiously.
All of these changes help to prevent the overdue loan repayment burden and lowers the risk of the severe social repercussions that follow.
The amount of payday loans granted decreased by half – to €65 million, its lowest value since 2013. In the first half-year of 2016, the overall volume of new payday loans granted, compared to the previous half-year, reduced by 68.7% to 130, 000.
In the first half of 2015, approximately 40% of applicants were granted a payday loan; year on year, the amount of approved applications reduced to 26%. In mid-2015, young persons accounted for approximately 30% of total customers of payday loan companies. Now that figure has declined by nearly a quarter to 23%.
Also, the average annual interest rate on payday loans in Lithuania followed a downward path, decreasing from 72% to 42% over the year. The small credit rates amounted to almost 100% last year. This year the average annual interest rate on small consumer credits have been fluctuating around 65%, falling short of the 75% interest cap laid down through regulations.
The share of funds lent by peer-to-peer lending platforms, in comparison to that by instant loan companies, remains small, even though pronounced growth is recorded. Over the half-year, from the beginning of 2016 to July 1, the loan portfolio of these platforms doubled – from €2.3 to 4.6 million. It accounted for nearly 2% of the entire loan portfolio of payday loan companies and peer-to-peer lending platforms, which amounts to approximately €225 million. In mid-2016 there were almost 4000 customers using peer-to-peer lending platforms, and almost 380,000 customers of payday loan companies.
According to the other publication news "First signs of change in payday loan market" in the fourth quarter of 2015, the amount of new consumer credits granted decreased by 10% – to €65 million, while the number of new consumer credits granted decreased by 11% – to 195,000.
Till 31 December 2015 customers have been given 562,000 payday consumer credits – 11.1% more than at the end of 2014. The loan balance was €251 million – it increased by 30.2%. However, the number of past due loans, in comparison to the overall consumer credit portfolio, increased from 33% at the end of 2014 to 36% at the end of 2015.
Year on year, the amount of credits overdue for 30 – 90 days reduced by more than a third or 34.9%, leading to a first-time-ever annual contraction in the volume of overdue loans.

We will now present some more interesting statistics from the Study of the Payday Loan Borrowers in Lithuania which we will be elaborate more in costumer characteristics. The payday lending industry grew tremendously fast from the very beginning. The analysis of that top 3 payday lenders (who represent 80% of the market) shows that starting from almost nothing in 2007, they have reached more than 100 million LTL (almost €29,180,000) of interest income in 2012. The overall portfolio grew by more than 80 % in 2011 and 32 % in 2012.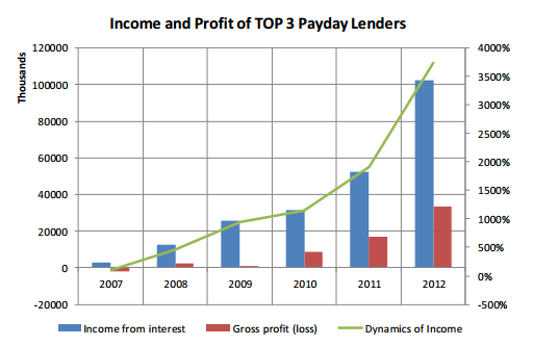 Comparing to the mainstream lending, these are relatively small numbers. However, such income has been compounded from the loans, the average amount of which is was approximately 386 LTL (€113), with APR of 100% in 2012 and 2013. There have been almost 800.000 credit agreements made per year in 2012 and 2013. That makes almost 34 credit transactions for every 100 persons of legal age (18 and more) in Lithuania.
According to an analysis for the specificities of pay day lender products and industry, in Lithuania, 39% of all payday borrowers are under the age of 25. The first figure of rolling over is found to be as high as 37%.
Marketing tactics of Payday lenders in Lithuania.
After looking closer at the advertising tactics used by payday lenders in Lithuania, they are aggressive and create inadequate expectations to the consumers, offering gifts and discounts for loyal customers. Below are some examples:
Free movie tickets, coffee or ice-cream for paying back the loan on time;
A loyalty program where customers can collect electronic "money" for taking out loans or paying them on time and then spend this "money" on interest payments;
A cash bonus for recommending the service to your friends;
5 extra days to repay the loan if rolled over;
50% discount on interest if the loan is taken out on your birthday.
The list goes on with different discounts and incentives. What is worth mentioning is that 9 out of 29 lenders checked, offer the first loan for free thus making lending more appealing to the consumer. 6 out of 29 work late at night which can often lead to alcohol and gambling caused decisions.
The small loans market often gets a lot of criticism. Critics' state that the market has too little supervision; that the industry does not properly assess the ability of customers to repay their loan and that interest rates are artificially high. In October 2013, the Lithuanian Central Bank introduced a new amendment to consumer credit law under the Ministry of Finance. Parts of these amendments are very strict, and their implementation will have a significant negative impact on the consumer credit market. This impact will be felt not just by financial providers, but by their customers as well, as access to consumer credit becomes more difficult.
Consumer Characteristics in Lithuania
In this chapter, we analyse costumer characteristics in Lithuania. The Study of the Payday Loan Borrowers in Lithuania is the framework of our analysis. It uses data from an extensive payday borrowers' survey, conducted in Lithuania.
According to the numbers provided, the general population of payday users at the beginning of 2012 was 22,000. To carry out this survey, data was collected from three payday lending companies who spread the questionnaire among their clients. There were 90,233 invitations to conclude the on-line survey between 5th December 2013 and 13th January 2014. 2,776 users started answering the questionnaire, although only 1734 actually completed it. 183 respondents had used the service over 12 months prior. Below we present some of the findings: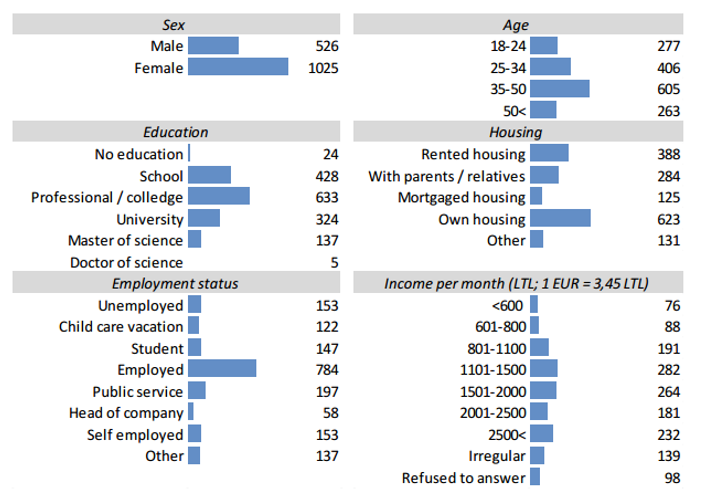 Based on the results, the most common payday loan borrower is a female age 35-50, with a professional / college degree. She lives in her own house, is employed and earning between 1101 and 1500 LTL (€322 – 438).
Another point to consider is the frequency of using payday loans and ability to repay. Most payday borrowers are frequent users, turning to this type of credit once per six months or quarter. Most of the borrowers do not have any difficulties in covering regular expenses, and they don't consider themselves being impulsive. Results are in the charts below:

Borrowers were asked which of the following they would choose when taking a 400 LTL loan for a 14 day period: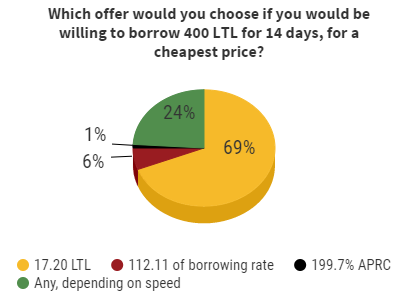 199.7% of Annual Percentage Rate of Charge APRC;
112.11% of borrowing rate;
417.20 LTL total amount to pay, i.e. 17.20 LTL of interest
The chart presents the answers to this question. Most borrowers chose the cheapest offer of 17.20 LTL with 69% choosing that option.
Additionally, 51% of borrowers strongly agreed with the statement that they asked for a loan because of its' cheap price, although it is well known that such kind of credit is the most expensive one in APRC terms. In response to this unusually high percentage, we have looked at the education of the respondents who had made them. We found that the borrowers with the highest education made up the highest percentage of those who 'chose short term loans because of its cheap price.'

Since financial literacy is directly linked to the level of education, such results help us to come to a conclusion. The question that was posed on financial literacy shows how people perceive information on the price of credit, not the level of financial literacy itself. Here most of the respondents (75.18%) 'strongly agreed' or 'agreed' with the statement that they better understand price expressed in monetary units than in APRC or borrowing rate.
Moreover, below are some further comments from respondents:
56% have evaluated only the price and terms of the loan, paying no attention to other clauses and without any advice of professionals of friends.
78% have carefully evaluated all alternatives available to this kind of loan.
77% had carefully considered their ability to repay, although 60% thought they would be able to cover it faster than it was in reality.
Only 24% of borrowers knew or doubted that they would be able to repay the debt.
• 65% of borrowers had repaid the loan as they intended.
65% of borrowers had repaid the loan as they intended.
This evaluation seems to confirm that in general borrowers carefully consider their abilities to borrow and repay.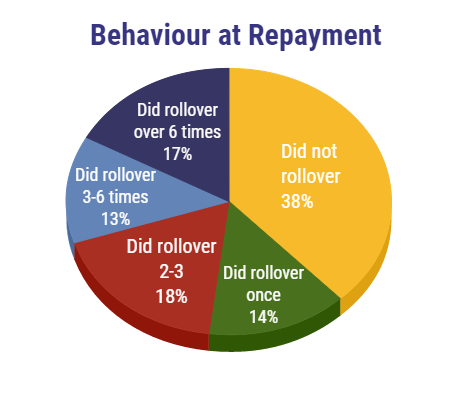 We also researched whether our respondents rollover their payday loans in Lithuania, what sources have been used to repay them, and how much in general they can afford to pay every month for principal and interest, without diminishing their regular expenses. The results revealed that only 38% of borrowers do not extend the terms of the loan. Others rollover their loans in different frequencies from 1 to 6 times and more.
From these results we can notice a trend. The amount of times the rollover was used, is directly linked with people's usage of payday loans in Lithuania. There was a difference in how the rollovers were used by ones who stated that they'd returned payday loan as planned, ones who stated that it took longer than they expected, and ones who had disagreed or strongly disagreed that payday loans were useful for them.
Competition for Payday Loans in Lithuania
While screening the competition we searched for payday loans online, and came across allcredits.lv site which comparison the credit companies in Lithuania. The short term direct lender, fast credits listed are:
Name of company
Interest charged on €100 for 15 days
APR charged on €100 for 15 days
CreditDay
€3.08
74.95%
PaskolosJums
€3.68
74.95%
SMScredit
€3.08
74.95%
Name of company
Interest charged on €100 for 30 days
APR charged on €100 for 30 days
LitCredit
€6.25
75%
Vivus
€7.45
75%
Sources
• http://www.vdu.lt/wp-content/uploads/2015/06/EVF_Darskuviene_40.pdf
• http://vilast.lt/wp-content/uploads/2015/02/Visions-and-challenges-of-payday-lending-in-Lithuania.pdf
• http://www.lb.lt/first_signs_of_change_in_payday_loan_market
• http://www.epicenternetwork.eu/publications/facts-and-analysis-the-small-loans-market-and-regulation-in-lithuania/
• https://www.financite.be/sites/default/files/references/files/payday_lenders_-_vf.pdf
• http://loan4anyone.com/location/lithuania
• http://www.lsm.lv/en/article/societ/society/latvian-payday-loan-firm-4finance-shut-down-in-lithuania.a160855/