Payday Loans around the World – Chapter 8
Story highlights
49% of payday loan customers in Nova Scotia have an income of over $50,000 a year.
By law, all lenders charge $22 per $100 borrowed; less than the £24 per £100 allowed in the UK.
All online payday lenders must have a licenced, instore location in Nova Scotia as well.
Payday loans in Canada are permitted under section 347.1 of the Criminal Code. The Government of Nova Scotia regulates the lenders who deal with payday loans in Nova Scotia. They are licensed by Service Nova Scotia and must follow the rules and regulations in the Consumer Protection Act, as well as several other rules.
In this report, we will discuss different aspects of the industry of payday loans in Nova Scotia and compare it to the payday loan industry in the UK. We will see that there are many differences between the two locations. However, it will become clear that in both cases, there is a lot of work being done to regulate the market and make it safer for consumers to use responsibly. In the UK, this is being done by the Financial Conduct Authority, and in Nova Scotia, Service Nova Scotia and Municipal Relations is in charge.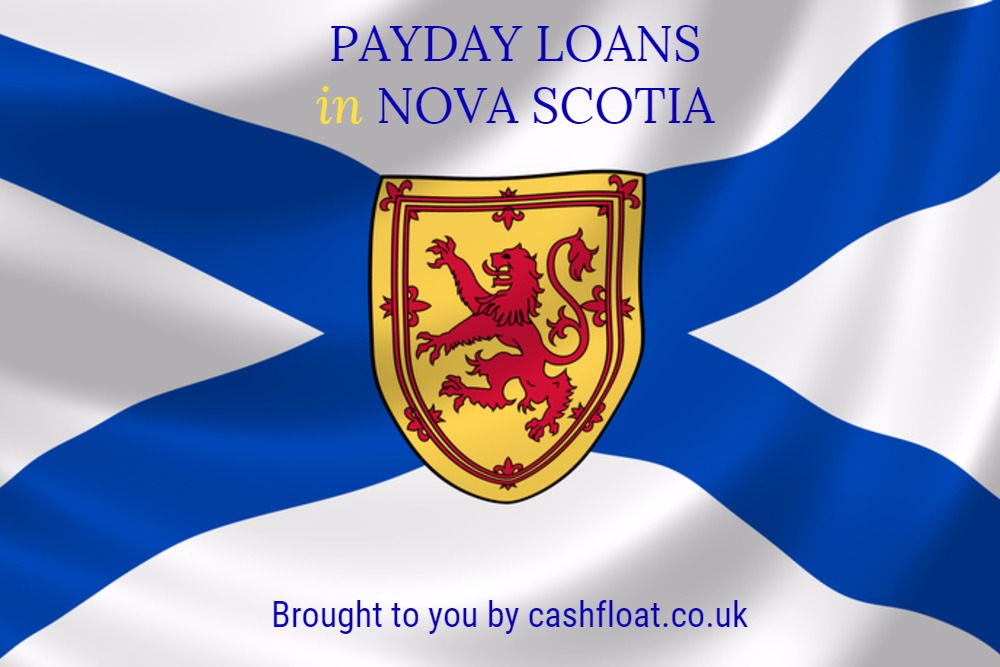 Payday Loan Industry in Nova Scotia
In the report "Short-Term Gain, Long-Term Pain: Examining the Growing Payday Loan Industry in British Columbia" (2016) there is some information about the industry of payday loans in Nova Scotia. While the payday loan industry is growing on the national level, British Columbia and Nova Scotia are the only two provinces for which data is available. The total loan volume in Nova Scotia in 2014 was $89,276,435. The graph below shows the yearly volume from 2012 to 2014. The percentage change from 2012 to 2014 is 16%.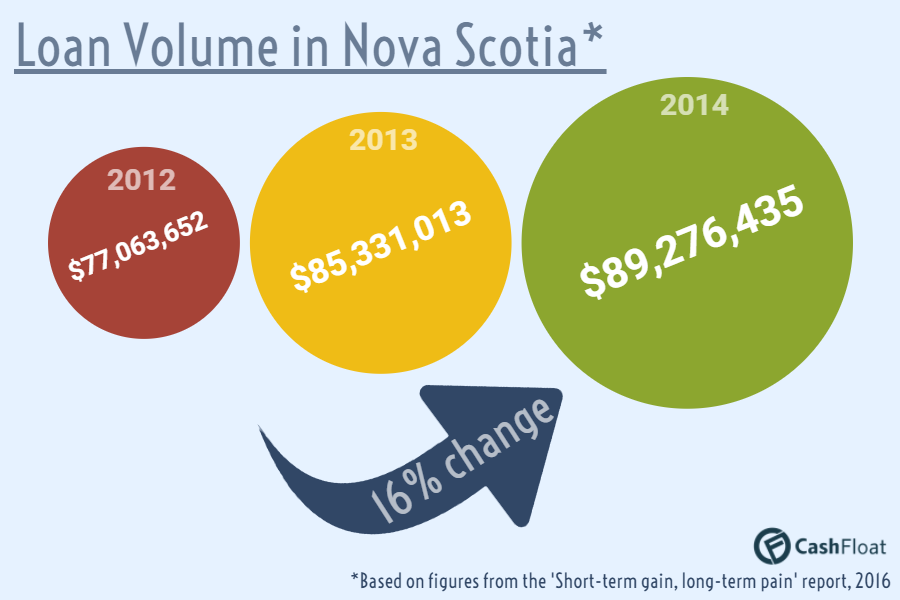 The average cost of credit in Nova Scotia is $95.26, and the average loan size is $433. Nova Scotia has an average debt of $23,149. 100% of licensed lenders and 25% of unlicensed lenders are in compliance with the provincial fee disclosure requirements in Nova Scotia.
Further statistics about payday loans in Nova Scotia revealed that, at the time the research was carried out, there were 15 licensed payday lenders operating 51 licensed payday lending stores in Nova Scotia. Across the 51 outlets, 172,023 loans were granted of which 44,478 were classified as repeat loans. That is, they were granted to a borrower 24 hours or less after they repaid a prior payday loan. Furthermore, 12,290 loans defaulted. The average of the 'average loan granted per outlet' was $433.64.
Consumer Characteristics
The only official report available about customers of payday loans in Nova Scotia was made in 2007. Although it is outdated, it could still give some insight into how the payday loan progressed then. The Payday Loan Customer Survey for New Brunswick amp; Nova Scotia presents the profile of respondent payday loan customers and the reasons why people borrow.
Ever wondered what type of people take out payday loans in Nova Scotia?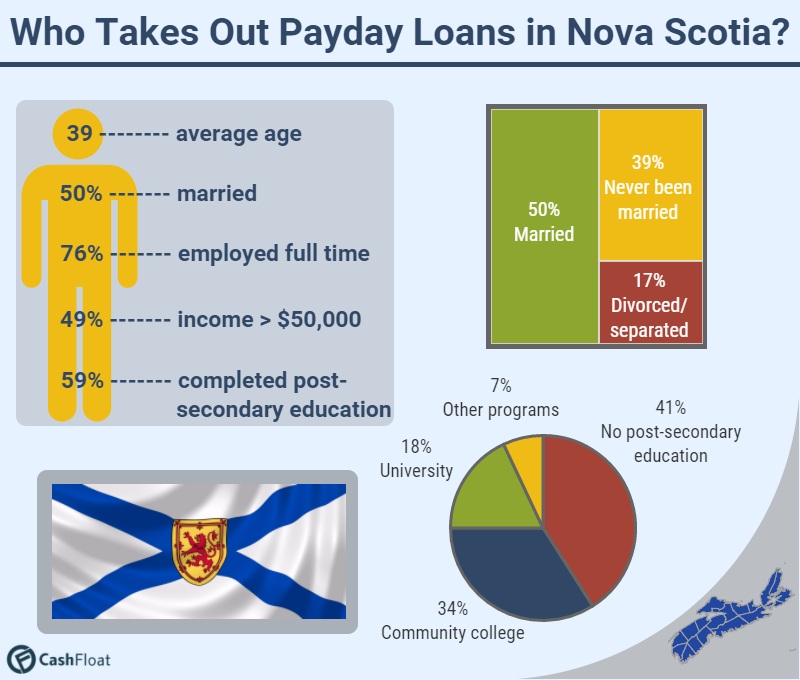 What about the financial side of this? Here are some statistics about the loans that customers took out.
Payday loan customers who responded to the survey would expect to pay, on average, $28.04 for interest and administration fees to borrow $100 for two weeks.
Two-thirds (63%) of respondent payday loan customers normally borrow less than $300 when they get a payday loan.
The average amount of money that payday loan customers in New Brunswick and Nova Scotia currently owe to financial institutions, excluding mortgages, is $23,149.
Payday loan customers have household incomes generally on par with the general population of New Brunswick and Nova Scotia. 56% of the NS and NB residents report household incomes of less than $50,000 a year, compared to 51% of the payday loan customers surveyed.
Almost all payday loan customers who replied to the survey currently have a debit card (99%) and a chequing account at a bank or credit union (93%). At least half have a savings account at a bank or credit union (62%) or a major credit card (55%).
Another aspect of the payday borrowing is the reason why people borrow. According to the same research, these are the main reasons why people borrow payday loans in Nova Scotia:
According to the majority of respondents, the attraction of payday loans has to do with the process being quick and easy (55%), while about one-in-five say the most important reason for their acquiring a payday loan is that they have more convenient locations (18%).
Only 15% of payday loan customers indicate that they use payday loans because they have no other alternative sources for borrowing.
The main reason for securing a payday loan, according to respondents, is that they needed money to pay for necessities (38%). One-in-three (30%) say they needed a payday loan to help with an unexpected expense, like a car or household expense.
More than four out of five (84%) respondent payday loan customers say they paid all of the loans that they received in the past back on time, while 13% said they paid most of their loans back on time.
Competition
While screening the competition, we came across Canadian Payday Loan Association (CPLA), which represents the majority of licensed payday lenders in Canada. CPLA works to ensure payday loan companies hold themselves to a higher standard of responsible service, and to help customers make informed financial decisions. On the list of lenders, there were four registered companies offering payday loans in Nova Scotia. As by the law, all payday lenders charge $22 per $100 lent. We have gathered the information into a table, displaying the main characteristics of these lenders:
| | |
| --- | --- |
| 310 Loan | This was one of the first companies to provide online payday loans and cash advances in Canada. It has been operating since 1999. 310-LOAN is a member of the Canadian Payday Loan Association and complies with all required province regulations. |
| MoneyMart | This company began as an entrepreneurial venture in 1982 in Edmonton, Alberta. Statistically, their average customer is 32 years old and employed with an annual income at the national average. 82% of all their customers are under the age of 45. |
| My Canada Payday | This company is a fully licensed payday lender. In addition to the usual payday loans, they also provide a check cashing service. |
| Speedy Cash Payday Advances | This company is a strong leader in the financial services industry. Founded in 1998, Speedy Cash currently operates twenty branches in locations across British Columbia, Alberta, Nova Scotia and Saskatchewan |
The Consumer Council of Canada produced a report entitled, "Consumer Experiences in Online Payday Loans". It gives a list of online payday loan sites audited, by province. For Nova Scotia, there are 11 companies of which ten are still working and available:
www.1500cash.ca
cashone.ca
capitalcash.ca
www.mycanadapayday.com
www.moneymart.ca
www.cashmoney.ca
www.mycashcow.ca
paydayloans.goloan.ca
www.focuscashloans.ca
www.mrpayday.ca
Another source, Yellow Pages, states that there are 83 stores offering payday loan surrounding Nova Scotia. The highest rated company is Easyfinancial Services, located in New Minas, NS. Easyfinancial offers loans from $500-$15,000 with loan terms ranging from 9 months to 60 months. Rates range from 29.99% to 46.96% and will depend on their assessment of your credit profile.
Laws and Regulations about Payday Loans in Nova Scotia
The maximum interest rate in Nova Scotia is less than in the UK, but the charge for missing a payment is more than double
This means that payday loans are cheaper in Nova Scotia, but only if you meet all of the repayments. Otherwise, they will end up being far more expensive.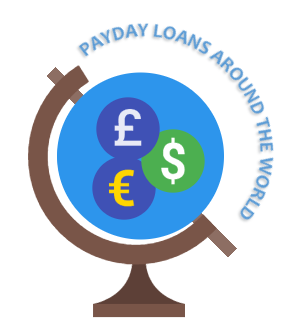 Payday lenders are regulated and must be licensed by the Service Nova Scotia if they want to offer, arrange or give payday loans in Nova Scotia. Lenders must follow the rules in the Consumer Protection Act and regulations in order to get, keep or renew a license. Licenses must be renewed every year.
So what are the laws about payday loans in Nova Scotia?
Cost Caps: maximum interest and charges
The maximum cost of taking out a payday loan is $22 for every $100 borrowed. This is less than the maximum in the UK, which is £24 per £100 borrowed for a month.
The maximum charge for missing a payment is $40, more than double the £15 cap in the UK. You can also be charged up to 60% interest (this is the annual interest rate) if you pay late. All lenders must show an example of a $300 loan due after 14 days. The calculations must show the total that must be paid and the annual interest rate.
Customer Rights: cancelling and early repayment
There is a one day cooling-off period after signing a payday loan agreement.
You may cancel an online payday loan within 48 hours after you get or could access the money.
There is no penalty for cancelling a payday loan within the cooling-off period, and you do not have to give a reason for cancelling.
A payday lender cannot charge a cancellation fee.
A payday lender is not allowed to charge a fee or penalty for early repayment.
Applying for a licence
Any payday lender who wants to extend credit to consumers in Nova Scotia requires a licence. You can get the licence from the Business Licensing and Registration Service Nova Scotia. There are two different ways to submit application form for a licence:
You can send hard copy: download a form from their website; visit Access Nova Scotia Centre; or call, write or visit the Licensing Section office. Regardless of the process used to apply for this licence, permit, registration or certificate, you must send in the signed original application containing your signature in ink. If a signed copy is not submitted, you will be requested to do so, which may lead to a delay in the issuance process.
You can fill it out online: To do this, you must be able to pay by Visa, MasterCard or American Express Credit Card.
Receiving a licence
If all requirements are met and the application is approved, the licence will be mailed to the applicant. The waiting period is ten business days. This licence is valid from the date it is issued until the end of July of the following year. It can be renewed; the department will send out a renewal notice before it expires. Initial application and renewal cost $3,237.50. The application process includes background checks, and a review of documents to ensure that they comply with disclosure requirements.
A payday lender who offers online payday loans must have a licenced payday lender location in Nova Scotia and is required to apply separately for the internet payday lender licence. The disclosure requirements are the same, and no additional fee is required.
The business must be registered with the Registry of Joint Stock Companies. There may be bonding requirements; this is at the discretion of the Registrar of Credit.
Sources
https://www.novascotia.ca/sns/paal/sns/paal606.asp
http://www.cpla-acps.ca/english/aboutmemberslist.php
http://www.novascotia.ca/sns/
https://www.vancity.com/SharedContent/documents/News/short-term-gain-long-term-pain-Report_Jan28_2016.pdf
http://www.legalinfo.org/consumer-information-debt-issues/payday-loans.html
http://www.cpla-acps.ca/english/mediastudies.php