Payday Loans around the World – Chapter 9
Story Highlights
Regulation of payday loans in Ontario does not require companies to disclose their APR
4.02% of the population used payday loans in Ontario
The Huffington Post showed that 83% of the people using payday loans in Ontario had other outstanding loans
Basic Information about Payday Loans in Ontario
Payday loans in Ontario are declared legal by the O. Reg. 98/09. There are several agencies that sum up the consumer rights, including Consumer Protection Ontario. These are the main rules for payday loans in Ontario:
Currently, the amount charged for $100 loan is $21, with possible changes in the near future.
The average payday loan in Ontario is $435 over 16 days.
The maximum amount permitted to lend is $1500.
There is a cancelation period of 2 business days.
Remarkably, Ontario does not require APR disclosure.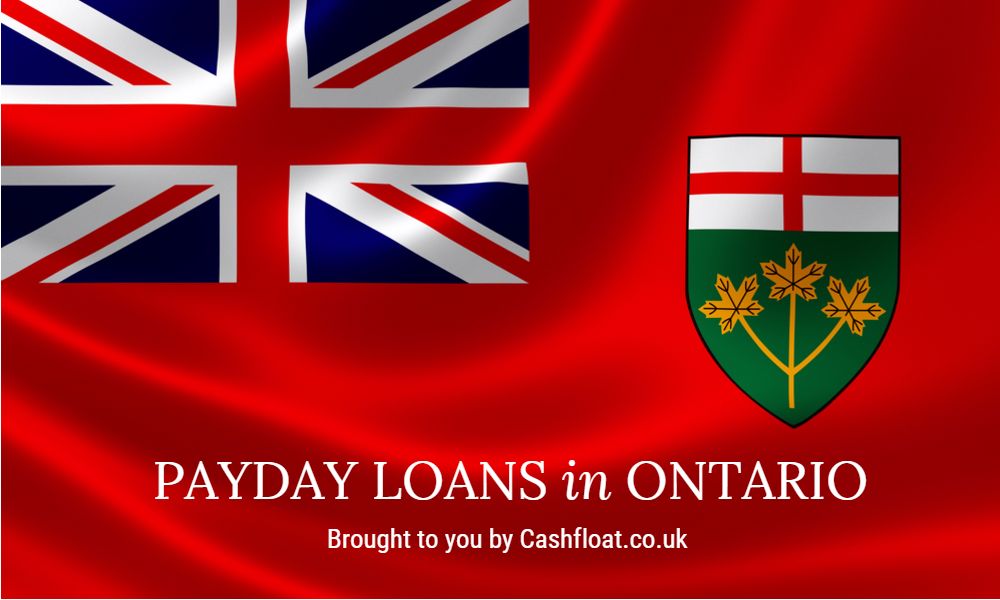 Payday Loans in Ontario: Market and Industry Research
Today, Ontario has over 800 payday lenders and loan brokers. The province specifically refer to "loan brokers" as a major concern in the online industry. This is because online brokers may send potential borrowers to lenders who may not be licensed in the jurisdiction.
In a research study carried out by "Vancity" in 2016, key statistics about payday loans in Ontario are mentioned, comparing payday loans in Ontario to payday loan use in other provinces. In Ontario ($97) the average cost of credit is slightly lower than British Columbia ($98) and slightly higher than Nova Scotia ($95.26) and the average loan size is $460, which makes it higher than British Columbia ($449) and Nova Scotia ($433).
In December 2014, a report by a working group evaluating Ontario's legislation estimated that 400,000 Ontario residents take out payday loans each year, with an average value of about $460 and an average term of two weeks. It is estimated that licensed vendors lend $1.1 billion to $1.5 billion each year. In this report, the composition of those borrowers is often a sore spot as the industry's customer base is mainly people unable to access traditional sources of credit, because of poor or limited credit history. Another interesting fact from this report is the estimated number of loans a year. On average, 2.8 million loans are borrowed ($1.3 billion/$460) from approximately 400,000 borrowers. One can therefore conclude that the average borrower had seven payday loans over the year. Although specific numbers on the current size and growth of the Canadian payday lending industry are not available, provincial data says that the payday lending industry is growing at a national level.
| | | | | |
| --- | --- | --- | --- | --- |
| | 2014 | 2013 | 2012 | % change (2012-2014) |
| British Columbia | $385,303,137 | $351,354,396 | $318,149,042 | 21% |
| Nova Scotia | $89,276,435 | $85,331,013 | $77,063,652 | 16% |
| Ontario | $1,300,000,000 | data not available | data not available | / |
As we can see from the table above, even though there is no data available for Ontario for 2012 and 2013, in 2014 the industry had $1,300,000,000 total loan volume growth, which makes it more than British Columbia and Nova Scotia together.
According to the Payday Lending Panel Findings and Recommendations Report for payday lending in Ontario, there are several developments impacting the payday lending industry in Ontario. Since the Payday Loan Act was introduced in 2008, online and mobile loans have become a more outstanding feature of the market. Approximately 25% of all payday loans in the U.S. are taken online, but panel experts suggest that the proportion in Ontario is heavily lower. Some panel members estimated that online loans represent only 10% of Ontario's market. However stakeholders agree that payday loans are increasingly moving online and that this is likely continue.
Payday Loans in Ontario: Customer Characteristics
In this section we will present Ontario's payday customers characteristics and demographics through numbers and percentages. The first table shows the percent of payday loan borrowers out of the total adult population. According to the "Vancity" research, the total adult population of Ontario is 10,157,955 and 408,000 of them are payday lending customers. This means that 4.02% of the population used payday loans.
The "Vancity" research shows the characteristics of customers of payday loans in Ontario. On average, people in their late 30s are those who use payday loans services the most. 58% of them have less than $50,000 income and 68% are full-time employees. More than half, or 51% are educated and have completed post-secondary education. The average debt of the population in Ontario is $23,579. All numbers are structured in the table below.
| | |
| --- | --- |
| Avg. age (yrs.) | 39 |
| Income > $50,000 | 58% |
| Post-secondary education completed | 51% |
| Full-time employed | 68% |
| Avg. debt | $23,579 |
As part of the research requirements, payday loan users were asked: What would you do if you needed $300 before your next payday?" Even though taking another loan would put them in further debts, more than half of them would decide to take another payday advance.

When it comes to payday loan borrowing, more than half of the people in Ontario needed it for emergency cash to pay for necessities. The other half use it to help out with an unexpected expense (like penalties, trip to the emergency…) and to avoid charges on routine bills. The three top reason for borrowing a payday loan in Ontario are:
Paying for necessities (52%)
Pay for an unexpected expense (33%)
Avoid late charges on routine bills (22%
And last but not least, the "Vancity" carried out research into the most important reasons why borrowers choose payday loans over other sources of credit. More than half of them, or 51% have said that it is a quick and easy process. 20% chose to use payday loans because of the convenient location. 15% of them say that they could not find another alternative source for borrowing. All of the reasons are listed in the table that comes next.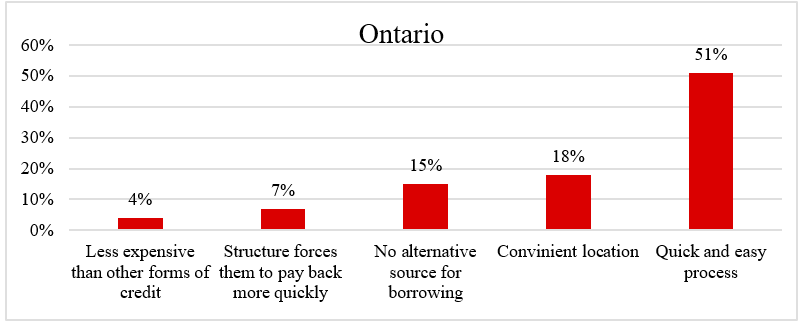 Competition for Payday Loans in Ontario
While doing the research for Ontario, we found a few sources which list companies that operate in this province. According to the latest information on the 19th of September from our first source, The Ministry of Government and Consumer Services, there are 814 licensed companies offering payday loan services in Ontario.
Interestingly, we looked up the Consumer Beware List, a searchable public record of payday loans licensed services. These companies are on this list because they have not responded to the authorities after they were sent 2 notifications about a customer complaint, or because they were charged or convicted in relation to the Consumer Protection Act or any other acts. There are 9 records on the list (last updated on Sep 13, 2016):
| | | |
| --- | --- | --- |
| Name | Other name | Location |
| 1473479 ONTARIO LIMITED | NATIONAL PAYDAY | Sarnia |
| 2081176 ONTARIO INC. | UNICASH FINANCIAL CENTRE #12 | Etobicoke |
| 2149353 ONTARIO LIMITED | THE FAST CASH COMPANY | Alliston |
| 2160089 ONTARIO LTD | PAYDAY LOAN DEPOT | Toronto |
| 2249688 ONTARIO INC. | PAY DAY MART | Brampton |
| MOGO FINANCIAL INC. | MOGO | Toronto |
| PAYDAY LOAN DEPOT | N/A | Etobicoke |
| SELLARS, NICHOLAS | PAYDAY LOAN DEPOT | Toronto |
| TEJINDER SINGH | MONEY MEGA MART | Ottawa |
According to a research by the Consumer Council aboutConsumer Experiences in Online Payday Loans, there are 25 online lenders of which 13 are still active and operate payday loan sites:
mogo.ca/
moneymart.ca/
mycanadapayday.com/
instantpaydaycanada.com/
paydayloans-on.ca/
ca/
310loan.com/
ca/
paydayking.ca/
ontariopaydaymaster.ca/
ca/
faxlesspaydayloansontario.ca/
mrpayday.ca/
One of the source is Yellow Pages Canada, which says there are 1,206 payday stores in Ontario. 1,107 of them have higher rating and the highest rated company with 5 stars is Cash Canada Financial.
Regulations of Payday Loans in Ontario
As stated in the beginning, payday loan business and services in Ontario are regulated by the Ontario Regulation, O. Reg. 98/09. Ontario enacted the Payday Loans Act in 2008 to limit the fees charged on loans to $21 per $100, borrowed for a period of two weeks. With that amount of charge, if borrowers take a loan until the next payday and they do that 26 times a year, they will end up paying the same as an APR of 546%. In an attempt to make payday loans less predatory and less costly, the Ontario government announced on August 29, 2016 that a new regulation is proposed that says that from January 1, 2017 the maximum cost of borrowing that will be allowed will be reduced to $18 for each $100 borrowed. The government plan to further reduce it to $15 on each $100 in 2018. This proposal for new regulation is to be reviewed on the 29th of September 2016.
Ontario does not require lenders to display their APR as part of the "pre-application" fee disclosure. Licensed firms in can simply show the actual costs for a 14-day $300 loan to meet the requirements. Due to this requirement, no firm displays the APR information voluntarily.
Recommendations for Change in Regulation of Payday loans in Ontario
According to an article in the Huffington Post, while the government of Ontario is attempting to help the consumers, with lowering the charging fees, it is doing the opposite by opening them to opportunities for other debts. In a recent survey taken, the Huffington Post discovered that 83% of the payday loan users had other outstanding loans and 72% of the borrowers took a loan from another source at the same time they took another payday or short term loan. With these statistics, Huffington Post said that lowering the cost of payday loans won't solve the underlying problem of too much debt. In reply to this, Douglas Hoyes, a Chartered Professional Accountant and Licensed Trustee, wrote a letter to the Government in May 2016, making three low cost recommendations:
The government should make payday lenders advertise the APR (annual percentage interest rate), such as 546%, as it's easier to understand. It is also much scarier than just mentioning "21 per every hundred."
The government should require lenders to report to credit reference bureaus. This may reduce the chance that Ontarians take out multiple loans, which is a real issue that can be seen daily. It would also reward Ontarians who do repay their loan on time with a better credit score, allowing them to eventually obtain credit at a lower interest rate from traditional lenders.
The government should forbid 'low introductory rates' to remove the temptation from Ontarians who wish to take a payday loan – this can avoid them entering the debt cycle in the first place.
Instead of acting on these recommendations, the government of Ontario chose to lower the interest rate of payday loans in Ontario from $21 per $100, to $15 in 2018.
Understanding the danger of dependency on HCSTC
In December 2015, the Government of Ontario introduced Bill 156, Alternative Financial Service Statute Law Amendment Act, which aims to provide additional protection for more vulnerable customers. This act provides restrictions relating to repeat payday loan agreements. It prohibits the entering of a new payday loan contract with the same borrower until a prescribed number of days has passed, or seven days if no number is prescribed. In addition to this, the Bill introduces limitations to the entering of a third payday loan agreement within sixty two days. Then, a payday loan is stopped from facilitating the making of more than one payday loan between the same borrower and different lenders, unless a certain amount of time has passed since the borrower has paid the full balance due on the first loan. The bill also states that the Register of Payday Loans can conduct an inspection if there is reason to believe that a person or entity is acting as a payday loan lender or payday loan broker while not licensed.
As a part of the Act, payday lenders must complete an application for a License to start the business. A licensee must have at least 1 office that is physically located in Ontario. A corporate applicant must ensure that all of the officers and directors are at least 18 years old and the applicant himself must be an adult. Also, the applicant must ensure that at least one of its officers or directors is an individual who is ordinarily resident in Ontario. The corporate applicant must inform the Register in writing the names and residence address of such officers and director. If the applicant has more than one office, he must indicate which office is the main office. The applicant may choose to use its legal name or a trading name. The applicant may not use more than one name at any one office, but they may use the same name at several of its offices. Bank accounts must be in the legal name of the licensee. A licensee cannot operate the business from their home.
Sources
http://www.consumerscouncil.com/site/consumers_council_of_canada/assets/pdf/ccc_online_payday_loans_web.pdf
https://www.vancity.com/SharedContent/documents/News/short-term-gain-long-term-pain-Report_Jan28_2016.pdf
http://www.sse.gov.on.ca/mcs/en/Pages/Business_Licences_Payday.aspx
http://www.huffingtonpost.ca/douglas-hoyes/ontario-government-payday-loans_b_11793186.html
http://www.pub.gov.mb.ca/payday_loan_review2016/pub_10_pitblado_llp_research_report_payday_lending_regulation_in_other_canadian_jurisdictions_april_4_2016.pdf