The average Pharmacist salary is approximately £16 per hour. Is this salary enough for a Pharmacist to help them avoid having to take short term loans? Cashfloat takes a look at the salaries for different kinds of pharmacists.
NHS – Pharmacy Salaries in the UK

Chief Pharmacy Officer
£17,825 per year
Clinical Pharmacist
£39,899 per year
Director of Pharmacy
£72,531 per year
Entry Level Pharmacy Technician
£22,256 per year
Junior Pharmacist
£31,897 per year
Pharmacy Assistant
£17,075 per year
Different Professions & Payday Loans
– Chapter 4
Are you thinking of training to become a pharmacist? Employment of pharmacists is expected to grow in the UK. Pharmacists are said to be happy and fulfilled people. Studying to become a pharmacist takes a few years, therefore, persistence is required. Cashfloat, an online loan company has looked at different kinds of jobs and their wages. In this article you will learn about being a pharmacist.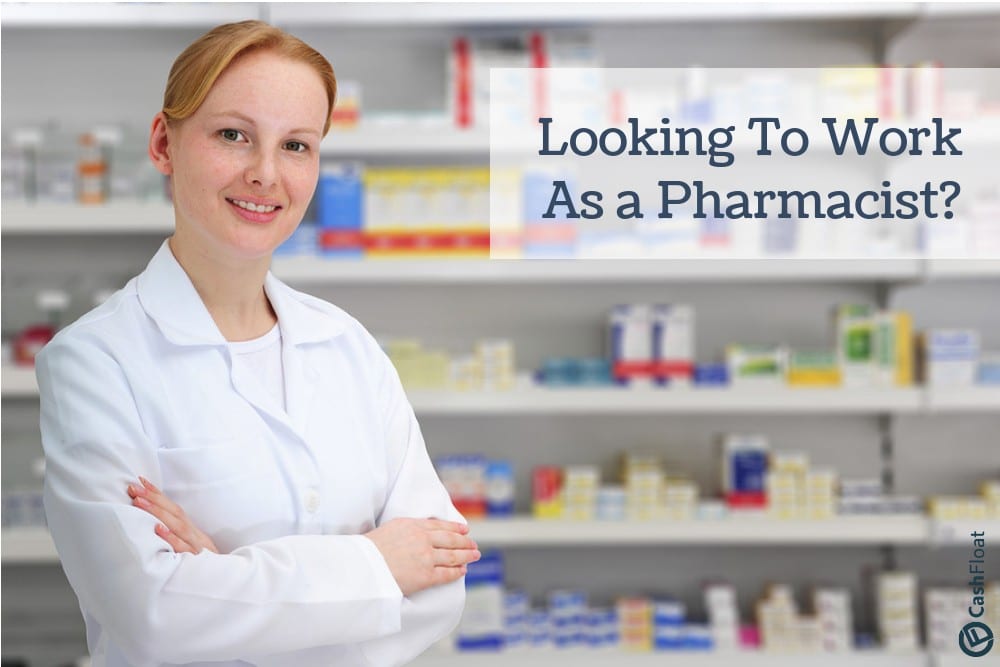 How to Become a Pharmacist
To practice as a pharmacist you need to be registered with the General Pharmaceutical Council (GPhC). To register, you need to study for an accredited Masters degree in pharmacy (MPharm). When studied full-time, this course lasts for 4 years. Many universities across the UK offer this course. To get onto this masters course, you must have three A-B grade A-levels in biology and chemistry, maths or physics together with five GCSEs (grades A-C). They should include English language, maths and at least one science. The university you study with may have another set of requirements to study with them so its a good idea to check carefully what the requirements are.
Skills You Need to Become a Pharmacist
There are many unique skills which will make it easier for you, should you decide to become a pharmacist. Here are some skills that pharmacists should have:
They should be responsible
They should be accurate and methodical
Show interest in people's health
They should have science skills
They should be willing to supervise others
Good customer skills
They should be able to work with all kinds of people
They should have great communication skills including listening skills

Continuing Professional Development
Once a pharmacist is qualified, they can join the Royal Pharmaceutical Society (RPS). Registered pharmacists must make sure they are kept up to date with their knowledge and skills. They must also make sure they have yearly continuing professional development. The RPS runs courses where pharmacists can update their skills and exchange ideas.
If you are not sure of the differences between a pharmacist, pharmacist assistant and a pharmacist technician, you can compare it on the NHS website where you will get a comprehensive article explaing the differences.
Pharmacists speak about their jobs
Amy, who is an employee by the NHS says she enjoys meeting new patients everyday and using her knowledge to help others. Her main challenge is not being able to spend as much time with patients as she would like.
Narinder who works at Cambridge University Hospitals says the best thing about the job is the variety of what he does. No two days are the same when you are a pharmacist.
Additya says, the best part of his job is that he positivley affects people's health which is very rewarding for him. He would like to be able to spend more time with patients interacting directly about their health and medicines.
Falina is a relief pharmacist which means she travels to cover when another pharmacist is sick or on holiday. She says some people just need to be served with a smile and that can make their day.
Conclusion – Is the Pharmacist Salary Sufficient?
The pharmacist salary is certainly not a lot if working for an NHS pharmacy. Being a director of a pharmacy does have quite a high wage, although the responsibilty is very high. If you are working to support only yourself and have nobody dependant on you then the salary may prove to be more than you need and you will be able to save for emergencies as well. If you are on a pharmacist wage and find yourself taking out payday express loans, then it may be a good idea to look for a higher position or another job.