Everyone talks about how payday lending needs to change. Does it really need to? Cashfloat answers these questions and more…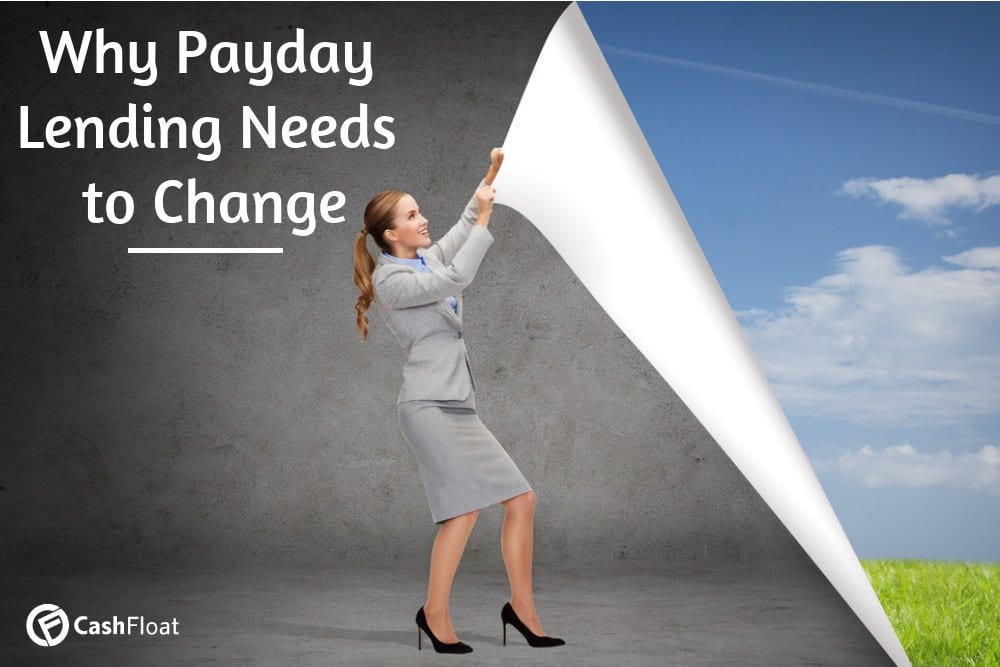 Our Attitude Towards Payday Lending
What do you think of when you read the words PAYDAY LOAN? Rip-off, Disgrace, Scandal, Con, Money-suckers are all words that people tend to think of. It's hardly surprising really, given all the bad press that the payday loan market has been receiving lately.
Why? Is it because payday loans are essentially a bad product? Let's take a closer look at their function.
The Function of Payday Loans
Payday loans are financial tools available to help cover unexpected expenses that weren't in the budget. The money then comes out of your next paycheck, giving you a chance to plan your budget around it. It's covering the expense now but paying for it later, when you have the money.
So payday loans aren't intrinsically a bad product. They can make sense financially. For example, it can work out cheaper in very specific situations, like an expensive UNAUTHORISED overdraft – and the facts prove this! The people taking out payday loans aren't unemployed or irresponsible teens – they are young professionals who have calculated that a payday loan is the best solution for them at that point. If that's the case, they why are payday loans painted in such a negative light?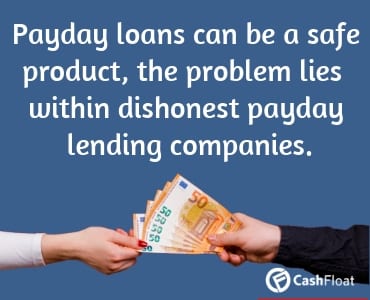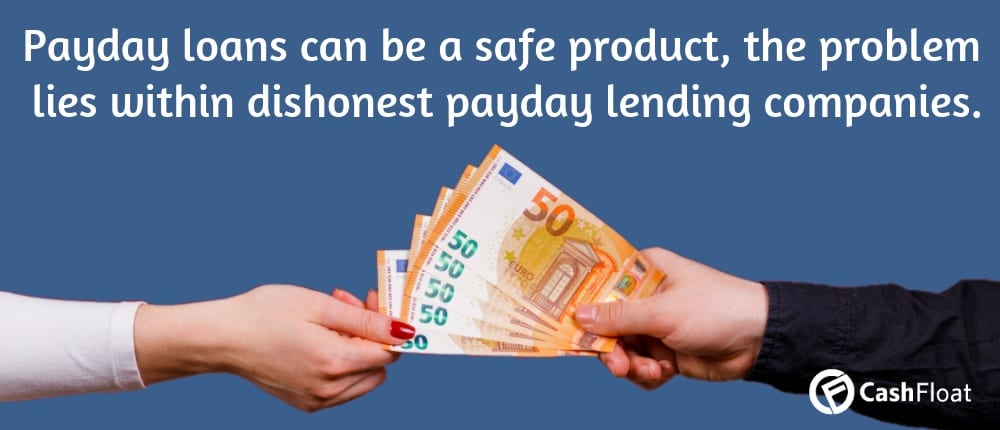 Why Don't People Like Payday Loans?
Logically, if the product itself is alright, the problem lies with the supplier. It's like that subject at school that everyone hated because of the teacher. If the teacher were decent, no one would have a problem with the subject.
Therefore, we can conclude that the problem here is with the payday lending companies.
If a company hides important details in the small print, shows no understanding whatsoever and slaps you with huge fines and interest rates for late repayment, is it any wonder that you'll have a bad experience? If companies are using aggressive and sometimes illegal tactics to make you pay, refusing to admit that sometimes it's their fault you're in that situation, is it surprising that the payday lending industry is viewed in such a bad light?
Where Payday Lending Went Wrong
Let's take a closer look at what has gone wrong with payday lending.
Payday lenders were ALWAYS regulated. At first by the OFT and currently the FCA. They were much more loosely regulated by the OFT. There were stories of people being harassed to repay, charged fees they weren't told about and encouraged to roll their loans over, accumulating greater and greater debt until there was no way out. When companies felt that they could get away with anything, there were no limits.
That was then. Now, things have changed. The Financial Conduct Authority (FCA) recognised the need to regulate payday loan companies and set up a list of regulations including
Daily interest rate capped at 0.8%
Maximum 2 rollovers
Maximum repayment is double the original loan
The population breathed a sigh of relief, at last, those crazy-high interest rates and fees have been lowered. At last, customers have somewhere to turn if they feel they were treated unfairly. At last, there is a safety net, a maximum level of debt for those who can't repay. The payday loan market has undergone a transformation. Or has it?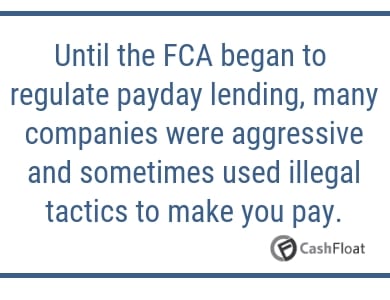 Payday Lending Today
Once the regulations came into force, you would think that customers are now being treated fairly. But how often do you open the papers and see "Payday lender forced to pay back £15.4 million" or "Payday loans scandal"? If the market truly has changed, then why are there still scandals being discovered? Our theory is that the FCA regulations only changed the market on the surface. If you look a little deeper, you'll see that it may not have changed at all.
Let's take a look at what the FCA had in mind when they introduced the regulations:
"We began regulating high-cost short-term credit (including payday loans) on 1 April 2014, with a strong commitment and clear remit to tackle poor conduct in the market." So the price caps and limits put into place were intended to steer the market onto the right path: the path of honesty, transparency and treating customers fairly.
However, while all companies have indeed adapted their business model to incorporate the regulations, the focus is still on making the maximum profit possible. This explains why consumer complaints about payday loans have TRIPLED over the last financial year.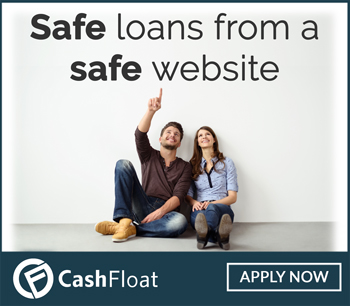 The costs have been clamped, but are payday lending companies' taking the rules in the spirit they were intended? If payday lenders are trying to get away with the maximum they can while still staying within the rules, has the market really changed? This is why people are complaining about poor customer service, long waiting times and details shared with other companies – the payday loan market seems to be the same as it always was, only now with some caps put in place.
I think we can all agree that the payday loan market needs to change. Yes, lenders are following the FCAs regulations – but not in the spirit intended. Customers may still being taken advantage of, and there are still scandals making it to the media. We need companies to:
put the customer first.
be moral and honest in their dealings.
show understanding when customers find it hard to meet a repayment.
We need change.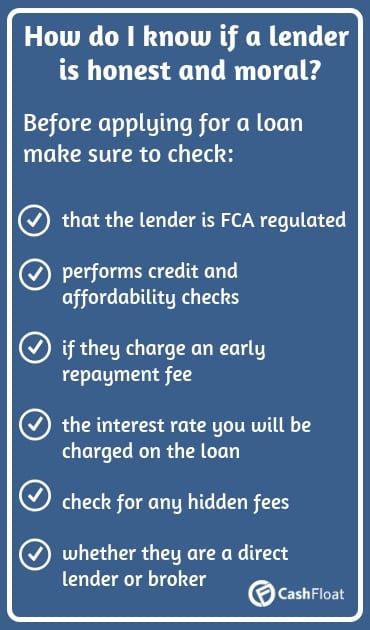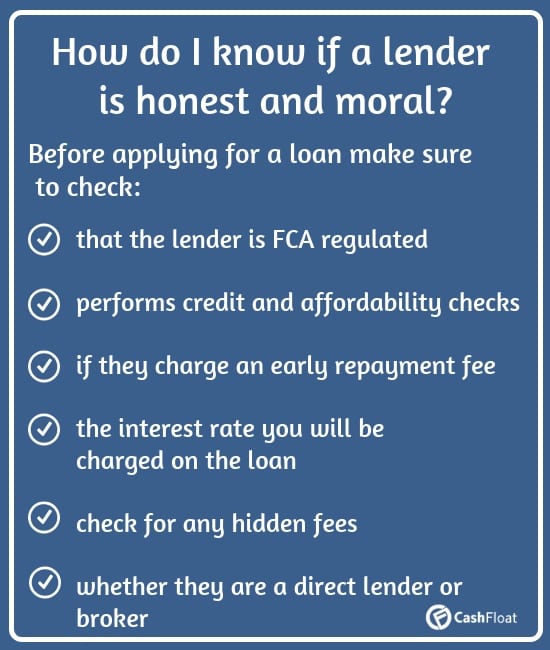 Is There Any Hope for Payday Lending?
Can the market change, we ask? Is it possible for a company to be moral, honest and understanding – and still succeed in this highly competitive market? Is there any hope?
The answer is yes.
Cashfloat is a company who bases their business model on doing it right. It's not about abiding by the rules – it's about structuring the business around the reasons behind them. From start to finish, the entire loan process is all about helping our customers. We developed specialised technology to help us ensure that the loan really is the right thing for our clients and offer same day funding when possible at no extra charge. We encourage customers to repay early and save money, but if they are struggling to repay, we offer breathing space and are happy to rearrange their repayment schedule. Our customer support team are friendly and eager to help, and we are totally transparent about our charges.
We also keep the bigger picture in mind. Our overall goal is to help UK citizens manage their finances better without needing to take out payday loans or short term loans online. We publish articles and guides offering advice on this and always encourage our customers to investigate all other alternatives before taking out a loan.
And is Cashfloat successful? We have helped over 50,000 people in the UK and just look at our reviews! It's a tough market, but Cashfloat is succeeding.
Will Payday Lending in the UK Change?
So back to our question: can a company run based on honesty, transparency, and understanding? It's certainly possible. Other than Cashfloat, are companies running like this? Obviously, we can't speak for all lenders, but based on what we've seen, it looks like the answer is no.
It's definitely possible. Now it just needs to happen. The payday loans market needs to change!