Do you have New Year financial goals yet? Now is the time to set resolutions you can stick to! Read on with Cashfloat to find out how.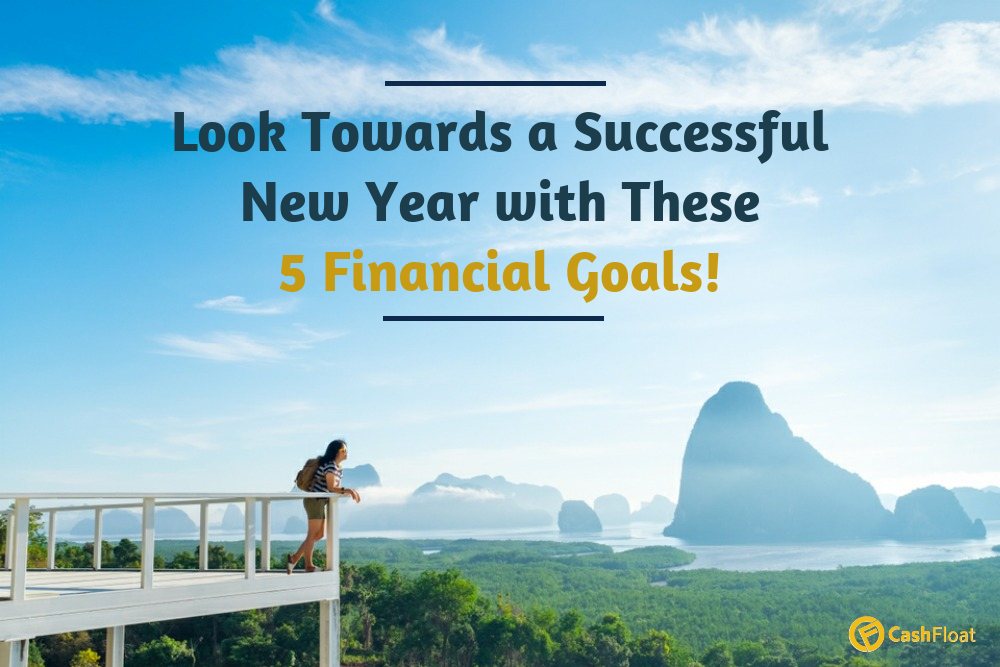 5 tips for setting your New Year financial goals:
5 Financial Goals for the New Year
Setting up financial resolutions for the New Year and doing well on those targets may be hard. The typical amount of time people keep resolutions for is about three and a half weeks. Bearing this in mind, we'd love to help you enter the New Year with these 5 goals that will help you making lasting changes. Working toward your financial goals, and having a plan to make your resolutions stick are the first steps to a healthier financial future!
Create a monthly spending plan

Writing out a spending plan each month is the first step in getting control of your finances. If you can write out your budget each month, and put every dollar you earn in a specific place, this will be a great step towards improving your finances. People who create monthly spending plans are 10 times more likely to spend withing their budget than people who don't. Writing out your monthly budget and how you spend your money will help you get a better handle on your financial situation each month — where you're excelling, and where you can improve, i.e. cut spending.

Keep note of the money you spend

Keeping track of how you spend your money is a great habit. But it's not easy. In the first month, you may want to actually write down everything you buy you in a notebook that you carry with you. But as time goes on, you may consider using a smartphone app to track your spending. There are many budgeting apps available for example cleo, and they enable you to track every transaction as you make it. You can record it in both the account and the category so you can stick to your budget and recognize your budgeting weaknesses.



Stick to your New Year budget

Sticking to your budget is often tricky, but once you have set yourself a monthly spending limit, and one you start tracking your transactions, sticking to you budget will become a lot easier. The goal is that you will start spending less than you earn and the surplus you should be able to put into savings. Sticking to your budget is a great way to meet your New Years financial goals.

Get out of debt this year

Getting out of debt can be very difficult but it's another key step to taking control of your finances. Begin with your highest-interest accounts, while also paying the monthly minimums on accounts. By really focusing on getting out of debt you can reduce the amount you pay in interest, and you can make the money you'd otherwise put toward debt payments somewhere else. Making a debt payment plan and then making a commitment to stick to it all year long will make a big difference to your financial future. There is no feeling great than being debt-free. You have more freedom to spend money on the things you want and more peace of mind. While it may take some sacrifice to make it happen, it is worth the effort.

Create a savings plan for the New Year

Saving money is another financial goal you want to make for the New Year. You should be saving at least 10% of your earnings. This money will accumulate quicker than you think. If you can you should also consider saving this amount in addition to your pension contributions if you can afford it. By establishing a savings habit now, you are creating big opportunities for what you can do during your retirement years. Saving up for the future can be easier if you have something you are saving up for.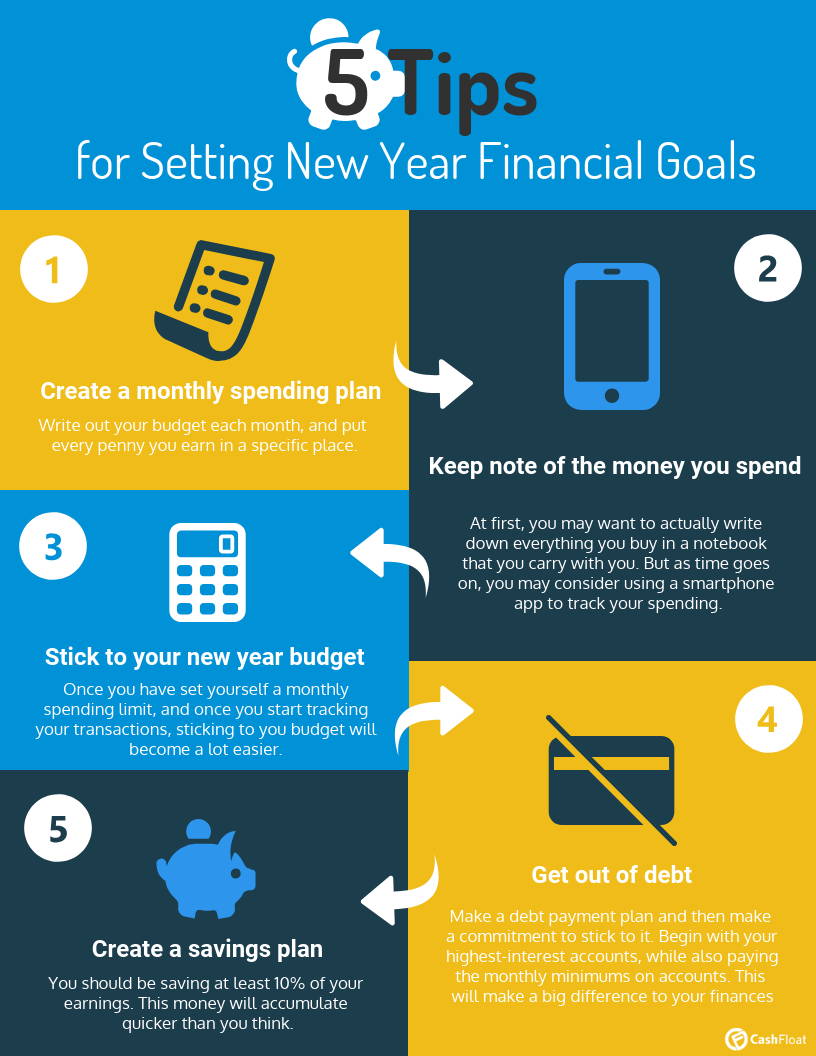 New Year budgeting tips
Cashfloat a leading payday loan lender in the UK presents some top tips to help you follow through on your resolutions!
Establish incentives – It is very important to reward yourself with something once you have fulfilled a target. Regardless of what the payoff is, incentivising to accomplish an aim is an excellent way to be sure you follow along with your financial settlements!
Involve other people – Keeping yourself answerable is sometimes insufficient. Let family and friends know your New Year resolutions and financial goals, and they'll also hold it. This may give you the excess reinforcement required to be successful!
Make it a habit – As soon as you receive your systems set up, turn them into a habit. For example, make it a habit to verify your invoices or make a minimum payment on a particular date. After a person forms a habit, it is difficult to break!
Set up automate and reminders – To make sure you don't overlook obligations and financing, set automate and reminders. In case you have reminders set up, they will be pretty difficult to dismiss. The same is true for automatic payments, which you may set on credit cards or cards to minimise the danger of missing a payment or destroying your credit rating.
Conclusion – Setting Financial Resolutions For the New year
Cashfloat is always looking to help you take control of your finances and be able to live your life free of online loans and any other kind of money lending products. Making New Years financial resolutions is super important to help you live a financially savvy year. Use the tips provided in this article to help you write up your budget today!
Click here to read more about the future of payday lending in the UK.