Full Guide to Managing Family Finances – Chapter 36
There are so many more risks involved when it comes to members of the armed forces, so it's no surprise that insurance can be a problem. Learn about the different insurance options, and also about the benefit system that is tailor-made to armed forces families to address their special requirements.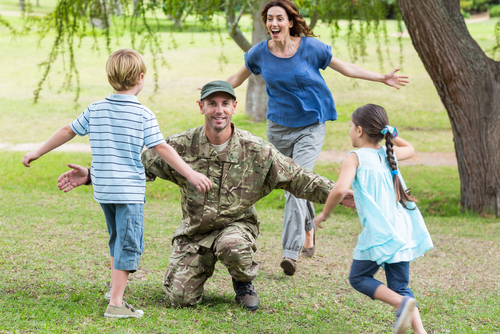 Specialist Insurance Companies Families who are part of the Armed Forces often have special considerations and problems with finances that do not apply to civilians. The prospects of injury means that members of the armed forces need more insurance protection to secure the financial future for their families and although there are payouts from the government in the event of injury, most families pay extra for more substantial cover. Veterans also face monetary problems and there is a range of benefits and allowances applicable for those who have left the forces and who may be struggling to cope in the civilian life that follows. Whilst some armed forces personnel will be able to get the insurance cover they need, many face the fact that some insurance companies feel unable to offer cover because of the higher risk factor. The Ministry of Defence can recommend a special scheme offered by the insurance giant AIG that covers those personnel who are going to be deployed in dangerous areas. However, other companies will often not consider those about to be posted to Afghanistan or Iraq. So, armed forces personnel who want to take out a mortgage with a life insurance policy attached would be better to do so before they are considered for deployment to these areas.
Compensation The MOD pays out compensation to the families left behind of those killed in action and also provides a pension for widows or widowers. However, life insurance or even better health insurance cover is often felt necessary so that in the event of death or disability there are sufficient funds to achieve the best possible cover for health care and to pay bills rather than having to resort to online loans which they are unsure if they will be able to pay back. Other kinds of insurance are also essential because armed forces personnel have to pay for lost or damaged kit and the usual kind of home contents cover does not pay out enough for specialist equipment. In these cases cover by AIG or the Forces Financial insurance is a good option. Another problem faced by armed forces families are homes that are left empty whilst they are on deployment. Some mortgage lenders will not allow the property to be left unattended for months or years at a time so a specialist lender is often the answer.
Benefits and Financial Help For Armed Forces Families
The government provides a series of benefits and financial help for armed forces personnel and their families. As well as the normal child benefit, a member of the forces can get statutory sick pay, a personal independence payment, armed forces independence payment, the sure start maternity grant, job seekers allowance and tax credits. These benefits all apply to the UK and there are others that are available to veterans living abroad or serving abroad. Serving members of the armed forces can have a tax free relief payment towards council tax and there is an allowance available towards school fees and child care costs. Personnel who regularly move around may prefer their children to go to boarding school in the UK and the vouchers that are provided by the MOD can be used for these fees or to pay for nursery care or summer camps.
Travel Costs Financial help with travel costs for veterans is another of the allowances on offer and this includes concessionary travel costs in London and applies to both widows and widowers. There are also special tours to cemeteries and battlefields around the world that can be arranged by the Royal British Legion and again there are subsidies for widows and widowers who have lost a spouse overseas.
Lack of Knowledge Unfortunately, the majority of armed forces personnel are unaware of the many benefits to which they are entitled and fail to claim what is rightly theirs. Benefits such as carers allowance, disability living allowance and council tax benefits are available without taking into account war pensions but many people are under the impression that these will be taken into account before benefits are calculated. There is also a little known rule that states that if a member of the armed forces dies due to injuries sustained on active duty or an illness contracted whilst on active duty, then their estate is not subject to Inheritance Tax.
Different Schemes The Armed Forces Compensation Scheme makes payments to those who have been injured whilst serving their country. Depending upon the severity of the injuries, claimants from the scheme can expect to receive either a lump sum up to £570,000 or a pension for life. Sometimes both of these payments are awarded. Any money received under this scheme is not subject to means testing so other state benefits will not be affected. Finally, there is also Resettlement Grant for armed forces personnel which is paid to help serving members adjust to civilian life. Qualifying personnel who have served at least 12 years, and who are unable to qualify for the Early Departure Scheme (see Pensions and Financial Advice for Armed Forces Families), will receive £10,100 as a tax free lump sum.
Elizabeth Redfern is a born and bred Londoner who loves the city life. She is a proud chocoholic who enjoys reading, jogging and eating – especially chocolate! Elizabeth attained a first class degree in Mathematics but chose to make a career out of her real passion, writing. She has published many poems and short stories, but decided to join the Cashfloat educational channel writing team because she is passionate about helping people take care of their finances leaving them free to enjoy the finer points of life – most notably (in her opinion), chocolate!