Don't we all have the best mum ever? Your mum is the best just for being your mum. Read on with Cashfloat to find out why your mum is the best mum ever so you can be sure to celebrate her accordingly this Mother's Day!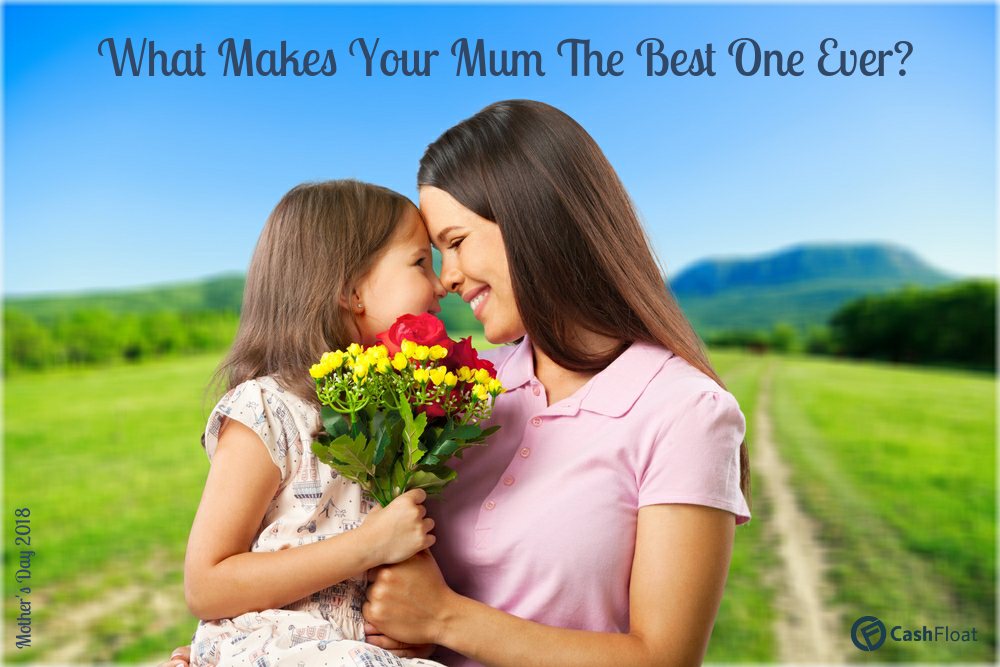 Among your mum's many roles of being the best mum ever, we've included how:
She is a great listener
Your mum advises you in all areas of life
She lends you money when you need it
Your mum is your support through all stages of life
She knows what you are thinking
You share the same humour with your mum
She is excellent company
Your role model
Mother's Day 2018
With Mother's Day approaching, it's the ideal time to think about what an important role our mums play in our lives. Whether it is your mother or someone else who has treated you like their very own, we all have someone in our lives who we can celebrate for being there for us whenever we need them! From when we were young, we could always look up to that special person, and throughout our lives, we knew we could consult them for advice of any kind. In this light-hearted article, we've collected the 8 ways you know that you have the best mum ever.
She is a Great Listener

Is your mum the first person you want to call when something happens in your life? However trivial it may be, she's the one you want to discuss your news with. Even more so, when it's something life-changing. From work to relationships, you know that she'll be interested in whatever happens to you. She'll listen to whatever you have to say and won't be bored (or at least she won't show it).

Equally importantly, she keeps quiet about anything you tell her in confidence, after all "mum's the word!" Even if you say "Don't tell dad", you know she'll respect your wishes.




She is the Best Advisor

A good mum always seems to know the right way to react. She's always on hand to give guidance and advice but also knows when to back off (most of the time!). Sometimes when you're faced with a problem, you can use her as a sounding board until you're ready to decide what to do.

Her advice might sometimes be brutally honest, and sometimes this isn't what you need to hear at the time. It's only afterwards that you realise the wisdom of her words. Even if you disregard everything she advises you to do, you know you won't hear her say: "I told you so". Instead, she'll be on hand to straighten out any mess you've made.

She Lends You Money When You Need It

Your mum has spent your entire life going without so she can offer you as much as she can. No sacrifice of time or money is too great for her. Even when you're an independent adult, you know that you can count on your mum. From buying you Christmas presents to lending you money, she's there for you.

When lending you money, she offers better rates than any payday lender. After all, no company on the market will offer 0% interest rates. And what other creditor do you know who will conveniently 'forget' the loan completely just when you need them to?

She is Your Support Through All Stages of Life

A good mum is your greatest cheerleader and supports everything you do. She offers unconditional love no matter what you do. She's one of the people who has seen you at your worse and still loves you. You're secure in the knowledge of this love, and this gives you the confidence to make mistakes knowing that she has your back. Woe betides anyone that hurts or upsets you. You know that your mum won't just take it as a personal affront but will defend you like a lioness protecting her lion cubs.

She Knows What You are Thinking

Often you don't need to tell your mum anything. She seems to know instinctively when something's bothering you, and you need cheering up. Her ways to get you out of the mood can be as simple as making you a dessert that you've loved since childhood or sending you amusing cartoons. Gestures of love like this show how much she cares without anything being said.

Your mum is quite literally a mind-reader. She recognises when you need space and when you need to get something off your chest.

She Can Have a Good Laugh With You

Shared laughter is an important part of your relationship with your mum. From childhood anecdotes (which you've heard on countless occasions) to amusing TV shows and jokes, you laugh at the same things. This sense of humour is sometimes incomprehensible to outsiders, but it's what makes your time spent with your mum the best. Laughter is the best medicine and who else can you laugh with so much that you both end up in tears?




She is Excellent Company

Apart from the laughter, you know your mum is the best when you genuinely enjoy spending time with each other. You might have a heavy workload and a hectic social life, but you still make time to be with her. Going away for a weekend or on holiday with her also sounds appealing to you. If your mum was that stay at home mum when you were young, pay her back and spend time with her.

You don't necessarily share all the same interests and hobbies, but you know you're guaranteed a good time. With her outlook on life, she can make anything seem interesting, and she knows so much. Sometimes you're amazed by the facts and experiences she has to share with you. Where did she pick up all those nuggets of information? Even as an adult, there's so much you can learn from her.

She is your Role Model

If you haven't had children yet, you might wonder how you'll ever measure up to your mum. As soon as you become a parent, you find yourself repeating all her little phrases and sayings to your own kids. Even the ones that used to irritate you when your relationship went through a bad patch in your teens.

The best mum is the one that you want to imitate in your relationship with your children. If you can give them the same feeling of security, support and unconditional love that your mum gave to you, then you know that you won't go far wrong. She's the best role model.
Conclusion – You Have The Best Mum Ever
Mother's Day is a great time to show your mum or the mother figure in your life how much she means to you. And she doesn't need expensive gifts of perfume and flowers for you to do this. There is surely no need to resort to a wage day advance on Mother's Day. Little gestures – even a hug and a kiss or offering to do the washing up – are all ways to show her you recognise the role she continues to play in your life and for being the best mum ever.