Most of us at some point in our lives end up buying eyeglasses. Eyelasses are made of lightweight glass or plastic. They come in all shapes and sizes with various price tags. In this article, Cashfloat will help us find out how we can get the same glasses for a lot less money.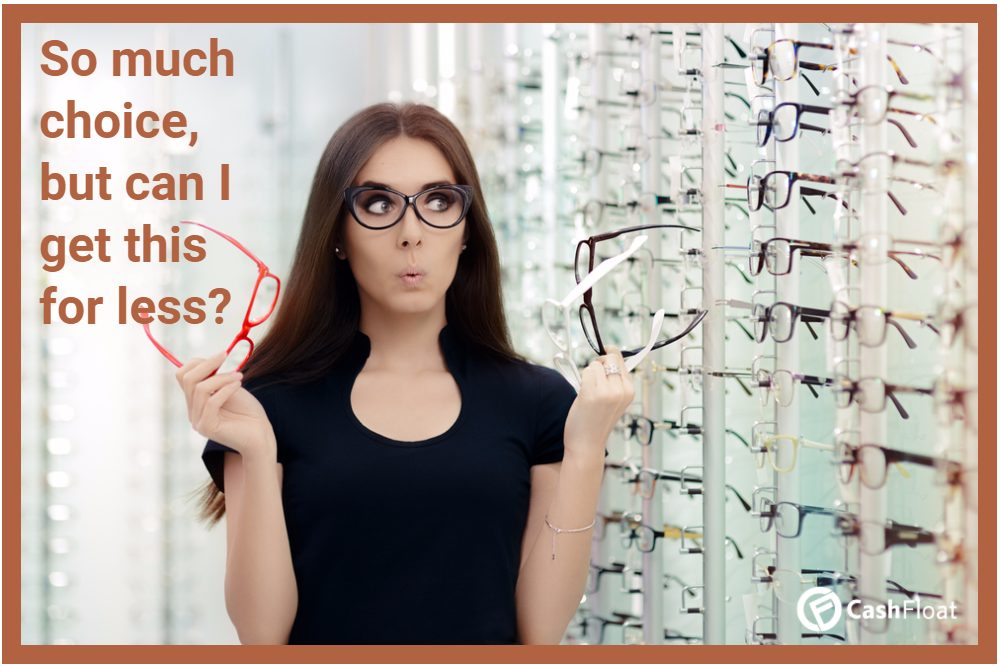 In this guide to buying eyeglasses for less money we will be looking at:
A brief history of glasses
Why so many people are now wearing glasses
Is buying eyeglasses cheaper online
How to go about buying eyeglasses from the internet
Ways to find the best glasses to suit you
Things to watch out for
Story hightlights
Cashfloat explores the rich history of eyeglasses
Buying eyeglasses on the High Street is very expensive
Buying eyeglasses online can be a much cheaper option without compromising on quality
Eye Glasses – A View into the History
The Assyrians first used visual aids to magnify objects way back in 700BC. These were made from polished crystals. It has also been linked to the Ancient Babylonians and Egyptians. Ancient Greeks and the Romans have writings by philosophers reporting the use of glass spheres filled with water for the same purposes.
The Roman Emperor Nero, enjoyed watching his gladiators perform with the aid of an emerald, that he used in a similar fashion to a monocle. The emerald allowed him to view the distant savagery with greater accuracy. It was not until the late thirteenth century that people wore visual enhancers on the face.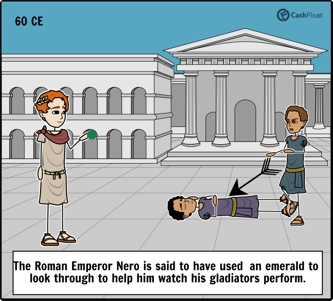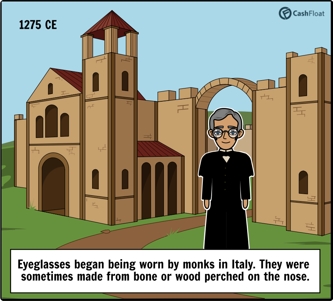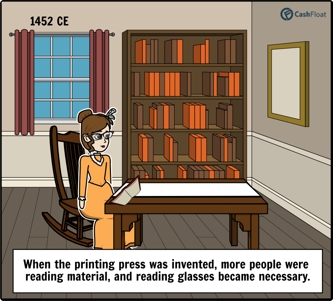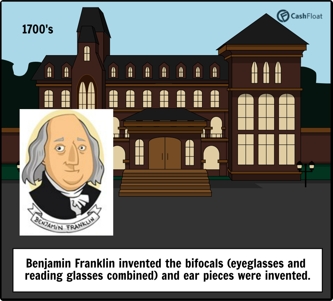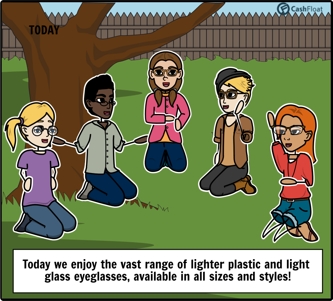 There are many claims as to who was responsible for the invention of eyeglasses. To be honest, their invention cannot be accredited to a single person. Historians will agree that during the last quarter of the thirteenth century, monks in Italy wore eyeglasses. The monks had the basic understanding of how optics work. They would have been similar to today's magnifying glasses. It was handheld or fitted into rough frames made from bone or wood that perched on the nose.
In 1452, with the invention of the printing press, the rise in literacy amongst the population grew. More people had access to reading material and the need for reading glasses came about. This lead to eyeglasses being mass produced to fulfil public demand. By the 18th century, rapid developments came with the invention of the temple pieces that slotted over the ear. There was also the development by Benjamin Franklin of bifocals, combining eyeglasses and reading glasses. From these landmark developments, came the advances in technology that brought us the familiar, lighter plastic and light glass spectacles that we enjoy today.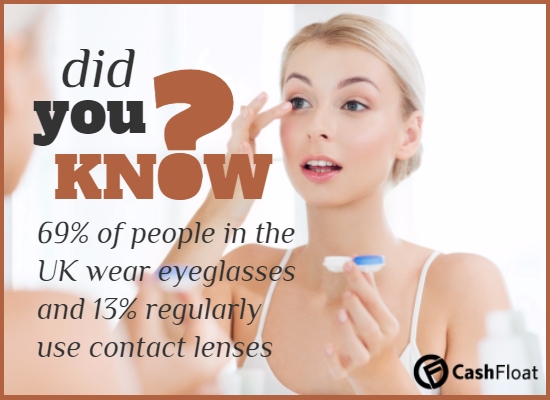 Why do we need Eyewear?
Nowadays, it is only a small percentage of the UK population that are fortunate enough to have 20/20 vision. There are many different factors why. The obvious one is that as we grow older and are living for longer, many sight problems my be because of old age.
A fifth of young people between the ages of 16 – 24 and by a third of people aged 25 – 34 wear corrective eyeglasses. Experts believe that the increased use of our time that is spent in front of computer and television screens could be the reason for this. Another fact could be the drying effects of air-conditioning and air pollution in largercities.
With some of our most respected icons wearing glasses and a change in attitude from people wearing eyeglasses as being unattractive, a surge in people who needed glasses but were afraid to wear them in public has also resulted in more pairs being worn.

Cheap Eyeglasses
It is only recently that huge multinational companies have made buying eyeglasses less expensive, helping you avoid taking an online loan. Up until the 1980's, local independent opticians had a monopoly on the market. They could charge a fortune for spectacles. During the 80's previously forbidden advertising and marketing methods allowed these companies to grow in size and offer lower priced eyeglasses to the public.
The price of the glasses that you choose to purchase can vary depending on many different factors. It will depend on the kind of lenses that you require. They price will also depend on whether or not your eyes have the same prescription for each eye. Then there are a huge array of different brands of lenses and qualities of glass and high-tech plastics that are used to make the lenses. You can choose to fit these lenses in a cheap plastic frame, or a designer branded one. The possibilities are endless. Another question to ask is can you trust the person who is providing you with the health care to provide the consumer with the correct pair of glasses when under pressure to sell the glasses too?
I lose things. I am busy. I'm misty. Eyeglasses? I go through eyeglasses like tissue.
Click To Tweet
The General Optical Council are responsible for regulating registered opticians. They are also replacing their code of practice with more precise standards of practice making it clear exactly what is expected concerning sales and professionalism. This is good news for the consumer who is at the mercy of the optician when it comes down to issues of trust.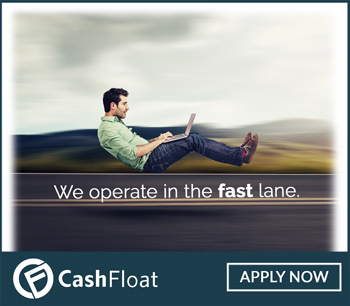 Glasses shops
The biggest shops that sell glasses often come with a high price tag. Over the last decade, we have had the pleasure of viewing some of the best advertising campaigns for large optical chains. They that have made us chuckle and quote their funny lines. These massive advertising campaigns cost these companies millions of pounds to produce. However, they have turned their High Street shops into household names. Money well spent indeed!
The thing is that all this marketing and the prime locations that these shops need on the high street and shopping centres are all paid for by the consumer. Overheads needed to staff and run these brick and mortar establishments are huge. The regular consumer may not even realise how much they are paying for their servivces. It may even be forcing them to take a quick loan uk.
So what have we learned about eyeglasses so far?
Eyeglasses have been around for a very long time
Two-thirds of the population wear corrective eyeglasses
Eyewear is no longer favoured just by Nerds
Buying eyeglasses and reading glasses can work out expensive
Massive advertising campaigns and large overheads push up the prices
Buy Glasses Online
In the last decade has seen an explosion in sales from the internet, the eyeglasses industry has also been quick to jump on the bandwagon. There are large retailers online who can offer the same brands of eyewear that are available on The High Street at a fraction of the cost. The internet can open the doors to hundreds of shopping options when you compare it to limiting yourself to what is available on the High Street or just at your local opticians.
Giant, online eyeglass specialists can offer you the same products at a much-reduced price for many reasons. These companies do not have to pay the expensive overheads that High Street stores are faced with. They can operate from remote, inexpensive locations and deliver your purchase to your door by post. The online companies also save a fortune on their marketing budgets, staff costs and save money by bulk buying. They do not need to buy, maintain and operate expensive eye testing equipment. You will need a valid prescription in order to purchase your glasses.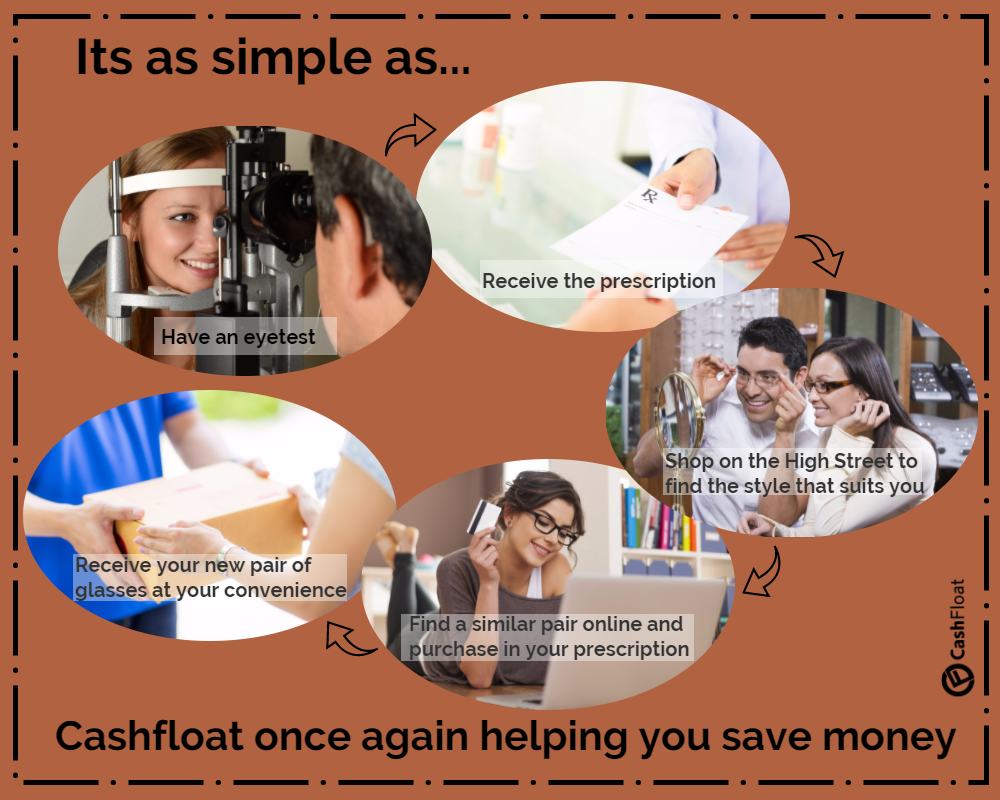 Contact lenses and eyeglasses Prescriptions
Prescriptions usually cost in the region of twenty to thirty pounds when you get an eye test done in an optician. You may even be entitled to a free eye test with the NHS. You can find out on their website. If you are, this may help you avoid taking a wage day express. Many large stores will offer free eye tests to get you to buy your glasses from them. By law they must give you a copy of the prescription. Employers of people who work with computers may need to pay for prescriptions as long as the glasses for work. Prescriptions are valid for two years, providing you are under seventy. After 70 they only last a year. It is a good idea to have a recent one when you are considering purchasing a new pair of glasses.
What eye glasses styles are there?
The type of glasses that you will get is entirely up to the individuals wants and needs. Glasses for reading or regular eyeglasses come in all shapes and sizes. You can buy sunglasses too at huge discounts. One can buy basic, single vision eyeglasses with low-cost frames, at jaw-dropping prices. They may also come with free delivery and return policies that eliminate any fears of them being wrong. Providing the optician with the incorrect information is another matter where you will be held responsible for any mistakes made. Bi-focal and varifocal lenses are also available online. One needs to take more care when entering the prescription details. You could lose money if you have made a mistake.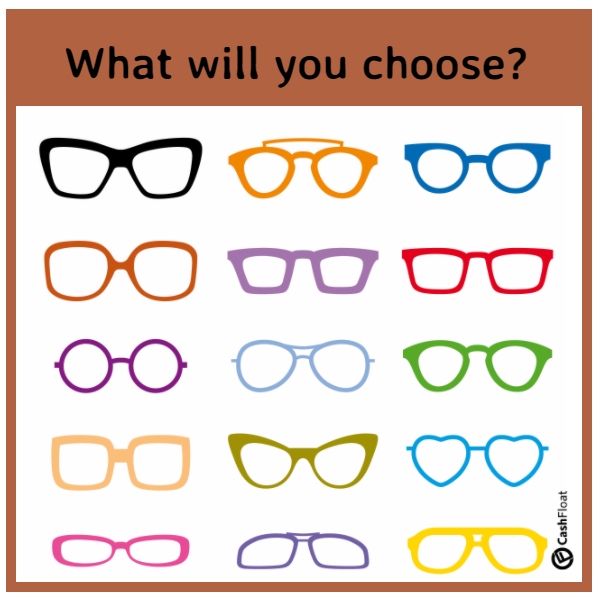 What glasses will suit my face?
These online retailers have lots of technology when it comes to choosing the right kind of spectacles to suit your face. They have simple to use Virtual Try-On systems where you can take a picture of yourself and then you are free to virtually try any pair of frames that you wish. Some companies also offer a free home trial without the need for a prescription where you can choose four pairs of frames and have them sent to your door to try on and show your friends for seven days before popping them back in the box that they arrived in into your nearest post box. This is really going to save you from taking a bad credit loan.
For those of you who do not feel comfortable with this method of choosing frames, there is always the option of going into a shop on the High Street and finding the perfect pair of frames there. You can try on countless pairs until you find the right ones and then make a note of the model and manufacturer to then search for online.
What if they are not correct?
If a mistake is made when you are entering your prescription details, then not all companies will offer a full money back guarantee, although some do. There is usually a time limit on return policies, but this varies from company to company and should be read before a purchase is made. Usually, return postage is paid by the consumer but many companies offer free return postage within the dispatch time limit that will be clearly stated on their website.
Learn more with these trending articles
Massive savings when buying spectacles online
There is no doubt that there are huge savings to be found when buying eyeglasses online but it is always a good idea to check stores for any promotions that they may be having too, in case they have the kind of thing that you are looking for and can take advantage of. When you consider the extra costs of shopping such as bus fares or petrol and parking fees, not to mention lunch and extra goodies that will find their way into your shopping bags, buying online is a good idea and will, in most cases, save you a considerable amount of cash.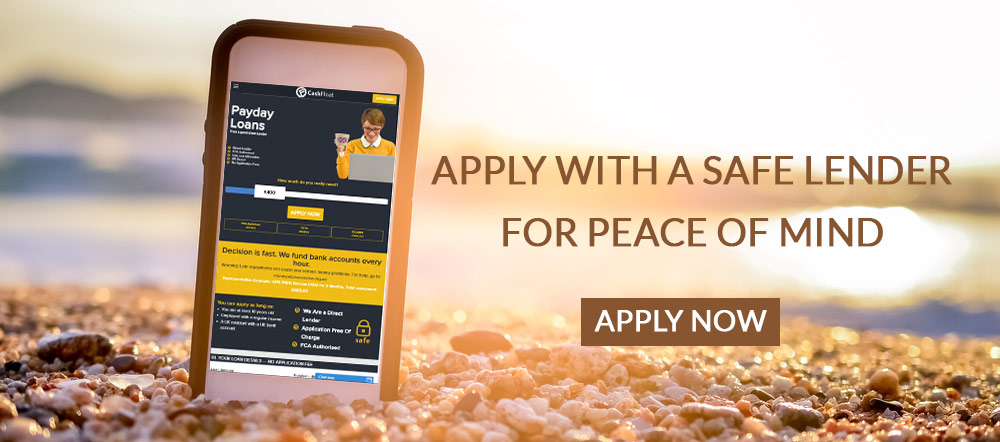 Caribbean born Isla Williams is excited to join the Western Circle Educational channel team. A born writer, Isla had her first article published at age 9 in a local magazine. Isla's joy emerges when pen strikes paper, and she can tap into her creative self. "I love to share knowledge/information and help others to be in the know while being as friendly as I can." Isla is an accountant by profession but has taken a break to do what she enjoys most. Mother nature is her best friend, especially when the Sun is shining. A keen surfer in her youth, Isla looks forward to those rare trips home where she joins her family and hits the waves.