Lost Your Job? What Can You Do?
– Chapter Eleven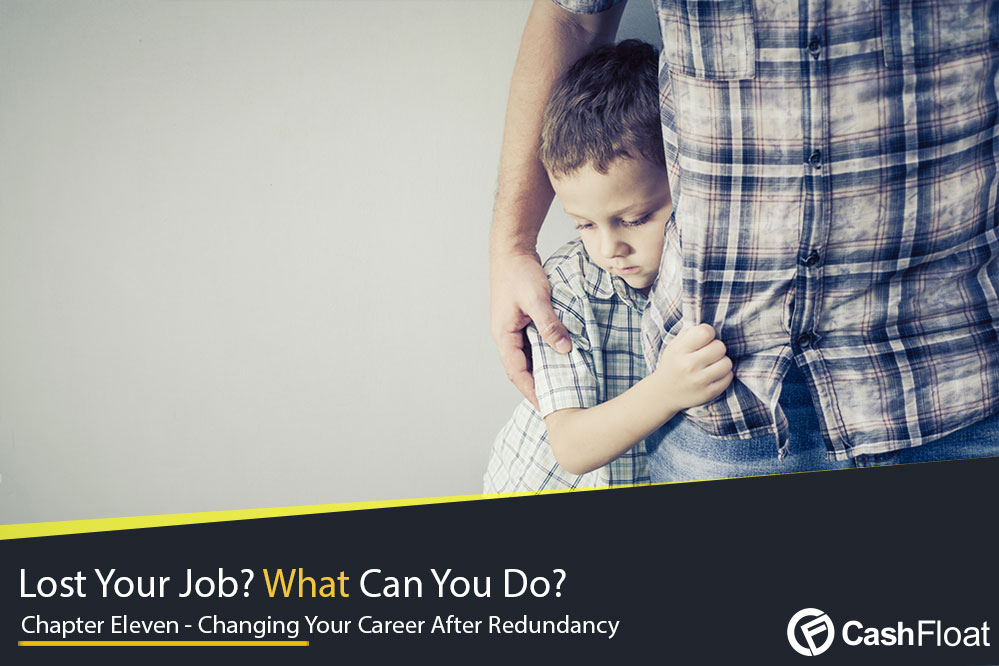 Changing career after redundancy? Don't know what options to go for? Cashfloat explore the best way to move forward, so you get the best you so deserve.
Changing Career – A New Opportunity In Life
There is no doubt that redundancy is a life changing event, but instead of dwelling on the downside of losing your job, why not look at the opportunities that are presented to help you move forward.
If you want to embark on an entirely new career then some retraining may be in order and if this is the path you choose then there is some financial support available. Losing one job does not have to be the end of a fulfilling career, and it could be the means by which you embark on a different direction in your working life.
Starting From Scratch
One of the most common reasons why many people stay in their chosen career is because they think that changing direction will mean starting from scratch. Most people would feel uncomfortable sliding down the career ladder and possibly might feel inferior to those who are younger but more qualified in the new position.
However, there are some types of employment where you can carry over your skills and start again in a new job that has a demand for those skills. Knowing yourself and your skills is the key to going from one avenue of employment to another, and a new employer should be able to identify the skills that make you an attractive prospect.
Focus On Your Skills
Before you approach a new job, it is important to do some research and learn as much as possible about the organisation and the type of employment on offer. Look at leaving an online trail on social media or a blog so that anyone who decides to look you up, will see your history.
Take courses or volunteer with organisations that are relevant to your new job prospects and network as much as possible. Getting your profile to a higher level is also key to getting a new job. Of course, if you want to change track completely then it may well be that you have to start at the bottom. But, many business skills are transferable so starting from scratch is not necessarily a given.
Use Your Redundancy Package To The Fullest
A radical change of direction when changing career may not always be practical, but if there are just too many other people who are after the same type of job, then it could prove to be the best move. It's a given fact that some jobs are going to completely disappear in the future as technology takes over.
So, this could be the opportunity you are looking for to change direction. And, using your redundancy package as a monetary cushion to help you move on can be a good option. You can use the funds to give you freedom to explore a range of options and maybe go back to an original ambition that you put on the sideline.
Getting And Taking Advice About Changing Career
If redundancy has hit you hard and your self-confidence has taken a backwards step, then getting advice from a recruitment specialist can help to restore your self-esteem. You will be able to re-assess your ambitions and goals. Some businesses will lay on this service for employees who are being made redundant so take up the offer of help if it is there.
Consult The Specialists
A recruitment specialist will know the market and the skills which are in demand and will be able to advise you about which direction you can take next. You can also use this opportunity before changing career to update your CV and take part in some psychometric tests which will show exactly where your strengths and weaknesses lie.
More Informal Help To Find The Way Forward
Sometimes an informal talk with a career specialist can contribute to focusing your mind on the next chapter in your working life. A career consultant will listen to you, and once you have spoken to a third party and identified what you want to do, it can make things much clearer in your mind.
Can You Take Risks?
Giving up the prospect of a dream job for one that will pay the household bills is something that many people have done. When redundancy happens, this could be the chance to take a step back and look again at the reality of life. You may find that this sudden kick from the norm helps you to take that first step towards your dream job.
Of course, if you have a family then deciding to pack it all in and set up a new venture that is risky may not be possible. It is a sensible approach to recognise that paying the bills is priority. Failing this, people may be taking up their dream career, meanwhile taking out payday loans to help pay up their necessary expenditures. But, sometimes a lifestyle event like redundancy can make you think that there is more to life than sitting behind a desk and hitting work targets.
Do Plenty Of Research
Before changing career to an entirely new profession, a life change which can have an impact on your family, it is vital to do some research into the new career. Speaking to people who already do the job is important as they can advise you about the downsides as well as the better parts.
If you have always wanted to be a teacher, speak to those in the profession and you might find it is not the job that you think it is. In fact, many teachers are leaving the profession due to changes which mean that they do more admin work than actual teaching.
The important point is not to have an idealised vision about a job but to research the nitty gritty about how it is actually done.
Try Some Temporary Work Assignments
One way of evaluating whether or not a job would be suitable is to volunteer or to get a temporary assignment. Work experience can be invaluable for both you and the business. If you are entering entirely different territory job wise, then it also shows your commitment and eagerness to change direction.
A temporary job in an industry in which you are interested will demonstrate that you have transferable skills, and it will give you the experience you need to apply for a permanent position.
What About Pay?
When it comes to changing career, then realism is needed about the kind of salary you can expect. You may need to take a cut in pay for the longer term rewards, but as long as you can manage your household bills without too much difficulty, it could be worth it.
Additionally, you may be sacrificing a higher salary for more job satisfaction and shorter working hours. This can leave you with a better quality of life at home and a much better work life balance.
Can I Be Paid To Retrain?
If your skills are not transferable to a new job and you need some specific training, there are some ways to get funding. A full time course such as the BTEC or NVQ could make you eligible for the Adult Learning Grant. Although this is only a small sum each week, it could help with costs for travel to and from the course.
Before opting for short term loans in order to train, be aware that there are also career and development loans which you can take out from a bank, and the government pays the interest on the loan. This is repaid after completion of training. You can borrow between '300 and '10,000. Taking The Leap From One Career To Another
As you can see, there are lots of opportunities available if you have been made redundant. If you are young and single, then this could be the chance for you to take up a university place and do the degree that you always wanted. For those who have a family to support, the chance is still there to start afresh in a new career which could turn out to be the best move you ever made.
Caribbean born Isla Williams is excited to join the Western Circle Educational channel team. A born writer, Isla had her first article published at age 9 in a local magazine. Isla's joy emerges when pen strikes paper, and she can tap into her creative self. "I love to share knowledge/information and help others to be in the know while being as friendly as I can." Isla is an accountant by profession but has taken a break to do what she enjoys most. Mother nature is her best friend, especially when the Sun is shining. A keen surfer in her youth, Isla looks forward to those rare trips home where she joins her family and hits the waves.