Story Highlights
In the past, only the homeless or unemployed used charity shops.
Unfortunately, a payday loan is the only option for some people.
Charitable organisations and payday loans are linked in ways that are sometimes not obvious. Charity organisations and payday loan shops are a normal part of our high street now and help people and families of all classes. You do not need to be financially vulnerable to appreciate a charity shop or require the services of a payday loans company.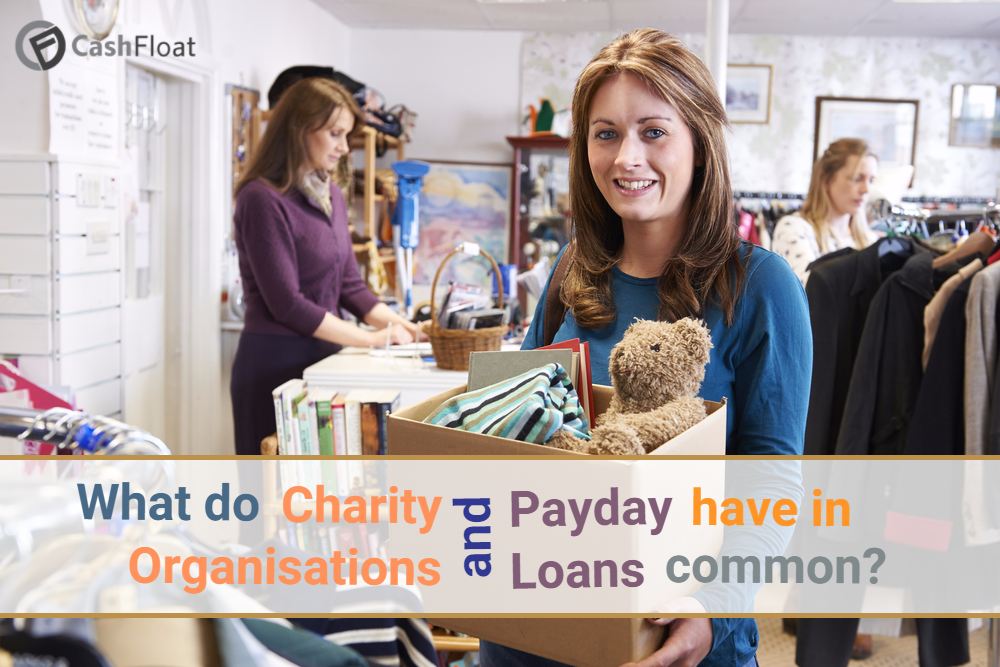 Charity Organisations and Charity Shops
Many charity shops exist thanks to donations and unwanted items given to them from the public. These items will have been donated, or sometimes the charity shop may offer a small payment in return for the items. You've heard the phrase 'One man's junk is another man's treasure.' This is true and helps the charity shop survive, because someone will always want something and we are all different. Charity shops can help people who are on a low income and who are struggling to maintain a reasonable standard of living in the current climate. They also help those who are not eligible to receive assistance through a payday loans company.
Is Receiving Charity Taboo?
It used to be considered that only the homeless or unemployed used a charity shop to buy things; or if you would accept charity from someone, but this is not always the case. Charity comes in all forms and from all people, but it is more acceptable these days and less of a taboo. People are more open about shopping in charity shops now. As we become more comfortable with this we realise that not only are they helping us, but we in turn are helping others. Families who receive financial aid and even companies that offer interest free periods may be considered a charitable act but these help families in need.
Low income and struggling to make ends meet
Payday loan companies can provide short term financial assistance to you based on your previous and current employment records. But what happens if you are unemployed and struggling to make ends meet? Charity shops and charity organisations can provide that necessary lifeline to people who want to maintain their pride. They can do this in a more cost effective manner than if they would get a payday loan.
Where Can I Find a Payday Loan?
Payday loan companies can be found on the high street and online (if you have access). These companies are becoming as popular as the charity shop now and it is reasonable to say that areas that have charity shops will almost certainly have a payday loan shop. Payday loan companies are becoming more popular in areas where the majority of the population are on low incomes, where unemployment is high or where people and families struggle with day-to-day life and living.
How Does a Payday Loan Work?
Payday loan companies offer people small, unsecured short term loans. They check out the applicant's previous and current employment records and they can provide an instant decision. In the UK, there are restrictions placed on the percentage rates they can charge. In addition, companies like Cashfloat will offer payday loans with bad credit. This is so long as they can be relied upon to repay the loan. Thus, the company itself has an element of security, but also the borrower is prevented from getting into more financial difficulty.
Charity organisations or a Payday Loan?
Should I turn to charity organisations or take a payday loan? The question may seem obvious but the answer may not be. Almost everyone can receive charity in some form, whether it is from buying something in a charity shop, or from receiving financial assistance, not everyone can obtain or afford a payday loan. Although both help others in some manner, they are quite different. You must consider your options before looking to opt for a payday loan because, if your circumstances change you are still required to pay the loan back. However, for some, this may be the only option as they may not qualify for financial aid.
Why is a payday loan the only option?
Unfortunately, a payday loan is the only option for some people. They may not receive a high enough income to qualify for a loan and they may be earning higher than needed to qualify for financial aid. This is a vicious circle that many people from all work environments and of all ages may find themselves in, due to no fault of their own. If something unexpected happens and you cannot wait until payday, a payday loan (sometimes known as a payday advance) may help. Just be careful not to fall into the trap where you have more payday loans than you can reasonably afford to repay.
Is the Payday Loan a product of Charity?
Some people may see the payday loan being a product of charity in that people will turn to a payday loans company rather than receive charity due to the age-old stigma attached to charity. They may see a payday loan as being their only option because they are unable to receive charity because they are just above the threshold. Whatever way people look at them, payday loan companies and charities help people who need an immediate solution. However, perhaps we need to look at the charity provided and identify if we can prevent unnecessary financial hardship to those already on that thin line.
Charity begins at home
A well-known and often used phrase is 'Charity begins at home'. This indicates that we should help ourselves and close family and friends before we consider helping others. This is something that could be considered with regard to charities and payday loan organisations. If working environments and pay were better, people would not feel it necessary to get themselves into financial difficulty. If, perhaps, help were available to people before they reach the stage of financial hardship, homelessness, unemployment or desperation then the economy would be better all round. It is important for both organisations, communities and individuals to contribute to improving our own economy before extending the hand of assistance to others.
For further advice on charities and payday loans please visit:
http://www.moneysavingexpert.com/loans/payday-loans
https://www.cashfloat.co.uk/blog/loans-lenders/debt-management-payday-loans/
https://www.cashfloat.co.uk/blog/money-borrowing/top-debt-charities-uk/