Can you materialise your dreams in just a few hours? Then check out these great Cashfloat blog ideas to chase your dreams in your free time!
Story highlights
Many people find you can chase your dreams by setting up a home business
Tax is a necessary evil – make sure your dream business is completely legal
In these days of austerity, many people are seeking ways of making more money. This may be to avoid debt or to save for those things in life which make it more enjoyable. There are increasing opportunities nowadays to chase your dreams and make money in your spare time working from home. In this article, Cashfloat will explore and discover some of these ways. Hopefully, with the extra income, you can say goodbye to needing payday loans now and again.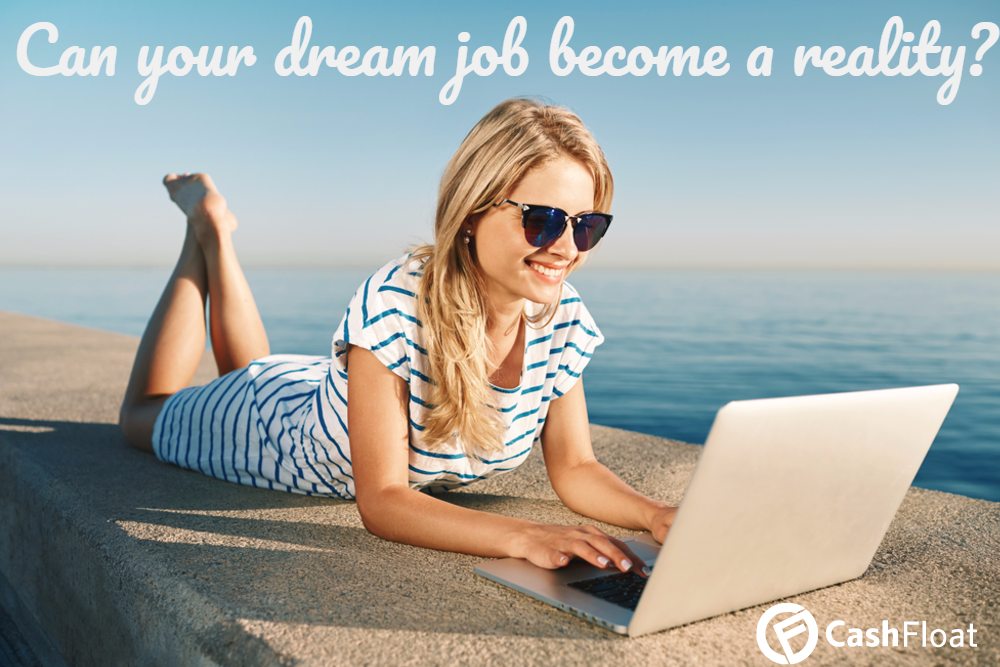 Work From Home Jobs
We will start by looking at the advantages of starting a part time business working from home. This includes how little it can cost to set up and how easily we can generate extra income. Working from home can be a low risk way of making more money, whilst retaining the security of a full-time job with a regular wage.
What type of business would be most suitable for me to establish? This all depends on your own skills and interests,as well as how much spare time you have to devote to your enterprise and to chase your dreams. You should also take into account how much space you have at home to accommodate your part time business.
Here is what we will cover in this article:
Make more money working from home
Advantages of working from home
How to start a home business with no money
How to work from home in the UK.
Becoming an evening entrepreneur
Which work from home jobs pay the most?
Which home based business is the most profitable?
Where to advertise my home business
How do you find customers for your business?
Whether you are selling products or a service, then you need to have customers or clients. Today's internet makes working from home to chase your dreams, and setting up your own business easier than ever.
For many households, the cost of renting or paying a mortgage, in addition to utility bills takes a big lump out of what we earn. By looking at the spare time we have in the evenings and weekends as an opportunity to make money running our own business, we can alter the dynamics from having an expensive necessity to live in, to becoming a base from which to make a profit.
Before moving on to realising your dreams to make a success of your new venture you need to think and plan in advance. To chase your dreams is all good and well, but a strategy is needed. As well as deciding what type of business you wish to undertake, there are mundane but important matters to consider to ensure you do not meet any obstacles. Additionally, you will need to try think into the future of the potential to fail further down the line as well.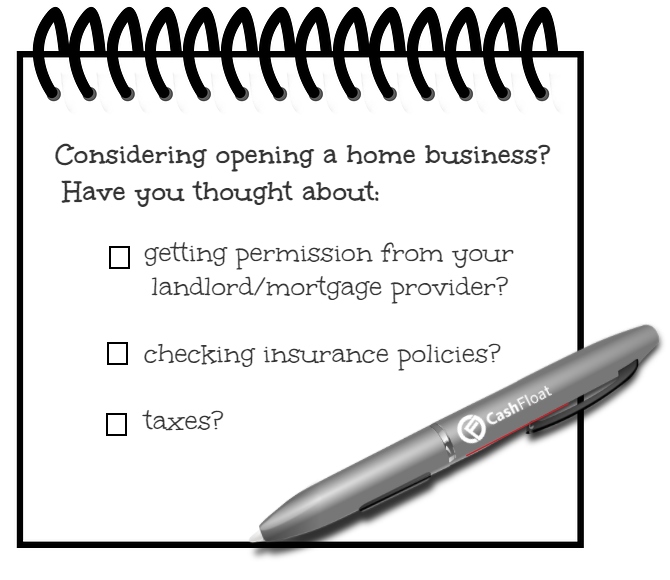 Check with your landlord or mortgage provider to ensure you are allowed to conduct the business from home. Most working from home propositions will not present a problem, yet it pays to check in advance. Especially noteworthy, ensure that you have written permission to proceed. You will furthermore need to check your insurance provisions and any exclusions on existing policies. You may need to take out extra insurance to cover equipment for business use. This will cover computers, printers or stock and raw materials if you are trading or making items to sell.
Taxation on work from home jobs
You will also need to make provision for taxation. Tax is a necessary evil, and you should not avoid it. The penalties are potentially high, and being caught not paying tax could ruin your dream. HMRC (Her Majesty's Revenue and Customs) provide lots of information and advice (accessible via the gov.uk website). Currently, it is necessary to register as self-employed or as a sole trader within the first 6 months of your second year of business (tax year commencing 6th April).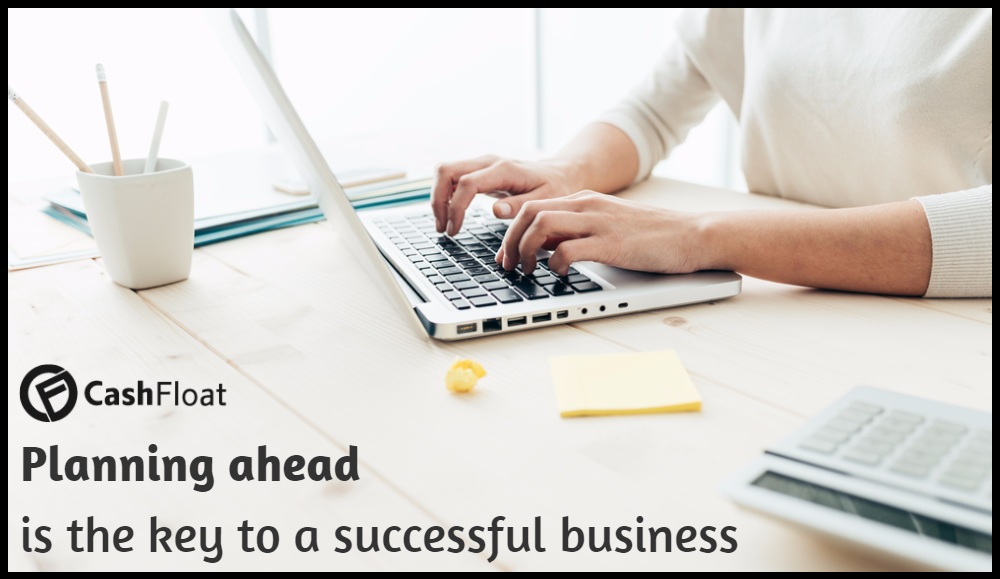 However, it makes sense to begin to plan from the outset. Ideally, by setting aside some of your profit into a separate savings account to meet possible future obligations for income tax and National Insurance (NI) contributions you will have to pay. A new form of online reporting self-employed income quarterly is being introduced to replace the annual declaration. HMRC advise approved software packages to help with this. If your business is relatively simple, expense can be avoided by using the online reporting forms supported by your accounts in spreadsheet format.
If you own your own home, you also need to be aware that there could be a capital gains tax liability for the proportion of the property you use for business purposes should you sell (at a profit) in the future.
However, all is not doom and gloom on the tax front.

HMRC advisors are generally helpful and will advise you on allowances you can offset against tax. Useful advice on self-employment, tax reporting, national insurance and other matters with links to HMRC are available on the UK government website
Home Based Jobs Advantages
There are many advantages to be derived from working at home. Firstly you avoid the risk and extra expense of finding and paying for dedicated business premises. Working from home avoids the expense and time taken to travel to and from a different place of work. You are also on-hand for your routine household duties. This will help you avoid the cost of employing babysitters or childminders if you have children. If you use a part of your home for your business (as a home office, craft room or storage room for example), you may be able to offset expenses (heating, lighting, broadband, etc.) proportionately as business expenses on your self-assessment tax return. Likewise materials (to make things), business expenses (equipment, stationary, postage, packing etc.) can also be deducted from earnings to offset against tax.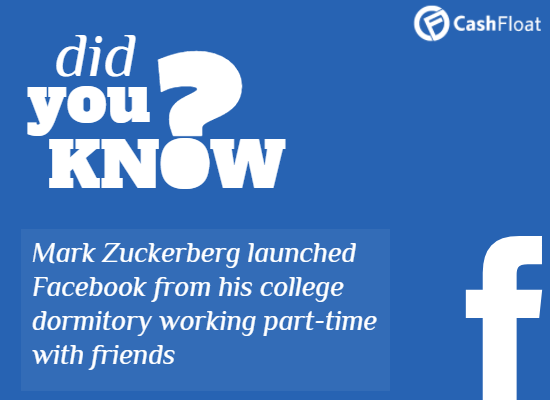 Setting up a part-time business in your own home is a low-cost way of utilising your existing skills, interests or hobbies to make extra cash in your spare time. Many successful businesses begin from home, from a bedroom or garage. Not everyone may have the skills or ambition of a Mark Zuckerberg, who launched Facebook's first incarnation from his college dormitory working part-time with friends. Yet the potential to create extra income while doing something you enjoy from home is an opportunity for everyone.
How to Make Money from Home in the UK
Simply decide what you would like to do to make some extra money by working in your spare time at evenings or weekends. Investigate what legal requirements may exist to make your business legal. If your business would involve people visiting your home, or you would have significant deliveries of collections from your address you may need planning permission from your local authority before proceeding. A simple enquiry to the planning department at your local council will elicit any advice you may require.
Many businesses started as a part-time enterprise to make some extra money, to reduce debt or to save for treats, have morphed into full-time successful businesses. The choice is yours to make.

You will be your own boss. If you are happy to enjoy making some extra cash from home while enjoying the security of a full-time job, fine. However, for some, the time comes when they realise their enterprise is making them more money than employment ever can, enabling them to take the plunge to grow their business. Your business, your choice.
Likewise, especially if you decide to dedicate parts of your home to your enterprise, health and safety legislation may apply. Common sense applies here. Media scare stories about having to have expensive annual testing of electrical equipment are just that – scare stories. You can get good advice on this and other safety considerations from the Health and Safety Executive (HSE) in the UK.
How to start a home business with no money
Some opportunities for starting your own evening business from home need little or no capital to start up. Traditionally there has been work such as child-minding, babysitting or dog-walking. You can operate from home with little or no start-up costs. Other opportunities have existed for many years to undertake "outsourcing" or "homeworking" opportunities offered by local or national companies. These have ranged from piecework (paid by the item) jobs such as stuffing envelopes or undertaking sub-contract manufacturing jobs. Examples of these sort of jobs could be stitching clothing, knitting, packing products, typing and the like.

Often these jobs were little fun and paid poorly. The arrival of the internet has released greater opportunities for homeworkers to realise their potential to earn and enjoy earning.
There are companies who choose to pay home workers to undertake elements of their business from home, over the internet. Examples include travel agencies and customer support functions, software developers and computer management enterprises. All you need is your skill and enthusiasm for the work on offer, along with the basic requirements of a computer and internet connection to get started. However, while such outsourcing opportunities may appeal to some, not least in the ability to make extra money in their spare time, it's not for everyone. The more ambitious individual may just regard such work as an extension of their full-time work. Not a pleasure – just extended drudgery to make ends meet.
The more enjoyable route to home and evening working could be to become your own boss. You may be starting a business which excites you while making the extra money you desire.
Chase your dreams with your hobbies
Do you have skills you could use to create added-value products? You can use your hobbies to help you chase your dreams in the area that you enjoy the most! Moreover, many people have established craft businesses from home.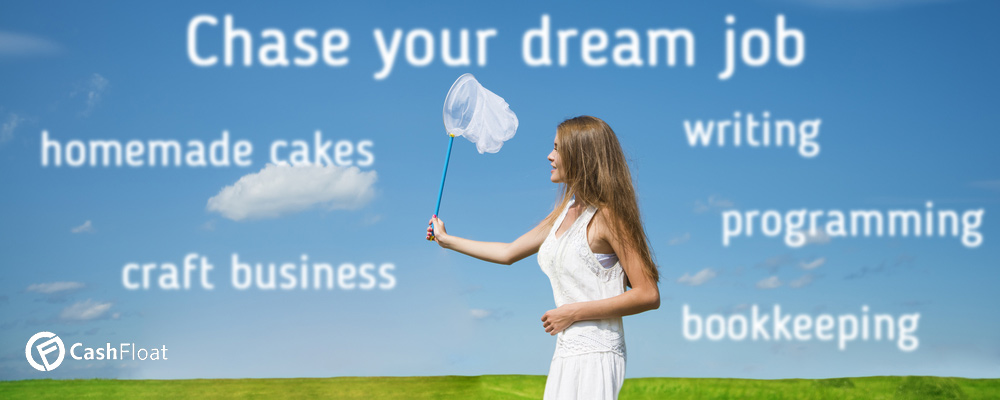 People have created everything, ranging from home-made cakes and jams or pickles through to greetings cards and gifts, hand-knitted garments, soft toys, home decorations and ceramics. The opportunities are endless.
Sourcing materials can be a challenge. Reusing and recycling household items can be a useful cost-free resource, with craft and DIY stores supplying many ancillary items you may require. However, to ensure you can make a good profit from your efforts, having a careful eye on costs can make a big difference when you chase your dreams. Internet sites such as eBay and Alibaba can often reveal suppliers of items you require for a fraction of the price you could pay domestically. Factors to consider when sourcing materials online are:
a) Firstly, check the satisfaction ratings a seller has, and
b) Secondly, be aware that import duties and VAT may be payable when you import goods.
If your interest and skills are more aligned to providing a service – such a providing bookkeeping services, secretarial or writing, customer service skills, or computer-related skills such as programming or website building and maintenance, there are many opportunities to make extra money in your spare time. All you need is appropriate equipment (a PC or laptop and a good broadband connection) and a business plan to define what you are offering, how to obtain work and what to charge.
Advertising my home business
Once you have decided on the product or service you intend to offer, you need to address how you will get customers or obtain work.
For those seeking paid work undertaken from home, a Google search will reveal employment agency websites such as Monster, Upwork and Fish4 offering work from home opportunities.
If you choose to establish a business making or reselling items, there are many cost-effective routes to market. The traditional routes of car boot sales, craft fairs and trade exhibitions still exist. Most noteworthy, they can prove to be a great way of selling your goods. However, to be truly home-based the internet offers fantastic opportunities. It is cheap to set up your own professional-looking website. Many reputable ISPs (Internet Service Providers) offer very keenly priced packages with tools to easily create your own website – without any specialist or programming knowledge. It is important to remember how to make your business look professional, since this will give confidence to prospective clients. ISPs offer free search facilities to determine if your chosen website domain name (www.whatever.com) is available. Selecting a .com name will give international buyers confidence, especially if you intend to attract export orders.

Alternatively, a .co.uk domain could be appropriate for a business focusing on selling to domestic customers. Ideally, you should choose a trading name and website name which will attract customers to your business by indicating what you do or what you sell. Relatively cheap website creating and hosting packages usually come with email addresses available using the website name. This is a valuable option to increase customer confidence by making your enterprise appear more professional. An email address of sales@superbweddingcakes.com is far more reassuring than superbweddingcakes@gmail.com. Generic email is fine for personal use, but may appear amateurish for a business.

Advertising my home business on social media
The explosion of social media has created tremendous opportunities to market your business to a wider audience, near or far. For consumer-facing businesses, websites such as Facebook provide easy to use tools to set up "pages" for your own business. These provide a shop window for your business – free of charge. With over 40 million users in the UK alone, you cannot ignore Facebook as a sales channel for your business. Use these tools to help you chase your dreams. An added advantage that Facebook provides, is the facility to add links to the page to bring customers direct to your website, email address or telephone – according to your choice and needs. Twitter and other social media platforms such as Google+ can furthermore be used in conjunction with Facebook, to drive customers to your business.
Facebook also has thousands of "groups" which may also help you market your business to a wider audience. When you post marketing messages on your own page, look for opportunities to share the post on other groups which may be relevant. A simple search within Facebook's own search facility specifying the product or service you are offering, and/or the geographical area you wish to target will identify appropriate groups.
If your business is B2B (business to business – products or services) focused, websites such as Linkedin are a valuable resource to market your profile to generate leads and business interest.
While many home businesses are suitable for marketing nationally or internationally others may be more appropriate to operate locally. Do your research and plan your business to identify the best opportunities for you. If your skills are in creating fabulous wedding and birthday cakes, then your market will be local. This is because your cakes are perishable. Specialist clothing or craft items could be sold worldwide provided the shipping costs are not prohibitive.
Where are the best paying jobs?
Flexjobs, telecommuting, home-working, all these are terms covering work-from-home jobs.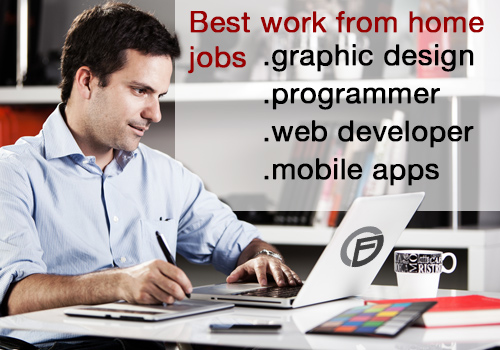 According to an article in the Daily Telegraph the following work from home jobs were the highest paying in the UK in 2014:
Voice talent (making voice-overs for adverts and programme links)
Infographic design (presenting complex information in easy to understand graphic formats)
Finance writers, Contract drafting (for businesses – specialist legal and contract knowledge required) Recruiting (companies outsource their recruitment to specialists)
Financial forecasting (examining commercial accounts, researching market opportunities and creating economic forecasts for businesses)
Electronic engineers (programming software for PCs, laptops, tablets and smartphones)
Spanish-English translation (presumably other languages are also in demand, especially for commercial enterprises)
CV writing (specialist writers know how to present career details in the best way to appeal to specific jobs sectors)
Pay per click (Freelance operative take web advertising to direct customers to another website. This is making income via the number of clicks generated).
While this list is by no means exhaustive, it's worth noting that in 2014 when they conducted this survey, the hourly rates of pay varied from £23.97 to £68.16 per hour.
Which home based business is the most profitable?
This is a very difficult question to answer. There are so many variables for home-based businesses. Naturally, areas such a computer programming, website creation and maintenance and designing mobile apps are amongst high paying home businesses. In order to chase your dreams you will have to do something that you enjoy.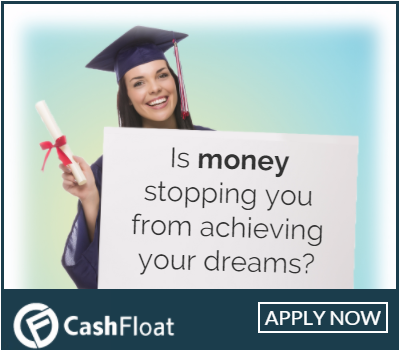 The starting point is to know what your skills are. You should know which service or product you could provide in order to chase your dreams. Then conduct your own research using the internet. Determine what opportunities there are, and how profitable your home business could be. A good starting-point for information and tips in this regard is to take a look at the business banking websites. You can look at websites of the major high street banks or insurers such as Direct Line which offer advice on starting up your own business.
Where to advertise my home business
Where to advertise your home business depends on what type of business you intend to run, and where your customers are. If your business is targeted locally, such as celebration cake making, dog walking or buying and selling second-hand goods you need to advertise to your local market. Establishing a .co.uk website which includes the location may be appropriate (e.g., cheshirecelebrationcakes.co.uk). It also makes sense to set up a free "page" on sites such as Facebook in the name of your business. Facilities include being able to briefly describe your business, provide phone, website and email contact information.
Alternatively, to keep costs really low whilst you chase your dreams, you can use such a page instead of creating your own website. Whichever option you choose, take the time to plan your advertising message.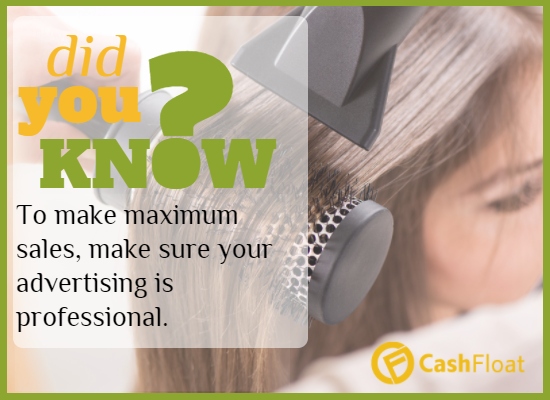 To make maximum sales, it has to look professional. Ensure any writing is grammatically correct and spelled properly. Take attractive photographs, then upload them to advertise your product or services in an engaging manner.
Then check on Facebook or other social media to see if there is a group appropriate to your location and business. Using a search term such as "Leicester buy and sell" should result in a selection of groups from where you can promote your business or sell directly. Consequently, once you have identified useful groups or pages to help promote your business you can make posts there to link back to your own website or Facebook page.
International home businesses
If your business or service is targeted internationally most of the above advice still applies. However, you must adapt and enhance this advice to make it appropriate to your target customers. Instead of a website with a .co.uk suffix go for a .eu suffix for European targets, .com for international recognition.
Marketplace websites such as Amazon, Ebay and Alibaba can also generate substantial sales, especially if you are sullying good internationally. However, most packages with these marketplace sites either incur up-front membership fees and/or percentage commissions on sales. Do not let this put you off examine the opportunities they offer: just make sure you include such costs in any pricing decisions you make. Clever use of such websites to sell selected products direct gives you the opportunity to establish direct contact with a buyer who you can then encourage to deal direct or through your own website.
Can you Chase your Dreams in your spare time?
Chase your dreams in your spare hours – and consequently start making money by working from home. You will soon appreciate the savings you can make, and will be able to afford the little extras in life without getting into debt. Good luck with your new home-working enterprise and we hope you manage to chase your dreams and make them come true.