Story highlights
Are you a secret sufferer of dating scams?
Crooks desire your sympathy for fictitous personal reasons as a cover for you to help them with their finances.
Take care before becoming emotionally involved in a relationship.
Protecting Your Property And Savings From Thieves
– Chapter 22
For some people, the Internet offers them the opportunity to meet the person of their dreams. However, when we estimate that 1 in 10 profiles on dating or social media sites are fake, how can you protect yourself from dating scams whilst meeting someone online?
Nowadays, we use the internet for multi faceted aspects of life. Google acts as our doctor, our personal shopper and even relationship creator. Are we taking necessary precautions whilst consulting with Google on all of these matters?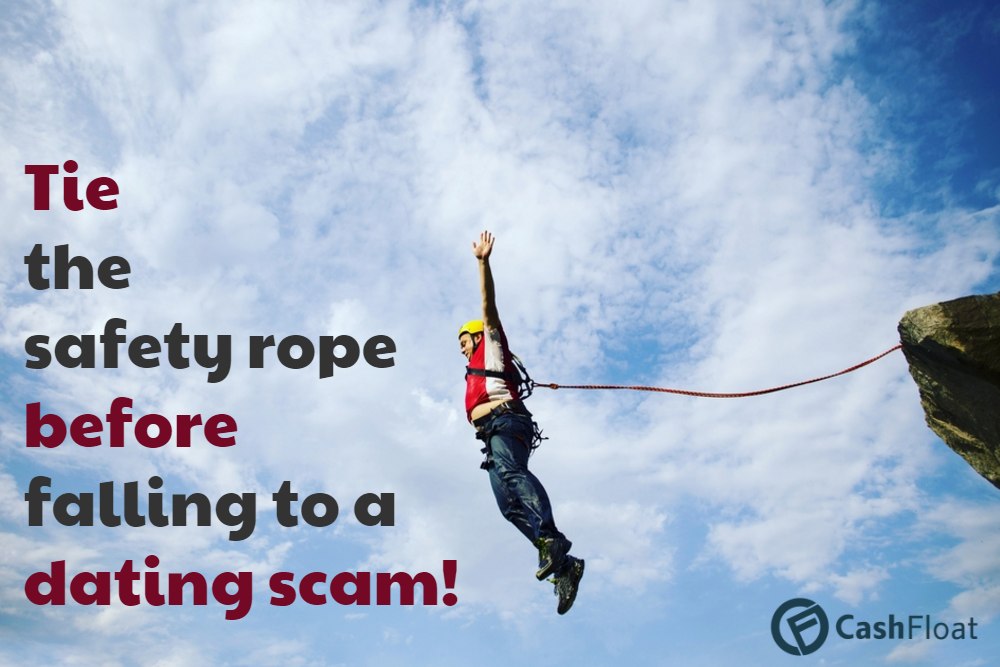 In this article, we will look at the phenomenon of dating scams, such as:
Who is the typical victim of dating scams
How widespread dating scams actually are
How fraudsters find their victims
The warning signs of a dating scammer
How you can protect yourself when asked for money
Practical steps on how to report the crime
Who Is The Typical Victim Of A Dating Scam?
The question as to who is a typical victim of dating scammers is impossible to answer since it is a crime of fraud that is very often not reported. Victims feel ashamed that they have been taken advantage of and more than any other crime of deception, do not want their family and friends to know because they do not want to face recriminations, pity or derision to add to their emotional upset.
What we do know is the incidents of dating scams which people report to the police, and they believe that women are much more likely to report the crime than men. Official statistics reveal that 70% of victims are female.
I prefer traditional ways of dating. You never know who is on the other side of the screen!
Click To Tweet
Regarding age group, the vast majority of victims are in the 40-69 age group, which makes up 62% of all reported cases of dating scams.
Although the popular press like to portray the typical victim as uneducated and gullible, statistics show that highly intelligent professional people are equally likely to fall, victim.
How Big Are Dating Scams?
Since 2008, police estimate that the numbers of dating scams have increased 20 times. There might be fewer victims than other kinds of online fraud, but the individual financial losses tend to be larger than any other type of Internet fraud.
In 2015, victims lost about £33 million to dating scams in the UK, which is a 16% increase on 2014 and this is thought to be the tip of the iceberg. According to reports for the beginning of 2016, the average sum of money lost was nearly £10,000.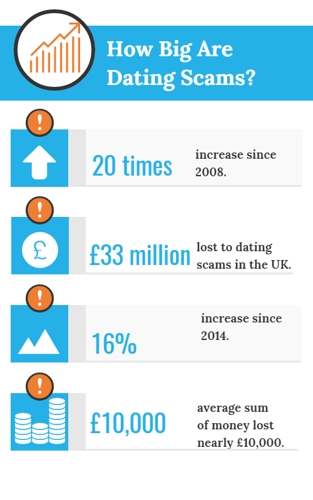 How Do Dating Scammers Find Their Victims?
According to the police, two-thirds of dating scammers met their victims through dating sites; a quarter found them through social media sites while 10% first made contact through an email.
The profile of a dating scammer often states that they are looking for a permanent relationship and emphasises the values of caring, honesty and romance. Quite often the photo is too perfect, almost looking like a model. The fraudster usually claims to be British but is temporarily out of the country on business or is travelling.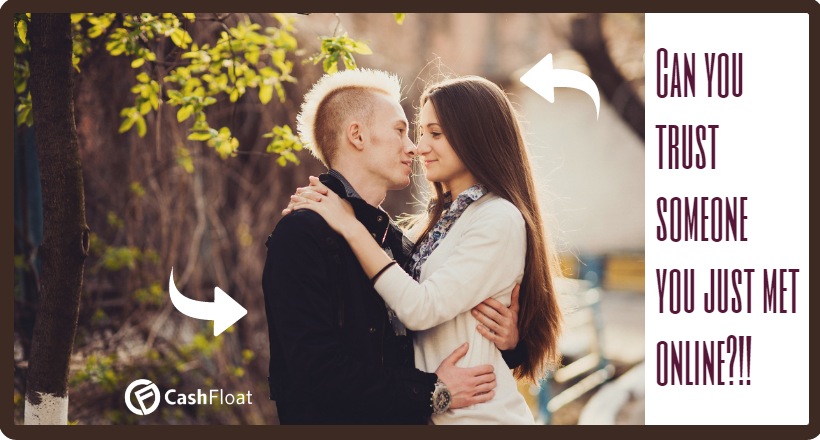 On initial contact, they often reveal very little information about themselves but ask you lots of questions and seem fascinated by your replies. When they comment on your responses, they mirror your answers to reinforce the impression that you are 'soulmates'. They might pay a lot of compliments and might proclaim feelings of love very early in your relationship.
Another sign of a dating scammer is that they try to ask leading questions, so you will unwittingly reveal information about your financial situation. They encourage you to remain in touch through a different medium such as emails or texting. This gives them the opportunity to escalate the frequency of your communication and to isolate you. They often request that you keep your relationship a secret from family and friends.
How To Protect Yourself In The Early Stages Of Dating
It is much better to protect yourself in the early stages before your feelings are involved, and you are still objective.
If you have any suspicions about the profile photo, you can use Internet facial recognition engines to see if someone has scanned the photo from somewhere else. Never reveal information about your financial situation even in very vague terms about divorce settlements and refuse anyone who wishes to continue your conversation away from the dating site. Always let a family member or friend know that you are in contact with someone through a dating site.
Dating Scammers Asking For Money
Through later conversations, the scammer might reveal more information about themselves, and this tends to have an element of tragedy; perhaps a bereavement or the fact they are bringing up a child or children on their own. This is preparing the ground for the next stage of the scam – asking for money.
The scammer will often connect the request for money to an unexpected emergency. Maybe it is an urgent medical procedure for a child or other close relative. It could be a robbery or administrative hitch, which requires a sum of money to tide them over or to pay fees. On other occasions, they have planned to come to visit you, but there is always an unexpected obstacle such as the loss of their tickets. The money demanded might be relatively small sums in the beginning but these increase over time. There might be an element of emotional blackmail involved too.
The crook will request the payment in the form of a money transfer, which makes it impossible to trace. The promise is that they will pay you back as soon as they return to the UK. In reality, they will scam you out of your hard earned money and leave you scrambling for payday loans online until your next salary.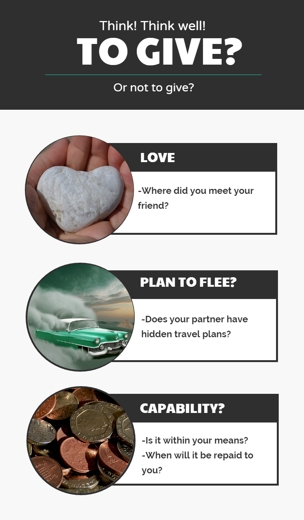 What To Do About Requests For Financial Assistance
However convincing they may seem, you should always remember that this request for money is coming from a complete stranger and so you should cut off all communication with them immediately.
You should not reveal any information about your bank accounts even if it is so they can transfer money back into your account as you face the very real risk of becoming a victim of identity theft too.
Reporting Dating Scam Crime
If you feel that someone is deceiving you on a dating site, you should make a complaint to the site to erase their profile. Even though you feel ashamed and upset, you should also report this to Action Fraud by filling in an online report. All acts of fraud are passed on to the NFIB (National Fraud Intelligence Bureau), who decide if there are grounds for disruption.
Often dating scams are organised by gangs and your report might mean that you can prevent someone experiencing the same deception and hurt as you. Gangs often use the same photos and/or names so you might be able to stop them by passing this information on.
Learn more with these trending articles
Conclusion
When using dating sites, it is wise to take things slowly as you do not know who is hiding behind this perfect profile. Online you can never take it for granted that people are who they say they are. A healthy dose of scepticism is vital until you have the real opportunity to meet them and judge for yourself.
If you follow Cashfloat's guidelines on how to stay safe online, you can get to know someone gradually without being deceived by the unscrupulous.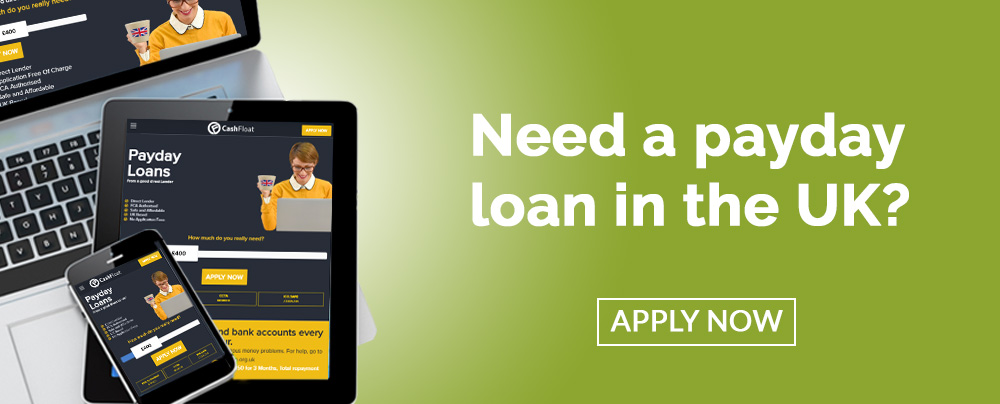 Natalie Stone is an accomplished writer. In her 'spare time' she paints in watercolour and acrylic. Her favourite scenes are of sunset over the sea, or of poisonous snakes in the rainforest. She wishes you success with your financial pursuits!