Lost Your Job? What Can You Do?
– Chapter Thirteen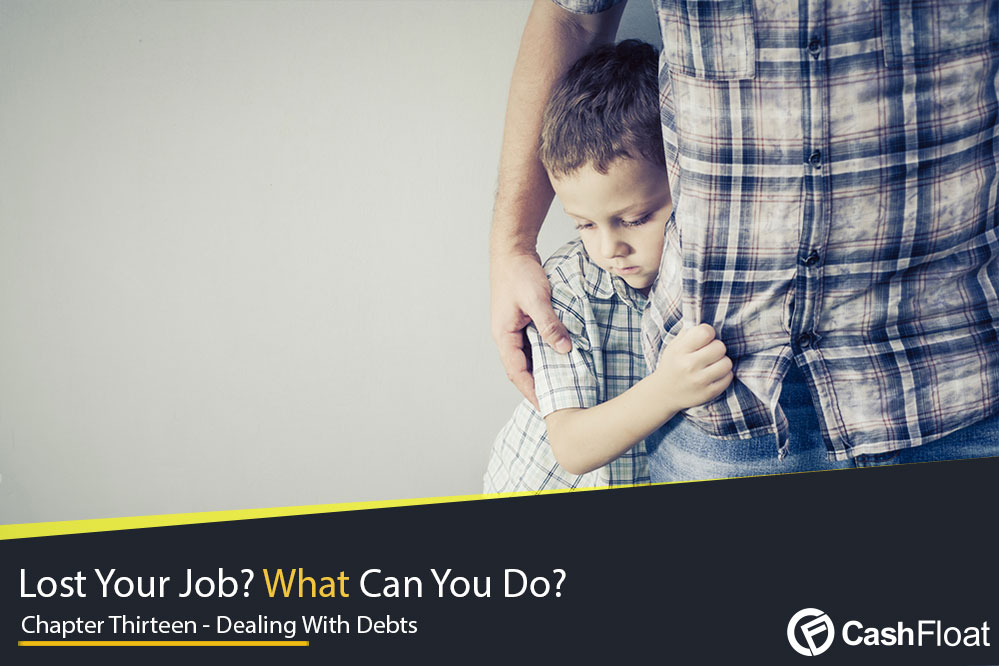 When the shock of job loss wears off, the next step is dealing with debts. Cashfloat advises you of how best to cope with your debts without taking out payday loans.
Money Worries After Losing Your Job
After the initial shock of redundancy, the reality of a life without a regular income suddenly takes hold. Families or individuals who are in debt face particular problems if they have lost their job. And, even if you have received a redundancy payout, keeping up with monthly repayments on debts as well as household bills can make the urge to take out a short term loan irresistible.
There are, however, some simple steps which you can take that will help with dealing with debts and to keep abreast of the constantly changing situation.
Make An Inventory Of Your Debts
Although it is a difficult and often a dispiriting task, it is important to make a comprehensive list of all that you owe. It may be tempting to list only priority debts like utility bills, council tax and the mortgage. But, you must also add in those debts that you don't really want to think about. These include credit cards, store cards, hire purchase agreements and any payday loans or personal loans.
Creating a list like this will give you a clear picture of exactly where you stand financially. The list should show balances, monthly payments and when each debt is due to come to an end.
Check Out Any Insurance Policies
If you have lost your job through compulsory redundancy, you may be able to claim on a mortgage protection insurance or a payment protection insurance. These types of policies usually pay out for a set period, and this could be one year or in some cases two years.
You may also have in place a short term income protection policy that will replace a portion of your income for either 6 or 12 months.
Even if you don't remember taking out the policies, they could still be in place. Sometimes they are included as part of a package deal when you took on the debt. So, check all paperwork very carefully.
One other important point to remember is that a payment protection insurance may have been sold to you even though you are ineligible to make a claim. If this is the case, then you have grounds for claiming compensation from the provider. This could be a bank or an insurance broker.
Dealing with Debts – Prioritising
Non-Priority And Priority Debts
Although you may be unaware of the fact, there are two kinds of debts. Priority debts like a mortgage, income tax payment, council tax, utility bills and rent are all debts that could have a severe impact on your life.
Failure to pay these kinds of obligations can result in the loss of your home, having your electric or gas cut off or, in the case of unpaid income tax, can lead to a prison term. Therefore, you should give these debts the highest priority.
Non-priority debts are items like credit card balances, overdraft, catalogue debts and unsecured personal loans. Although the consequences for not paying off these debts can mean a county court order and loss of your credit rating, you will not lose your home if you fail to make the payments.
Work Out A Budget And Stick To It
Working out a budget is essential. In order to do this effectively, you need to make a list of your full income and expenditure each month. You should include items that are only paid annually such as the car MOT, car insurance and breakdown cover and house insurance.
Making a budget can appear to be a daunting task, but once you have done it, you will have a full picture of how much you have coming in and what needs to be paid out.
Cutting Back On Expenditure
Once you have drawn up a comprehensive budget, you will find that there will almost certainly be areas where you can make some cutbacks. Cutting your energy bill is one way to save money, and there are lots of tips on how to achieve this. Something as simple as turning down the central heating by a couple of degrees will save up to £100 per year. Shopping at the lower end supermarkets is another simple way to cut down. Most children will not know the difference if you buy own brand cereal instead of the top brands.
Non-essential items like gym membership can also be cut out. And, expensive takeaway meals and coffees is another luxury that you can forego if you want to save money.
Make A Start In Paying Off Debts
The next step in dealing with debts is to try and start to pay them off. If you have received a redundancy payout, you can use some of the money to pay off the worst debts. The interest that is charged on debts like credit cards will be much higher than anything you can get on a savings account, so make good use of the payout to reduce your indebtedness.
However, it is always a good idea to have an emergency savings account for the unexpected bill that could arise.
Getting Some Advice From Professionals
There are many organisations which offer help and advice about dealing with debts. For free and independent advice and information, you can contact the Citizens Advice Bureau or ring the National Debtline. Some charities such as StepChange and Christians Against Poverty also give free advice and support.
Be wary of any organisation that advertises free help about dealing with debts, as many of these companies actually charge a fee.
Finally, do not forget to claim the numerous State benefits that are available to those people who are unemployed through no fault of their own. These are benefits that you are entitled to, and they are funded by individuals who are in work so you will have already made contributions to the state scheme.
Dealing with job loss can be traumatic but by taking charge of your finances you can help to reduce the impact on yourself and your family while you search for a new job.
Born a writer, Becky Hall figured she would use her talents productively. So, she became a content writer for Cashfloat, and she loves it. A Business and Accounting graduate, Becky scored high, graduating with a first, but also acquired a professional bookkeeping certificate in addition to her main studies. She always dreamed of becoming an accountant, something she still may achieve, but in the meantime, she is helping to break open a new industry of honest and ethical lending. Becky spends her spare time at the piano, with classical music her favourite choice, but will play jazz to keep her baby happy. Nowadays, though, she doesn't always have much time; Cashfloat has a revolution to make.