The 2020 Guide to Debt Management Companies
– Chapter 19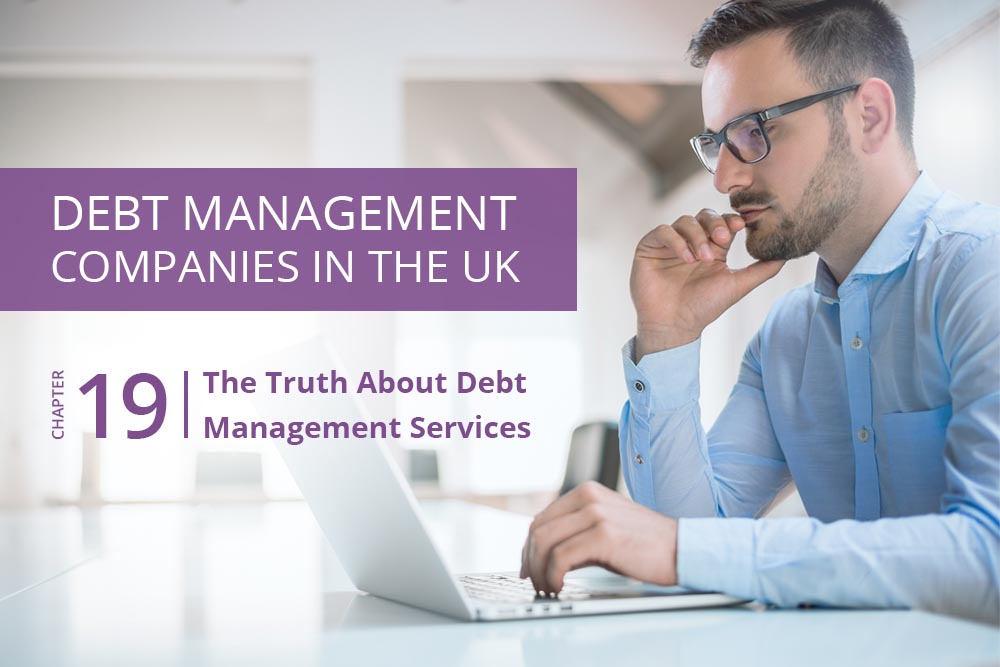 Here at Cashfloat, we aim to help you lead a financially healthy life – because we care. When seeking debt help, it is important to understand exactly who you are dealing with, which is why we have written this article to help you understand the truth about debt management services. As a responsible payday loans direct lender we will not be able to approve loans for people that are currently in debt management arrangement.

Some Myths About Debt Management Services
Although the amount of personal debt in the UK has increased substantially since the 1990's, education about financial matters is still lacking and this has resulted in some myths unfolding about debt.
This kind of misinformation does nothing to help anyone who is in debt and, in fact, can add to the stress of the situation.
If you are in this kind of situation then one solution is to go to a charity that can provide free advice and help and find out how things really stand regarding the law and owing money. There are a number of solutions to money problems and a good debt management service will be able to advise you about the best one for your circumstances.
Only Poor People Can Get Free Advice
This is the first hurdle that some people face. Where to go for help and can they afford it? The truth is that anyone can ask for help with debts. It does not matter whether you do not have a job or have a relatively high income. Debt is affecting all kinds of people in the UK and the free advice and help that is available from a charity like Christians Against Poverty or StepChange can make a difference to lives.
Taking Out More Loans Is The Solution To Debt
Applying for a consolidation loan may appear to be a way to get out of debt and if you were not given a loan by one finance company then it is tempting to apply to another. However, most banks and other lenders will be able to see from your credit rating that you have been making multiple applications and this can often smack of desperation.

If this is the case then asking for help to relieve the debt situation is a better option than applying for more credit which may make things worse.
All Debt Management Services Are Free
Despite the advertisements that offer free advice and help, some debt management services in the UK charge fees for putting together a debt management plan. Since 2010, it has been illegal for companies like this to advertise free help and advice if they intend to charge for their work.

Companies that offer genuine free help with debts can be found by ringing the National Debtline or by looking on a money advice website. There are several in the UK and these include Christians Against Poverty, StepChange and PayPlan. The Citizens Advice Bureau also offer help for free and all of these organisations give impartial advice without charging money.
A Debt Management Plan Is Binding
One of the most damaging myths about debt is that a debt management plan contract is legally binding. The fact is that this is an agreement that is an informal way to deal with debt. If you have signed up to one of these contracts then you can change your mind at any point. Circumstances often change and if another solution seems like a better option then you can opt out of the agreement at any time.
It Takes Too Long To Get Help
Whilst in the past this situation may have occurred, there is now more help available to anyone who finds themselves in deep financial trouble. The charities who operate debt management services are aware that getting help sooner rather than later will help individuals and families to begin rebuilding their lives.

As all of the debt management services mentioned have websites and multiple ways to make contact, you can speak to an advisor immediately and get the initial advice that will help you on your way to a situation when you can become debt free.
Myths About Different Kinds Of Debt Solutions
Individual Voluntary Arrangements

If you are under the impression that you cannot get an Individual Voluntary Arrangement without the approval of all of your creditors you would be wrong. An IVA can be set up once 75% of creditors have voted in favour of the move. So, even if a creditor rejects the option of allowing you time to pay off your debt orobjects to a reduction in the amount owed, they will not be able to block the plan as long as you have the required amount of votes.

Individual Voluntary Arrangements Last for Years

Contrary to a widely held belief, an IVA does not have to last for years. The normal arrangement is to set up an IVA so that you pay off the percentage of debt agreed within 5 years. However, there is another option that is not often discussed and this is a lump sum IVA where you can offer one amount to cover all your debts and the creditors can vote on this proposal. If you do have some savings then this option could see you debt free in a short space of time.



An Individual Voluntary Arrangement is The Only Solution

In some circumstance as IVA is a good option for someone in debt. But, it is not the only option. The many advertisements that are seen on TV and in other media may lead you to believe that this formal arrangement is the best way to clear debts but there are other ways to go. A professional debt advisor will be able to help you make the choice that is right for you.

We Can Both Apply For Bankruptcy

Unless you are in business with a partner, a joint bankruptcy is not allowed. Couples who jointly owe large amounts of money must apply for bankruptcy individually. This involves both parties petitioning the court as individuals and will lead to both of you being in a situation where you are unable to apply for credit for many years.



Bankruptcy Is Free

Sometimes the option of going bankrupt may look appealing. Thinking that this will free them from debt, some people decide to go down this route. Unfortunately, petitioning the court to go bankrupt is not free and can cost many hundreds of pounds.

The initial cost is a fee of £700 which is divided into a court fee of £175 and £525 is paid to the Official Receiver (the person who deals with your debts and creditors). If you are in receipt of benefits then it may be possible that the court will waive the fee but the Official Receiver must always be paid.
Summary About Debt Myths
Financial problems can often blind you to the truth of a situation. Unfortunately, the media and some companies that wish to make money out of people in debt can be less than candid about the many myths that surround the issue of personal debt.
It can be painful to face up to financial problems. However, the truth is that there is a lot of help from debt management services available and once you have sought free advice which debunks the myths surrounding personal debt, you can begin on the road to a situation where you are living your life debt free.