Being stuck in an airport due to a delayed flight is never any fun. You might be stranded for hours with nothing to do, and may even be surrounded by screaming children. The only thing you can do is sit and dream about the holiday that you're missing out on. However, all isn't lost. If you experience a delayed flight, Cashfloat – a payday loans lender – help you find out how to claim compensation.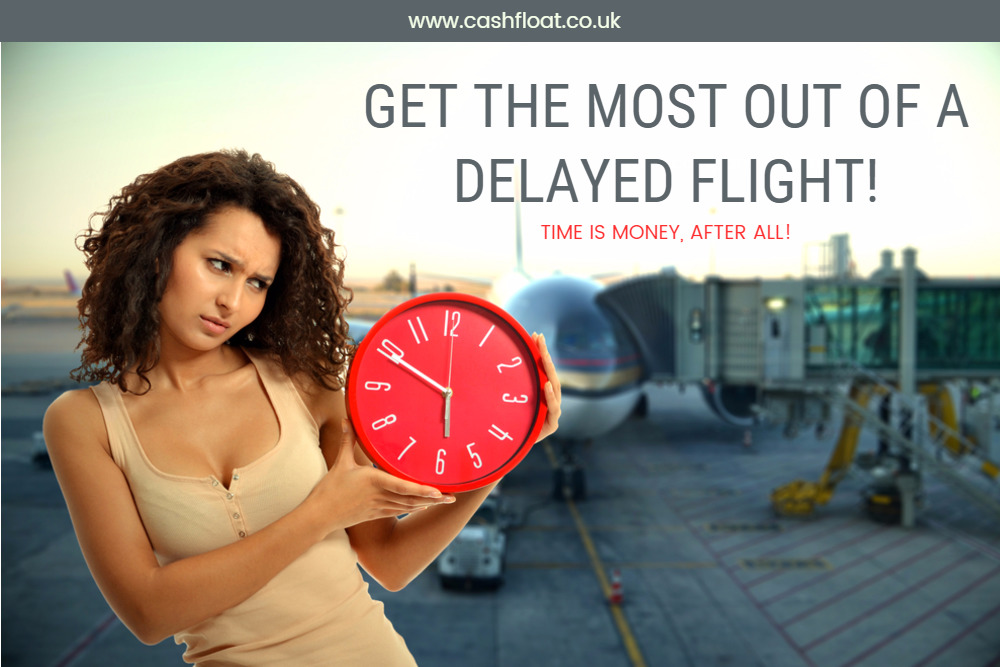 Compensation Culture And Ethical Choices
Under Eu rule 261/2004, if you're flight is delayed for more than 3 hours or your flight is canceled, you can claim anywhere from £110 – £540. It's even possible to request this for free. However, before you claim for flight delays, make sure it's worth it. A huge number of flight compensation claims could lead to massive price hikes for future holidays.
Many people worry about creating a compensation culture. This is well worth thinking about even if you're within your rights to claim. For instance, you could pay a ridiculously reduced amount for your flight. You could be delayed a few hours, and after claiming, be awarded a disproportionate amount to the cost of the trip. Getting lots of money for a few hours that haven't actually made a difference to your life might seem like a dream come true. However, it can be unethical and costs airlines a lot of money. The amount you get compensated doesn't take the cost of your flights into account. Getting it right can be tricky. Many people who are delayed have spent a lot of money on their flights and deserve the compensation for poor service.
It's up to the consumer to make their own ethical choice on right and wrong. If you can make the most of your time in the airport and it isn't too taxing, try not to claim. If you had an awful time, were delayed for hours and surrounded by upset kids, then claim.
The Rules Of Claiming Compensation
If you decide that claiming is the right thing to do, you should be aware of the rules first. You can only get compensation for EU regulated flights. This is when a flight departs from an EU airport regardless of company, or when an EU airline lands at an EU airport. Making a claim for past delays can be tricky. It's recommended you don't go back any further than 2010.
It's also only acceptable to claim if the delay was down to something within the airline's control. For example, you can't claim due to a strike, but you can claim due to understaffing. How long the delay is and how far you've travelled determines how much you're entitled to. The amount is in Euro, so it can vary depending on sterling at the time. The amount is per person too, so if there's 4 of you, you will quadruple the amount. Here's an idea of what you could get:
3 hours plus – flights under 1,500km will get £230. Flights in the EU only over 1,500km will get £360. Flights between 1,500 and 3,500 km will get £360.
3-4 hours – flights between an EU and non-EU country 3,500km plus will get £270.
More than 4 hours – flights between an EU and non-EU country 3,500km plus will get £540.
However, you must be delayed more than 3 hours to claim. Bear in mind this isn't when you finally leave on your flight; it's when you arrive at your destination. That means you might spend longer than 3 hours in the airport, but end up at your destination within the specified time. In those cases, you're not eligible to claim. However, If your plane lands on the tarmac 2 hours and 55 minutes late, but doesn't open a door until you are 3 hours and 1 minute late, you are eligible to claim. If you're in your destination but still sat on the tarmac with no doors open, you are still delayed and should count that time towards your delay.
How To Claim Compensation for a Delayed Flight
You'll need to contact the airline operating the flight, and not necessarily the airline you booked with. You'll need reference numbers and flight details. You will then need to write your claim. If you want helpful advice, you can look at the Civil Aviation Authority. You can also download template letters. You'll want to include copies of receipts and tickets. You should keep records of claims made and any conversations you have with the airline.
Sometimes, the airline will not want to give you compensation. This doesn't mean you aren't entitled to it or you won't get it. If you feel your claim hasn't been taken seriously, you can take it to the Ombudsman to look into. You don't need a claims handler to do this; you can do it yourself.
With an unsuccessful claim, there are four airlines will charge you £25:
Thomson
Thomas Cook
Easyjet
British Airways
If you still want to fight your case, you can take it to court. There are exceptional circumstances where it still might be worth claiming compensation even if you don't meet the criteria here. If you experienced poor service, weren't on an EU flight, or you're not sure whether you fit the criteria, you could still be eligible to claim.
Even if you are only delayed for 2 hours, you have a legal right to:
Calls and emails.
Food and drink.
Somebody should give you vouchers at the airport. If they don't, you should keep your receipts and use them to make a claim later on. Bear in mind you won't be compensated for luxury items and alcohol. They will only pay for reasonable expenses.
If your flight is delayed for more than 5 hours, you don't have to get on the flight. You are then entitled to:
A full refund for flights.
Food and drink.
Access to phone calls and emails.
Accommodation and journeys to and from the accommodation.
If you do take the flight, you can still claim compensation as outlined above.