Have you ever reached the end of the month with a pile of new shoes, yet you find yourself subsisting off 12p noodles? If you're fashion-obsessed, you might find it hard to resist when you see the perfect handbag to match your new pair of hot pink heels, and it's on sale! Here are some tips to help you stay in fashion without spending every penny.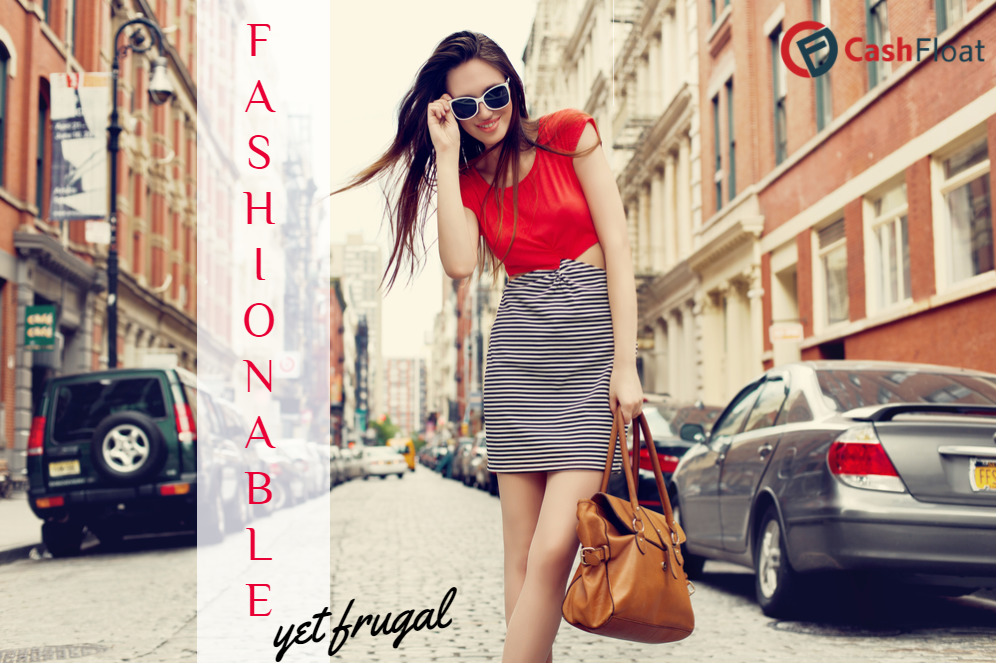 The Fashion Ultimatum: Fashionable yet Frugal
We all know that one of the greatest feelings in the world is to look like a million dollars in a £25 pair of jeans. Put in the effort to build up your wardrobe on a small budget and you will bask in all those gorgeous compliments afterwards.
It's easy to convince yourself that you're saving a lot of money when you're spending cash you don't have to spare. That designer jacket reduced from £700 to £300 might seem like a huge saving. But you're still blowing £300 on one clothing item. If you love clothes and accessories, you don't have to overspend. And you definitely shouldn't be taking out credit, such as instant payday loans, to pay for your clothes. With a few smart tips, you can dress well without blowing your whole salary and more.
Stay in Fashion Without Spending your Whole Salary
Give Yourself a Fashion Budget
The most important thing to do is to budget for clothes. Depending on how much you enjoy dressing fashionably, you might give yourself a smaller or larger budget. Although technically clothes are a basic necessity for human life, a lot of us see buying clothes as a hobby too. However much you like shopping for clothes, you need to set a number that's a sensible amount to spend. Consider your needs, such as sensible shoes for winter or new summer clothes.
Don't Be Tempted by Designer Labels
If you read magazines of fashion blogs, you probably see designer labels all the time. The job of designer adverts is to convince you that the items are unique and something to be coveted. Designer clothes and accessories can often be excellent quality. However, even when you take that into account, you are still primarily paying for that square inch piece of material that comprises the label. If a bag is a similar style to a designer one, made from the same materials and is made well, do you need it to have a label on it? Designer brands aren't your only option if you want to dress with the fashion without spending too much.
Look for Cheaper Brands You Love
But, you might be thinking, "all the clothes I adore are made by designer brands." While that might be true, it doesn't mean you can't find cheaper alternatives you like just as much. You just might not have discovered them yet. Shopping on your local high street is a good idea to help you save. However, if you're a fashion fanatic, it can sometimes leave you feeling uninspired. If you're limited in your choices, look online for the things you like. Search for styles you know you love, whether it's a vintage look or the latest thing. You could discover new brands that appeal to you and don't cost the world.
Colour Code
Create a basic wardrobe consisting of two to three coordinating colours. That way you can mix and match your tops, scarves, shoes and handbags to create a new look every day- out of the same items. This way you won't feel like you are wearing the same outfit each week. Be careful on this one though, because once you are hooked on a colour, it can be difficult to restrain from buying everything you see in that colour. Choose wisely to make sure the item will match with a variety of other accesories and clothes that you already own.
Shop Online Carefully
Online shopping can be an excellent way to find some bargains. However, it can also be a good way to spend more than you intended. And you must make sure that you are shopping safely online. Firstly, it can be difficult to control yourself when you have so much choice. Secondly, paying for shipping and possibly returns could add costs to your purchases. It helps if you buy from somewhere with free shipping and returns. If you go to a physical shop, you can still find bargains, and you have the chance to try things on. In fact, the best option is to find something you like online and then go and track it down in the shop.
Save to Buy Fashion with Longevity
Clothes are a lot cheaper today than they once were. However, the cheaper your clothes, the less time they will last. This idea is fine for a lot of people. An everyday pair of shoes might last you three months but only cost £30. However, that means over a year you could spend £120 on shoes. If you were able to save that amount, you could spend it on one pair of shoes that lasts you longer than a year. You may even be able to find a high quality pair of shoes for £80 that will last you the year, saving you £40! You might not choose to do this with everything. And you shouldn't go without something you need because you're still saving. But if you can, it's sometimes worth spending a little more to help you save later.
Consider Mending Before Throwing Away
Did you learn some basic sewing skills as a child? You might not have used them recently, but they could come in handy if you want to save on clothes. The thought of mending clothing that's damaged doesn't always occur to people anymore. Clothes are so cheap, it feels like less effort to replace an item than fix it. However, you could save yourself some money by doing some simple repairs. You should at least be able to sew on a button or fix up a simple hem. With high quality shoes, you can keep them going longer by taking them to be reheeled or have other fixes.
Buy Secondhand and Vintage
Buying secondhand clothes is an excellent way to save on fashion without spending all your money. In fact, it's often your chance to bag a real designer bargain. You can find some great deals both online and in second-hand shops. If you're after some designer or vintage finds, you should have a good eye for unusual items. Some shops might not know what they have, and you can get away with an incredible bargain if you don't let on that you've found something special.
Make the Most of a Few Items
You don't have to have an overflowing wardrobe to dress fashionably. In fact, you can save money by limiting your wardrobe. Creating a capsule wardrobe gives you essential basics and helps you make the most of a few items. When you want to buy something new, consider swapping out something you already own. That way, the amount of clothes you own stays consistent, and you only buy what you need. When you decide to take something out of your wardrobe, you can sell it to put towards your new item.

There's no need to spend all your money, plus money you don't even have, on new clothes. Dressing well on a budget couldn't be easier.