The History of The Financial Crisis in the UK
– Chapter 4
In this chapter, Cashfloat, your responsible payday loan provider, discusses how the financial crisis affected families.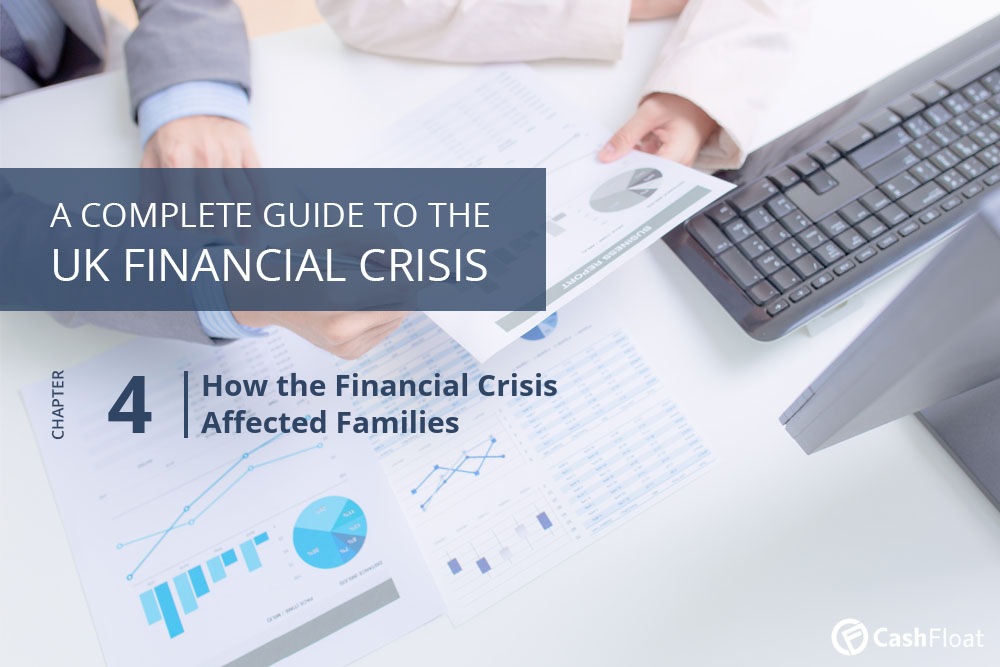 Story highlights
Low interest rates did help those borrowers who were on flexible rate mortgages.
It was difficult for those leaving university to find their first jobs.
How the Financial Crisis Affected Families Across the Board
There is no doubt that the financial crisis of 2007/2008 shook up society and had an immense effect on all families, both middle and working class. As economic growth declined, many ordinary people suddenly found that their financial situation was as precarious as someone unemployed or in a low paid job.
Unemployment rates amongst the middle classes would rise quickly. Many middle-class employees worked in the financial sector, which was hit hardest by the crisis. The working-class also suffered as jobs became scarcer. People who previously had a lot of faith in the banking system had their confidence shaken when the banking crisis came to a head. The secure reputation that the big banks enjoyed came crashing down. Even now, many customers are wary of trusting big banks fully.
Families' Savings and Pensions Lose Value
Ordinary families lost confidence in banks and bankers. However, they were also suddenly alerted to the fact that their whole way of life was subject to how market forces operated. For example, banks advised people to put their savings into accounts that invested in the stock market. They often found that they got back less than they had invested. Although some lucky investors got back their initial funds, they felt very short-changed. Bankers had promised these investors large returns after leaving the funds in an account for several years. Instead, their investments gained little, if any profit. Pension pots also depended on how shares performed. Many prudent couples who had religiously put aside money for their retirement saw their pension assets fall dramatically in value.
The government guaranteed that the banks could not lose the first £50,000 of savings. However, interest rates rapidly decreased. This impacted pensioners' income, as they were using interest payments to top up meagre state pensions. Savings accounts were paying out sums of interest well below the rate of inflation. This meant that the modest wealth of ordinary people was on a fast decline. In addition to this, the value of homes was also dropping quickly, and mortgages were hardly approved.
Low interest rates did help those borrowers who were on flexible rate mortgages. However, for people with fixed-rate loans, their repayments stayed the same while their income dropped severely.
Decline in Economy Causes Unemployment
Once the crisis in banking made it difficult for businesses to get credit, there was an immediate effect on investment and growth. This led to large scale redundancies. Some smaller firms went bankrupt and laid off staff. Others cut down on staffing hours or reduced the number of staff. In the public sector there was also a reduction on hiring new staff and this made it difficult for young people who had just graduated to get their first job. Government offices often take on a large number of new graduates each year. However, the downturn in the economy meant that this was no longer an option. As the effects of the financial crisis took hold, some companies froze wages, cut down on bonuses and others decided to reduce the scope of any redundancy packages on offer.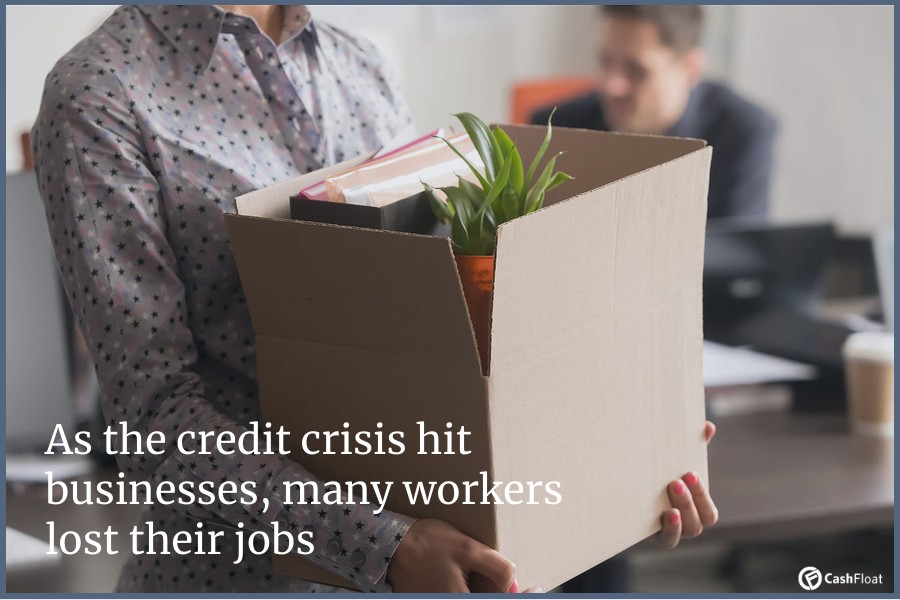 This change in circumstances led to general insecurity about employment and prospects. While some families were able to take steps to try and minimise the impact of the crisis, others who had little or no savings felt helpless. They were at the mercy of whatever actions the government was going to take to find a way out of the situation.
The Financial Crisis Affected Families with Low Income
Families with low incomes were the worst affected by the crisis. Many people suffered from redundancies, house repossessions, and credit card debt. Most were struggling to pay monthly household bills. When household income reduces, there is a significant social impact as well. Many experts predicted an increase in family breakdowns with higher divorce rates as well as more suicides. Low-income workers struggled to juggle inflation with low pay rises. This was often too much to handle, and most fell into a black hole of debt.

Once the financial crisis had taken hold in the UK, the previous 15 years of growth came to an abrupt end. The government had to bail out the banks so that the banking system would not collapse. After an initial attempt to stimulate the economy through a reduction in VAT and investment in social housing and schools, they signed a series of austerity measures. These measures included deep spending cuts for the government. This was a serious attempt to decrease the UK deficit and hope that the markets would gain enough confidence to start reinvesting in the country.
Many public sector jobs were cut, and unemployment benefits decreased. More significantly, more employees signed part-time and zero-hours contracts. These employees had a job, but could no longer count on a regular wage. Many may have had to take out short term loans to survive until payday.. These measures added more insecurity to family finances already affected by the financial crisis.