Labour's shadow chancellor has accused chancellor Philip Hammond of using household debt to reach their treasury targets. Is there any truth in his accusations and will relying on payday loans become more frequent? Cashfloat explores how the government's targets ignore household debt.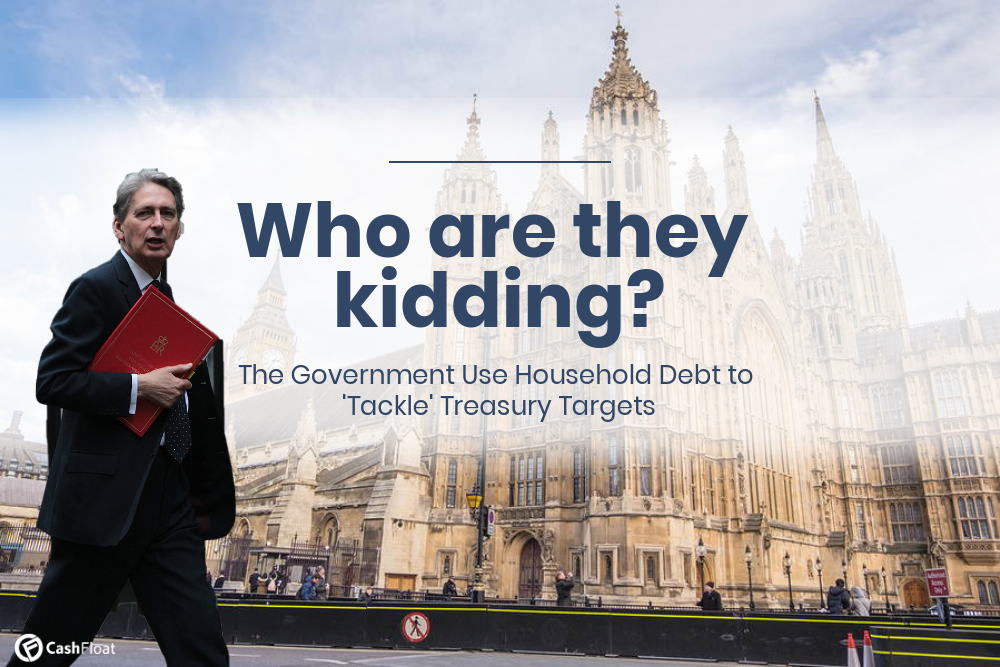 In this article about whether the Government's targets ignore household debt we shall examine:
The accusations from John McDonnell
Labour's plans
Whether the accusations are true that achieving Government's targets ignore household debt
What the government has to say
Whether people will need more payday loans
Conclusion
The Accusation: Government's Targets Ignore Household Debt
The Labour shadow chancellor, John McDonnell has recently suggested that the government are meeting their treasury targets by allowing millions of families to fall further into debt. These worrying accusations of how government's targets ignore household debt highlighted the ratio between household debt and income figures that have arrived at their highest for five years and forecast to reach 150% by 2022. Mr McDonnell claims that by the end of Parliament families are on the road to borrowing £455 billion. Labour fears that these figures could result in families being in a year and a half's salary worth of debt. Ultimately, this would cause many to suffer financial difficulty.
What course of action does Labour suggest to remedy the problem?
As part of the party's new year strategy, it is understood that Labour plans to focus heavily on the problems of household debt. McDonnell said that the Labour party has already promised to cap interest on unsecured lending. However, they would be looking at other ways to protect households from escalating debt problems. If unsecured debt follows the current trajectory then Labour predicts that by the year 2022 it will have reached an astonishing £19,000 per household. This is up from the current figure of £15,000. Mr McDonnell's team pointed out figures released at the same time as the budget, that they describe as 'buried in the detail', that show that there was a £85.7 billion surplus in 2010 that has shifted to a £2.8 billion deficit today.

Is there any truth in Labour's accusations?
There is a lot of truth in what John McDonnell has accused the government of doing. In order to reach the Treasury's targets and keep on track with the austerity measures set in place in 2010. The government have squeezed wages. This means that many workers are forced to rely on payday loans online UK to pay their living expenses. The debt charity StepChange released figures from the first half of 2017 that showed that there were 40% of their clients who were falling behind on their repayments. There are an estimates of 8.3 million people in the UK who are struggling with problem debts.
In a recent interview with The Guardian newspaper, the chief executive of the Financial Conduct Authority expressed concerns about the high numbers of households that relied on wage day advance loans to meet their living expenses. He was particularly worried about the high numbers of workers in the gig economy who are in special need of credit to smooth their variable incomes.
What have we learned so far?
Labour has accused the government of keeping household debt to reach their targets meeting their targets.
The debt to income ratio is at its highest in 5 years.
Labour predicts debt to reach 150% by 2022 at £19,000 per household, up from £15,000 today
Labour plan to cap interest on loans and find ways to protect families from more debt
High inflation and wage squeezes have forced many households to rely on Payday loans.
The FCA worries about the issue, especially those who work in the gig economy.
What is the government doing for household debt?
Personal debt is always a worry for the government and will like to see it reduced. However, are they doing enough? Officials report that they have cracked down on payday lenders and other types of high-cost short term credit such as doorstep lending. They are setting up a new single finance body and are aware of the worries of families who have a lot of debt. A Treasury spokeswoman described how the government are building an economy for the future through their industrial strategy and balanced approach to reducing the deficit. They claim that they are doing this by supporting public services and investing money to improve productivity. They went on to say that they are helping families keep more of their pay by cutting taxes, freezing fuel duty, helping home hunters to get on the property ladder and increasing basic pay.

Will this future mean that people will be more reliant on credit?
The Young Women's Trust recently commissioned a survey of 4,000 people aged 18 – 30. They found that 51% of young women and 49% of young men relied on high-cost short term credit to survive until their next payday. 25% Of young families reported to having taken payday loans in order to survive the month. If household debt continues to rise as it has been predicted to do so then more people than ever will have less of their earnings to live on once they have paid all their repayments and household bills. Many will have bad credit scores as they have fallen behind on their repayments and will have to rely more and more on payday loan companies who are willing to lend to high-risk borrowers.
What can we conclude about whether how government's targets ingore household debt?
In conclusion, the government's plans to build a better future for Britain has meant that wages have not increased, inflation is at an all-time high and most households are struggling to make ends meet. Mr McDonnell's claim that the government is pushing people into debt to reach targets does seem true. They are supported by figures that are projected to worsen in the future meaning people will need more payday loans.