Story highlights
Cashfloat publish a guide on how to avoid being burgled
Most burglars are opportunists that are after 'easy pickings'
A monitored alarm is connected to an external security company, who are paid a fee to monitor the alarm.
Protecting Property And Savings From Thieves
– Chapter 1
As an online payday lender, Cashfloat has often come across people in need of quick cash payday loans as a result of being burgled. In response, we have created a guide to help consumers protect themselves and their property from becoming the target of burglars. This chapter will look at practical tips on how to guard your house from robbers.
Have you ever been the victim of a burglary?
Burglary is an upsetting experience for any homeowner. It is not just a question of financial loss but also the sense of violation that victims of burglary feel; a stranger has entered their home, the place where they feel comfortable and secure.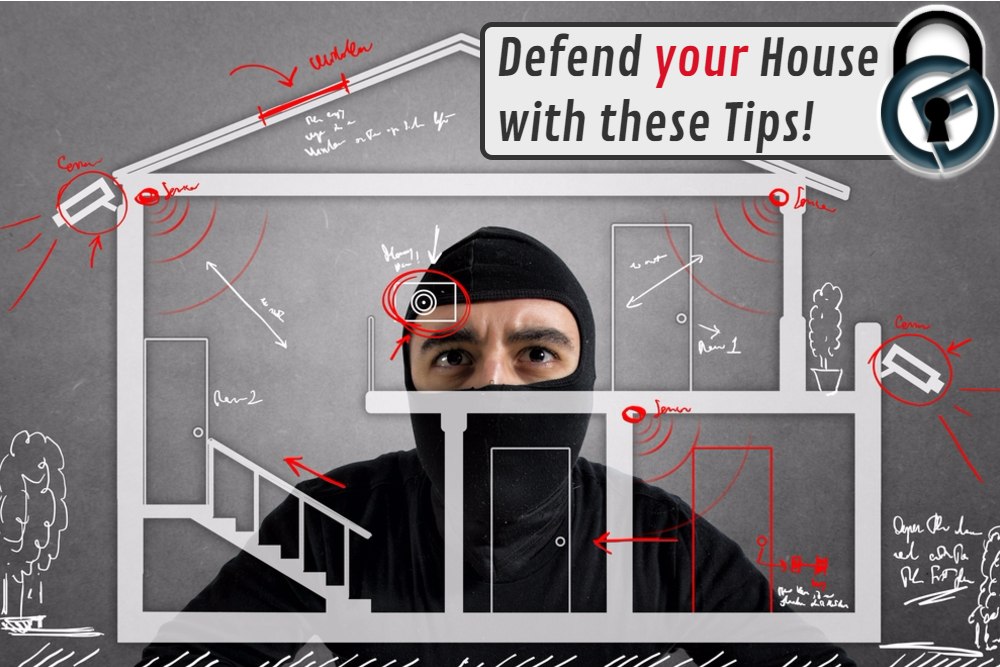 In this handy guide, we will be looking at:
The numbers of domestic burglaries
Ways to guard your house from burglars
Doors, locks and window security
Security devices: alarms and CCTV
Secure gardens
The role neighbours can play when you need someone else to help you guard your house
All of these recommendations will improve your home security so that your chances of being burgled are reduced. The thing to remember is that most burglars are after 'easy pickings' so just by making it more difficult for them is enough to deter them from trying.
Domestic Burglaries: The Facts
According to the latest report of the CSEW (Crime Survey of England and Wales), there were approximately 400,000 incidents of burglary, of which nearly half were domestic burglaries. This is the equivalent of 3 in 100 households being affected. Not all thefts are reported; either because the victims had no home insurance and/or because the value of items did not make it worth making a claim. HMIC (Her Majesty's Inspectorate of Constabulary) calculate that the true figures for burglary could be up to 11% higher than the official figures.
In general, burglars are more likely to strike in urban rather than rural areas. For August 2016, the UK Crime Statistics for all Police Forces list the Metropolitan Police Service with the highest number of burglaries (5,414) followed by the West Yorkshire Police and the Greater Manchester Police with over 2,000 incidents. West Midland Police reported 1,960 incidents of burglary while the next in position, the Lancashire Constabulary, had 50% fewer incidents with 1,045 cases.
The statistics look awful, but the number of domestic burglaries is falling. In 1995, burglaries affected 9 out of every 100 households, and it is worth pointing out that experts put the reductions down to the fact that people are now more aware of home security.
So, what can you do to avoid becoming a victim of burglary?
Guard your House from Burglars: Some General Guidelines
There are some common sense ways to prevent you being burgled. First of all, never leave doors unlocked, or windows open even if you are just in the back garden for a few minutes or popping next door to ask something. According to an ONS (Office of National Statistics Survey), in the period 2005-2015, 15% of burglaries occurred through unlocked doors, and 7% of thieves entered through an open window or a window which could be pushed open easily. Burglaries are, above all, opportunists and it will not take them long to grab as much as they can. For the same reason, never leave valuables lying around.
Do you leave a spare key somewhere on your property in case you are accidentally locked out? Would you believe that in 2014, 6,000 households were burgled with their own keys? Despite everyone being aware of the dangers of burglaries, it is amazing the number of people who leave a key for this just-in-case scenario; 29% of all people questioned in a recent survey. Their excuses were that they lived in a good neighbourhood or they had found a really good hiding place. These hiding places, though, tended to be the same for everyone: under a plant pot (19%), under the rubbish bin (13%), under a rock/stone in the garden (13%) and under the doormat (10%). If you can think of them, do you not think a burglar is also aware of where to look?

The key to your house could be the key to a theft!

You should never leave a spare key around your home; guard your house better by leaving a copy of your keys with family, friends or neighbours.
Doors and Locks Front and back doors should be strong enough so they cannot be kicked in easily. The modern composite and UPVC doors in modern homes tend to be much stronger to break down or jemmy open than a wooden door with a lock in the middle. If there is a letterbox in the front door, it should have a grill fitted to prevent burglars from using it as a way to access the locks or 'fish' keys from a hall table. You should make sure that your locks meet British Standards. It is worth the expense of changing them if it means you will guard your house better from burglars. A cylinder lock and a (five-lever) mortise lock will make it much harder for someone to break in and it might be a good idea to install a secondary floor lock as well. Another lock which is recommended is the key-operated multi-point locking system, which bolts the door into the frame and locks at multiple points. Finally, the rim automatic deadlatch with key-locking handle is one of the better locks you can fit.If you have a patio or sliding doors at the back, they should also have strong locks such as top and bottom key-operated locks or a central rail key-operated lock. It is advisable to install an anti-entry device to prevent them being removed from their frames.
Window Security Being made from glass, windows are the most vulnerable parts of your property. It is worth thinking about replacing plain glass with tempered or laminated glass since they are much more difficult to break. Materials such as Plexiglass are the same thickness as plain glass but are up to ten times stronger. If the additional expense is a problem, you could just replace the glass which is in, or near, the front and back doors.Most new windows nowadays are sold with secure, reliable window locks. Otherwise, there are a variety of locks which can be fitted to existing windows. You can find relatively inexpensive window sensors, which detect when a window is opened or broken and sound an alarm. Some residents install window bars on the ground floor. Although some people dislike them because they make a home look like a prison, there are some decorative grills available which look more attractive.
Home Security Alarms And CCTV Cameras There are some alarms available on the market and which one you choose depends on how much you are prepared to pay as well as the level of security you would like.The simplest alarm is a bells-only alarm, which rings externally for about 20 minutes. The internal alarm and the outdoor flashing light will continue until the alarm is turned off. A monitored alarm is connected to an external security company, who are paid a fee to monitor the alarm. If it is set off, they will phone requesting the password. If no one answers or the password is incorrect, they will notify the police.Alarms can be wireless (battery-powered) or wired. Wireless alarms are cheaper and easier to install and can be done by the homeowner. Wired alarms should be fitted by a professional; check that the company has the approval of the NSI (National Security Inspectorate).Because of the fall in their prices, CCTV cameras are increasingly being installed in domestic properties. You will need to consider whether to install them inside and/or outside your home. You also have the option of night vision and a hard drive to record the images of any burglary. Installing fake ones as a deterrent has had mixed success as burglars are not always fooled by the flashing LED light.
Other Security Measures: The Garden
Whether they are breaking in during the day or night, burglars do not wish to be seen so make sure entrances are clearly visible from the road. Cut back shrubs and make sure trees do not have overhanging branches that can be used to gain access to higher storeys. It might also be worth installing motion detectors near entrances, so burglars are deterred by the light.
Garden fences should be kept in good repair and you ought to make sure that any access to the back garden through a side gate is kept locked. Also, ensure that ladders are locked away, and any garden shed has a secure lock so that your tools are not used to break into your own house.
Neighbours: Your Best Defence
It is not purely chance that the drop in burglary rates coincided with the spread of Neighbourhood Watch Schemes. Neighbours are your best defence against burglars since they can be on the lookout for any strangers or suspicious behaviour in the vicinity of your house. You do not have to be a part of such a scheme to ask for their help. However, if you wish to start such a scheme, the police can advise you on how to go about setting one up.
Conclusion
These guidelines can make sure that you guard your house so that you are less likely to become a victim of burglary, as well as feel secure in your home at all times. To guard your house effectively does not need to cost a fortune (and pay day express loans should not always need to be used) as these recommendations show. A few common sense rules and the help of your neighbours mean you can avoid the hassle and expense of a burglary.
Sarah is an enthusiastic writer, blogger and an eager agent of change. Although she has never been one to voice her opinion publicly, Sarah has dedicated herself to helping Cashfloat spread awareness about common financial issues and the importance of money management. Through her writing, Sarah hopes to empower a positive and lasting change in people. Sarah believes strongly in ethical business management and consumer protection. After completing her degree in Computer Science in one of London's esteemed universities, Sarah has come to adore the buzzing hub of London city. Still, in her free time, Sarah enjoys reading, researching, watching movies and eating out. After all, #YOLO!