Are you an employer thinking of hiring remote workers? Would you like to work from the comfort of your home? In this article, Cashfloat, a same day loans UK company, explores how hiring remote workers can have a positive affect on the budgeting side of business and benefit all involved in many ways.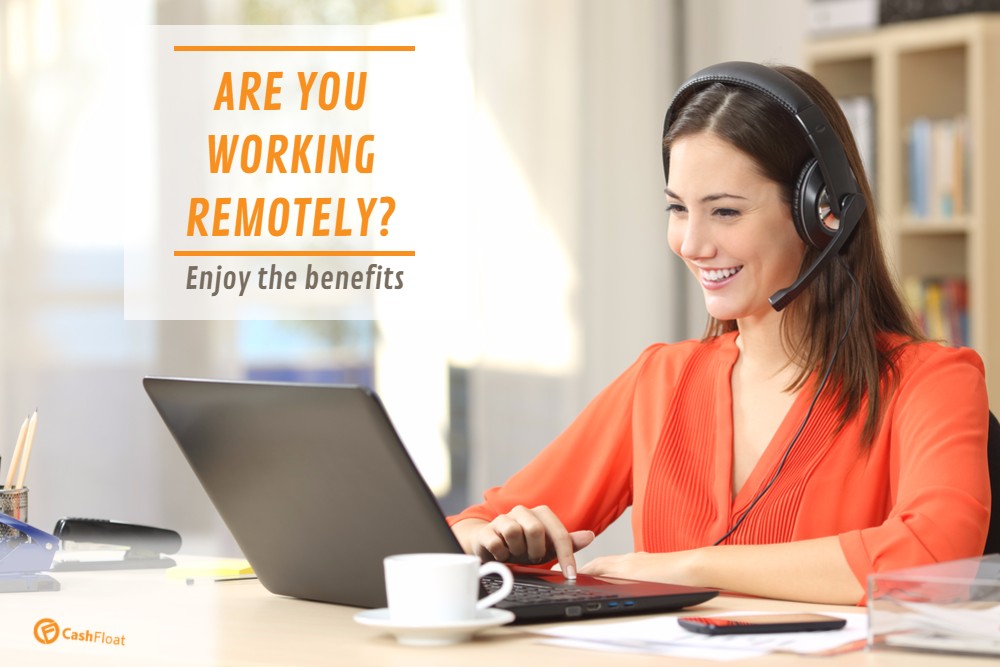 In this article about hiring remote workers we shall examine:
How office hours are changing
The easiness of working remotely
The importance of flexibility
Employees may be more productive away from the office
Costs can be reduced by remote employees
The ease of recruitment
Conclusions
Story highlights
The need to be in an office is steadily decreasing
Many people find they are more productive working at home
It's easy to recruit remote workers
9 – 5 office jobs is no longer a standard
Most people, when asked if they would prefer to work in an office or to work at home, would answer that they would prefer to be at home. In many industries, such as sales, employees have worked remotely for years, and others have the opportunity to work from home a few days a week.
Over the last decade in Britain, the number of people working remotely has increased by 25% to a figure of around 1.5 million in 2016. The industries with the highest numbers of home workers are IT, agriculture and construction. Government research has revealed that a further 4 million employees would like to be able to work at home for some of their working week. However, they are not offered the opportunity by employers.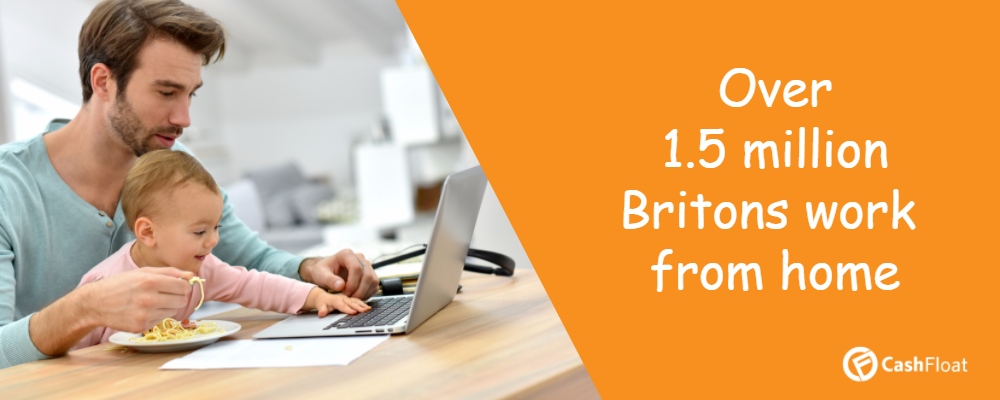 Working from home has never been easier
With today's advanced technology, working at home has never been easier. Many employees can get their work done away from the office thanks to cloud-based productivity tools, instant messaging and video calls. Years ago employees needed to work from offices to use the telephones, computer management systems and receive direct instruction from their bosses. The internet has advanced tremendously allowing people to work remotely. It's impacted all industries for example the payday loan industry, as people can now get bad credit loans online with an instant approval.
The need to be in the office, when a home has an internet connection and mobile devices, is steadily decreasing. Most people do some remote work by checking work emails in the evenings and weekends. Or by taking tasks home with them to get finished. Some employers still fear that work will not get done when a person is not in a working environment. However, the majority of employees who work at home have dispelled those fears.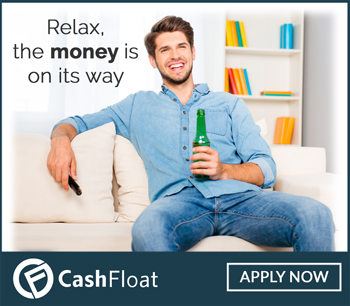 Flexibile working hours
Remote work doesn't have to be one thing or the other, and companies do not have to keep their staff at home if it does not benefit their business. Some employees work longer hours on Mondays and Thursdays and can work the rest of the week remotely. Other projects can be delegated remotely so that employees can work on them in their own time. Companies who adopt this working policy can recruit people from all over the world. Thereby recruting talent that they would not be able to have otherwise. This is the reason that remote work will gain popularity in the future.
Work from home – more productive
A recent survey from the Canada Life Group reported that employees working from home had a productivity rate of 7.7/10 compared to 6.5/10 when working in the office. They put this down to distractions from high noise levels in office spaces. Especially open planned work areas. In fact, remote employees often work more than 40 hours per week. A study from the Stanford University reported that 77% of workers conveyed greater productivity when they were working in their own spaces.
So what have we learned so far?
Many employees would prefer to work at home
In the UK 1.5 million people work remotely
Advances in technology now allow people with an internet connection to work away from the office
Remote working does not have to be 100% of the week
Remote workers often work more than 40 hours a week
Employees working from home say they are more productive due to less distraction
Employers will save money
Employers will benefit from cost-cutting when employees work remotely. An office takes a lot of money for a business to run. Even if employees worked remotely half the time, a company would save money on overheads such as cleaning services and utility bills. As well as transport subsidies, office equipment and other employee perks such as free cafeterias and company outings. Often businesses do not have the extra funding for all these employee perks and are often forced to get business cash advances to help.
Remote workers reported being 25% less stressed, 73% healthier. 80% report to have an improved balance of life. 76% said that by being allowed to work remotely, they felt more loyal to their employees. It can cost a company a lot of money to replace an employee.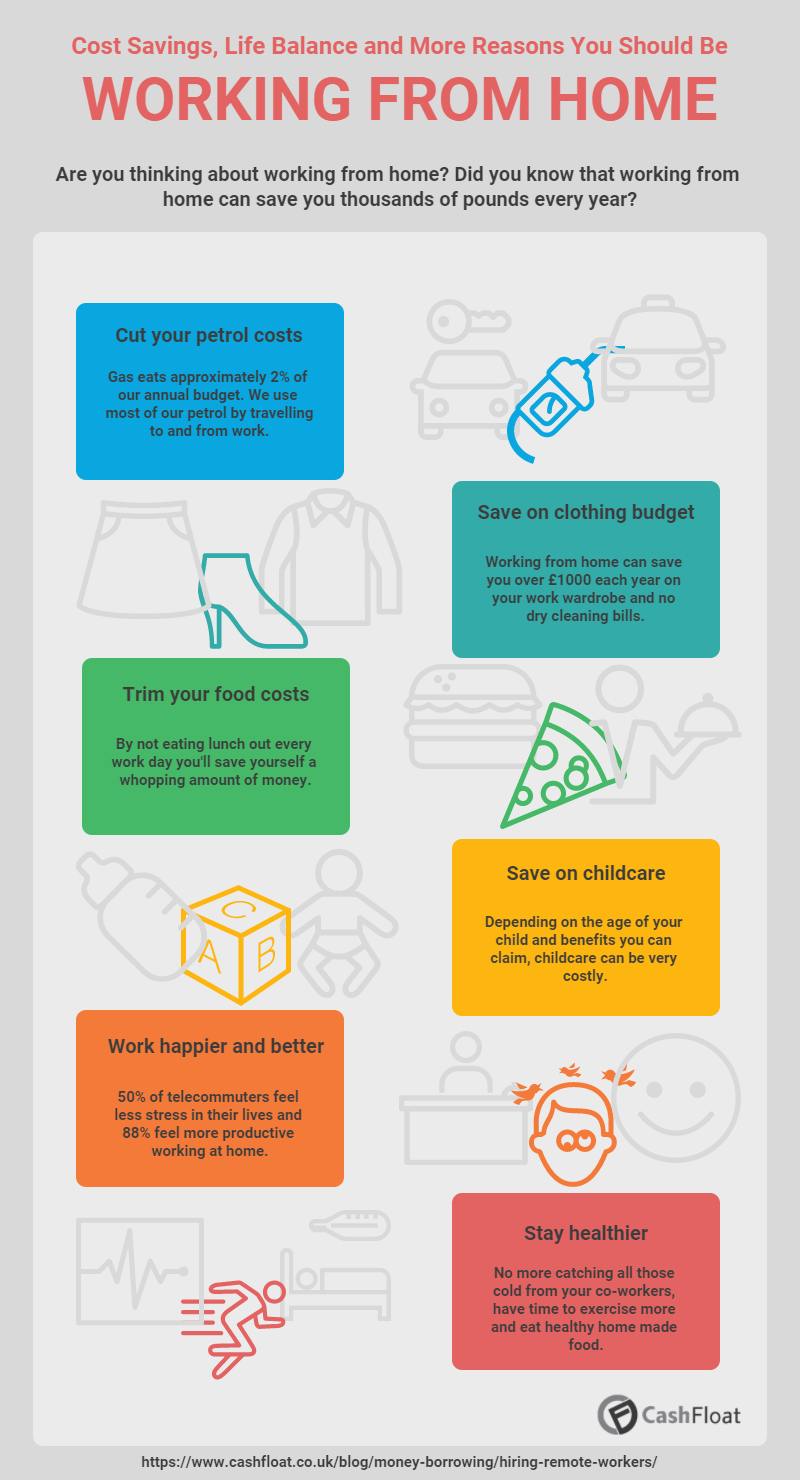 Travel expenses and sick days cost businesses millions every year
A sick employee may not want to travel to the office to spread their illness or because they look a sorry sight. However, most would be able to work from home. Carers often need to take days off to cover family responsibilities. However, when they work remotely, they can fit in obligations around their work schedule. Business meetings can be held through video conferences or live chat, negating the need for costly travel and hotel stays. Someone who works in an office and can not come to work because they are unwell may lose out part of their salary that they rely on. They then may require a wage day advance to make up the loses.
Hiring Remote workers is easy
Due to the popularity of working remotely, there are many people who are eager to find this kind of job. This can be a good way for a start-up company to expand. By recruiting on a contract only basis, they save the financial expense of having an employee in an office. Most remote workers prefer small contracts with many firms to keep them busy. Remote workers can help businesses delegate less important tasks, to free up internal employees to concentrate on the more important jobs under supervision. Recruitment agencies can supply work samples to ensure that prospective employees work is of the high standard that potential employers are looking for.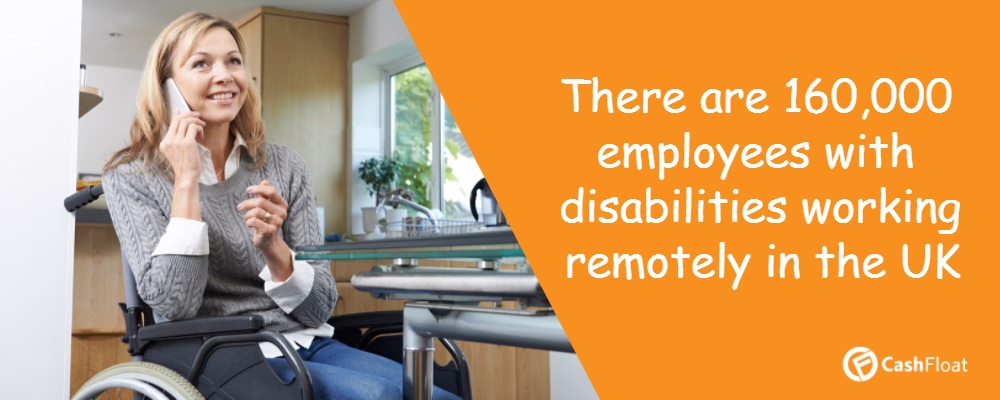 Conclusions on the value for businesses hiring remote workers
The key to the success of companies that are hiring remote workers can be in flexibility. People report feeling less stressed and able to be more productive when they are allowed to work in their own environment. It appears to be a good thing for employers to consider. Advanced technology now allows face to face contact with remote workers as if they were on the premises. It seems that the only thing that employers need to be able to do to enjoy the benefits of having flexible employees is to put their trust in them. And believe that they are able to get the work done, which the majority of remote workers are already proving.