Are you looking for a home improvement loan? A home improvement loan can help you if you are repainting your bedroom or finally redoing your kitchen. Read on with Cashfloat to see how home improvement loans work and how they can help you.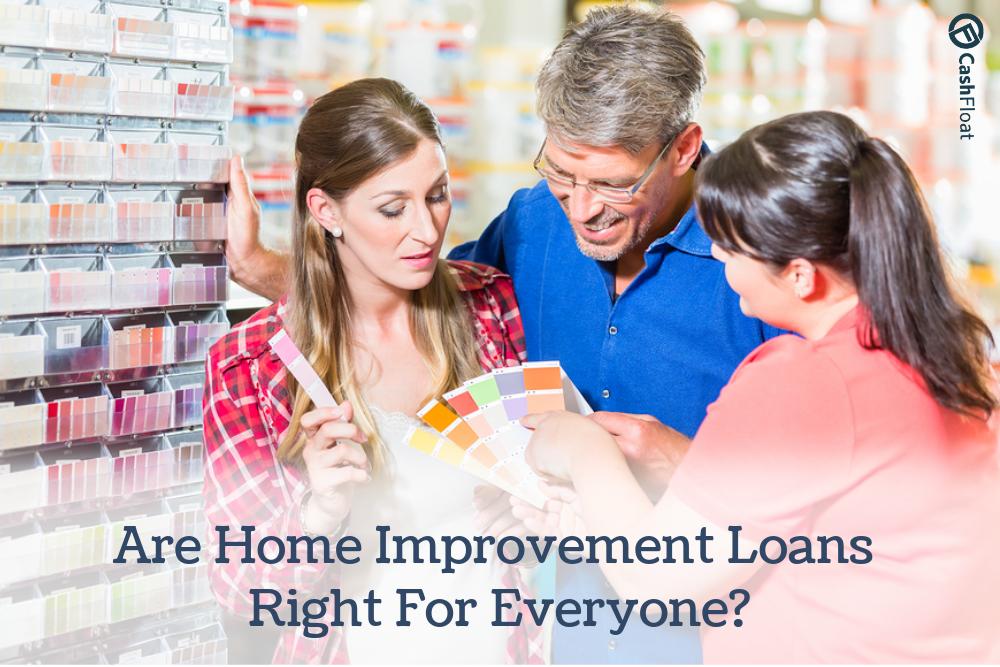 Fed up of your battered furniture? Need a kitchen that will make cooking easier? Desperate for another bedroom? Whatever the reason, home improvements can be expensive. It's always better to save up and wait until you have enough money to cover all of the costs. But what if this isn't an option? Are home improvement loans the way to go?
In this article about home improvement loans, we examine:
Why people do home improvements
Some home improvements you can do yourself
What to look out for when applying for a home improvement loan
How to apply for a home improvement loan
Why do people do home improvements?
There are some main reasons for doing home improvements:
If you want to upgrade your style of living
To sell/let your house for a higher price
Depending on the reason, you'll be looking for something different. If you want to continue living in that house, you will want to carefully plan out the work to be carried out, choosing layout and colour scheme, etc. based on what you like and want. You will want to buy good quality so that it lasts, but you also need to watch your budget.
If you're trying to get a better price for your house, you'll want to focus on the surface appearances only. Fix your appliances, slap on a new coat of paint, make the outside of the house look good – don't invest a lot of money, as you can't be sure you'll get it all back.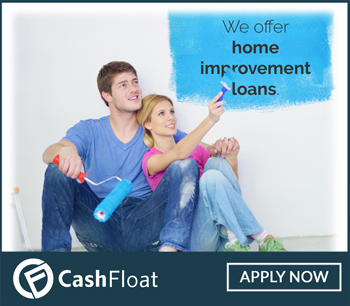 What home improvement loans can you do yourself?
You've probably not thought about it, but there may be many home improvements you can do yourself. This will save you lots of money and you can turn this into a fun bonding time with your partner. Some jobs you can do yourself include, giving the walls a fresh paint, changing your fluorescent lighting to LED lighting and putting up new curtains. There will be some jobs which you are better off getting in a company or a person who is skilled in that particular area. For example if you need pipes changing or a plumbing jobs doing, you should hire someone skilled. This is where home improvements can get expensive especially if you have not saved for it. Getting a home improvement loan may be what you need.
Let's take a look at a case study of where a Cashfloat home improvements loan was the right choice.

Lee, from Sheffield, was saving up for a particular furniture package he really liked. He was putting aside a set sum every month and would have enough in seven months' time. At one point, however, the furniture went on sale.
"It was so much cheaper than the usual price, but I was still about £400 short. I didn't want to borrow, but if I missed this opportunity, I'd have to pay the full price – another £600."
Lee took out a £400 loan from Cashfloat for home improvements, bought his furniture package, and repaid the loan in a month and a half. He paid a total of £110 interest, but saved himself £600 by buying it in the sale.
And of course, he got to enjoy the new furniture seven months early.
Getting a home improvement loan
You've decided that you need to do home improvements now, so you'll take out a quick loan online – but do you know exactly how the loan works?
Before you take out any loan – whether it's a 30-day instant payday loan or a 30-year mortgage – there are certain key facts you have to know. Never agree to a loan before knowing the answers to each one of the following questions:
Is the lender registered with the FCA? You can check the FCA register here.
How much will I have to repay in total (capital + interest)?
When will each repayment be?
How much is each repayment?
What will happen if I can't afford a repayment?
If I lose my job, what will happen?
Can I repay early – is there a charge for this? Will I save on interest?
Are other people happy with this lender? (Look for reviews)
Look around, make sure you have the option that's the best for you and your circumstances. You can compare loan websites here.
How can I appply for a home improvement loan?
Applying for an online loan same day with Cashfloat to pay for home improvements is really easy. All you need to do get onto our application form and complete the application which should take you around 3-5 minutes. Remember, only apply for the amount you will need for your renovations. The bigger your loan, the more interest you will pay. Have bad credit? No worries! We like to help people with all kinds of credit scores. Apply today and recieve from £200 – £1000*. We do our best that the money reaches your account the same day.
If you have any queries during the application process, we are available to help you. Feel free to email us at info@cashfloat.co.uk and we will respond within 24 hours (weekends and public holidays excluded). In order to take out a home improvement loan with Cashfloat there are some criteria you must meet:
Be at least 18 years of age
Be a UK citizen
Have a UK bank account
Be in full-time employment
Home Improvement Loans Calculator
Now, you know exactly how much you need. The question is, how much will you have to pay for it?
There is a very handy tool that most lenders will have available for you: a home improvement loans calculator. You type in how much money you need and how long you want it for, and the calculator shows you the total repayment cost.
A good calculator should display how much interest you'll be repaying, how many repayments there will be, and how much you'll pay each time. If all of these details are not made clear, you should try to find another lender.
Here is an example of a home improvement loans calculator: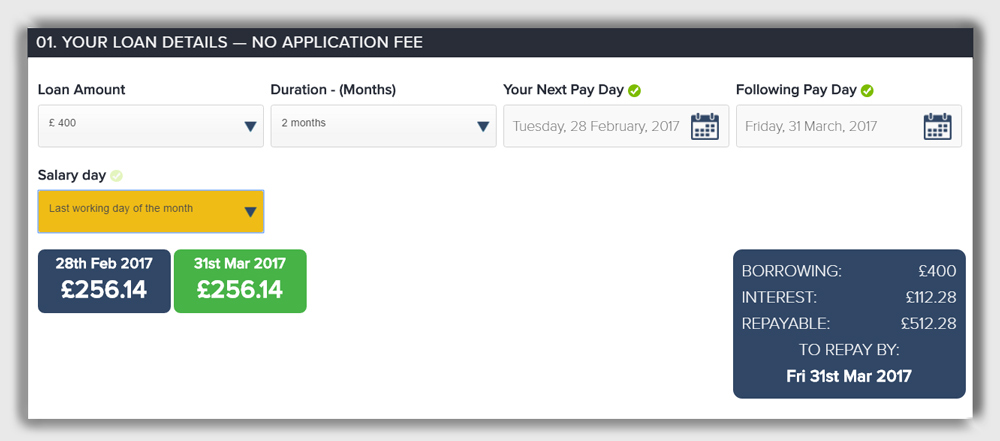 When you apply for a Cashfloat home improvement loan, we want you to know exactly what the repayment process will be like right from the beginning. We want you to be in full control of your loan.
What other home improvement loans in the UK can I get?
If you're looking for a home improvement loan in the UK, you have many options. Some choices are:
Tesco home improvement loan
Halifax home improvement loan
Natwest home improvement loan
The main difference between any of these and a Cashfloat home improvement loan is the scale of the loan. All of these loans are for a minimum of £1,000 and loan terms start at one year. If you're looking for a smaller amount, and you don't need it for quite as long, then a Cashfloat cheap short term loan could be perfect for you.
Conclusion
As you can see home improvement loans can help you if you use them responsibly. It is always in your benefit to have savings for emergencies that happen in your house. Be sure to do your research on the loan company before applying with them.