The 2021 Guide to Debt Management Companies – Chapter 2
Ever wondered how a debt management plan works or how to go about starting one? Here's all you need to know on one single page from Cashfloat – a responsible payday loans direct lender.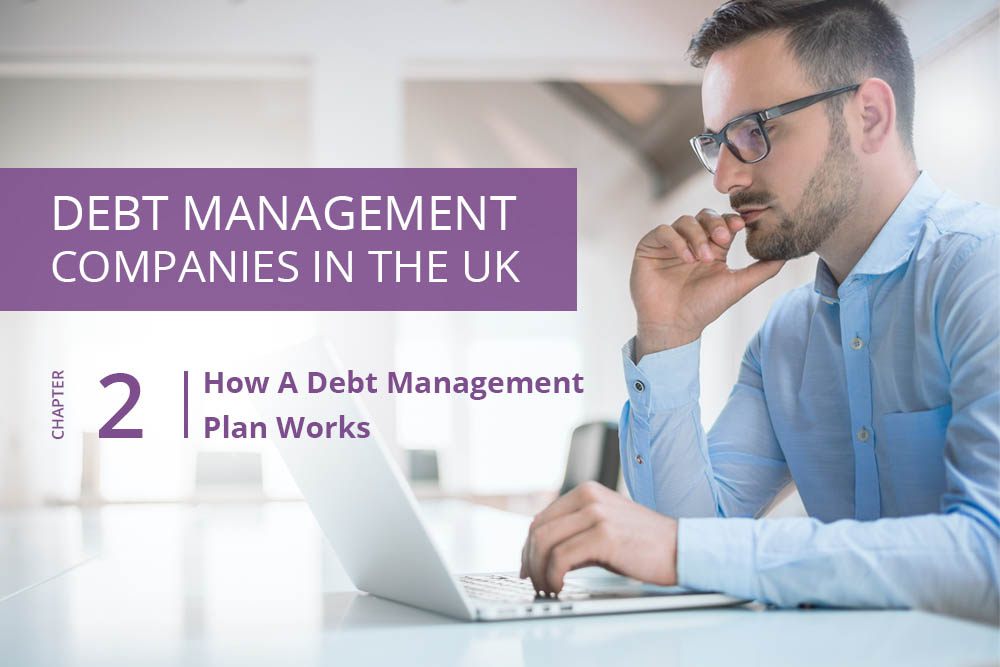 Like any other contract or agreement that deals with money, Debt Management Plans have both pro's and con's. So, what are the benefits and drawbacks of this kind of plan and is it the right way to deal with debt?
Cashfloat.co.uk has put together a comprehensive guide to debt help solutions in the UK. As a responsible lender, we like to keep our customers educated and informed so that they can manage their finances effectively. In this article, we will discuss how a debt management plan supplied by debt management companies in the UK work.

What is a Debt Management Plan?
A debt management plan is an informal agreement that is made with all your creditors. It allows you to pay off your debts in a series of instalments. This kind of agreement could include suspending the addition of interest charges so that the amount owed does not continue to spiral upwards. A debt management plan can help you to clear your debts in an orderly way and this can help you to avoid being taken to court.
Before entering into any kind of debt plan agreement you should always be sure that the advice you are getting is totally impartial and given by a professional. That is, the advisor should not make any financial gain and should be fully qualified to give advice.
Is It Free?
There are many debt management companies which will charge a fee to set up a debt management plan. However, in this series of articles we will be looking at some of the UK charities that offer this service for free. Once the plan has been agreed and set up then you will only make one payment each month to the organisation and it will distribute the money to your creditors.
How Long Does A Debt Management Plan Last?
Depending on how much money is owed and how much you can afford to pay each month, a debt management plan can last for many years. However, the time it takes to pay off the debts is not so important as the fact that you are taking control of financial problems which could have a huge detrimental impact on your life.
Is A Debt Management Plan The Right Choice For Me?
If you are considering this option in order to clear your debts then there are some initial steps to be taken. The most important first step is to work out exactly how much you can pay each month. There is little point in asking for a debt management plan if you literally have no cash to spare and in these circumstances it would be better to opt for debt counselling to see what else can be done.
In order to work out whether or not you can actually afford to enter into an agreement with your creditors you need to work out a monthly budget. This can be done by listing all of your income and then itemising your monthly outgoings. Only non priority debts can be included in a debt management plan so items like rent, utility bills and income tax arrears must be dealt with separately.
Having worked out your income and expenditure you must deduct one from the other and see how much is left to pay towards your debts. The amount must not be less than £100 per month.
How Do I Arrange A Debt Management Plan?
There are a number of debt charities that will set up a debt management plan for free. You can find help by searching on the Internet through one of the many money advice pages. These will provide a list of charities that operate debt management plans without charging a fee. Or, simply search for 'free debt management plans'. The website gov.uk also gives good advice about how to set up a debt management plan.
Benefits Of A Debt Management Plan
Apart from the fact that actually tackling your debts will allow you peace of mind, there are other benefits of setting up a debt management plan.
When the plan starts you will only have one monthly payment to make and as long as you stick to making the agreed amount each month you can stop worrying about your debts.

The debt management charity will contact all your creditors and this will stop the deluge of letters threatening legal action although you may still get some correspondence from creditors.

Interest charges on your debts may be reduced or frozen for the duration of the plan and this helps to prevent debts from continuing to increase.

The debt management charity that is handling your affairs will take away the need for you to have contact with creditors. The charity will deal with all correspondence and make the arrangements about how much per month each will receive. In addition, the debt management plan will almost certainly reduce the amount each month that has to be paid to creditors which means that life can return to some kind of normality.
Of course, one of the biggest benefits of using a charity to arrange a debt management plan is that it is used to this kind of situation and deals with many creditors every year. This gives the charity a better bargaining position that an individual could hold.
Drawbacks Of A Debt Management Plan
The biggest drawback of setting up a debt management plan is that it can take many years to pay off your debts. In order to apply for a debt management plan your debts must total more than £5,000. You must also be able to make the minimum amount of £100 per month in order to qualify.
If the debts cannot be paid back in a reasonable time frame then this option may not be workable. Sometimes a formal agreement is a better option although this can reflect badly on future credit scoring. If you are not careful and apply to a debt management company that charges a fee you could just be adding to your indebtedness.
Is a Debt Management Plan the Right Way Forward?
Before committing yourself to a debt management plan you should look at the different ways in which debt can be tackled. A debt counsellor will be able to advise you whether a plan like this is the right way to go or whether the amount owed is too small or too large for this option.
There are many debt charities in the UK where you can obtain totally free and impartial advice and this should be the first step in putting an end to the misery of debt. A list of the charities can be found the gov.uk website or you can ring the National Debtline to find out where to go for help.
A debt management plan is not a catch all solution to debt and it will depend upon your personal financial situation whether or not it is an appropriate way to go. However, when you have obtained impartial and free advice and then decided upon a course of action, you will have taken the first and most important decision in your search to get out of debt. A debt management plan can give you breathing space to get back on track and relieve you of the pressure to repay all your debts at once.