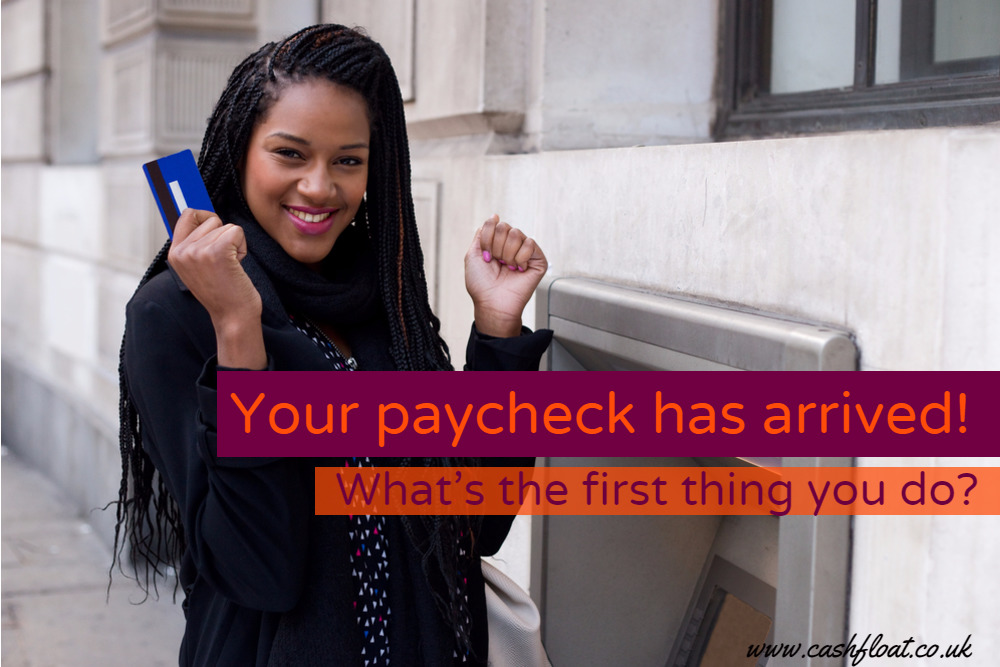 What should I do with my salary?
After checking your bank account to see if your paycheck has arrived, what is the first thing you do? Do you buy that ice cream sundae you saw advertised? Do you deposit some in savings? Do nothing? Find out what the best reaction is and how you should apportion your salary to balance your income versus expenditure. Remember, if you don't want to take out a payday loan, that money has got to last you until your next payday
Managing your salary effectively is vital if you want to balance your income versus expenditure. Everyone has to decide how to apportion their income. What should go where and when? You have daily expenses to consider, plus savings for both the short-term and long-term. But the main thing is to figure out how to make that lump sum last until the end of the month. The problems start when you run out of money before that glorious payday, and you need an quick payday loan to keep you on your feet. If you want to avoid this, you need to work out a budget.
The Practicalities of Income Versus Expenditure
The first step to balancing your income versus expenditure is to work out how much you are spending on essential bills and housing costs. These will be more or less non negotiable, although you can consider the following suggestions to help you save.
Your Home
No matter what other expenses you may have, your home needs to be your priority. As long as you have a roof over your head, you can find ways to save in other areas. It can be difficult to have a lot of control over how much you spend on housing. It all depends on where you live and how you live. Many factors can dictate where you need to make your home, from your job to your family. By you can try to reduce how much you spend on housing by looking into cheaper areas. Or you can check whether you're eligible for housing benefit.
Your mortgage or rent is usually a set expense, although it can fall or increase. If you rent, consider cutting your renting costs by moving to a cheaper area. However, the cost of moving is often so much that it's not worth it, so make sure you work it out beforehand.
Homeowners can sometimes reduce their mortgage payments, so you might want to look into how you can save money here. A report from the English Housing Survey revealed that tenants paid an average of 47% of their net income to rent. Homeowners, meanwhile, paid an average of 23% of their earnings. Therefore, saving toward a home can be very beneficial for renters. More on that later.
Essential Bills
After you've taken care of your home, you have lots of household bills to pay. Firstly, there's your council tax bill. You don't have any control over how much this is unless you consciously choose to move into a property in a cheaper band. Count it as one of your essential monthly expenses, and set up a direct debit to make sure it goes out of your account. It should be the same every month, so it's easy to track. Then you have your energy bills, including gas and electricity, and your water bill. You need this to make your home habitable, but you can reduce wastage by being careful on a day to day basis.
You should work out what you're spending each time you receive a bill. According to the Money Charity, the average UK household consumption for water, electricity and gas is about £3.40 a day. However, the amount you spend is likely to be different at different points in the year. For example, you might use more water in the summer or more gas in the winter. If you work out what you spend for the whole year, you can divide it to get a monthly figure. You can then ensure you save that amount each month, so you're never surprised by a bill. If you want to reduce your bills, look for ways to reduce energy and water consumption. There are many easy methods you can use. According to Scottish Friendly, the average monthly spend on gas, electricity, and water is £90.10. You might spend more or less than that, and you can always try to reduce your bill.
Less Essential Bills
There are also bills you might see as less necessary, depending on your priorities. In the modern age, phone (landline and mobile) and internet bills are seen as vital by some. But they are an expense that can be cut by others. It might depend on just how much you're trying to cut back. Having an internet connection and a mobile phone might seem like niceties. But if you're looking for work, you need access to the web and a way for employers to contact you. While other resources, such as libraries, are available, they aren't always accessible or convenient. When balancing your income versus expenditure, these might be costs that you can consider cutting back on.
Another less essential bill is your TV licence, as well as any other TV packages. A recent change in the law means you need a licence both to watch live television and to watch programs on BBC iPlayer. Of course, not everyone has a tele, and you may be happy not to pay for a licence. Instead, you might pay for a streaming service. If you do, make sure you know how much it costs you throughout the year. You might also choose to pay for a TV package like Sky, on top of your TV licence. It's important to be aware that while it provides extra entertainment, it's not essential. You should view it as a "fun" cost, not a life-sustaining one. If you're trying to cut your expenses, you can consider other options or even cutting it out.
Food and Household Expenses
As part of balancing your income versus expenditure you will need to make allowance for household expenses. Of course, everyone needs food to keep them going. Plus, you're likely to have other personal expenses, such as toiletries. Food needs to be another priority, and there are a few ways you can look at it. Eating a healthy diet should be your ultimate goal. Many people will readily debunk the myth that it's expensive to eat healthily. You can discover hundreds of cheap and healthy recipes online from a range of sources. There are also many tricks for saving on food that could help you. If you watch the programme "Eat Well for Less?", you'll see how many people overspend on food without realising it.
When it comes to food and other household expenses, setting yourself a budget is critical. It will help you resist spending too much by buying branded items or falling for special offers on things you don't need. To find out how much you should spend, challenge yourself to create a shopping list with a small budget. For example, see if you could survive off £15 a week for food. If you can easily do it, try lowering the number even more.
Short-term and Long-term Savings
Some of your money needs to go to savings, as well as to daily expenses. But how much can you save and how much should you save? There are also some things you want to save for in the short-term, as well as long-term plans to make. It can be hard to know how to balance the two things. Firstly, you should set an amount you're going to put aside each month. This will depend on your expenses and how much you want to have left for fun things. Once you have an amount, you need to decide what your goals are.
As well as saving for a home or retirement, you might also want to save for a holiday or a new TV. Before you save for either, make sure you have an emergency fund to take care of unexpected expenses. Next, set some goals for your saving. If you know how much that holiday will cost, you can put aside an amount each month that will help you reach your aim. Everything else can be long-term savings. You might decide to keep your short-term savings in your main bank account or put them in a savings account. If you choose the latter, make sure your money is accessible when you need it to be. As for long-term savings, your options range from ISAs to private pensions and investments. You should have a plan to follow so you know where every penny will go.
Getting the right balance between your income versus expenditure requires skill, so make sure you learn how to do it properly. No one can tell you exactly how much you should spend on what. But you can use your financial goals to help you spend and save wisely.