The 2021 Guide to Debt Management Plans
– Chapter 19
Everyday living with a debt management plan is not easy as you need to be managing your money super-carefully. Cashfloat tells you all you need to know.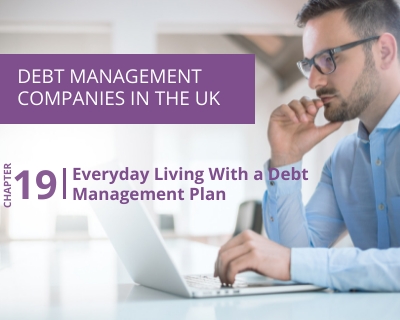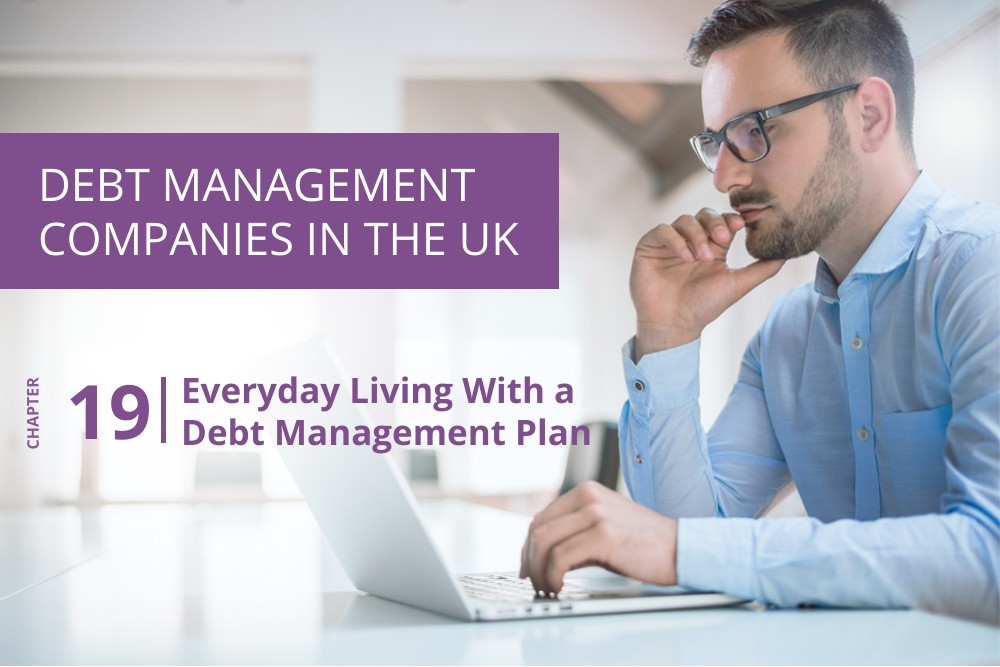 Article highlights
Calculate how long your DMP would last
Being on a DMP will mean a tight budget for the plan's duration, but is worthwhile if you'll be debt-free by the end of it!
Cashfloat's aim is to help everyone in need – whether we are helping you with our popular short term loans or giving you effective debt advice.
As we have discussed earlier in this guide, debt management plans are an effective debt solution for many people. You may be wondering though, how being on a DMP will affect your daily life. In this article, we will address the subject of what everyday living is like with a debt management plan.
Is it Difficult to Complete a Debt Management Plan?
Before they begin a debt management plan (DMP), many people wonder how difficult it will be to cope with everyday living while they are on it and, also, whether or not they will actually be able to complete it. Not only is it hard to see how difficult it will be to get by while you are making payments towards a DMP, but beginning one which you are unable to complete could cause time to be wasted.
Everyone's circumstances are different, meaning that the amount of time they will have to pay towards a DMP and the amount of spare money they have will be different. When it comes to coping on a budget, some people tend to do better than others. For some people, their DMP will be in place for a relatively short space of time, meaning that they will not have to cope with budgetary restraints for too long.
However, for people who owe a lot of money to several creditors then a DMP can run for many years and will be likely to have a larger impact on their life. While some people in this situation will find it difficult to cope, careful budgeting should always allow someone who is on a DMP to provide a reasonable quality of life to themselves and their family. It is important to note that while some DMPs will have a significant impact on people, they do allow people to escape debt and the impact is often not as severe as people imagine.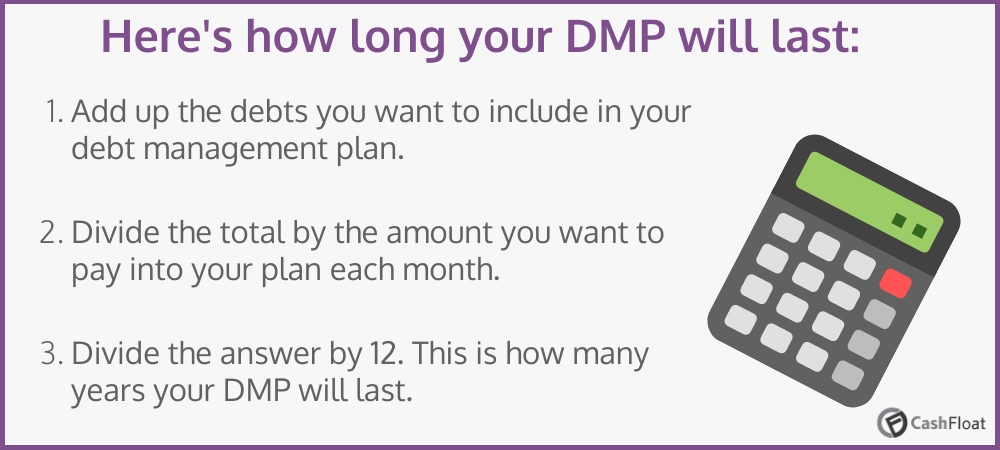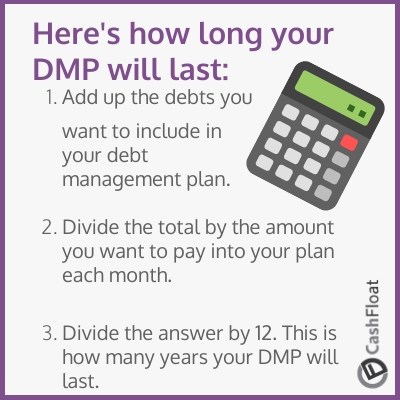 How Common is it to Complete a Debt Management Plan?
When it comes to understanding what the chances are of completing a debt management plan, there is no published information on what percentage of people who start a DMP actually complete it. Unlike other debt solutions, such as insolvency, the number of people who begin and complete a DMP is not recorded. While this is the case, charities do sometimes release information on the total number of people who complete a DMP and there seems to be a large number of people completing them.
Where someone who is in debt is able to agree affordable payments with their creditors, which will not last an unsustainable amount of time, debt management plans are a viable way to pay off debts and are likely to be a success.
For people who are unsure about whether or not they will actually be able to complete a DMP, it may be a good idea to see how one works for a while. If, after a period of time, you find that you are able to cope on your budget and are clearing your debts at a reasonable rate, then you will be able to continue with it. If you find that this is not the case, then you can look for an alternative solution. A consultation with an impartial debt advisor should tell you whether it is a good idea to give a DMP a try or not.
Normally DMPs are reviewed every year. However, if you are in this situation, you can bring forward your review as you will be likely to know whether or not it will work sooner than this.
What is Life Like With a Debt Management Plan?
Some people will cope with a debt management plan better than others. While you are on one you will have to live on a budget to ensure that you are able to make payments towards your debts. In many cases, this will mean living cheaply and being very careful about how much money you spend. Proper budgeting should allow you to provide a reasonable quality of life to you and your family. Even so, money is likely to be tight. Many people will have to go without luxuries or other things that they normally have. For DMPs that do not last too long, this is usually less of an issue than for DMPs which last a long period of time. While it is the case that money will be tight, being on a DMP does have advantages as well.
Reduced Stress
Many people are anxious about starting a debt management plan because of the restraints it will impose on their budget. It may seem as though it will be difficult to live on a budget. While this is the case, being on a debt management plan often actually reduces people's levels of stress. While it will be necessary to watch what you spend quite closely, the constant stress and worry about how to pay bills and keep up payments to creditors will be gone. With a DMP, you will have a clear plan to work to and will know exactly how much you will need to pay each month towards your debts. The reduced payment amounts will be far easier to meet than they were before and there will be much less uncertainty.
Having to Cope on a Budget
The obvious downside to being on a DMP is that you will have to cope on a budget. In some cases this will be quite tight. It is important to note that when you are budgeting yourself to make payments towards your DMP, you should make sure that you leave enough money for yourself in your living expenses to get by in your day to day life. While it can be tempting to set a tight budget and to pay off debts quickly, you shouldn't make your life too difficult.
Living on a budget can be difficult and will require discipline. In many cases this will mean that people will have to go without things that they would otherwise normally have. The extent to which this will affect a person depends on their ability to cope with the change to their circumstances. It often helps to take a relaxed attitude to the situation, to find free or inexpensive ways to pass the time and to remember that the situation will only last for as long as the DMP does.
Click here for video guidance from Stepchange on how to make a budget.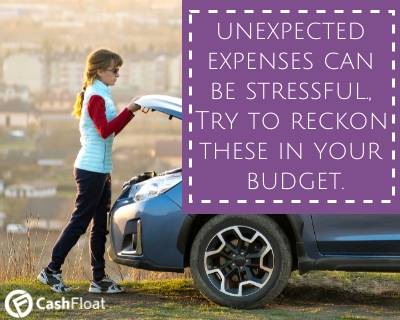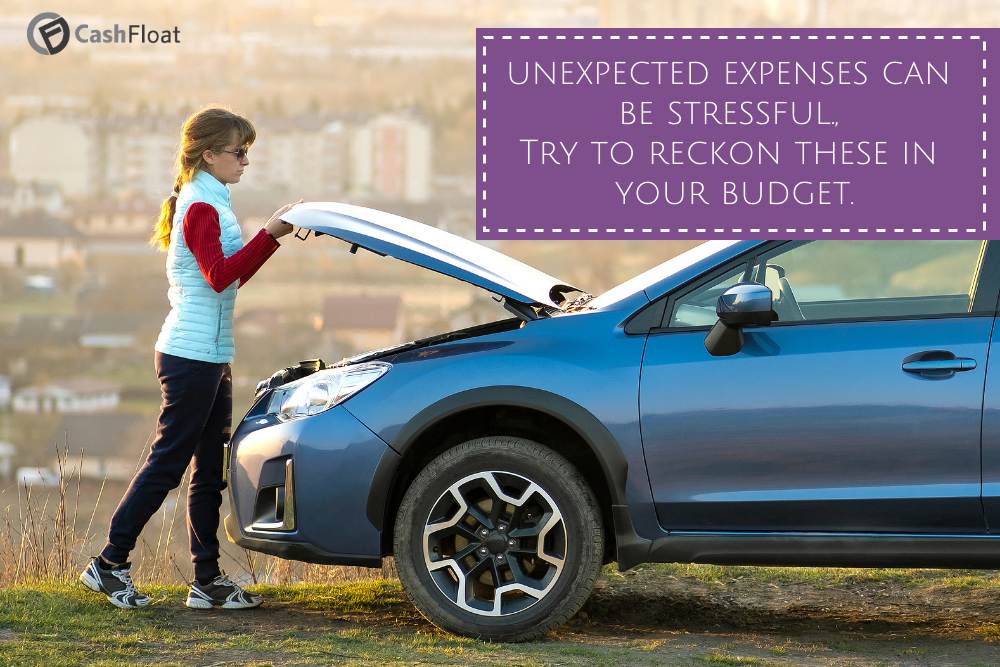 Dealing with Emergencies
Dealing with emergencies and unexpected expenses can be difficult on a debt management plan. You should try to plan for these in your budgeting and save for them as you go. When unexpected expenses occur, which you cannot afford, it can cause stress. However, it is often possible to renegotiate your payments with your creditors to allow you to temporarily cover this expense. When this happens, you can speak to your DMP provider and see if they are able to make arrangements.
Planning Ahead
As we mentioned earlier, the financial restraints imposed by a debt management plan will only last as long as the DMP does. Being on a DMP often actually helps people to plan for the future. A debt management plan should bring a level of certainty about when you will be debt free and you may be able to plan events, such as moving house, better if you are on a DMP than if you are not.
Get Emotional Support
Whether you feel trapped by your debt management plan or you feel that it is a good solution can often depend on how you approach the situation. If you are considering applying to start a plan then it may be a good idea to approach a debt charity that provides practical advice on how to cope with the situation and emotional support as well. Christians Against Poverty are one charity which provides their clients with a high level of practical and emotional support.

How Much Spare Money Will You Have on a Debt Management Plan?
Before beginning a debt management plan you need to establish exactly how much you can afford to pay monthly towards your debts. First, you will need to budget yourself. Before making payments towards debts which are covered by your DMP, you will need to make sure you can pay your priority debts and living expenses. The amount you allocate for your living expenses should be enough to provide a reasonable quality of life to you and your family. As such, you should have enough spare money to get by. It is important to ensure this when you first arrange your monthly DMP payment amount. As well as covering your monthly purchases for things like food and clothing, you should also save each month for occasional large expenses, such as car repairs.
You should be able to get by, but your budget will be tight. When you negotiate your monthly payment amounts with your creditors, they will want proof that your offer is all that you can realistically afford to pay. As such, you will not be able to leave yourself a large amount in your living expenses. However, it is also not necessary to leave yourself an amount that you are unable to survive on.
With many debt management plans, if your income increases, giving you more spare money, it will be necessary to tell your DMP provider. You may need to allocate this money towards your debts. Failing to do so could cause you problems. In some cases, an increase in income or a financial windfall could allow you to clear a debt with one payment under a full and final settlement offer. Where it only allows you to make larger monthly payments towards your debts this will allow you to clear your debts more quickly.
How to Make Savings
Carefully analysing how much your household spends each month is a good way to find out whether or not there are any extra savings that you could make. Often people don't realise quite how much they spend on things that they could go without or they could get more cheaply.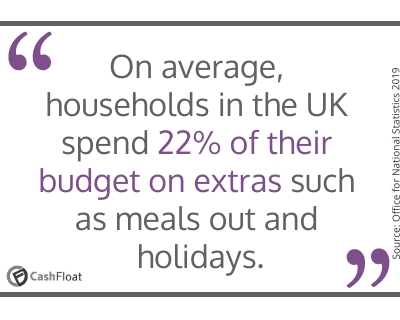 While you are on a debt management plan, you will probably be on a tight budget. The more money you can save, the better. Many people will be surprised to find out just how much money they spend unnecessarily and how much further it can go if they spend more carefully. Cutting out obvious extra expenses, such as on takeaway meals, takeaway coffees or subscriptions that don't get used, such as Netflix, are an obvious place to start. However, it can be surprising how much you can save by going further. For example, trying to bulk buy things more cheaply, making sure you turn off electrical appliances at the wall or turning the heating down a bit or taking a multitude of other money saving measures could save you a surprising amount of money.
It may also pay to see if you can get cheaper deals on subscriptions that you have. For example, changing your energy supplier to a cheaper alternative could save you a surprising amount of money.
In Summary…
If a debt management plan could help you to get rid of your debts then don't be put off by the fact that you will have to live more cheaply while you are on it. While being on a debt management plan is likely to bring you some financial hardship, it may well provide an effective solution to your debt problem. Also, the financial hardship you face will be less than if you do nothing about your debts. Sticking to a budget by accurately planning how and when you spend money will help you to get by. Also, doing everything you can to save money will help you to be able to live more comfortably and to lessen the impact of a DMP for both you and your family.
For more information on debt management plans, and how to know if they are the right debt solution for you, read the rest of this guide.