Best Paid Jobs – The Ultimate Guide
– Chapter 2
With new minimum wage laws, is everyone really getting enough to live on? Learn what you are entitled to and discover the flaws in the system.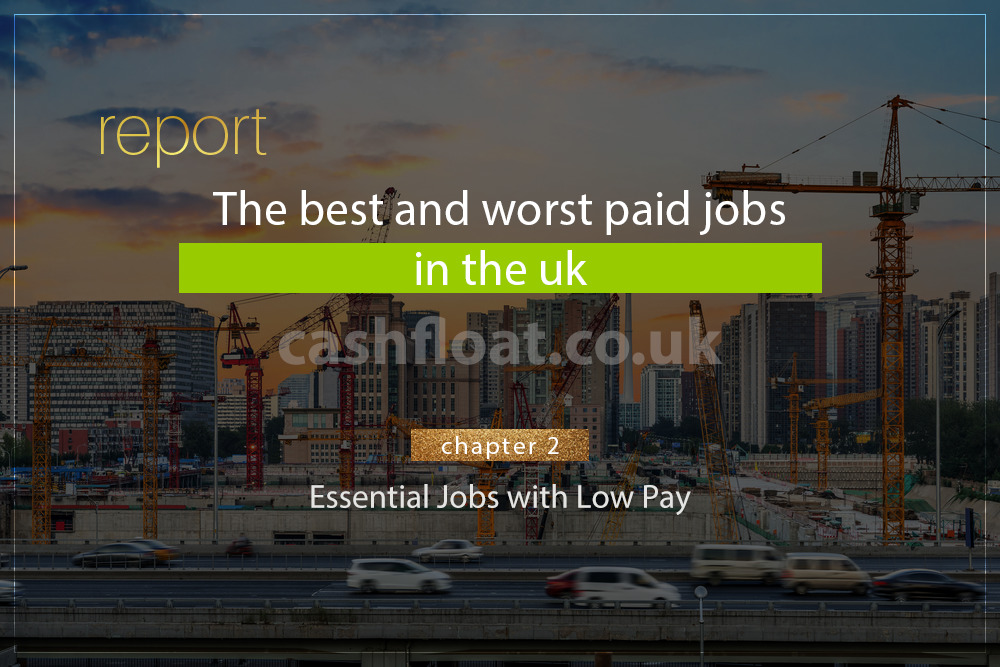 Payday: National Minimum Wage
Some of the most essential workers who contribute to the smooth running of the country are paid a very low wage. Every year the Low Pay Commission sets out the National Minimum Wage and the figure is legally enforceable so all employers must adhere to the amounts shown on the list.
Wages vary depending upon the age of the employee, with apprentices receiving the lowest amount of £3.30 per hour. Next are workers under 18 who get £3.87 per hour. Over 18s get £5.30 per hour and workers between 21 and 24 years old receive £6.70 per hour. Workers over 25 are paid the highest amount at £7.20 per hour. These are the current figures for the National Minimum Wage which changes in October each year.
National Living Wage
On April 1st 2016, the government introduced a new National Living Wage which is based upon the figure that an individual needs in order to achieve the basic costs of living. This figure varies for different parts of the UK with a higher amount for people living in London and lower amounts for those living in the rest of the UK. The amounts paid to different age groups are in line with the National Minimum Wage. However, these amounts are not legally enforceable and employers are not bound by them. Currently the NMW and the NLW are set at the same amounts but this could change in the future.
Which Companies Pay The National Living Wage
At present just 1000 companies have signed up the NLW contract. These include some large companies like banks and insurance corporations. In addition, some local councils have also agreed to pay their staff the figure of the NLW but some workers have had to adopt strike tactics in order to agree a deal that includes the payment of the NLW.
How Does This Relate To Essential Low Paid Workers?
Without the low paid workers who contribute so much to the running of our hospitals, care homes, rubbish disposal services and street cleaning, the UK would soon be in a state of disarray. Many of these low paid workers are employed through agencies and there are a considerable amount who are employed on zero hours contracts. This means that when they are not needed they do not get paid, sometimes leaving them so strapped for cash that they must look into wagedayadvance options to keep them going until they are next required at work. So, although the government is busy boasting about the new NLW, many people find that there is no benefit to the new policy.
Care Homes And Home Carers
With a population that is rapidly ageing due to better living conditions and increased health care, there is an even greater demand for places in care homes and for carers. Those who work in this sector of society are very undervalued and many are employed through agencies which demand a fast response when workers are needed but do not guarantee regular shifts. In addition, night shift work in private care homes is often paid at the same rate as the day shift and even bank holiday working does not guarantee a higher rate. For carers who visit older people in their own homes, there is often a target figure of people to visit and if this target is not met then pay is lower. This means that not only do those who need the care suffer from short visits but that one of the most demanding jobs in the UK can result in one of the lowest paid salaries.
Keeping Our Streets Clean
Another sector of workers who receive low pay are the people who remove the rubbish from our homes and the streets. Although these jobs are underrated, the people who perform this valuable service ensure that our health does not suffer and that disease is prevented by the regular emptying of bins and the cleaning of streets. Recycling plants also do an essential job and help to prevent damage to the environment but the people who work there get relatively low pay for the essential job that they perform.
Zero Hours Contracts
Council Workers
As recently as three years ago it was revealed that many council workers who do some of the most vital jobs in cleaning and caring were employed on zero hours contracts. This kind of working contract undermines the ability of essential workers to achieve an actual living wage as they are only employed on an ad hoc basis. In turn, this means many people are unable to rent a home of their own without the additional housing benefit that is often paid to the poorest people in the UK.
Students
At first glance it would appear to be to the advantage of students to work a zero hours contract. However, in reality, this is not always the case. Students who work for the post office at busy times may get a pay rise once they have experience. However, if they do not do a shift for more than 6 weeks, they then revert to the minimum hourly rate. Although this may not be classed as an essential job, at Christmas time the post would be seriously delayed without these extra low paid workers.
The Immigrant Workforce
Essential services in the UK are very dependant upon the immigrant workforce. Many people from the EU and other countries work in essential jobs in agriculture, food processing and in the National Health Service and without them a lot of the services would be unable to successfully operate. Some of the lowest paid workers in essential services in the UK are derived from the many people who have come here from other countries and who are happy to work for what we would call a low wage. They fill the gap that is created by workers in the UK who would not entertain the low pay for these kinds of jobs that are so essential to the well being of our society.
Summary
Many essential workers receive low wages as a direct result of government policies and the recession following the 2008 crisis. The high rate of unemployment and the desperation of people who have been searching for work for a long period of time means that many low paid but essential workers will never take strike action that could lead them to achieve a higher rate of pay on payday UK.
The government has done very little to get rid of zero hours contracts. Unless there are radical changes in the future, it appears that workers performing essential jobs will continue receiving low wages.