The History Of The Leading UK Banks
– Chapter Twenty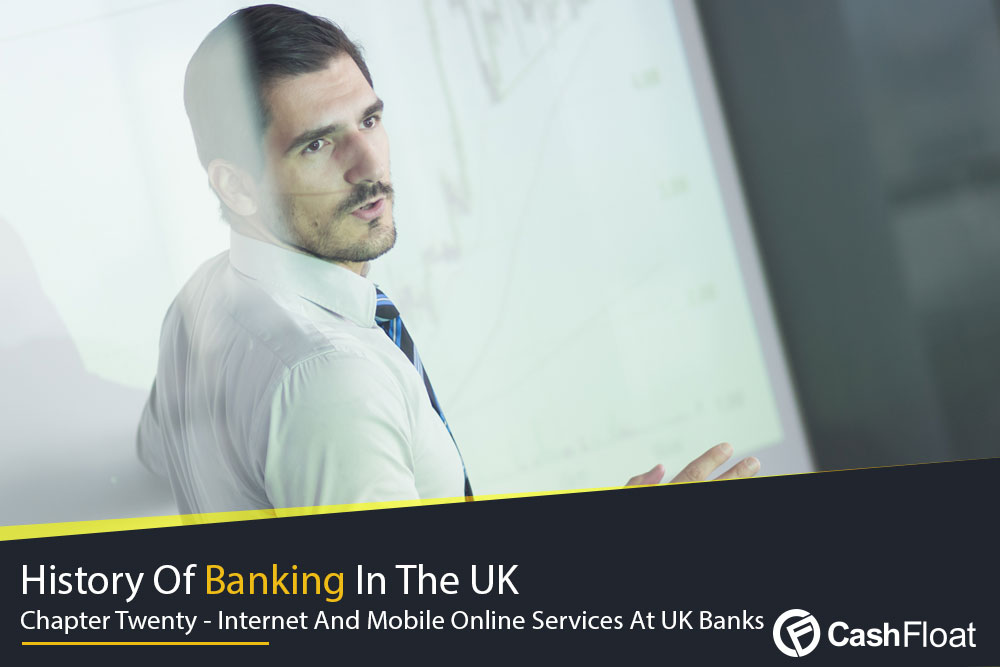 Internet Banking In The UK
As is the case with payday loan companies, where high level online technology is used, banking online is becoming more popular. Most people in the UK are now aware of the benefits of Internet banking which enable you to complete financial transactions without having to turn up in person at the branch. Typically the bank's Internet will allow you to connect your laptop or PC to their core system, and this is setup with a username and password plus one other security feature.
If you have access to Internet banking, then it is usually set up so that all of your accounts show on the home page. The amount of money that can be transferred each day may be limited, this is a security feature to reduce the risk of a large fraud.
Internet banking allows you to pay all your bills, set up direct debits or standing orders and move money around between your accounts or to other financial institutions. You can also see current and back statements and order cheque books or paying-in books. Some banks have a secure messaging system and through this, you can report lost or stolen cards, inform of an address change and perform many other routine inquiries. The bank also benefits from this kind of banking as it incurs less in the way of overheads for premises and staff.
History Of Internet Banking Services
Typically Internet banking began in the US with Chase Manhattan and Citibank offering this kind of service first. As more banks came on board to the idea of Internet banking in the 1990s, which allowed them to pack all of their services onto one platform, there was a significant shift to the system.
Customers were wary at first about using Internet banking, and this was because they were not confident about the safety and security aspects of the system. However, once the possibility of the Millennium Bug was firmly in the past, many more customers adopted online Internet banking.
The First Case of Online Banking In The UK
The first British financial business to introduce Internet banking was the Nationwide Building Society in 1997. Now every bank and financial business in the UK depend on the Internet to provide services to their customers and during the last few years, there has also been the addition of mobile banking services. Recent figures show that more than 26 million people now use online banking in the UK.
Security In Internet Banking
Although the initial reluctance of customers to embrace this system has vanished, there are still some people who believe that this form of banking is not secure. However, the banks are aware of the possibility of online fraud and do everything in their power to prevent a crime from occurring.
Part of the problem lies with customers who do not do their bit in keeping safe passwords and other personal information, but there have also been problems with phishing. Phishing is a practice where a criminal sends an email purporting to come from the bank and requesting the account and other details.
If in doubt, it is always best to err on the side of caution and check out an email address or ring the bank to check if the email is genuine. Internet banking sites always have the small padlock symbol to show that the site is secure, and as long as your computer is protected with antivirus and anti-spyware, then Internet banking should be safe.
The Best Banks For Internet Banking Services
Although all of the big four banks in the UK offer Internet banking, only two feature in the list of top Internet accounts. Nationwide comes top with 77% of customers grading it as great and their current account pays an astonishing 5% on balances between £1 and £2,500. Santander has the same consumer satisfaction rating and pays 3% on balances between £3,000 and £20,000.
First Direct which is part of HSBC comes top with 91% of customers thinking it provides an excellent service. This bank also gives a free overdraft of £250 but pays no interest on the current account. Royal Bank of Scotland is another of the big four banks in the UK to offer Internet banking but only scores 44% for customer satisfaction.
Mobile Banking In The UK
The Best And Worst UK Mobile Banking Applications
As more and more people acquire smartphones, the UK financial institutions such as short term loan companies are introducing mobile apps for easy access. Many banks have now added mobile banking applications to their products. This is already common with short term loan lenders Although these apps are more popular with younger people than older customers, the thinking is that this is the way forward not only for banking but any business, so it is vital that any application works correctly and securely.
Businesses like utility companies as well as the usual retail outlets now want to gain a part of this lucrative business. Interestingly, many customers say that they would be willing to pay a little more for the application if it gave them the excellent service and benefits that they wanted. So, how do the big UK banks rate when it comes to mobile platforms?
How Do The Big Four UK Banks Rate?
According to our writer, out of the Big Four UK banks, Lloyds has the worst mobile banking app. It is nothing more than the same website that is their Internet banking, and that is not great. Each time you go into the app, you need to enter your password and account number, and there is no further password support or IOS integration.
HSBC has a much better application, and while it is not outstanding, it does the job fairly well. It features a PIN entry code, and you can see all of your accounts. If you have a foreign account with the bank, this will also show up, a bonus for global customers. Although considered to be an app that features the bare minimum needed by a bank, this one will satisfy most customers.
Second best is Royal Bank of Scotland. RBS has a five digit PIN entry and is an app that allows you to perform all the tasks you want from mobile banking. These include paying bills, viewing statements and the app has a feature that enables you to locate the nearest ATM. Using this app you can, if you have forgotten your debit card, use a unique four digit PIN to get £40 from an ATM. When in times of emergency this can prove to be a very useful feature.
Top of the list for mobile banking comes Barclays which is by far the best out of the big four UK banks. With its good design, it has a lot of features for both personal and business customers.
Barclays has obviously invested a lot of money into getting the app right, and customers report that they get regular updates with new features such as the ability to photograph financial documents and then upload them to the cloud.
Mobile Banking In The Future
So, there are mixed services for mobile banking when it comes to the big four banks in the UK. The development of better applications that are as secure as possible is something that the banks should be planning for and maybe they should concentrate more on investment and not shareholder profits.
It will be the younger customers who will be making up the majority of consumers in the future. That being the case, perhaps the other big banks could learn from Barclays and start investing in modern mobile banking and not rely on technology that dates from ten years ago.