Full Guide to Managing Family Finances – Chapter 43
There are so many costs involved in having a baby – but there are benefits available to help. Make sure you don't miss out on them by being fully aware of what you can claim and when. And don't forget about insurance – there are some new things to consider, all explored in this article.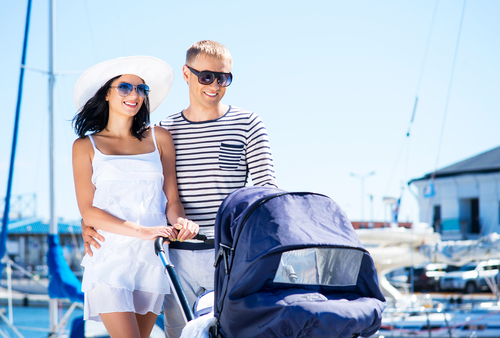 Statutory Maternity Pay There are some benefits that can be claimed towards the cost of starting a family and these include tax credits and, once the child is born, Child Benefit. Most employers offer Statutory Maternity Pay which is payable for 39 weeks and this is equal to 90% of your average weekly earnings for the first 6 weeks then £139.58 or 90% of your average weekly earnings (whichever is the lower figure) for the next 33 weeks. Statutory Maternity Pay is subject to tax and National Insurance contributions just like a salary. If you are not entitled to Statutory Maternity Pay you may be eligible for Maternity Allowance from the state and this is paid once you have been pregnant for 26 weeks. The payments can start 11 weeks before the baby is due to be born. Payments are dependent upon eligibility so you can either get £139.58 per week or 90% of your average weekly wage for up to 39 weeks or £27 per week for up to 14 weeks. Details about Maternity Allowance can be found on the gov.uk website. This allowance does not have any effect on tax credits but can make a difference to other benefits such as a council tax reduction, housing benefit and income support. It is also important to know that a pregnant woman is entitled to up to 52 weeks of maternity leave regardless of how long she has been employed.
Child Benefit
Child Benefit was a universal benefit that was paid to all parents but recently there has been a change in eligibility. Where there are two partners who each earn less than £50,000, the full amount of Child Benefit is still payable. However, if either partner receives between £50,000 and £60,000 a proportion of the benefit will have to be returned to the government in the form of income tax. So, for every £100 you earn over the £50,000 limit you will pay back 1%. Where one of the partners earns over £60,000 per annum the whole amount of Child Benefit must be paid back as tax. It is important to make a claim for Child Benefit even if you earn over the limit as this will protect your National Insurance credits which go towards your pension. It also means that when your child reaches the age of 16 they will automatically be sent a National Insurance Number from the government and it can protect other benefits like a Guardian allowance. Once you have made your claim you can ask for the Child Benefit to cease which avoids the necessity of paying tax and you won't need to complete a tax return every year. However, there are a number of good reasons why you should continue to claim. For earners who get between £50,000 and £60,000 there is a proportion of the benefit that can be kept. If you earn over the £60,000 you can put the CB into a separate savings account in the child's name and earn some tax free interest before the time to pay tax becomes due.
NHS Mothers who are pregnant are entitled to free prescriptions and dental care on the NHS and this continues for one year after the baby is born. The benefits can be claimed by obtaining a Maternity Exemption Certificate from your doctor or midwife. If the certificate is issued late you can also claim a refund for any prescriptions or dental care for which you have paid.
Insurance Finally, do not forget the importance of updating insurance once your baby is born. Consider how your family would manage financially if you had a long term illness or died. Protect your family by taking out adequate life insurance that will pay out a lump sum or regular income and always ensure that the mortgage on your home is covered. It is also a good idea to take out some income protection insurance that will cover at least part of your salary should you have an accident or long illness. Some employers provide this as a perk of the job so check first to see whether there is any cover in place. Contents insurance should also be updated to cover the extras that you have bought for your new baby and you may need to take on higher cover for expensive items like electrical goods, furniture, clothing and jewellery. You should always take into account that having children may increase the risk of accidental damage to household contents and add this to the policy. If something were to happen, you'd much prefer that the insurance would pay for it rather than having to scrap together some cash – sometimes having to take out a short term loan – to cover the cost.
Elizabeth Redfern is a born and bred Londoner who loves the city life. She is a proud chocoholic who enjoys reading, jogging and eating – especially chocolate! Elizabeth attained a first class degree in Mathematics but chose to make a career out of her real passion, writing. She has published many poems and short stories, but decided to join the Cashfloat educational channel writing team because she is passionate about helping people take care of their finances leaving them free to enjoy the finer points of life – most notably (in her opinion), chocolate!