The History Of The Leading UK Banks
– Chapter Twenty-Five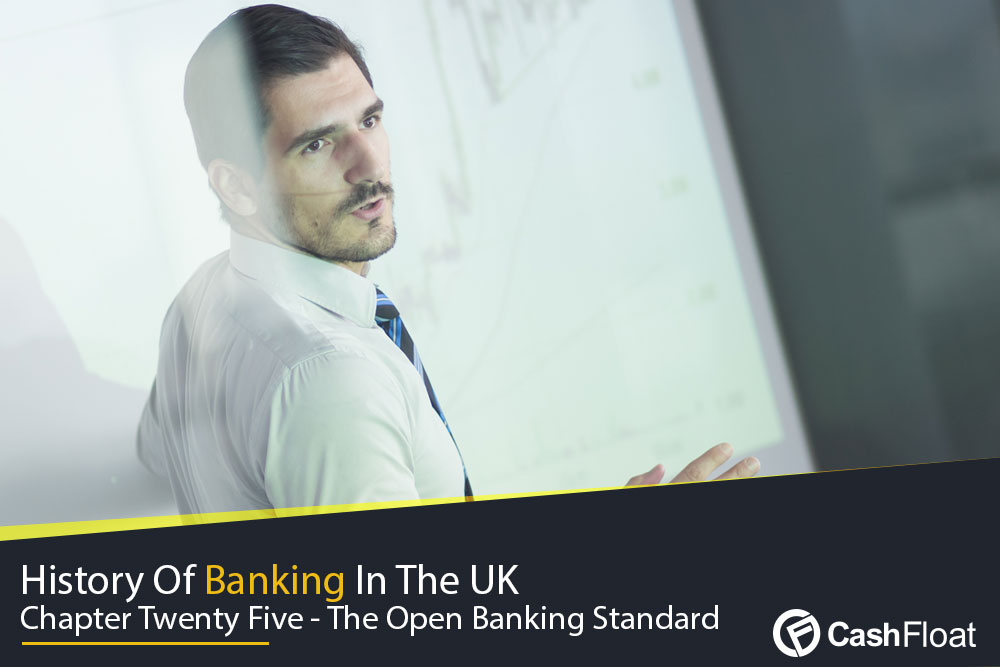 The Open Banking Standard – A Revolution In UK Banking
Developments in service providing are taking place in every business sector, including the financial sector. Payday loan companies are creating new, easy to use apps and banks have introduced mobile banking. Although not many people have heard of it, the Open Banking Working Group (OBWG) has set out to introduce an Open Banking Standard. These are a set of standards that will free up customer data for UK account holders. At present, financial providers have strict control over consumers and the financial information that they hold. So, often if a customer wants to allow another bank or financial organisation to have access to their financial records, the data control act is brought into play.
Next year it is hoped that the Open Banking Standard will be introduced. Thus, consumers will be totally free to authorise another financial provider to have access to their records and accounts. No tedious photocopying of statements will be necessary when a customer applies for a mortgage or personal loan with a different organisation.
Switching Banks or Financial Providers
The last attempt to make switching banks a simpler and easier process did not produce the expected number of people moving to another bank. Hopefully, this latest development will make it even simpler. Customers can take their data with them to a new bank. The system will show all the data from each financial organisation on one dashboard, and this will allow customers to examine both expenditure and income so that money saving solutions can be worked out.
Personal Finance Management Applications
Personal finance management applications are already in use, and these offer a single view of all accounts held by a customer. Banks do not approve of this app, but once the major high street names have signed up to the agreement this could be the start of the revolution in banking. Many people agree that such a change is sorely needed.
There is a logical reason behind the bank's reluctance to engage with the system of sharing information. It is because they want to prevent other companies from offering better advice and products than those already held. However, as the realisation is now dawning that this new technology could also help them to improve their services and help customers to make better use of their money, open banking could soon be in full play in the UK.
Having access to the data of a consumer will also enable the newly emerged personal finance management companies to suggest deals for utilities like energy and Internet services. People compare this new breed of financial management companies to Uber which was responsible for the revolution in taxi transport. So, banks are having to get on board whether they like it or not.
How Will Banks Benefit from the New Open Technology?
At first glance, it may appear that the traditional banks will be the losers in this revolution in open financial data, but the big name banks could also benefit greatly from the innovations. Challenger banks, building societies and the big four UK banks could use open data to tempt customers away from rivals with better deals for mortgages, personal loans, and even current accounts.
Customers will find it even easier to switch banks. They will now be able to take their data with them, and the new bank will have all the necessary information. This process will be much simpler when applying for personal loans and credit cards and will eliminate the endless photocopying of statements and filling in forms.
Why this has not happened before is a moot point as a new bank will need to know the background for any application and customers are willing to let them know. The secrecy that has surrounded financial data is clearly outdated and this change can only be for the benefit of both the consumers and banks.
Getting More Value from Bank Services
The changes to banking have been slow in some areas and faster in others, but the new banking standard will enable leading banks to offer more value added services and be pro-active in helping customers. After all, the information already gets to the financial provider in the end via the customer.The new system will merely speed up the process.
Forecasts predict that once this innovation starts it will quickly move on, and the industry will see plenty of changes in a short period. This change will also mean fewer administration costs. In addition, customers will benefit as they will be offered the best products to suit their individual needs. The new system should help to bring banking right into the 21st century where it belongs.
Easy Access to More Products and Services
One of the main benefits to customers of this new initiative is that it will be simpler to access the whole range of goods and services from financial providers as well as making switching so much easier. The excruciating process that a customer has to go through to get a mortgage will be no longer. It will be interesting to note whether some banks will be at the forefront of this revolution while others will remain on the sidelines.
Another big benefit customers will gain from open banking is the ability to be able to log on to their accounts, view their balance and make payments online. Cashfloat have explored the login areas of a few banks to give you an insight of what to expect once you take out a loan with these banks:
Work is Still Ongoing on the Open Banking Standard
It could be as early as next year, or it could take longer for the new Open Banking Standard to come into mainstream financial services. Work still needs doing on factors such as getting informed consent from customers. Banks and financial organisations, such as mortgage brokers and short term loan lenders will have to be clear when advising customers which companies will have full access to their data.
There will also need to be an independent body set up which will oversee the organisations to ensure that they can be trusted to handle the sensitive banking data securely. It is thought that at least by next year the technology will be in place that will allow customers to take their data with them when they decide to switch banks. The open banking standard era will soon be upon the UK, and it looks like it is set to transform the whole of the banking industry.
To learn more about open banking, click here.