A new type of money is circulating in the UK, and everyone seems pretty excited about it! Is there really something to get hyped aboiut? Cashfloat, an online payday loans lender investigated the new £5 note.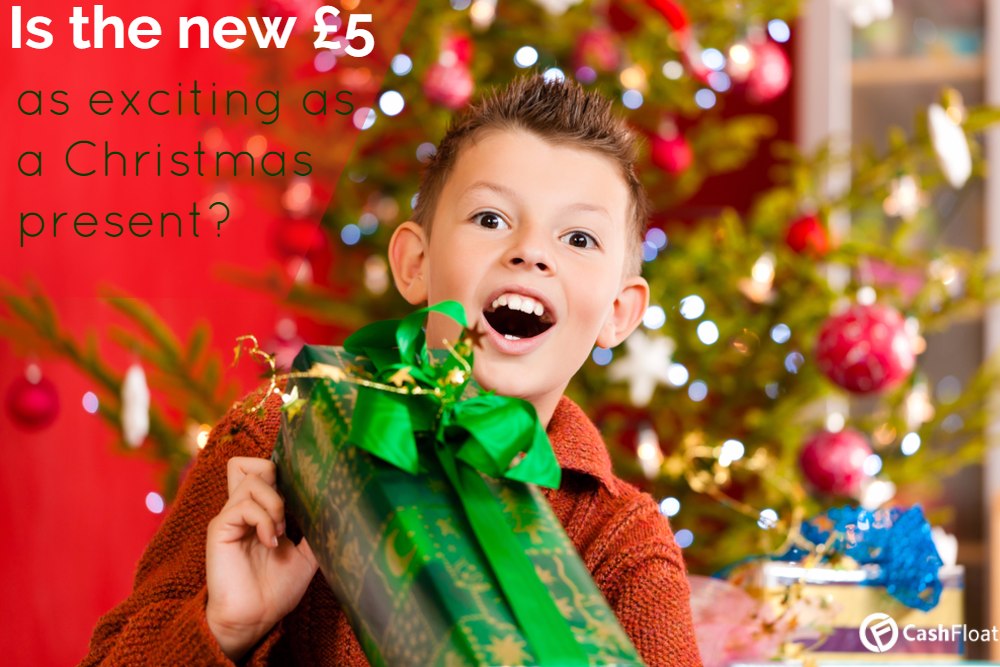 The New £5 Note
I was at the local supermarket the other day and noticed a disturbance. There was an old man who had received a new £5 note with his change, and refused to accept it. The plastic appearance just didn't look or feel real.
"Yer all tryin' ter trick me!" He kept shouting. "This ain't real money, this has ter be some sor' o' joke! It's kid's money, I tell yer!"
In the end, the manager was unable to persuade him that it's real, and they gave him his change in one pound coins. The old man went off muttering to himself, but it left me wondering about this new, seemingly fake, £5 note. Why was it made? What do the government hope to achieve with it? Are people accepting it?
I decided to investigate.
The Launch of The New Money
So, it's official: plastic money is real. The new polymer plastic £5 note has been launched, and people can't believe how different it is to the old note. We're also to see brand new £10 and £20 notes coming soon too.
The Launch of the New £5 Note
The new £5 note seems to have people mesmerised. It's printed on thin polymer, a type of plastic, . The note features former prime minister Sir Winston Churchill. It also has some different features that the old notes don't have which we'll discuss a little later. People are happy that the note is celebrating one of the greatest statesmen of all time, and the only Prime Minister to win the Nobel prize. Here's a rundown of what's exactly on the note:
The Elizabeth Tower and the Palace of Westminster. They are from the Southbank of the Thames.
The Clock's hands show 3 o'clock. 3:00pm was the time Winston Churchill made one of his most famous speeches in the House of Commons. You can find the declaration printed beneath his picture.
You'll also find a picture of the Nobel Prize medal he was awarded in 1953.
Many notes have been tested to ensure they can still be used in machines across the country. There may be the odd occasion where machines haven't been fully updated, so remain aware of this. In most cases, they can be used just as easily.
The Launch Of The New £10 and £20 Notes
As we've only just had the new £5 note launched, we're going to have to wait a little while for similar £10 and £20 notes to be launched. We can expect the new polymer £10 note by 2017, and the polymer £20 by 2020. The £10 is going to feature Jane Austen, while the £20 note will feature J.M.W Turner. The Bank Of England said that they want to celebrate individuals that have shaped British thought with the new notes. The £50 note only launched in 2011, so there are no plans to replace this note as of yet. There will, however, be a new £1 coin. It's said to be the same shape as a threepenny bit, which hopes to stop people counterfeiting them. Most people don't realise that 1 in every 30 pounds coins are fake! This new coin should launch sometime in 2017.
The Difference and Similarities between the New and Old Notes
The Differences
There are lots of differences between the new polymer notes and the old notes. The notes will be far more durable, as they are resistant to dirt and water. As polymer is stronger than other materials used, it is said to last up to 5 years. That's twice as long as the old notes. You can scrunch these notes up, and they'll still last much longer. The notes are far more environmentally friendly, as less energy will be used during printing because they last far longer. There will also be energy saved on cash transportation. Notes will be recycled when they are no longer fit for use too. Of course, these notes also aim to offer more security. They are designed to stop people counterfeiting them so easily. There is a see-through window and different coloured metallic features. Some more of the security features include:
The words 'Bank Of England' printed in raised ink.
A hologram of the words 'five' and 'pounds.' The words change when the note is tilted at the right angle.
Micro lettering under the Queen's portrait. This can only be viewed under a microscope.
The Similarities
The notes still have similarities with the old notes, designed to help people distinguish between them easily. They are still designed in a tiered manner. They go from smallest to largest in order of value (although they are all smaller and lighter than the old notes). They also have similar colour schemes and bold numbers. The £10 and £20 notes will have raised dots to help those who are vision impaired to tell the difference. It will be easy to know a £5, as this feature will not be present.
What To Do When The Notes Are No Longer Accepted
From the day of the launch, businesses and retailers have been taking the old notes out of circulation. You can use your old notes until May 2017, after which time they won't be accepted. However, you could exchange the notes for face value after this stage by taking them to The Bank Of England in person or sending them off in the post. Your local bank will not make this exchange for you, so be aware of this!
When the new notes are no longer fit for use, they are designed to be recycled. 30 other countries currently use polymer notes. Australia recycles their old notes into plant pots, among other things!
Is There A Chance Real Money Will Die Out?
Some people are wondering whether real money will ever die out. Even with these new notes in circulation, there's a huge rise in other kinds of financial transactions. More people are using cards to make payment, online banking, and online payday loans. You could very well say that cash is a dying payment method. Cash is expensive to transport and print. It can also be unhealthy – old notes tested usually contain harmful bacteria. However, some prefer using cash as it is tangible, and can be easier to maintain. One downside of using cash less is the temptation to spend more money. When people don't have to part with real cash, it's tempting to go over budget. Some claim that cash will never die out. Middle-aged and elderly people are dubious about contactless payments and prefer to use cash in their transactions. Also, a handful of businesses still only accept cash when dealing with customers.
The bottom line? Although physical cash may not die out anytime shortly, it might very well become a thing of the past in our lifetime. Find out more fabulous money facts on our blog!
Born a writer, Becky Hall figured she would use her talents productively. So, she became a content writer for Cashfloat, and she loves it. A Business and Accounting graduate, Becky scored high, graduating with a first, but also acquired a professional bookkeeping certificate in addition to her main studies. She always dreamed of becoming an accountant, something she still may achieve, but in the meantime, she is helping to break open a new industry of honest and ethical lending. Becky spends her spare time at the piano, with classical music her favourite choice, but will play jazz to keep her baby happy. Nowadays, though, she doesn't always have much time; Cashfloat has a revolution to make.