Protecting Your Property And Savings From Thieves
– Chapter
The charity Sustrans estimates that 1 in 5 cars at peak times are parents dropping children off at school. There are new initiatives to encourage pupils to walk or cycle to school, not only to reduce congestion on the roads but also to ensure children get more exercise. Have you considered how this could translate into you not protecting your children as well as you could?
How do your children go to and from school? Are you worried about their safety when they go out unaccompanied? Are they carrying flashy electronics with them?
This is a dilemma that every parent faces; the fear of a crime happening to their child combined with the desire to help their child develop a sense of independence as they grow up. Cashfloat is a direct lender that supplies payday loans in the UK. We know that many people are forced to use our loans following a theft in the family. This article will aim to help you teach your children to protect themselves form becoming a thief's target!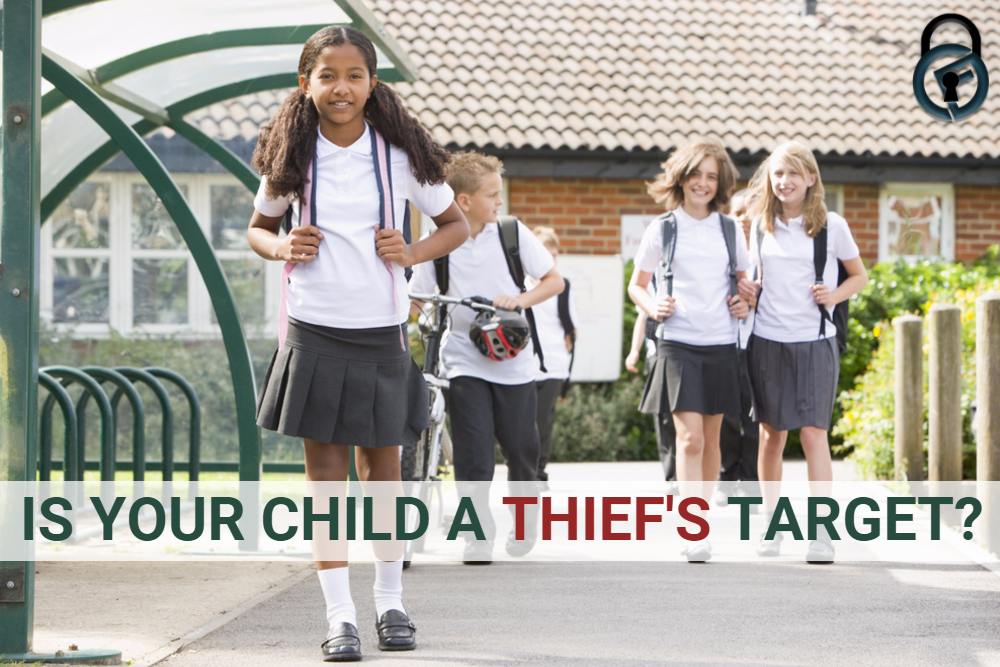 In this article we will look at the issue of children and theft:
How many children are robbed
Why thieves target children
Ways of protecting your children on foot and by public transport
Safeguards and insurance for children's electronic devices
Story highlights
Cashfloat teach parents about protecting your children from thieves
Theft can be reported online, by contacting your local police station or by dialling 101.
Crimes Against Children
According to the statistics released by the CSEW (Crime Survey Of England and Wales), there were a total of 799,000 crimes committed against children aged between 10 and 15 in the period ending December 2015, so they estimate 12 in 100 children are the victim of at least one crime. A third of them (260,000) were thefts of personal property, and a further 5% (40,000) were classified as robberies.
In separate research, the 'hotspots' for theft against children/teenagers were named as London, Leeds, and Nottingham.
Why Are Children Targeted by Thieves?
Like university students, children are targeted, especially in the 10-15 age group as thieves realise that they have something worth stealing. It is estimated that children in this age group carry on average £316 worth of electronics on them whether this is a mobile phone or a device like an iPad. In 2013, 2/3 of smartphones stolen in London belonged to those aged 13-16. These devices are very popular among stealth and snatch thieves since they are easy to conceal and easy to resell.
Children are also victimised as they are much easier to intimidate and less likely to resist a snatch thief. Also, they might be less street savvy and not take the necessary precautions. For example, they might be engrossed in an electronic game or oblivious to their surroundings as they are listening to music through headphones.
Driven To School Or Go Alone?
In the 2015 National Travel Survey conducted by the government, it was found that nearly half of primary school children were driven to school while 44% went on foot. By the time children reached secondary school, this changes so that about a quarter of children interviewed were driven to school, 37% walked while nearly a third used another means (mainly public transport).

Things to consider when sending the kids to school

Whether you choose to drive your children to school or let them go alone on foot or by public transport ultimately depends on if you live in a rural or urban area, the amount of traffic and the distance from home to the school. It would also depend whether you consider your area to be high risk in terms of crime.
Protecting Your Children When They Are On Foot
If your children go to and from school on foot, it would be better if they can make the journey in a group; thieves are less likely to strike when there is more than one child. You could speak to neighbours who have children who attend the same school so they can walk together. Make sure they are aware of their surroundings at all times, so it is harder for them to be approached with stealth. They should not have a lot of money on them.
Protecting Your Children When Travelling On Public Transport
Travelling in groups is also much safer for school children on buses, trains or the Tube. Any electronic devices should be kept hidden unless they are using them. Try to make sure they are not carrying all their electronic devices with them. If they are returning home later for some reason such as an after-school activity, explain to them that they should sit in a carriage with other people or behind the driver if they travel by bus.
Safeguards For Electronic Devices
You probably bought a mobile phone for your child as a safety measure so that in a case of an emergency, they can contact you. Ironically, this phone can make them the target of a thief especially if it is a top of the line model. It might be a good idea to purchase a cheap model for them to take to school.

Like any electronic device, you should register it with the property register Immobilise (this can be done online). Keep a record of the device's unique IMEI number so it can be permanently deactivated in case of theft. You could also use an ultraviolet pen to mark it with your postcode, contact home phone number and/or email address. You might want to think about installing anti-theft software.
Insurance For Children's Property
Insurance is the obvious solution if you do not want the added mobile phone, for example. As long as it was not stolen from the school or other public building, your children's personal possessions are usually covered by your home contents insurance policy. However, you should balance the cost of replacing what was stolen with the cost of losing your no claims bonus on the policy.

When insuring children's property, especially phones, you should specify that the phone belongs to a minor. Insurance companies recognise the higher risk factor of loss or theft from a child, and some will not insure if the child is under 16 – under 18 for some insurers.
Reporting A Theft
Theft can be reported online, by contacting your local police station or by dialling the police's non-emergency number 101. The mobile phone provider should also be notified as soon as possible so that the number can be blocked. This is especially vital if you have a monthly contract for your child since you will be financially liable for any unauthorised calls made after it is stolen.
If the theft occurred on the way to or from school, you should also inform the school so that other children can be aware of the possible risks. You should check if there is a Police Community Support Officer (PCSO) attached to your child's school or a local Safer Neighbourhoods Team operating in your area. It might be possible for the Head Teacher to arrange for a community-based group like this to give a talk for the benefit of all the pupils about how to protect themselves from theft.

Conclusion
Whether it is a talk with you or a crime prevention specialist, children should be informed of the risks of theft, so they can take care of themselves. It might be difficult for you to balance the desire to give your child some independence with protecting your children but it is advice that will stand them in good stead for the whole of their lives. Giving children some responsibility has been proven to increase their self-confidence as well.
Sarah is an enthusiastic writer, blogger and an eager agent of change. Although she has never been one to voice her opinion publicly, Sarah has dedicated herself to helping Cashfloat spread awareness about common financial issues and the importance of money management. Through her writing, Sarah hopes to empower a positive and lasting change in people. Sarah believes strongly in ethical business management and consumer protection. After completing her degree in Computer Science in one of London's esteemed universities, Sarah has come to adore the buzzing hub of London city. Still, in her free time, Sarah enjoys reading, researching, watching movies and eating out. After all, #YOLO!