How Much Does It Cost To Fix Home Appliances?
– Chapter Seventeen
Story highlights
How often are fixed repair costs companies worth the price?
Why can't handymen fix any problem, nowadays?
How do I choose a reliable repair company?
When an appliance breaks, the repair costs vary greatly depending on what sort of repairs you decide to go for. Calling out a repair company to fix a home appliance can be costly. So, many people decide to chuck out the broken appliance and buy a new one. Sometimes there are small problems which you can fix at home, but if you are not comfortable doing DIY or are sensible enough to understand that messing with an appliance that has electricity running through it could be dangerous, then a professional repair engineer is the best option.
When a warranty has expired and you need to choose a repair company, where do you start? You don't want to have to take a payday loan to pay for repairs! So how do you find an affordable repair company?There is such a wide choice, and you may decide to look on the Internet or browse through the local newspaper before making your decision.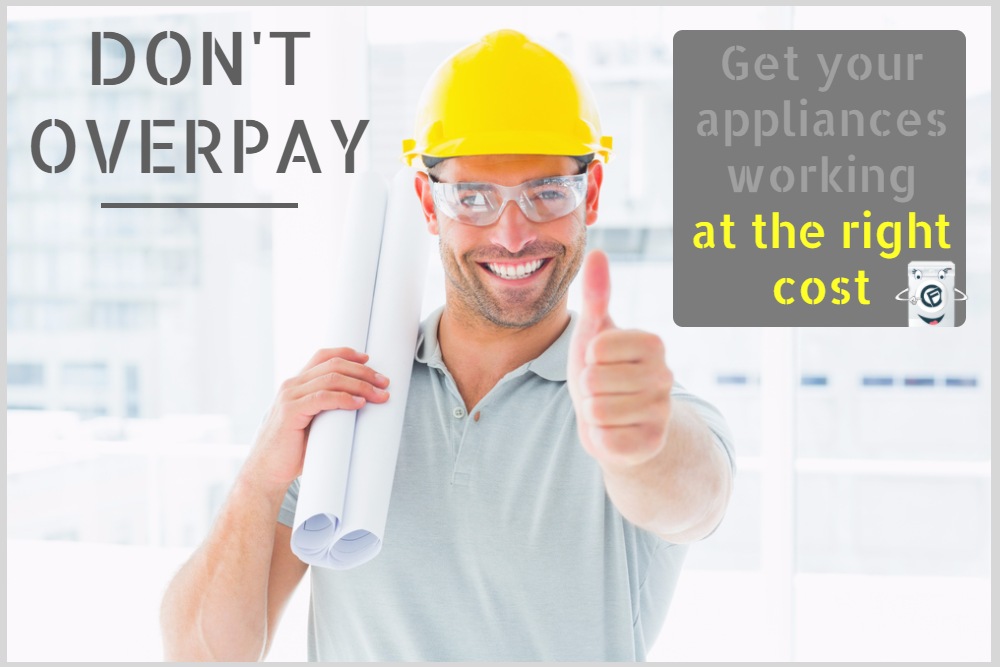 Upscaling your home?
The redecorating part is fun, but you'll also want to check that all your appliances are working. If you're going for a home improvement loan, you'll want to cut back on expenses as much as possible, so Cashfloat's quick and easy tips to keep your appliances in tip top condition will be a big help.
Fixed Repair Costs
Some companies advertise fixed repair costs while others will give individual estimates. It can be hard to know which to go for.
On the surface, fixed repair costs looks like a good option. Many retailers now offer an after sale contract with fixed costs for repairs. But is this a good deal?
The first thing to understand is how the company makes a profit on such contracts. No company is going to offer such a deal unless it will make money, so you need to ask yourself: is the fixed price a realistic option or could you get the same work done cheaper by shopping around?
Large businesses work on large numbers. So, if a large number of customers have simple repairs that are relatively inexpensive but they are paying a higher fixed rate cost, these multiple jobs will easily cover the costs of the more larger but rarer expensive repairs.
You may find yourself sucked into the hard sell of a fixed rate appliance repair contract. But, before signing up for this, you should think about the reality of appliance repairs. Most repairs are relatively simple and are cheaper than you might envisage.
Look At The Figures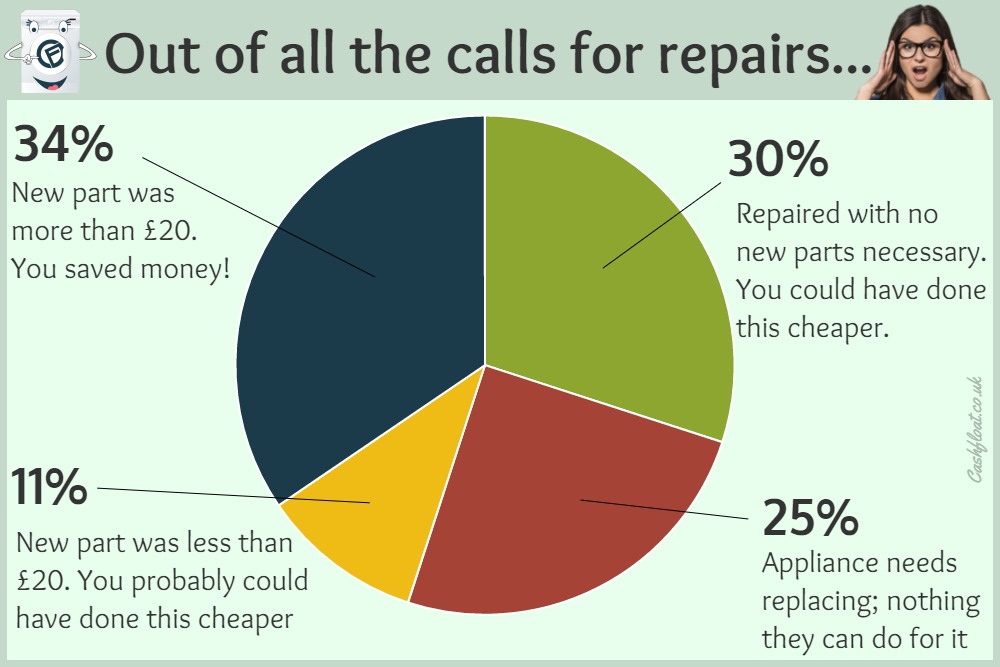 Around 30% of repair call outs need no parts. If the washing machine is spilling out water and you call out for a repair, it may only need a clean through. A call like this might take half an hour and require no parts. Costs might be around £30 compared to a fixed rate of £50.
For repairs that do require a replacement part, around 30% of these parts cost less than £20. So, if you are being charged a high fixed fee for the repair, you could be paying out far more than necessary.
Additionally, in 25% of all calls, it is not cost effective to make a repair. In these cases, you will have to replace the appliance and have no benefit from the fixed rate repair contract.
Large Businesses That Offer This Service
Some large and well-known businesses offer a fixed rate repair contract. These include British Gas and the AA. However, British Gas subcontracts the work out when their own staff are too busy. So, you could end up with an independent repair company that you could have chosen yourself and paid out less money.
Independent Repair Services
Choosing a small and independent company will give you a better choice for appliance repairs. Most local businesses will offer a free estimate for the repair work so you can get more than one estimate before making a decision.

Don't go for the one with the largest advert. Shop around and ask friends, family and acquaintances for a reference. Check that the company has full insurance and that it offers a suitable time period for warranty. In this way, you can avoid becoming one of the people with a horror story about the difficulty and expense of getting a home appliance repaired.
In The World Of Throwaway Appliances
Many people now choose to replace a home appliance instead of repairing it. And, it is easy to understand why they go down this route. Dependent as we are on freezers, washing machines, cookers and dishwashers, no one wants to go for more than a few days without them. So, the replacement appliance often seems like the best and fastest solution.
Why does this happen? The answer is complicated, and there are many factors involved. Many engineers will not attempt repairs on cheap appliances as it is not cost-effective for them or the consumer.
Parts for individual appliances can be hard to get, and an independent repair person will be unable to carry spares for all brands and models. Most customers do not want to wait for a part to be located and ordered and may choose to buy a new appliance.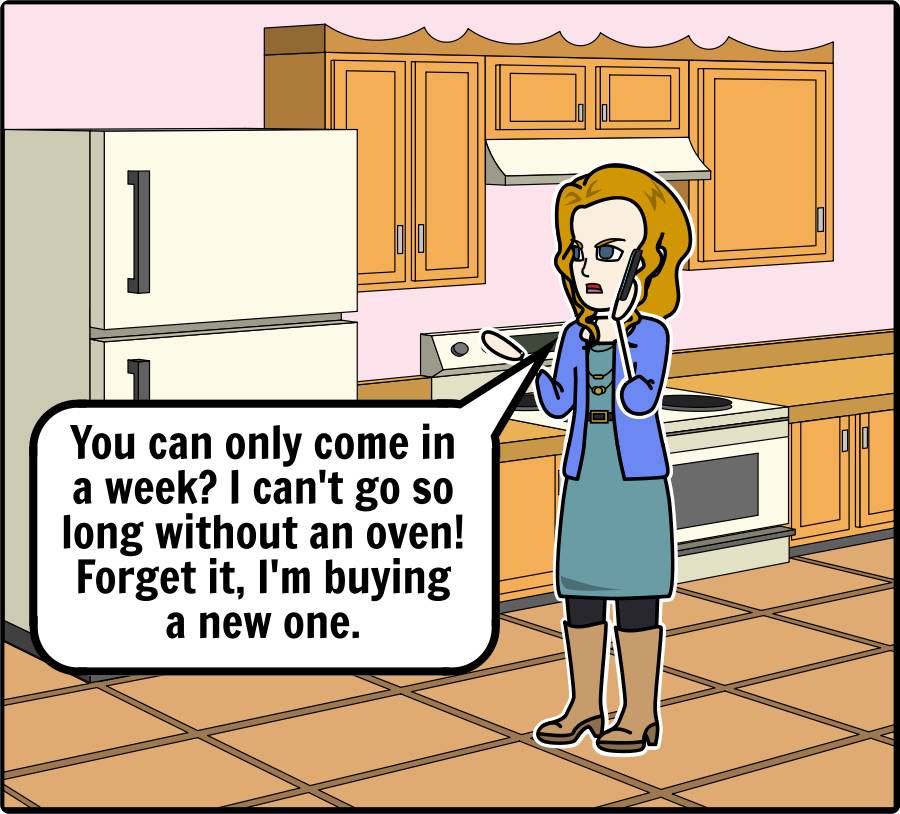 An Explosion In Technology
In the last few decades, there has been an explosion in technology. Whereas in the past there were mostly just a few well know brands like Hoover or Hotpoint, globalisation means that now almost every brand in the world is sold in the UK, making it harder for engineers to specialise.
Many engineers are now working with a far wider range of appliances and this, in turn, had reduced the quality of repairs. An engineer cannot be a specialist in every brand and model of appliance so it is little wonder that many will recommend buying a replacement model especially if the appliance is cheap.
So, when you call an engineer for a quick fix to your appliance, it is worth bearing in mind some of the problems that they now face. The kind of service that you would have got a few years ago is no longer available. Repair engineers have to make a living and must charge repair costs that make it viable for them to continue with their job.
If you are looking to replace your broken washing machine or a broken oven, but you are lacking the funds to do so, you can click here to apply with cashfloat a small loans direct lender in the UK.
Finding a good repair company
That said, it is still possible to find a reliable and reputable repair company if you know where to look. Recommendations from friends are a good way to start or look online for trusted traders. Ask pertinent questions about insurance and warranty for work completed and get more than one estimate before making a final choice.
There are still excellent repair services around with individuals who want to do a good day's work for a good day's pay. So shop around, and you will find the right engineer for the job.